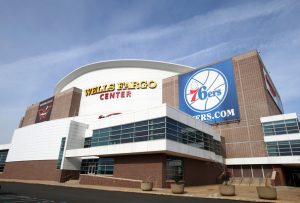 I try not to use the same player twice as the lede for this post. You'd think with over 300 players in the NBA, that wouldn't be a problem. Unfortunately, teams do not play every day and most of the players are not worthy. Sure, I could write up Nik Stauskas and how he didn't score, rebound, assist, steal, or block in eight minutes of run. I could go into detail how he turned the ball over twice and picked up a personal foul, but even Momma Stauskas would be like, "I had to pause the curling match for this crap?" So, as much as I try not to use the same player for the lede, sometimes a performance is just too good. Last Wednesday, Devin Booker was The Razzballer after he dropped 33 points on the hapless Bulls. That was nothing compared to what he did to the Philadelphia 76ers:
| | | | | | | | | |
| --- | --- | --- | --- | --- | --- | --- | --- | --- |
| PTS | REB | AST | STL | BLK | TOV | 3PT | FG | FT |
|  46 | 8 | 1 | 2 | 1 | 3 | 5/8 | 17/32 | 7/8 |
Booker started the game shooting 1-for-8. So, according to my handy dandy desktop abacus, he shot .666 the rest of the way. Ahhhh, the Devil lives!
The Wells Fargo Center used to be located at 3601 Broad St, Philadelphia, PA 19148. You can now just input 46 Booker St, Philadelphia, PA 00100 into your GPS from now on.
Please, blog, may I have some more?
Uggghhhhhhh. I hate when the intro has to be about a bad injury, but alas, tis what tits with fantasy sports. After playing pretty well against the Pacers last night (21/4/0/2/1 in 28 minutes), Rudy Gay went down in the third quarter and had to be carried off the court, with tests indicating he tore his Achilles. He's had issues with that Achilles in the past with a partial debridement, but it gave out at absolutely the worst time. Yeah, maybe he didn't handle wanting to get out of Sacramento the most gracefully (who WOULD want to play there?!), but at least he showed up, ya dig?! Now he has to stick it out while rehabbing, this was going into a contract year… It just sucks. I've never been the "biggest" Gay fan, but I'll be rooting for his rehab and hopefully he can be vintage Gay a few more years on a new squad.
In the meantime, it opens up a ton of wing minutes in SAC. Arron Afflalo of DNP-ville got 31 minutes last night, aided by Garrett Temple having to play backup PG because Ty Lawson is nursing a kankle. A R Ron! went for 11/1/1/0/1 in his usual snoozefest line, with Temple going 9/4/3/0/0 with a trey. Yikes. Matt Barnes might move back into the starting 5, but he's hit-or-miss, depending on how drunk he is at the night club. Hey oh! 7/4/4 for Barnes in 20 minutes, and Ben McLemore only got 4 minutes this game. It's a real trainwreck without Gay, and I don't see any sort of clear answer on this team to fill in the void. So you're likely looking elsewhere on the wire for Gay's scoring, and hopefully you sold high after a red hot start through the first stretch of the season. Get well soon, Rudy! Here's what else went down last night in fantasy basketball action:
Please, blog, may I have some more?