We are pleased to announce that the Razzball family has a new baby bot. We're calling him Stocktonator and he's programmed to assist (motherf***in' pun!) season-long and DFS fantasy basketball players all while wearing uncomfortably short shorts that only just conceal his ball bearings. (Shoutout to JB for the Stocktonator visual)
The methodology behind Stocktonator's projections (today's games + next 6 days + a 7 day total) is as follows:
Create 'per 36 minute' rate stats for each stat category using past performance backtested to determine proper weighting – e.g., yesterday's game has higher weight than 80 games ago.
Use a Player Reference file updated hourly to determine a player's status – e.g., Healthy, Questionable, Out, etc.
Model likely starters based on active players and project player minutes using previous games and starter/bench role. Adjust/redistribute player minutes so that team minutes sum up to 240 + an OT adjustment (closer games more likely to go to OT).
Replaced modeled starters with actual starters if the lineup has been posted. (Shoutout to malamoney for his invaluable help on this task!)
Adjust player rate stats based on opponent defense.
Adjust player/team possessions based on team's average possessions/game and opponent possessions/game.
Adjust player rate stats based on deltas between Vegas projected team points and Stocktonator's projected team points.
Apply rate stats to projected minutes.
Tiny adjustment to player points based on deltas between Stockonator's team point projection and Vegas point projection.
The projections are updated beginning around 6AM EST and then hourly during the day at the :45 minute mark (e.g., 6:45PM). The process completes around the :50 mark (pages with today's projections have a 'Last Update' field) and should incorporate all late-breaking lineups / injury scratches but, as you fantasy basketballers know, so much sh*t goes down in the last 15 minutes before game time that some things are bound to fall through the cracks.
We have been testing the results over the past 1-2 weeks against several established NBA projection sources and can say with Ivory Soap confidence (99.44%) that Stocktonator is on par with the competition. We will continue to test throughout this season looking for areas of improvement – most notably in player minute projections.
Below are links to all the projection pages. Stocktonator (and the NBA DFSBot) will be FREE for the rest of the 2016-2017 season as we want to maximize usage/exposure of the tools. We are working with DraftCrunch to get our DFS projections into their lineup optimizer – should have an update shortly on that front. (There will be a cost to get the lineup optimizer but free trials will be available).
Below is a snippet of Stocktonator's projections for today.

Some items of note:
All players are linked to their player page.
The Time field is red if the lineups have not been incorporated and green if they have.
Vegas Points and Spread updated hourly. Not available until some time in the morning EST.
I = "Injury Status". Blank if healthy. P="Probable", Q="Questionable", D="Doubtful". All players who are 'Out' are removed.
Y! PTS = Yahoo's season-long default scoring.
Own% = ESPN's ownership of a player. (Note: TBD how often this will be updated). This is designed to help flag possible free agents.
The tables work the same as our MLB and NFL tables. Click the column header to sort. The boxes underneath the column headers are for filtering. Number fields can handle greater than/less than queries (e.g., <80 in Own % would remove all players with 80+% ownership). Text fields are left/right wildcarded so G in Pos will display all PG/SG. Use ! for NOT (e.g., !PG would remove all Point Guards, !@ in Opp would remove all Away Games) . OR is | (e.g., PG|SG would return PG and SG) but does not have wildcards so you'd need to enter "LeBron James|Russell Westbrook" to see both players.
In addition, you will find the projections incorporated into all our NBA player pages in the following areas:
A top box noting the player's next game, his health status (if not Healthy, you'll see a description of the issue), and the player's ranks (if playing today) against his Position (e.g, "PG"), his macro-position (e.g., "Guard"), and against all players based on Yahoo's season-long projections.
The next 7 day projected averages placed next to their last 2 week, last 4 week, and season-long averages.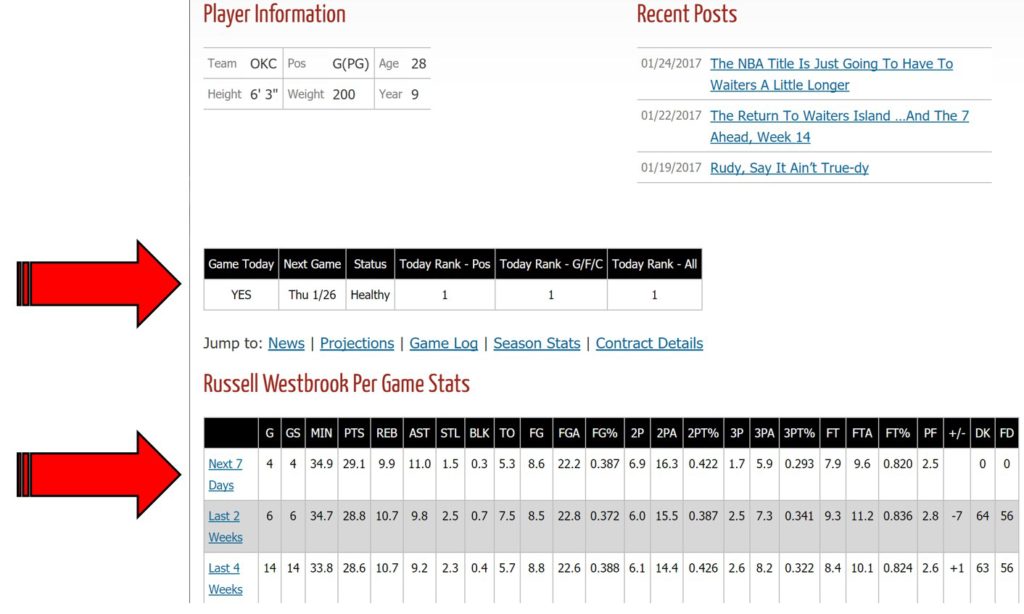 Projection for each of the next 7 days, their 7 day average, and DFS projected points, salary, and $/point for DraftKings, FanDuel, and Yahoo. For the daily/next 7 day projections, player ranks are included as well.
Please feel free to ask me any questions or provide feedback (particularly on players whose projections look funky) in this post or on the individual tool pages.