It's all starting to come together!
50-75 always feels like that nebulous range where we get out of the sure things and start veering into the mess that is the sleeper-range, but don't want to go too nuts for your guys.  There's just a little too much value on the table to reach for a potential superstar like Patrick Patterson!  Hah, I keed, but you know what I mean.
Hopefully you've checked out my Top-10, Top-25 and Top-50 as we start getting into the late-middle rounds.  Things are starting to get hairier in the comments too!  But give me all your thoughts and quibbles you have, because I'm just one idiot that gets to pose my thoughts to the smart collective.  Together as a think tank, Razzball Basketball is going to own the hoops-o-sphere!  Just need to pay more attention when we play stupid Chris Liss in the Yahoo F&F Final…  Ugh!  Here's the Top 75 for the 2016-17 Fantasy Basketball Season:
(you can also put your quibbles with my ranks to the test in the 2016-17 Razzball Basketball RCL Leagues, now open and 100% free to join, start a league and sign up now!)
51. Goran Dragic, Miami Heat
I feel like overall we've seen some pretty rough sailing for the Dragon heading to Miami, but I think a lot of that was he has never been back to his 13-14 Suns level when he was a 28th overall player in per-game.  But his post-ASB numbers last year (17.3/4.6/6.7/) put up a good fight, despite the metrics not really liking his game due to lack of treys and steals (only 71st in per-game over that span).  But I love the sub-3.0 TO rate, nice FG% for a guard, and the upside for his added USG with Dwyane Wade outta town.  He separates himself a little bit from the PG run we'll go on in about 5 picks, so I would even go within the top-50 if PG was a need in the 4th round.  (I wrote all this before seeing a lot of Dragic love the past few days, whewwwwie!  Might need to move him up a few spots…)
52. Nikola Vucevic, Orlando Magic
Ruh roh.  I stirred up the pot leaving him outside the top-50, that's for sure!
Vucci Mane is still an incredible post and mid-range scorer, but this squeeze on his PT with Bismack Biyombo brought in is a little scary.  There has always been a knock on his game for being weak on D, and they told Biyombo he was starting.  I don't see Serge Ibaka coming off the bench, so I could 100% see Vucevic playing a super-Kanter role from last year.  Maybe they do indeed bring Biyombo off the bench, but either way, Vuc had some pretty annoying downward trends.  Much lower RPG, FG% down, FT volume down, and while the D stats bareeeeely went up and got back to the 2013-14 1.9-combined level, whoopty doo!  They're still below 2.  Plus all his whining to the front office has me thinking a trade is coming, and he's on an EXTREMELY friendly contract given expanded caps and his quality of play.  A deadline deal almost certainly means he gets less rock on a contender.  Plus, let's not forget his games played are only 57, 74, and 65 the past three seasons – not like he's stallion of health out there.  Sounds like I will be by far the low man on Vuc.
53. Nerlens Noel, Philadelphia Sixers
Captain N…?  More like Captain Bench!  What a horribly run team…  Alas, for now it looks like a crowded front court in Philly, which hurts the upside.  But Bryan Tangelo Colangelo said he doesn't intend to have all 3 bigs when the season starts, and Noel said he's very open to being traded.  I'd be pretty open to get off the Sixers too!  Last year saw some decent improvements from Noel, mainly the FG% going from 46.2 to 52.1, but he didn't fix his FT issues and remained in the red with more TO than AST.  The allure for 2 STL/2 BLK is still there, but there's not enough to flank it to push him into my top-50.  A really interesting team-change is unlikely to change that either.
54. Tobias Harris, Detroit Pistons
Can't quite make it into the top-50, that blowhard!  Even though nothing looks too sexy, he finished 58th in per-game last year, hampered by SKIIIIIIILES in some early-season run.  After getting traded to Motown, the numbers all boosted up – better FG%, 3+ PPG, more FT volume, more 3s, and a much better AST:TO that went from 2.0:1.6 in ORL to 2.6:1.1 in D-town.  I know I've used the crutch argument that a deadline deal usually hurts a guy, and I think that's still typically the case, but Harris went against that trend.   In his 27 DET games, Harris jumped up to 44th in per-game and has a full offseason to gel with the team.  The upside isn't necessarily huge, but he gives a great multi-cat line from the wing.
55. Mike Conley, Memphis Grizzlies
Here we go, on that epic PG run!  We got into some epic debates in the comments and on the Pod about my low rank of Conley last year outside the top-50, and whaddya know?!  56th in per-game last year.  And a big concern was the injuries, and he only played 56 games.  I think I deserve a few crown & cokes for that one!  But he got the big contract regardless, and what he continues to bring is a very unique AST boost with virtually no TO – 6.1:1.5 AST:TO last year.  That's insane for a starting PG!  That KAT/Kemba/Aldridge/4th round/Conley build is getting more and more intriguing, with an unbelievable TO rate.  Sure, the games played for Conley are a risk, but with Marc Gasol likely to miss some games here and there, there's a little upside for more scoring and diming.  Plus he finally has a good, wing running mate in Chandler Parsons next to him.
56. Reggie Jackson, Detroit Pistons
To say the metrics hate R-Jax would be putting it lightly.  The lack of rebounds, steals, and a bad FG% with only moderate treys really hurt his metrics-value.  But he's still in the PG run because those 1 guards dry up oh so fast.  We were all hoping for much better than the 6.2 dimes we saw last year, and I think we get it in 16-17.  He played only 30:41 MPG due to some early games in StanVan's doghouse, then had 37 dimes in 4 games in the CLE sweep.  I don't like to weigh playoff stats a ton, but DET played CLE fairly close , and R-Jax had 9.2 dimes per when traded over in 14-15.  Not like anyone else is that big of a distributor on the DET starting 5.  The lack of steals will be annoying, but we saw good scoring and decent-enough FT volume outta him last year that I think he can take another step forward, especially if he gets to his rightful 33-34ish MPG.
57. Dennis Schroder, Atlanta Hawks
I need my German translator, commenter Paul!  Schrodes is going to be "sehr Guht!" as the starting PG!  He's going to "auf wiedersehen" to opposing defenses!  Hey, I think I'm getting the hang of this!
With Teague dumped to Indy, Schrodes steps into the starting PG role we all knew he was destined for.  We saw him expand his range to make 1.0 treys last year off the bench, AST went up (TO did too, but ya know), and he got to 0.9 steals, already more than R-Jax!  The real risk is how out of control the FG% and TO get.  At 2.3 with the second unit in only 20:15 MPG last year, it could be an ugly 3.5-4.0, but I don't think it gets Hardenish or anything.  He was playing with a pretty uncreative second unit there in Hotlanta, and was putting everything on display like a horny peacock to get this starting gig.  I think we could get a pretty special season for a first-time starter, albeit a little riskier than the PG I have ranked ahead, so I am slightly tempering expectations.
58. Jeff Teague, Indiana Pacers
Yeahhhh, having them back-to-back seems lazy.  Not my fault!  I had Teague a few lower, then just his inherent safeness had me move him up.
So, what's the worst that could happen to Teague in a busy Pacers rotation?  I'm just having a tough time seeing him be worse than what he put up last year, which had him 74th in per-game.  And I expect the minutes to climb way up, and the turnovers to fall a little as well.  Just a nice level of safety that makes him George Hill, except with more upside and less Sisqo hair.
59. Elfird Payton, Orlando Magic
Skiles put the Elfrid on the Shelfird, that's for sure!
Brutal season for the awesomely haired Elfrid, where the minutes went to sub-30 due to Skiles' wankery (It recently came out Skiles didn't think Elfrid was a PG of the future  – well ya know what?!  You weren't the coach of the future.  BAM!).  Boards way down, steals way down, he can't make treys or FT to save his life…  Pretty awful.  But in comes Vogel, new system, new uniforms, and a new lease on life.  I think he could be Rubio-esque with a little more upside for a breakout given his youth, age, and athleticism.  And hair.  Loving the haircuts lately!
60. DeMar DeRozan, Toronto Raptors
Why I didn't like DeRozan last year – Pts went down, AST:TO took a huge step back, treys down, FG% down, and a bad groin injury was the main reason he missed 22 games.  Why I like DeRozan this year – Pts went back up (23.5 – career high), AST:TO took a huge step forward (4.0:2.2, ironically the exact same as in 13-14), treys up, FG% up, and he only missed 4 games.  Nice bounce back, double D!
61. Brandon Knight, Phoenix Suns
Cue up another awesome Suns guard who can't stay healthy!  In his 52 games last season, Knight finished 73rd in per-game.  Big ups in Pts/treys, big down (as in, bad) in TO.  Also, despite making 2.3 treys a game, still only shot 34.2% out there.  Learn your range, B-Knight!  It's still awesome that Phoenix plays the Batman sound byte when Knight scores though…  Luckily Knight didn't have a season-ender like E Bled and was able to play down the stretch, and still looked pretty good in his final 10 games in March.  Knight evolves slightly out of the ThrAGNOF zone due to the dimes, but I'm not going too crazy for him.
62. D'Angelo Russell, Los Angeles Lakers
Aight, aight, aight, you guys got me to warm up to D Barksdale a little more.  Not leaving him on my Wire anymore!
It's just so tough to figure out Russell's spot with his ridiculous range of outcomes, but coming in fairly raw, 13.2/3.4/3.3/1.2/0.2 in 28:14 MPG last year with 1.6 treys is a really good foundation.  2.5 TO was too high, and that's the big risk with Kobe Bryant's USG out for grabs.  Upside is obviously huge for scoring, treys and dimes.  I just can't go any higher because he seems like a total moron.  But hey, IQ isn't a stat category, but it would be fun to have a punt-IQ team if it was!
63. Darren Collison, Sacramento Kings
One of my least favorite players now, after being charged with domestic violence.  Of course, no one is guilty without due process, and his court date is in early Septmeber.  I'm guessing he gets a few game suspension for the conduct policy, and as frustrating as it is in sports, then swept under the rug.
Alas, we're not here for character ranks, we're here for fantasy ranks, and back as the Kings starting PG, things should go pretty well.  He was particularly solid in the second half last year DESPITE Rondo playing his extremely inefficient game, with Colly going 15.1/2.5/5.0/1.2/0.1 on 50.3% shooting with only 1.8 TO.  In 14-15 when he was the starter, he was pretty similar to those numbers, with a slight boost everywhere.  I just worry about the off-the-court stuff turning into a 5+ game suspension, then the Kings being an absolute disaster yet again, and threaten early shutdowns.  It's also worth noting Collison is on an EXTREMELY friendly deal on its last year, paying out only $5.2 mil before Colly is a UFA in 2017.  Kings could dump him.
64. Evan Fournier, Orlando Magic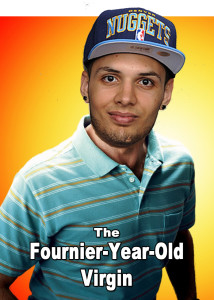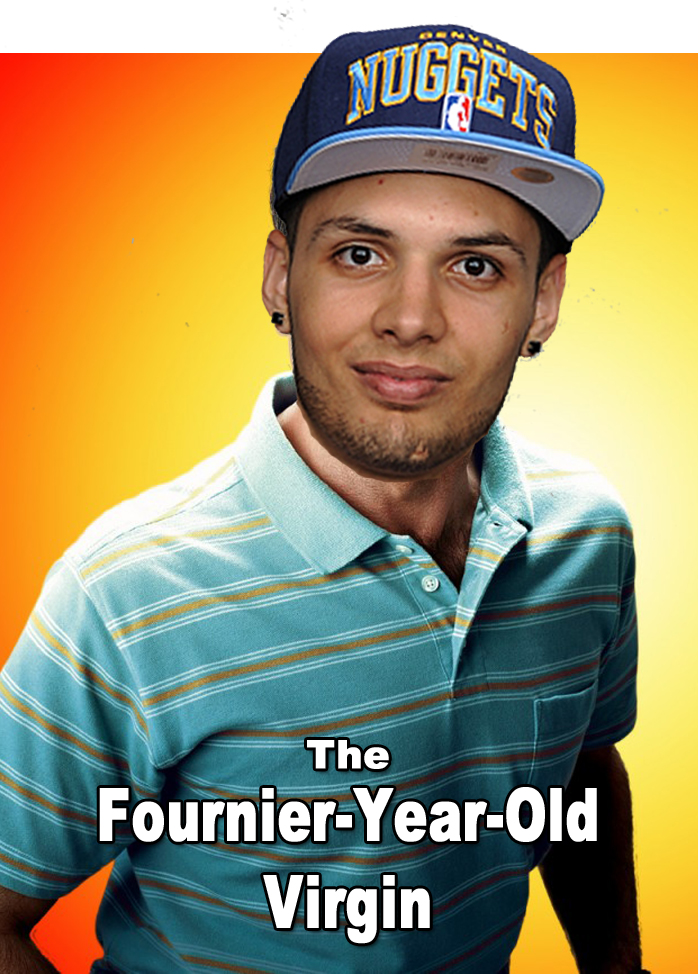 Any excuse to show that picture!
Fournier certainly lost a lot of his virginity last year!  Wait, that sentence makes no sense…  Taking on a bigger role for SKIIIIIIIIIILES!, Fournier posted a career year going 15.4/2.8/2.7/1.2/0.0 with 2 treys a game and only 1.7 TO.  It's certainly metrics-whorish, especially confusing for a virgin, but masked in there were some stretches of really good dimes, including 3.7/per in April.  With no more Oladipo, there's a real lack of playmaking on the Magic, and some immense upside for the Virgin to go nuts.  The more I'm looking at this team, the more I could see him get to 20 PPG.  I couldn't quite get him ahead of the PG run there, or a similarly-statted DeRozan given he's more of a set commodity, but he's close.
65. Jonas Valanciunas, Toronto Raptors
The Luminescent Lithuanian is back to being luminescent!  Despite playing under 26 minutes per game last year, JV came out at 52nd overall in per-game stats. Lunacy!  Maybe it should be the Lunatic Lithuanian!  Well, the real lunatic is Dwane Casey, amiright Raps fans?!  Valanciunas' seasonal numbers are so weird, he's played fewer minutes the past three seasons, yet his scoring and blocks have gone up every year.  Cray!  Boards got to a career best 9.1 and we know he's gonna have a great FG%.  With Biyombo gonzo, we might finally get the 30 MPG role we know he's deserving of.  It remains to be seen if he can handle the rigors of that big a rotational jump, but we could see a big breakout.  I'm still hedging with a smidge of conservativeness, but I like him.
66. Bradley Beal, Washington Wizards
Well, John Wall is trying to fire him up, that's for sure!  If only all of us could be All-Stars like Wall, smh…
Beal's never been a guy I've liked too much in fantasy terms, and he's got the lingering leg issues to be concerned about.  He scored a career-high in 15-16, but it tailed off after a nice start in part due to another injury layoff that likely lent itself to a subpar second half.  I want him to make more treys and get to the stripe more, and I can't understand how such a good pure shooter has never shot 80%+ at the FT line…
67. Marcin Gortat, Washington Wizards
Everyone loves to hate on Gortat because he's boring and old, just like Bruce Springsteen or some crap like that.  Hah, I probably pissed off some readers there, I just could never get into any sort of classic rock or anyone in that milieu…  Anywho, the Ten Foot Pole came out at an absurd 36 in per-game last year, aided by a metrics-friendly low-TO game.  He virtually replicated everything he did in 14-15, with the biggest outlier a 1.2 jump in REB.  Skeptics may point to the $64 million the Wiz just whizzed out on Ian Mahinmi, but the Wizards are extraordinarily light on bigs behind Gortat.  Pencil in the downward spiral that is Markieff Morris at PF, and they brought in Andrew Nicholson for stretch-4, but I could see Mahinmi and Gortat getting a little run together if they need some twin towers defense.  So I don't see Mahinmi pushing Gortat any lower than say 28 MPG, and even so, he should still deliver at this rank, albeit in a very unflashy, steady route.
68. Jusuf Nurkic, Denver Nuggets
The Jamba Jus is back for more smoooooooothie big man play!  Speaking of smoothy, he dropped 35 pounds this offseason!  That's like losing one Nate Robinson!  The hope is that it will help his durability, and he has all the tools to put together a monster season.  The obstacles?  Effin' Manimal!  Stupid Nuggets can't move him even though they hate him, and I don't see any way Nikola Jokic isn't going to get big run.  Now, Manimal might be playing in small spurts, so Nurk should out-minutes him anyway.
It's easy to forget that Nurk was off a MAJOR knee surgery going into last year, then a lingering ankle issue also cut into his time, for only 547 minutes on the court.  But in 17 MPG he got to 1.4 BLK, 0.8 STL, and flashed great offense and the ability to pass.  I'm a little worried the defense stats might not extrapolate into the huge numbers they could in a per-minute adjustment ala Derrick Favors, but I have little doubt in the PTS/REB/AST surprising a lot of people.  The FT% given his sweet stroke is still a little annoyingly-low, and durability remains a question mark, but if the pieces come together, even at this spot it could be a home run pick.
69. Danilo Gallinari, Denver Nuggets
Speaking of durability issues with a Nugget, ughhhhh Gallo!  I bet a lot of people just dry heaved seeing him still in my top-75, and I get it…  Yet another injury derailed his season to only 53 games, this time due to a bad kankle.  But hey, at least it wasn't his knees again!
Everyone is gagging at the risk, but I still think there's a pretty massive reward here.  He finished at 45th in per-game last season, and offers a really unique line.  19.5/5.3/2.5/0.8/0.4 in 15-16 doesn't jump off the page, but his ridiculous FT volume of 7.1-8.2 FT at 86.8% coupled with 1.6 treys and only 1.5 TO makes him an interesting 9-cat standout.  Now, with his minutes jumping over 10 more MPG than 14-15, I was mad to see LESS treys, but other than that, 15-16 was about what I expected.  He's on the final year of his deal so a prime target to be traded, but if lord help me he stays healthy for 75+ games even if 1/3 are on a different team, he'll easily deliver at this rank.
70. Trevor Ariza, Houston Rockets
The metrics always love him, the fantasy community always yawns.  Only the steals stick out in the 12.7/4.5/2.3/2.0/0.3 popcorn stat line, but he added 2.3 treys on only 1.4 TO.  The metrics gobble up the threes and low TO to the tune of a 38 per-game rank, but as everyone knows that's owned Ariza the past few years, it can be so sporadic.  He started October and November shooting nearly 35% last year, and the ups and downs really can hurt a H2H team.  He's better suited as a set-it-and-forget-it asset in Roto, plus he's 31 and off a dreadful postseason.  On an extremely friendly deal, I don't know if it would be a huge shock to see him moved and become a 6th man wing defender somewhere else.
71. Rajon Rondo, Chicago Bulls
Yeah, yeah, our Rondo hate will continue no matter what!  An absolutely revelatory, bounceback year for Rondo in SAC, with a 51st finish in per-game despite some terrible outlying numbers.  Including back-to-back delay of game calls, wtf are you doing?!  Yes, 11.7 led the league in dimes last year, and yes, he got 2.0 steals.  Awesomesauce!  But at 3.9 TO, I guess 0.9 treys is OK, and a horrible 58% FT clip, it came with it's obvious warts.  If he was still on the Kings, I might be more inclined to have him in that PG-run, but SAC had a pretty inept offense and a horrific defense that led to additional O touches, and now Dwyane Wade and Jimmy Butler are going to demand wing USG.  I don't think it will be quite as bad as what we saw in Dallas in 14-15 where he was an absolute leper, but I think it could be closer to those DAL numbers than the SAC stats.
72. Andrew Wiggins, Minnesota Timberwolves
Yuck.  One the biggest swing-and-misses I've had this side of MCW didn't have the kind of ascension I thought he'd have in his sophomore year, but the metrics hate him a lot more than they should.  115 in per-game doesn't make a ton of sense to me, but it's likely due to high-volume FG and FT%s that are meh, and no treys.  Well, you can make up on treys via ThrAGNOF, and not like 20+ PPG scorers are waiting around much further in the player pool (much less, guys who are gonna play 82 games…).  And despite all his slamming – yes I'm to blame for a lot of that ranking him so high in 15-16 – Pts went up nearly 4.o a game, FG% went up, and the rest of the his numbers were about the same in one fewer MPG.  I'm not expecting the world here, but he could easily get to 1.0 treys, nab closer to 4.5 boards, and score a ton while giving you a little nudge in the D stats.
73. Myles Turner, Indiana Pacers
I'm just going crazy with the JB favorites now!
It's tough to quantify what Turner did in 16-17 with a broken thumb and not getting pushed for a ton of minutes early on, but from game 41-82, i.e. the "legit" 2nd half of the season, Myles went 12.2/6.4/0.9/0.5/1.7 in 26.6 MPG, shooting 49.7% from the field, 73.9% from the stripe, and only committing 1.4 TO.  Dem some fightin' numbers!  Then the icing on the cake was a huge playoff showing, including a league-best 3.3 blocks in the postseason.  I still worry if he's going to play much more than 27-28 MPG (ugh, stupid Al Jefferson signing!), and I wish we saw the treys that he's more than capable of, but there's still some sexy upside here.
74. Dwyane Wade, Chicago Bulls
I don't think we need too much written here.  He's still got a great skill set for his age, has more in the tank, and when he's out there, will be producing.  74 games last year was actually his high since 2010-11 though (6 years ago), and he never got to 70 in any of those other seasons.  Add into the mixer an elite wing in Jimmy Buckets and just a confusing ballhog in Rondo, and there's a lot of question marks.  But for a guy who I think has a floor of 17 Pts and 4 dimes plus a great FT% and volume, I think there's still enough there to rank him top-75.  And we've seen Rondo be a TO vortex and help clear TO off his teammates' dockets, so maybe Wade sees the giveaways down too.
75. Zach Lavine, Minnesota Timberwolves
To our final mile marker at the 3/4 point, Lavine started a little slow off the bench, but really picked it up when assimilated into the starting Maroon 5 last year.  17.3/2.8/3.2/1.1/0.2 in 33 starts, including 2.4 treys at an absurd 47.4% clip from the field overall.  The 3s and FG% vault him into the sleeper zone, as D stats and dimes aren't likely going to bring too much to the table.  But if he can come close to that line – and he should be given a big chance as those #s were in 34:19 MPG and Tibby Tibs might push him closer to 36 – then he could have a really metrics-friendly game if the FG% and treys stay high.

And there ya have it!  Look for 76-100 to be out in a few days, and until then, quibble away Razzball Nation!