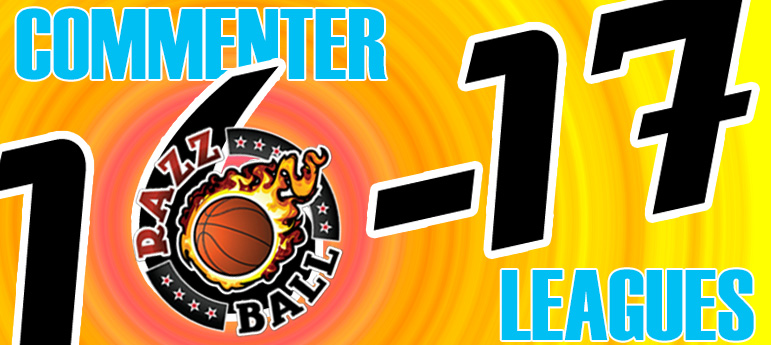 (Re-posting to the top one last time, with the same SUPER LOGO!  Last chance to create an RCL league and try to topple the field, or fill out on of the remaining leagues that needs owners.  Let's get a few more leagues together before Opening Night next Tuesday!)
The RCLs are back, baby!  Ugh, I am eager to win some titles this year after getting bounced in the finals in not one, not two, but THREE different leagues last year.  Infuriating!  I think that just proves I need to be in like, 15 RCLs this year.  You should too!
With the new season upon us, it's time to round up the competitors in Razzball Nation for a chance at RCL glory.  Try for infamy and join legends High as Greg Kite, Akron Lebrons, & Nick is Razzy in the RCL Hall of Fame by beating the best & brightest fantasy basketball community in the land.  And if you're stumped on a good team name for your 2016-17 RCL squads, be sure to use our RAZZBALL BASKETBALL TEAM NAME GENERATOR with some Razzball-exclusive terms in there.  Robin Lopez TOTALLY sucks at basketball!  While getting your name immortalized in the Hall of Fame is obviously priceless, 1st place will receive a $50 Amazon gift card and the power of puppetry by subjecting me to another YouTube shaming video.  I'm totally up for suggestions here, just no tattoos, gross out challenges, or things that would get me in trouble with my wife…
Just like the queen in GoT, I deserve to have the bells rung and "Shame!" chanted at me walking naked across town as well…  I haven't completed my video for Nick is Razzy yet!  It's going to happen!  I'm still gearing up for a volume eating challenge which will be posted in mid-September.  In previous seasons, I shaved my head for High as Greg Kite and ate some nasty-ass, spicy wings for Akron Lebrons to commemorate their destruction of the RCL field.  Nick is Razzy is about to make JB is pukey!  And not to be left out, 2nd place will get a $20 Amazon gift card as well.
We're going with our standard head-to-head 9-cats this year (FG%, FT%, 3PTM, PTS, REB, AST, STL, BLK, TO), which Yahoo smartly reverted back to as their default.  RCLs will again be 12-team leagues, same roster comp as last year (10 starters by your standard positions breakdown, 3 bench, 2 IL) and the same easy way to track the overall winner: The top prize will go to the team that A) won their playoffs/league title and B) of the champions, had the best overall W-L-T regular season record.  So to topple the RCL field, you've got to survive the playoffs yet have a dominant record in the regular season.  This takes out any crazy logarithms, any of that internet magic Rudy does for baseball, and any of that math stuff that confuses me that goes beyond counting to 10…  Why Slim handles the numbers!
We'll all be chasing defending champion Nick is Razzy, so come one, come all, and start up an official RCL Hoops league today!
TO CREATE A LEAGUE
Type in your league name.
Set your Draft Date/Time (leave draft as "Live Standard Draft").  (

NOTE – you must keep your original draft time the same or have unanimous agreement to change the date once your league is set to ensure everyone that has signed up for your league can make the draft.

)
Click Finish.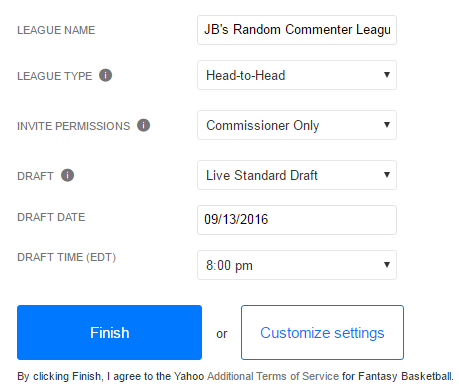 The next page gives you the shareable league link where it says "Option 1 – Share your league link".  Copy and paste this link to the Spreadsheet (which you see below).

Add the rest of your league info including your name, email, and draft time.
After completed, ***Make your league public*** (click "Commissioner" – Edit League Settings [3rd link down under "League Management"] – then scroll down to "Make League Publicly Viewable" – "Yes")

Update how many spots are filled as frequently as you can and enjoy your RCL League!
TO JOIN A LEAGUE
Click the Link of the league you'd like to join in the spreadsheet below and create your team.  That's it!
I've already got my JB's Random Commenter League ready to be joined, but we need as many leagues as possible, so please commish as many leagues as you can!  If you have any questions/comments for setting up or joining, shoot your comments below.  Or if you have RCL questions for me via e-mail, hit me up at [email protected].  Thanks for playing in the 16-17 RCLs!
(link to the Spreadsheet below to add a league)