We're officially at a crossroads!  We push all the way to the triple-digits and protrude into the late rounds.  That's a weird word, protrude.  Sounds like a scene title from the Anchorman DVD when Will Ferrell complains about the pleats…  Hey, I've written 100 ranks now, don't act like you're not impressed!
Get ready to be impressed by links!  Here's my Top-10, Top-25, Top-50 & Top-75 if you're still catching up.  Ranks, ranks, ranks!  And with us now getting to the top 100, I'm sure we're going to start seeing a lot of comments about guys that fell off the horse.  I just double-checked myself looking at Yahoo's ranks for the first time, and they have someone top-40 that I didn't even rank yet!  Lunacy…  Here's the Top 100 for the 2016-17 Fantasy Basketball Season:
(Psyche!  Be sure to put your quibbles with my ranks to the test in the 2016-17 Razzball Basketball RCL Leagues, now open and 100% free to join, start a league and sign up now!)
76. Dirk Nowitzki, Dallas Mavericks
I think we need to start off these ranks heading into the late rounds with a super sexy, young, immense upside-y, European player your league has never heard of!  Despite Slim's hatred of old people, Dirk really produced last season, with an absurd 31st overall finish.  We obviously don't quite expect that again, and it's a little metrics-whorey with the 1.1 TO, but we should get another solid season, albeit rife with some DNPs.
77. Jeremy Lin, Brooklyn Nets
Well, you either missed the PG run or want to be sure to secure your 3rd or 4th PG early, and I think Lin is where you go.  He had a nice bounceback season with the Hornets – both in stats and in mohawk hair product – with a career low in TO, career best in REB, and tied a penultimate career-high in FT volume (career best was in the 35 game 11-12 Knicks run…).  On a Nets team absolute bereft of any sort of offensive creativity, Lin has a chance to shine yet again in NY.  Linsanity!  They have no wing playmaking, and their best playmaker is Brolo in the post with a little pop-babyhook, so I think Lin will rack up the dimes just dumping it down.  Low treys and steals inhibit some upside, but the scoring should be decent as well.  There's enough here to interest me.
78. George Hill, Utah Jazz
In the same vein of Lin, we get yet another PG with pretty "bleh" upside, but is worth a pick towards the end of the mid-rounds.  Without having his usage crushed by Paul George and Monta on the wings, Hill can belt out The Thong Song all night long on the Utah wing.  Sure the Gordon's Fisherman is going to get his touches, but it's a decent little situation.  We know Hill's pretty durable, can make the open trey, and most importantly chip in probably 5-5.5 AST on that team with under 2 TO.  Great fit in that non-TO build I'm starting to put together!  KAT/Kemba/Aldridge/4thround/Conley/6th round/Hill…?
79. Aaron Gordon, Orlando Magic
Frank Vogel just said the sexiest two words I've ever heard…  Small.  Forward.  Yup, looks like Aaron Gordon is going to be your starting SF for a monstrous Magic team that can play a lot like the monstrous Pacers team.  And Vogel said he's going to play Gordon like he played PG13.  Well, let's not get too nuts here, Gordon isn't near that kind of shooter, dribbler, or facilitator.  Hell, they're completely different, but just the fact Vogel wants to play Gordon that many minutes is enough for me.  In only 24 MPG last year, Gordon went 9.2/6.5/1.6/0.8/0.7 with his run getting noodled by SKIIIIILES!  He made vast improvements from his rookie season though, shooting much better from the field at 47.3% (despite a pretty ugly sub-30% clip from deep).  He also kept the TO in check with a much bigger role.  I'm excited!  The hype train might get kinda loud, but I'll buy in at this range.
80. Robert Covington, Philadelphia 76ers
Lord Covington!  I was actually surprised how sexy his numbers looked from last year, with a 12.8/6.3/1.4/1.6/0.6 slash and 2.5 treys.  STL & Treys, boats & hoes!  Sadly for both the boats and the hoes, the FG% dropped his third straight season to 38.5% and the TO went up for the 3rd straight season to 2.1.  Still, a 63rd per-game finish is nothing to sneeze at, especially considering he injured his knee at the end of the 15-16 preseason and fought some Skiles-esque minutes battles with Brett Brown.  RobCo was sub 27 MPG pre-ASB, post-ASB got to 31:10 MPG with an absurd 3.3 treys and gorgeous 15.6/7/1.5/1.5/0.6 slash.  He also shot 39.6% (still bad, I know) in that run vs. 37.8% to start the year.  A healthy offseason, hopefully a dedicated 30+ MPG role, and the upside for a pretty special season could come together, especially with the dire need for his floor spacing.  I didn't intend to go this nuts for RobCo going into these ranks – I know he burned a lot of owners with his ups and downs last year – but re-looking at his numbers and projecting the upside gave me some mad appeal.
81. Kent Bazemore, Atlanta Hawks
I was really surprised at myself for ranking Baze this high.  His 75th per-game wasn't really too shocking, but his consistent role sure was as we progressed through last season.  In games #3-#48, he was 13.2/4.8/2.4/1.3/0.4 with 1.7 treys and 46.1% 3PT shooting.  He showed some inconsistencies down the stretch, but it was a new starting role for him, and Baze got paid!  On top of it being a major career year, his fix to his FT% is just ridiculous – dude was a career 60% FT shooter going into last year!  Then all the sudden goes 1.6-2.0 for 81.5% at the stripe in 15-16.  I expect him to get to 30 MPG this season, and notch career bests across the board yet again.
82. Avery Bradley, Boston Celtics
It's a little bit of high-end ThrAGNOF, but dem steals baby, dem steals!  Career-best 1.5 swipes last year, on top of 15.2 PPG and 1.9 treys, also career highs.  He doesn't do too much else and 44.7% from the field we saw last year might be a smidge high, but at least you pretty much know exactly what you're going to get.  An anti-Forrest Gump.
83. Jordan Clarkson, Los Angeles Lakers
Welllllll, dammit.  I liked Clarkson a ton in 15-16 and he as just OK…  A 135 overall finish in per-game?!  Ouch.  I know Kobe Bryant hogged the ball a ton, but dayum 2.4 dimes last season was mad infuriating.  He still had his low TO, but only 1.1 steals and 1.4 treys in a pretty meh line was annoying.  He's got a little more upside over these wings ahead of him to be a George Hill-type, but there's too wide a range of outcomes for me to go any higher.  Mayyyybe we get to 16 Pts and 4.5 Ast, and he can be a very nice 4th PG…
84. Enes Kanter, Oklahoma City Thunder
There hasn't been too many guys I've been more critical of for their lack of peripheral stats then Big Enes.  He hasn't averaged over 0.5 STL or BLK in his career, with his dimes topping out at a Stockton-esque 0.9 in 13-14.  Playing in Utah rubbed off on him that season!  But speaking of rubbing one off, you gotta love his new situation!  After Serge Ibaka went down in 14-15 to end the regular season, Kanter went 20.8/12.2/0.8/0.6/0.6 in the final 17 OKC games that year.  There was also no Kevin Durant then, so the upside for a pretty big scoring and rebound output is there.  He also shot 57.1% from the field and had a pretty big 83.3% FT clip at 3.5-4.2 per in that stretch.  Slim made a good point on the Pod that Kanter's-upside-line is closer to LaMarcus Aldridge than it should be given the ranks, but we're looking at a very small sample and weighing the best-case scenario.  Shave off a little around the Enes stats and consider he'll probably be at 2.0+ TO and this rank feels about right.
85. Wesley Matthews, Dallas Mavericks
He was such a forgotten name, that I almost even forgot about him!  I had Wes barely creeping the back end of the top-100, but the more I thought about it and looked at the stats he was able to put up off such a devastating injury, the more I'm buying in.  Remember, even off the Achilles injury going into 15-16, we were still ranking him 100ish after being at that 40-60 range a few years.  Despite being a down year, per-game still gave him a 102nd valuation.  Yes, the FG% was by far a career low, and he had absolutely no aggression with a career-low in FT volume (but also in TO, so that's good), but he still made a boatload of treys (2.4) with a steal-per to be nice and ThrAGNOFfy.  And perhaps the best thing that Wes had going for him last year was playing 78 games, at 33:54 MPG.  Oddly, he was actually BETTER on less rest (1 game or 0 game rest) than with extended rest, and yes it's probably small sample bias, but actually a little encouraging that his body was holding up.  In April, Matthews made an absurd 3.6 treys/per in 7 games, and just like in that run, there won't be Chandler Parsons around.  Not like Harrison Barnes is gonna be stretching the floor the same way either!  We're already hearing Matthews sound off on how strong he's feeling and how different 16-17 will be with a healthy offseason, and the overly-optimistic Mark Cuban is excited too, but that doesn't mean much haha…  I'm going to be a heavy Matthews buyer in the late rounds.
86. Devin Booker, Phoenix Suns
Awwwww, yeah!  Everyone loves them some of the younguns!  Just a phenomenal breakout rookie season for the D-Book, going 17.4/3/3.5/0.6/0.3 as a starter in 51 games in 15-16, with 1.5 treys.  The TO and lack of steals hurt the overall metrics, but on such an abhorrent Suns team when E Bled and Knight got hurt, it's pretty incredible.  But obviously therein lies the rub – it's going to be tough to be too bullish with both the Suns guards healthy.  They're both more brittle than grandma's peanut snack, but it might make Booker a bumpy ride to open the season.  Even so, the minutes should be there, and I think we see more treys, a few less dimes, and a lot less TO without the constant pressure to create.  It'll be a little high-end ThrAGNOFfy, but with the upside for a more complete line when/if one of the other guards gets hurt.
87. Luol Deng, Los Angeles Lakers
The definition of a snoozefest pick, I think people are sleeping a little too much on Deng in a GREAT situation.  After Chris Bosh went down, Deng went nuts for 15.2/8.1/2.5/1.2/0.5 over the final 28 games, with 1.1 treys shooting 48.4% with only 1.4 TO.  I guess "nuts" might be overstating it a bit, but it had been a while before Deng did anything flashy!  Then he goes out and signs a nice deal to finish the peak year of his career in LA.  Brandon Ingram doesn't even look close to ready, and I think they could slot Deng over to some stretch-4 at times when Julius Randle is struggling.  Regardless, Deng is going to get 30+ MPG and have a chance to replicate that line above; sure, shave off a few REB and maybe the TO go up a tick, but he's going to be their only real offensive weapon outside of their backcourt.
88. Thaddeus Young, Indiana Pacers
We're likely going to see him ranked much more favorably than this, but I REALLY worry about the impact his new role is going to have.  He's put up his stats on a terrible 76ers team and a pretty god awful Nets team.  I don't think he's a great fit for the up-tempo Pacers team, and I certainly don't hope he starts trying to shoot treys again.  When he's trying to shoot outside, it absolutely drains his FG% – he's well over 50% from the field in 5 seasons where he took under 0.4 3PTA, in the other 4 seasons of his career?  He's taken well over 1.5 attempts and shot well under 50%.  The Pts and Reb are definitely going down, and really the only saving grace is he should still be a 1.5 Stl PF which is tough to find.  I'm not expecting too much else though…
89. Ben Simmons, Philadelphia 76ers
Finally, some fresh blood!  As you're going to see across most ranks and ADPs, rookies aren't going to be heavily drafted this season, but it's not for lack of upside in the draft class in dynos.  It's just some pretty blah upside in redraft.  The expectation is for Simmons to play point-forward, which makes a lot of sense with Jerryd Bayless your projected starter at PG, who is more of a shooter.  Simmons flashed what he could do in Summer ball going 10.8/7.7/5.5/1.0/0.5, and you know, that looks about right.  He also showed his warts shooting 32.2% from the field and committing 3.8 TO.  Let's hope those fix!  It's going to be a pretty infuriating ride at times, but the out-of-position dimes are worth drafting him for, if he lasts this far.
90. Monta Ellis, Indiana Pacers
He's still only paid less than $11 mil this year, THERE'S SO MANY CHUMPS GETTING PAID MORE THAN MONTA ELLIS!  Well, Monta kinda became a chump himself last year, sadly…  Wildly inconsistent, Monta's scoring fell to BY FAR a career low taking out his rookie season, TO stayed too high, FG% fell, FT volume fell… It's just all salvaged by 1.9 STL and 4.7 AST.  Problem is, I don't think he gets to either of those, and not particularly close in AST with Jeff Teague sucking up more PG USG.  And there will be MUCH better offensive output from the frontcourt, which will have Monta doing a lot of standing around.  Even with the nice STL and AST last year, he still only finished 72nd in per-game and I don't know if he will be too close to that anyway…  But if you need those stats late, I could see gambling like a madman on a moped.
91. Ryan Anderson, Houston Rockets
Metrics-darling, Ryno Anderson!  Although he only finished 70th in per-game last year…  Guessing it has to do with his HORRIFIC spike in TO!  Career worst!  Did he try to emulate James Harden knowing he was about to go to the Rox!  Get this – Anderson's TO were…  wait for it…  an atrocious 1.4 TO a game!!!!  What is going on in the world?!?!!  Otherwise, Anderson had a pretty standard Ryno season going 17.0/6.0 with 2.0 treys.  Such round numbers!  He also got his games-played back up to 66.  The vet got paid a cool $80 mil to play in D'Antoni's system (MORE THAN MONTA MOTHERF ELLIS!), and I think we can expect maybe a few less points, more 3s, and 70 games.  Not too shabby out-of-position stats at this point in the draft.
92. DeMarre Carroll, Toronto Raptors
Like Matthews, Run-DMC is going to be maddddd overlooked at wing.  Carroll's debut season with the Craptors had a laundry list of injuries, but he at least put up some decent stats while out there (minus not being healthy enough to handle LeBron in the playoffs).  His 3PTM and STL were both career highs over his last two starting seasons in ATL, albeit in a pretty small 26 game sample size.  But one good thing of several small injuries is he isn't recovering from one major surgery.  Yes, Norman Powell did show some flashes to light a little fire under Carroll's butt, but barring any sort of horrific downturn in skills, it should remain Carroll's 32-34 MPG gig this season.  The games played remain a little bit of a concern since 73 is his max, but I see him bouncing back.
93. JJ Redick, Los Angeles Clippers
Ewwwww, bacne!  Ewwww, horrible tattoo judgment!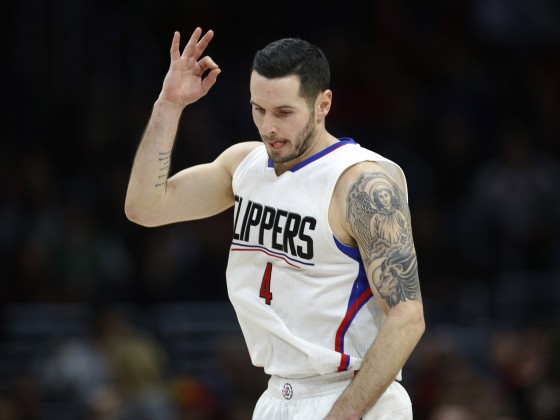 Is Redick's right arm supported by a god awful goth metal band?!  I imagine in this picture he's humming Evanescense…  Then with his dumb handjob-looking motion there with his right hand, I'm guessing he just shocked the world by making a 3-pointer.  THAT'S ALL YOU CAN DO, BUDDY!  The metrics always love him for the 3s/low TO/not-killing FG%, but not in my wildest dreams do I see him shooting 48% from the field again, 47.5% from deep, or scoring over 16 PPG with Blake Griffin healthy.  And he doesn't do anything else than that.  Sure he's one of the better ThrAGNOFs, but that makes him a ThrAGNOF all the less…
94. Derrick Rose, New York Knicks
While he is obviously a super PG, I'm not super excited for his new superteam.  No takebacks!  Rose is just so blah – even though the minutes went up last year, the AST went down, the FG% – while going up a smidge – remained a travesty at 42.7% given he only made 0.7 treys, FT volume was at a career-low, and the TO are just too high with no D stats to back it up.  He didn't even make it onto BBMonster's top 188 in per-game!  But alas, a Pts+Ast combo is tough to find as you near #100, and maybe after a few seasons off the major injuries, he can get those dimes to creep back to 6ish and the FT volume can come back with more faith in his knees.
95. Rodney Hood, Utah Jazz
Mannnnn, I had trouble with Hood.  Every time I was like, "ya know what, that looks pretty good!" I ended up not quite able to raise him.  Hood finished 95th in per-game last year (coincidence, I swear!) for a breakthrough sophomore campaign.  The 2 treys were sexy as was the 2.2-2.5 FT for 86% freebie clip, but he was only 0.9/0.2 in Stl/Blk and I don't love a 2.7:1.9 Ast:TO for a guy that, sad to say, kinda profiles to be a little ThrAGNOFfy.  He has more to his game than your typical 'NOF, but it's a slow-pace Utah team with a better point guard, so the dimes might fall a smidge too.  I have a feeling he'll have a bit of a hype-machine blowing the sails, but I ain't no sailor!
96. Emmanuel Mudiay, Denver Nuggets
Like a bad sushi roll, we knew he was raw and we knew it would be…  mushy?  I dunno, something where it was bad, but didn't give you diarrhea.  Although if anyone reached for him seeing a crazy rookie season, they mighta Oops I Crapped My Pants!  He's a horrific drain on FG% and TO, but he did end 15-16 strong going 16.5/3.8/4.9/0.6/0.4 hitting 1.7 treys and shooting 40.8% over the final 22 games, both well higher than his season-long numbers.  He did average 5.5 AST overall so the dimes went down, but his AST:TO was 4.9:2.7 in that span to 5.8:3.4 in the first 46.  Not dramatic, but I think he found a little niche as a scorer and let some of the other guys snatch up the dimes.  Let our boys Nikola Jokic and Jusuf Nurkic get the big man dimes!  So I have some optimism in that regard, but he would still be a low-AST PG with a horrible FG% if so.  Rose Jr.?
97. Joakim Noah, Chicago Bulls
Ya know, I think he could actually be a pretty big surprise in 16-17.  Sadly, it's no surprise his shoulders won't stay in their sockets, and his razor never makes it out of the closet.  Injuries, injuries, injuries for the Goromotaro, but at least he finds himself back with Rose and on a team that will need interior passing.  His ugly-ass, side-winder shot failed his FG and FT %s last year – FT% didn't used to be a drain though – so maybe he can right those ships and gets his boards and blocks with 4-5 dimes.  I'm not holding out hope for much more than 60 games though.
98. Kentavious Caldwell-Pope, Detroit Pistons
Mmmmmm, KCP addiction time!  Lorrrrrd I love me some KCP.  I'll do whatever it takes to get a sweet hit, including what JJ Redick is doing in that picture…   Anywho, KCP finished 86th in per-game last year and I think he's at about his ceiling right now.  He played an absurd 36:41 in 15-16, and StanVan has already come out and said he's likely going to scale him back in run.  And a lot of what KCP accrues is due to the sheer minutes.  Scoring and steals went up, but they were right about what you'd expect with more MPG.  While his FG% went up tp 42.0%, the treys dropped to a disappointing 1.5 per.  He did make 3.0 per in the playoffs in a really solid showing despite getting swept, but I think he's locked in as Avery Bradley-lite, a full round+ later.
99. Greg Monroe, Milwaukee Bucks
I guess I have to rank him somewhere…  His 43rd per-game rank last year is insanity to me, but 0.9 STL and 0.8 BLK look a lot worse than 1/1 than they should, he has a good FG% guy and only had 1.6 TO.  Problem is, the Bucks HATTTTTE him.  Why sign the dude then?!  Like the Sixers of the midwest, the Bucks hoarded big men over the offseason, drafting Thon Maker and re-signing Miles Plumlee on a big deal.  If Monroe makes it to opening night still on the team, he's one of your top-5 trade chips at the deadline, and I don't think any situation he would go to would be nearly as ideal as a Milwaukee-showcase.  It could start fairly strong with him replicating last year's line, but I REALLY worry about how he finishes in the pivotal playoffs.
100. Justise Winslow, Miami Heat
Well, as you may have noticed, I don't have Bosh ranked yet…  I just can't do it, it's too scary at this point, despite the "news" the Heat owner probably just willy-nilly said he looks forward to seeing Bosh at camp after looking at a Bosh-posted workout video.  Get real, the owner isn't a doctor!  And unless Bosh can avoid flying during an NBA season – both his really scary blood clot issues were after flights (but I'm no doctor, so I dunno!) – I just can't rank him yet.  Oh yeah, this is about Winslow!  Justise is blind to position, but figures to play some stretch-PF sans-Bosh.  Pat Riley did say Justise would be starting at SF, but either way now, the role looks to be there.  Winslow had some of your typical rookie struggles for a one-and-doner – low FG%, bad 3PT% and a bad FT%.  We knew the FT would be an issue coming out of school, but at least he kept the volume low.  Encouraging to me is the 1.2 TO and 0.9 STL he put up.  You'd expect him to get some swats as well in a full role, and hopefully get a little more aggressive for a better FT volume at 75ish %.  He certainly looked like he fit in the NBA as a bulldog-type with his build, so I think he could be a nice surprise over a full season of 33-34 mins.
Top-100 – in the books!  100 more to go…  Mannnn, ranks take some time to put together!  Here's to hoping we can get through all 200 by the end of next week.  No promises!  Shoot your thoughts below on who was left out or who is way too high, and happy offseason Razzball Nation!