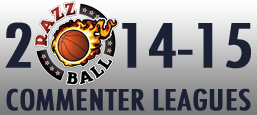 [Reposting to the top!  We have many spots open, but more importantly, need more leagues!  Plenty of time to launch and commish an RCL league for the season.  
I lied.  The most important thing is ideas for the YouTube prize!  Read below and post your thoughts!]
The time is here.  The calling, early.  The draft day prep work, extensive.  JB's hair, slowly growing in.  Yes, RCL Basketball is back!  And we're as pumped as ever to see who will be the next champion among champions.  The smartest in the room amongst the moderately intelligent people in the room.
So I know what you're all thinking…  What is JB going to embarrassingly do this year?  If you missed it, I shaved the 13-14 RCL Grand Champion's team name in my head, and I'm going to do something goofy again.  Well, you're the biggest part of the site (talking to you readers!) and so I think the Youtube video prize should be something suggested in the comments.  Something that majestically displays the RCL Winner's team name that I can spread to the world, but doesn't involve a big monetary investment.  Nothing illegal!  Or tattoos, I don't have Birdman's budget!  Low key, but funny.  That would be my tagline if I was single and online dating…  Be sure and share your ideas, reply on comments/suggestions you like, and we'll have another public shaming in 2015!
But you don't get only the humiliation video; as usual, Razzball loves to pimp out our gear and we have another official 2014-2015 RCL Champion Jumpsuit (branded basketball of course) to tailor to the official winner (cost of tailor not included).  Most importantly, an everlasting shrine in the annals of history.  Wow, that sentence is fun!  And just as fun, we'll have the weekly updates tracking the standings throughout the season as we did last year.
Please, blog, may I have some more?