Ya know, I really liked that movie Kiss Kiss, Bang Bang.  Pretty quotable, Robert Downey Jr. right as he was completely taking off, an always lovable Val Kilmer.  "Who taught you math?!" is a fun line when there's a botched Russian roulette attempt…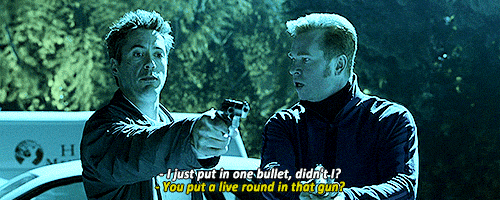 Which kinda feels like Marquese Chriss right now!  20% of the time, he's this dynamic, toolsy rookie every time!  Wait, that's a different movie…  Big night from Chriss against the Grizz, going 20/6/0/2/1 with 2 treys on 8-12 shooting.
Throwing down highlight reel dunks, and bangin' treys!  While the D stats have actually been there (1.5 STL 0.7 BLK over the past 11), he hadn't scored over 5 points in the previous 4 games.  Joakim Noah's jump shot, woof!  The minutes remain waffle-y as well, going 17, 12, 8, 17, 34 the past 5 games.  I don't see any reason why the bumpy ride would all the sudden be smoother, but it's lines like these that make him a tantalizing stash if you're locked into a high seed for the fantasy playoffs.  Of course, when I recommend stashing some certain forwards, it doesn't always go well.  Sometimes I feel like when I look up the word "idiot", I'll see a picture of my face!  Instead I'll find:
Too many GIFs in the intro today?  I guess 5 GIFs can be a lot!  Wait, who taught me math?!  Here's what else went down last night in fantasy hoops action:
DeMarcus Cousins – When you put up 46 points and still lose to the Sixers, it's gotta just continue to be DeMoralizing. 46/15/5/1/1 on 4 treys, and a crazy efficient 11-16 FG, 20-22 FT.  Well, minus the 8 TO…
Darren Collison – Andddddd, exit stage left.  After loving his big minutes and output the past 3 games, 24 minutes of 8/0/2/1/0.  I hate the Kings.
Willie Cauley-Stein – A surprise 17/3/1/1/1 yesterday.  Had 13 points the game before, and 4 of the past 5 have looked pretty usable.  Interesting deeper league big, if he's still available.
Robert Covington – THREEKOLA!  …not Las, brought up his rank in the past month (sorry for the Pod mixup guys!), and he just kept it going with a 23/10/2/4/0 line yesterday with 4 treys.  All hail Lord Covington!
Jahlil Okafor – Got a start with Joel Embiid out resting his EMBIIIIIIID.  15/4/2 in a pretty bleh line, with Nerlens Noel scooping up 24:30 as well, going 12/3/2/3/1.  Brett Brown went from calling Okafor "not in game shape" Sunday, to still starting him over Noel yesterday.  Smh…
Dario Saric – Went on a nice little run only to dud out on Sunday (6/3/1), but bounced back last night for 17/5/6 on 8-11 shooting.  Everyone is worrying about how Ben Simmons might hurt T.J. McConnell, but I think if you're relying on Saric in deeper leagues, that's the bigger worry.
Isaiah Whitehead – Pretty much the only positive out of this game for the Mess, going 13/4/5/0/1 with no TO and a trey.  Gives him 4 out of 5 usable games just like WCS.  Probably not quite reliable enough in 12ers, but it actually looks kinda decent.  Should be on more radars.
Caris LeVert – A lot of people's rookie nookie right now went only 4/6/2/2/0 with 4 TO on 2-8 shooting.  Gonna be bumpy, and I don't see anywhere near the upside of say, Chriss Chriss, Bang Bang!
James Johnson – Doing his normal rainbow thang!  33 minutes leading the bench for 17/4/5/2/3 with 2 treys, including the exclamation point putback slam at the end:
Did suffer a "shoulder stinger", so hopefully that scorpion that nicked him wasn't too poisonous.  Heat winning 8 straight, break up Miami!
Tyler Johnson – The other Miami Johnson returned from his own shoulder issue, going only 3/1/0/1/0 in 19 minutes, shooting 1-7.  I'd hold strong here though, just shaking off the rust.
Hassan Whiteside – 12/9/0/1/3, and good to see him caring just a little bit with the Heat winning again…
Dion Waiters – I'm still bitter about this Slim!  After slamming his game calling him worthless, Slim picks up Waiters before I could last week while recording the Pod in the JB v Slim RCL.  It's like when a dude makes fun of a girl nonstop behind her back, then ends up sleeping with her.  I know of two instances when that happened!  Anyway, 19/6/9/0/1 for D-Wait, with 3 treys.  Enjoy it, Slim!
Andre Drummond – Goromotaro!  Rainbow line!  Throw all the superlatives at him!  28/22/3/2/2, but wasn't quite enough to fend off the C's.
Tobias Harris – Man, I hadn't realized how bad it's been lately for this Blowhard!  15/4/0/0/1 last night with no treys, he's only 4-7 from the line his past 5 games, and it's just a lot of empty teens scoring lately…  Hopefully he turns it around and we can GoBias some coffee…
Isaiah Thomas – Playing like a god out there!  What would be a short-statured god, a cupid maybe?!  41/0/8/2/0, scoring 24 points in the 4th quarter to help fend off the Pistons, who put up 39 Pts in the 4th last night themselves.
Jaylen Brown – Still starting, but pretty blah for 4/3/1/1/0.  I still like his career upside, but Marcus Smart still got his (30 mins, 13/5/8) and Avery Bradley sounds like he's fairly close to finally returning from the Achilles.
Elfrid Payton – Obviously would like to see more dimes, but I love my Shelfrid!  21/4/3/3/0 with 2 treys.  It's so sexy right now.
Evan Fournier – Finally back on the court after over two weeks off, going 9/1/2 in 23 bench minutes.  I still think there's a fringe top-75 player here, so I would shoot some buy lows if you're hoping to acquire a nice, young, 24-yr-old French Virgin.
Andrew Wiggins – Did we bulletin board material him?!  Did I just make that a verb?  Who taught you English?!  27/3/5/2/1 with a trey helping will the Wolves to a W in OT.
Ricky Rubio – Well, Shelfrid played well, but why wasn't he D-ing up on Rubio?!  To be fair though, Rubio hit 6 treys, and is one of the worst shooters ever.  I think you give Rubio shots out there…  22/8/8/0/2 for slicky Ricky, and it's good to see my PG flames Ricky and Shelfrid putting it together!
Yogi Ferrell – Mavs surging right with the Heat!  7-3 over their last 10, including a big win over the Cavs at home last night.  They're singing people off the street, and winning these days!  Yogi Berra went 19/5/3/4/0 in the win, in a whopping 38 minutes.  That's 120% more than I would've ever expected!  This after 9/2/7/2/0 in 36 minutes Sunday night.  Deron Williams sounds like he's still got a few games on the mend with a toe injury, so if you need a PG, I would by all means be fine streaming Ferrell in 12ers for the short term.
Seth Curry – The lesser Curry still got his as well, going 16/5/4 with 2 treys.  The Cavs have to be looking themselves in the mirror going, "did we really just lose a game to a Yogi Ferrell (who?)/Seth Curry backcourt?!"
LeBron James – Keeps putting up nice lines while they're losing (23/9/9/2/0 with a trey), then again has his 5 TO and 4-8 FT…  Had some extra onus to try and get a W here with Kevin Love out (back strain, MRI was clean though), so hopefully Cavs fans will have less to panic about once Love is back and they're outta this funk.
Mike Conley – Despite the big Chriss breakout, the Grizzlies still won this handily, thanks to a monster Conley game for 38/6/9/2/0 with 7 treys.  Was also his career-high!  Apparently no one wanted to play defense in Phoenix…
Chandler Parsons – "JB, you ranked him inside your top-50?!  Who taught you math?!"  2/2/2/0/0 in 21 shoot-me-in-the-face minutes.
Eric Bledsoe – I must have jinxed him, because after raving about his hot weekend, threw up a complete dud last night of 14/5/4/1/2 on 3-11 shooting with 6 TO.  At least you got some blocks!
I hope everyone is off to a great start in week 15, and ready for the final playoff push!  If you need some extra streaming love this week, be sure to check out The Stocktonator for projections through the rest of the week!  Gonna help give assist you with your streaming needs.  Hah!