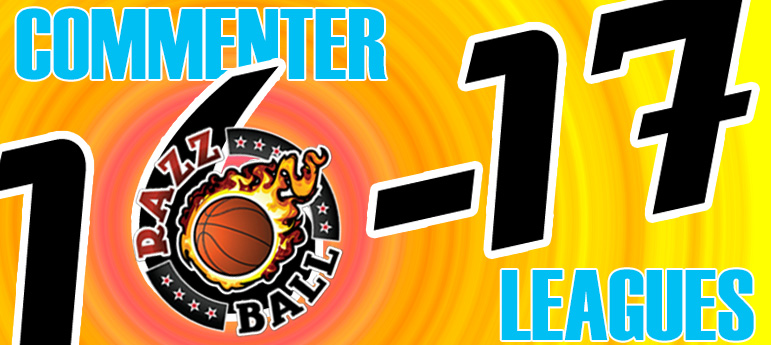 RCL Nation!  So much has gone on since we last checked in!  Major injuries to highly drafted guys, we know who is going to be in the Super Bowl, we have a new US President…  The world just never stops turning!
Speaking on turning, mannnn I need a few of my RCL teams on the fringes to start turning around, dammit!  Losing Chris Paul in one and Pau Gasol/Rudy Gay in another has NOT been a fun week…  Russia hacked my RCL rosters, I'm WikiLeaking water over here!
But weathering all the proverbial storms out there, is our current RCL leader in first place.  He's in…?  He's innnnn….?  That's right, The Doc is In!  With a record of 81-34-2 and 164 RCL points, the Doc is in command, that's for sure!  So it's up to the rest of the WE-GOT-A-TROPHY! league to put an end to this clinical madness!
Check out how your teams stacked up after weeks 12-13 in the 2016-17 RCL Master Standings Table table, and here's some notable takeaways from the past two regular season weeks across our 23 RCL Leagues:
WE-GOT-A-TROPHY! – As mentioned in the open, our fearless leader is da Doc!  The Doc is In has been on absolute fire over the past 2 months (who is that a picture of as your avatar, is that Antman?!), going 54-16-2, including 14-3-1 the past 2 weeks.  MAC, why didn't you spoil this for us?!   The Kawhi/Butler combo is paying off on the wing for Doc, and AST are getting salvaged by a hot Elfrid Payton!  Shelfrid is so hot right now…  It's up to the other TROPHY hopefuls to make this streak end!
EmasculatingThroatLozenges RCL – The always unsettling and tough-to-watch Brad's Awkward Team continues their strong 16-17 campaign, rolling into 2nd with 159 RCL points and 2.5 games back of da Doc.  After a big run in weeks 4-9, things cooled off a little hitting that mid-season wall, but back on track with back-to-back 6-3 wins.  The Lozenges better not get topped by someone so effin' awkward!
JB vs. Slim Year 3 – Here it is.  Me opening up to you, dear RCL combatant:  Slim and I have failed you.  We have allowed a pudgy, unathletic, oaf of an overweight kid in Big Baby's Lovechild just dominate our league.  For shame, Slim!  For shame, me!  At 78-38-1, Big Baby Jr. sits at 157 RCL points, and is 13-4-1 the past two weeks.  TWO WEEKS!  Hey, my scrubby-ass team held in there for only a 4-5 loss when we faced off!  Blame Slim!  BLAME SLIM!
I hope everyone is having a blast playing in RCLs this season, and is avoiding this latest rash of RCL injuries!  Uh oh, with the flu and a stomach bug going around the NBA, the last word I need to bring up is "rash"…  Stay strong out there with your battered rosters, and I'll catch you again either next Monday or the Monday after!