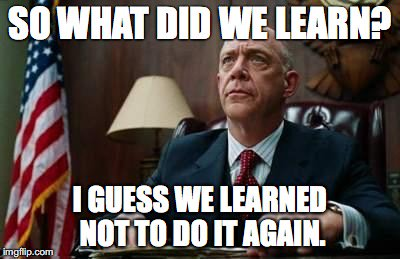 You can't win a championship at the beginning of a season, but you can lose one. Much as it pains me to say, I think I've already lost.
After a successful Writer's League last year that ended against Kostas in the semifinal and a pretty intensive offseason of thinking about hoops, I came into this year's draft feeling like I was in decent shape to post a good showing again. But this year ain't last year. Stats and success don't carry over, and if you're resting on laurels rather than applying lessons learned, there's no way to bank Ws on account of "experience." If you've been following Kelder's weekly recaps, you might have noticed that my team isn't anywhere in the mix. Indeed, you've got to scroll almost the way to the bottom of the table to see my name. A record of 19-34-1 is good enough for 11th and I feel all but certain the hole that I've put myself in is going to be too deep to recover from. I'm not quite ready to quit on some other struggling squads, but I think it's safe to let go of preseason expectations at this point and set a different goal for the remaining three-quarters of the season here in the Writer's League.
A recent pod featured a lot of chat about process rather than results. Things can go wrong (or right) for a lot of different reasons in this game, but one of the ways – perhaps the only way – to grow into a consistently excellent player is by identifying and correcting process mistakes. While no one likes managing a team that's in the toilet (I know I'm not), there are perks to drafting a dud. A poorly performing team doesn't allow good fortune to mask bad decisions. Failure is out in the open, and in the case of this particular team, it is also abundant. The season may be lost and the team not much more than a collection of dead men walking, but it won't be a truly lost cause if I'm able to take something from it. An autopsy on the still-breathing corpse, though gross, is the only way to save something here.
After a lot of turkey last week, crow is now the featured item on the menu. Dig in. 
The Idea
After learning I would be picking 9th, I decided to pursue a guard-heavy first couple of rounds. By pick 9, the coveted bigs were normally gone, and after thinking through the dearth of blocks and centers this offseason, I was interested in punting the whole damn category and not getting bent out of shape in pursuit of the rarest stat we count. Because blocks are often tied to FG%, I thought leaning into an assist/steal/free throw build while deemphasizing the need to get swats and a high FG% was the way to go. Construction would be built on the back of top-tier guard play and I'd figure out boards as I went. Threes could be found late, and the guards that I was interested in scored okay, allowing me to pursue non-shot blocking bigs who excelled on the glass and might take their game up another level (hello, Deandre Ayton!) 
The Trades
The Picks
Pick 9: Tyrese Haliburton (Traded). Passing over: Stephen Curry (ouch), Kyrie Irving, Anthony Davis, Karl-Anthony Towns
The Thinking: Hali began this season saying he wanted to be a 20/10 player and I believed him. This was the one and only time all draft season that I had a crack drafting Tyrese and my enthusiasm for rostering him lead me to jump over the safer, indefatigable Stephen Curry. Averaging 19.9 points, a league-best 11.1 assists, and 1.8 steals on top of extremely helpful shooting splits, he's returned first-round value. Why trade him? Getting Jayson Tatum back eased the pain a bit. Also, fitting for the kind of season I'm having, this trade went down in that brief window when LaMelo Ball had just gotten back from his sprained ankle and not yet re-sprained it and Cade Cunningham's shin injury was not suspected to be a stress fracture. I thought there would be guard help coming back from my IR to offset the Haliburton losses. It has yet to arrive. 
The Result: Tatum is one of the ten (?) best basketball players in the world right now and a top-five fantasy asset. Efficiency and steals – the only two areas where his line leaves you remotely wanting –  are improving along with the rest of his game. There aren't many guys who are having better seasons than Hali, but Tatum is one of them. The timing of the trade and the grim injury updates on my second- and third-round picks is rotten luck, though I was also a bit too cute by passing on a falling Curry, who is and remains exquisite. 
Pick 16: LaMelo Ball. Passing over: Ja Morant, Devin Booker, Dejounte Murray
The Thinking: Pairing Ball with Haliburton would give me a lock on dimes, steals, and free throw percentage. The out-of-position rebounding was helpful and the FG% pain was immaterial because of the punt. 
The Result: Spending an early draft pick on a player who is already injured is poor process by definition. Ball's first quarter of 22-23 is the reason why doing so is a bad idea. To make matters worse, the Hornets are already miserable and, in an improved Eastern Conference, might be so far out of it by the time LeMelo finally makes it back that they accelerate the tank. A truly lost season is very much on the table. A painful self-inflicted blunder. 
Pick 33: Cade Cunningham. Passing over Donovan Mitchell, Bradley Beal, Jaylen Brown
The Thinking: Assists, steals, rebounds, and a sprinkling of swats to go along with an opportunity to take a bigger slice of the usage pie on a bad team. The Cunningham, Ball, and Hali triad was also a decent start on the boards from a trio of guards. 
The Result: The 12 games that Cunningham appeared in weren't especially great and now, like Ball, there's very little incentive for the Pistons not to take his shin injury very seriously. Detroit is certainly angling for a shot at Vic and Cunningham is a franchise cornerstone whose health is a priority. Surgery is the worst-case scenario, of course, but even if it doesn't happen there's no reason to expect a full-throttle version of Cade when/if he returns. Getting zeros from two of the first three picks is death. Ball was avoidable, but this is just a bummer. There were safer picks to make, I suppose, but I didn't feel like I was reaching for Cade here. 
Pick 40: Deandre Ayton (Traded). Passing over: De'Aaron Fox, Nikola Vucevic, Fred VanVleet, Darius Garland, Shai Gilgeous-Alexander, Desmond Bane
The Thinking: Time for rebounds and a FG% boost without hurting the free throws. The offseason vibes were shit but Phoenix and Ayton sticking with each other for the time being would make lemonade. I assumed they'd be able to make nice and was optimistic that his youth and upward trajectory could push him in front of Vuc. I would have been thrilled if the swats came back, but I was prepared to soft-punt it if they didn't. 
The Result: Considering Ayton just polished off a top-10 week, I can't say that I feel great about including him in the package with Haliburton. The blocks haven't really returned, the rebounds are slightly down, as are the eFG% and scoring. You hate to see a guy go off the week after you give up on him. Color me skeptical that it lasts, but given how things have gone so far, it would be a delicious twist of the knife if DA suddenly blossomed now that he's in greener pastures.   
Pick 57: Alperen Sengun. Passing over: Devin Vassell, Franz Wagner, Jerami Grant
The Thinking: Another serving of boards without paying the free throw toll. Pairing Sengun with Ayton would free me up to explore wings and forwards for a bit. There could be a couple of swats with Sengun too, maybe enough to stay competitive if Ayton got back to 1.2+ rejections per. Extra dimes never hurt.
The Result: At the time of writing, Sengun is the 58th-best player in 9-cat hoops. Despite having his minutes jerked around a bit in the first couple of weeks, Alpy has been as expected. 
Pick 64: Keldon Johnson. Passing over: OG Anunoby, Clint Capela, Lauri Markkanen, Mikal Bridges, Ben Simmons
The Thinking: Without an apex scorer in this group, points were a priority. In the vacuum left following Dejounte Murray's departure, Keldon would be walking into massive usage and attempts. Six or so rebounds would also help buttress my slightly-docile duo at Center. Any potential field goal pain would be numbed by the punt. 
The Result: At 28.1%, the 16th-highest mark in basketball, the usage has certainly been there but the shooting has been so bad that you kind of wish it wasn't. Johnson is averaging 10 missed shots a game en route to his career-best 20.4 points. There are a ton of three-point attempts, but the hit rate isn't much better than league average. Dimes and steals have seen tiny bumps, but the boards have flagged from the production of years past. A pyrrhic victory, Keldon was correctly pegged as a scoring boost, but the cost caught me off-guard when it probably shouldn't have. I was looking at the rosy outcome only without considering the potential downside. Signing up for the potential of Keldon's struggles without having both eyes open is on me. 
Pick 81: Keegan Murray. Passing over: Saddiq Bey, Anfernee Simons, Andrew Wiggins
The Thinking: Son's projections loved Murray, and I was interested in the boards, swats, and free throw percentage present in his profile. Coming into the league as a polished scorer without much competition for significant minutes at the four, I took the bait on a high lottery pick despite Andrew Wiggins and his track record being right there. 
The Result: Rookies struggle in this league more often than not, and even though there have been extenuating circumstances that compounded his struggles to an even greater extent, Murray has not been an exception. Considering how much risk was already on the roster, taking another shot on upside was foolish. Keegan's inability to find immediate success is a tough but fair punishment for poor process. 
Pick 88: Jamal Murray (Traded). Passing over: Wendell Carter, Tobias Harris, Tre Jones, Nicolas Claxton, Collin Sexton
The Thinking: I liked Jamal Murray this year. I drafted him in the 30-team dynasty start-up. I wrote about liking him in the Denver preview. When he fell to me here I was obliged to pounce, even though I almost immediately regretted not taking Collin Sexton and his scoring upside. Murray isn't quite all the way back yet, but the first quarter of his season was always going to be his rustiest. I'd imagine that he's better than his 136th ranking going forward. 
The Result: Stricken with regret, and worried about my scoring upside, I went to Kostas to see if he'd indulge me in a Murray for Sexton swap. He obliged. Neither player has been who we hoped they would be on draft night, but the savvy Buy/Sell sage has gotten the best of me once again. This process mistake is arguably my most egregious, as Virgil has been warning of Greeks bearing gifts since Before Christ. A legitimately epic blunder. 
Pick 105: Cam Johnson. Passing over: Robert Williams, Kelly Olynyk, Josh Hart
The Thinking: Shoring up some threes with a solid, top-100 player last year who would be growing into a larger role following the Jae Crowder phase-out. A good mix of floor and upside.
The Result: Cam was a top-65 player in the eight games he logged, but injuries have been the story of his year. After bouncing in and out of the lineup, Johnson tore his meniscus in early November and has been unavailable since. The expectation is that he'll need another month or so at the very least but he'll eventually make it back to the court. Bad break.
Pick 112: Kyle Lowry. Passing over: Jaden Ivey, Tari Eason, Jaren Jackson Jr. 
The Thinking: Though long in tooth, Lowry would still be a top-100 player. The field goal percentage certainly wouldn't be coming back, but the free throw stroke works in harmony with the overall build. Besides, other than Father Time, who was going to take his job? Finding surplus dimes this late would give me ammunition to swing a deal in-season. 
The Result: Efficiency and scoring continue to dwindle from yesteryear's levels, but 6+ assists, 1+ steals, and 5+ rebounds still have value. A bizarre uptick in swats is found money and a reward for not falling into the rookie honeypot.  
Pick 129: Chris Duarte. Passing over: Aleksej Pokusevski, Bennedict Mathurin 
The Thinking: Duarte had the starting gig coming into the season and the threes would be helpful. I wasn't married to him and was willing to ride the minutes for as long as they held. 
The Result: They didn't hold. Duarte sprained his ankle pretty badly around the same time Cam Johnson went down. While sidelined, Benn Mathurin arrived with thunder and now it's going to be the rookie with the bigger job from here on out. Just because I was ready to move on didn't mean that I was rooting for it. Shit luck. 
Pick 136: Walker Kessler. Passing over: Onyeka Okongwu, Santi Aldama, Mo Bamba, Mike Conley, Jarred Vanderbilt
The Thinking: Between the centers, Cade, and Keegen, I thought there was a chance I'd compiled enough shot blocking to stay competitive. Kessler amassed a tremendous block rate in college and could be a viable swats specialist. If the rest of the roster isn't providing enough for Kessler to be a difference maker then I could use his roster spot to pivot. 
The Result: Everything else has gone so wrong that having a blocks specialist to hold together a category where I was perpetually outgunned was not a luxury I could long afford. There have been a couple of cycles of adding and dropping with Walker, but he's been gone more than he's been around. 
Pick 153: Jordan Clarkson (Traded). Passing over: Jalen Suggs, Jonathan Kuminga, Jeremiah Robinson-Earl, Bol Bol (who went undrafted)
The Thinking: He'd be a starter with scoring punch until the inevitable trade went down. It was unclear what exactly the pecking order would be in Salt Lake, but JC would be near the top of it. 
The Result: Bingo and then some. Clarkson is having a career year – or at least that's what his first-quarter results indicate. I sold high (I think) and shorted the rest of Jordan's season, putting me out ahead of any deal that might take him out of the Utah sun. 
While it's certainly tempting to channel my inner JK Simmons to close the file with a curse, the fact of the matter is I want to get better at this. I've had just enough success in the past to make me believe I know something, which is truthfully a very dangerous place to be. We (I) have to continue to work and refine, to dig and question what we (I) believe we (I) "know" in order to get better. If things have gone badly for you — and I really hope they haven't — don't close the dossier on what you did just yet. There's valuable stuff in there if you have the stomach to pick through it. We'll eat this bird together and come back and get them next year.