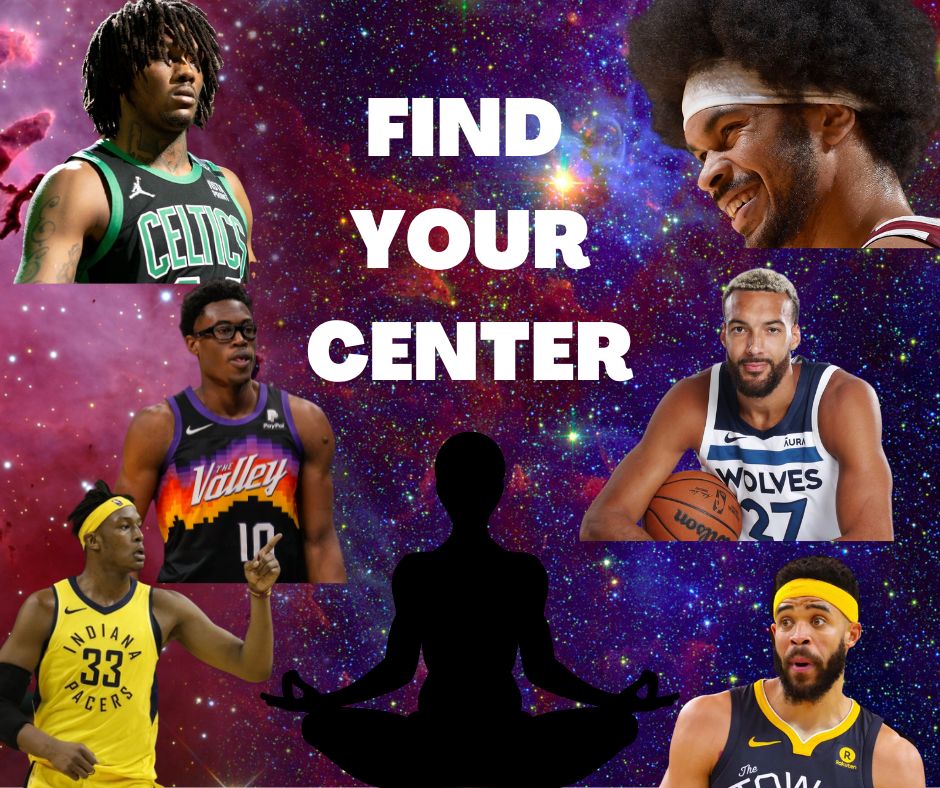 On a recent podcast with Son, I let slip the following pearl, "If you're a center that doesn't get blocks, I don't think I have any use for you." It was a knee-jerk line, one that I hadn't much considered before it fell out of my mouth. Ever since I've been wrestling with how true that might actually be. For most of the summer, I've been vexed by the center position because, outside of the elite guys, the shortcomings of the position are obvious and numerous. For many centers, their usefulness in category leagues extends only to rebounds, blocks, and FG%, and oftentimes those few spoils are sacrificed at the altar of points, dimes, triples, and free-throw percentage. Drafting a center usually is a tradeoff of sorts and is often a costly one. When I consider the value of someone like Deandre Ayton – a top-50ish, center-eligible player who produced exactly enough swats last year to break even in the category by z-score – I began to wonder what exactly the point was. 
Blocks are the lowest-volume category we pursue in fantasy hoops, and in order to be competitive in the category, we often have to hold our noses and scarf down the ugly numbers that accompany them. In head-to-head leagues, I'm interested in punting the category altogether and definitely will experiment with this in some upcoming drafts of mine. But in roto leagues, pure punts reduce your chances of winning the overall competition in significant, oftentimes unrecoverable ways. Simply put, we have to get blocks from somewhere and we have to start at least one center, sometimes two. 
With all of this in mind, I hopped over to BasketballMonster and sorted last year's player ranks by blocks. After omitting those who played fewer than 13 games (a number arrived at in order to include Brook Lopez in this exercise, someone who is being drafted in most standard leagues this fall), the number of players in the association that produced positive value in swats was reduced to 82. That number included four guards (Pat Beverley, Lonzo, SGA, and Derrick White) and 18 forwards who did not qualify as a center (including Carmelo Anthony, Mamadi Diakite, and Miles Bridges, aka non-factors in the 22-23 campaign.) After further whittling, we're left with just 60 centers who gave us something in swats. 
Relying on last year's stats alone is imperfect, I know, as previously-injured players like Jusuf Nurkic are left off, as is the incoming class of center-eligible rookies. But the point of this exercise isn't to be comprehensive but rather to do a general survey of the center/blocks landscape. Spoiler alert: It isn't great. I grouped these 60 block providers into tiers that reflect how interested I am in rostering them. Once we've got them sorted, I'll lay out a couple of different ways to approach collecting the rarest stat from the center position.
Tier 1 – Expensive but Worth It
Not much needs to be said about this group, as they're consistently the first four C-eligible players taken and are routinely taken in the first round because they contribute in six or more categories. If there is any concern in this group, however, it comes from Karl-Anthony Towns' recent hospitalization and subsequent weight loss (close to 20 pounds!) due to the non-Covid illness. Pair this medical update with the arrival of Rudy Gobert and there is a bit more wobble with KAT as a first-rounder this year, but I'd still feel comfortable pulling the lever at the end of the first round in two-center leagues. There could be a drop-off coming for him, but I don't expect it to be too dramatic. 
Tier 2 – How Do You Say "Get that weak shit out of here!" in French? 
Rudy Gobert – Despite my persistent bellyaching about centers, I found myself drafting Rudy at pick 25 for my RazzJam squad, and you know what? I feel pretty darn good about it. Viewed through a blocks lens, Gobert is virtually peerless. When you add in the elite-level FG% and boards and the almost palatable (and generally improving) FT%, Rudy is the next best thing after the tier-one group. I have no issues taking him in the second round. You have to get rebounds, swats, and FG% from somewhere, right? 
Tier 3 – Fading Glory
Anthony Davis – When he's right and on the floor, AD is a fantasy force. The per-game value has been top-10 across the last four seasons and the blocks are routinely spectacular (2.3, 1.6, 2.3, 2.4, 2.2). If you're a believer in his health and you went with a guard in the first round, Davis makes sense as a second-rounder with top-10 upside. Trouble is, I'm not a believer in his health (he's already started collecting DNPs in the preseason because of back tightness) and there's an ugly trend in Davis' shooting numbers since the 17-18 season that needs to be pointed out. Maybe this is the year he arrests the free-fall and returns to the past glory, but I'm skeptical enough to drop him out of the same tier as Gobert. Availability and consistency matter. 
Tier 4 — The Tradeoffs Begin 
Myles Turner – A metronome of blocked shot excellence, Turner has only had one year where he averaged fewer than 2.0 blocks per game since taking over as a starter. Unlike the occupants of the top tiers, Myles doesn't provide much help at all with FG% or on the glass, which renders him more of a swats specialist than an excellent center option. Add in the constant trade rumors that could potentially move him out of a 30+ MPG role, and it's hard to feel super confident in Turner. The blocks should be there though. 
Evan Mobley – I know, I know. I want to believe too. The ROY runner-up massively impressed as a 20-year-old, especially defensively (1.7 swats, 0.8 steals), inspiring a smattering of Tim Duncan comps. I'm holding Mobley in a keep-forever dynasty league, so I don't say this without some degree of frustration, but maybe we should take a deep breath before we assume that a big second-year leap is guaranteed. Mobley played without Jarrett Allen for portions of last season, goosing his numbers a bit, and usage hog Donovan Mitchell was still in SLC then. After drawing just 20.7% usage last year, that figure could actually decrease in year two. The defensive stats might improve as the game continues to slow down for the phenom, but he was a top-90 player on 33 MPG last year. I don't know if he'll get enough oxygen this year for the fire to really catch.
Kristaps Porzingis – I'm loath to boil things down into such contextless terms, but there really are only two sets of stats that matter when considering drafting KP. 
Games played over the last four seasons: 51, 43, 57, 48

Per game value over the last four seasons: 18, 22, 15, 19
Figure out your appetite for risk (and your skill at working the wire) and then smash or pass. 
Jarrett Allen – Similar to Gobert, Allen is an excellent option if you're only seeking the three big-man stats. If you went to Jarrett last year, you took home 16 points, 10 rebounds and 1.3 blocks per game on 67% shooting and a cool 70% from the free-throw line. Low usage and a lot of mouths to feed in Cleveland may take a bite out of the scoring, but the rest of it strikes me as fairly bankable. He might be my favorite option in this tier. 
Bam Adebayo, Nikola Vucevic – Though I prefer Bam to Vuc – Father Time is circling the block for Nikola – I think both are best viewed as punt-block options (keep an eye out for Deandre Ayton in this format too). Neither can really fall past here because the well-rounded floor is just too solid, even if the swats are just so-so. Because he's younger and the better athlete, I'd bet on Adebayo first despite Vuc posting better block numbers last year, but both are viable. 
Tier 5 — Aching to be Born Again 
John Collins – I'd love it if Atlanta would stop dangling JC in trade talks and just rip the bandaid off already. I'm a sucker for the Baptist because of the top-50 floor and the latent potential that exists if we could ever get his usage back into the 23-25% range. Instead, the Hawks keep on bringing more pieces in an attempt to make their puzzle fit, elbowing Collins further away from his top-10 season in 19-20 as they do. Unleashed, there are points, boards, swats, and a sprinkling of triples to go along with very usable percentages. Until then, he's a known and steady commodity. 
Tier 6 — Young Guns
Alperen Sengun – The helium on Alpy is getting to the point where it seems unlikely that I'll be able to roster him at all this year. There's plenty of runway in Houston, and if Son's projections are to be believed, there's a top-80 player here who will be an asset in five categories. Between the paucity of bigs in Houston and the franchise's disinterest in winning basketball games, there are good reasons why everyone else in your draft has Sengun in their queue. I wouldn't buy into last year's 0.9 blocks per game. I suspect we're closer to 1.3.
Jalen Smith – Snagging Smith, or at least trying to, has been a staple of my summer. Since being jettisoned by the Suns, the line has only gone up for Jalen. After finishing last year as a top-100 player, Pacers coach Rick Carlisle was way out in front of saying that Smith would be the starting four in Indy from day one. He's already giving you the coveted big man stats and he's kicking in a decent FT% to boot. Despite the low usage, Smith is still good for a dash of scoring and threes, and I could see a bigger step forward now that he's found a good home. I'm in.
Deandre Ayton – An incredibly difficult player to rank, and with good reason. To begin, the vibes seem super toxic in Phoenix. Of particular concern is the lingering frostiness between Ayton and coach Monty Williams that came to a head in the disaster against Dallas in the playoffs. The Suns would do well to love up the talented 24-year-old former number one pick that they just gave a 4-year/$133M contract to (though somewhat begrudgingly, it seems), but it looks like they're going the other way. Additionally, Ayton's swats took a nosedive last year, down to 0.7 after posting 1.2 and 1.5 blocks per in the two previous seasons. Despite this, DA is a top-50 player and, strange as this might sound considering we're ranking through a blocks prism, he can't really be slotted in much lower than this. His soft touch keeps his percentages and scoring up, and he's never averaged fewer than 10 boards a game. That value is undeniable. I wouldn't bank on a huge (or even serviceable) pile of swats here, but it shouldn't be impossible to exceed last year's output. I love Ayton as a punt-blocks pivot, and if the rejections come back, all the better. 
Tier 6.5 — "How Many IL Spots Do We Have?"
Jaren Jackson Jr.
Another difficult ranking. Drafting already-injured players is usually a no-no, but given how few blocks there are in general and the capabilities both these two possess, they simply have to be accounted for. Of the two, I prefer JJJ for a couple of reasons. It's possible (likely?) that Jackson ultimately doesn't miss that much time, and when he returns to the floor he will help in categories beyond the normal big man. Foot injuries aren't great, especially for bigs, but considering the chronic nature of the Time Lord's knee trouble — and how recently Williams had surgery — I would really only feel comfortable with Trip. Williams would have to fall past, say, pick 100 for me to be willing to bite. Hopefully, by then I would have already figured out my plan for swats and could move on to other targets. 
Tier 7 — Tradeoffs Intensify, Output Dwindles
PJ Washington
Wendell Carter Jr.
Now things begin to get pretty gross, as there isn't a wartless player to be found from here on out. Horford, McGee, and Lopez – who are all in line for roles that range from solid to absolutely critical – are all on the wrong side of the age curve. Horford already had to turn back the hands of time once to get through the Bucks, and now he'll have to pick up the slack left in the wake of Robert Williams III's knee surgery. The usage will be low, but the percentages, boards, and blocks should all hold up okay. Similarly, BroLo will have to hold off Bobby Portis as well as father time in Milwaukee, and his peculiar stat set offers no help with rebounds. Lopez is useful, but only in specific contexts (ditto PJ Washington, who provides lower output in similar categories, but he should be in line for a career-high in burn this year). Even before he clocked his teammate and upset Golden State's apple cart, Draymond Green was a tough piece to fit onto fantasy rosters. A unique commodity that can help in unexpected areas, he's aging and, if the Warriors ship him out of town, I think the production could really suffer. 
JaVale McGee and his three good cats are currently lined up to start for the Mavs, but Christian Wood and his horrific FT% won't be going quietly into that good night. Poeltl's free throws practically demand a punt-FT build, which takes him out the equation for roto builds, and Zu and JV could both be impacted by a sudden abundance of small-ball options. Wendell Carter Jr. will rebound and score efficiently, but the blocks are a bit thin. In general, I'm not terribly interested in any of these guys, and there are still 32 names that come after them on this list! 
Tier 8 – Wanna Buy a Timeshare?
Isaiah Hartenstein
It would take more courage than I currently possess to draft either of New York's options, as I have no idea how much Hartenstein's arrival will cut into Robinson. They could both hold some value, but there's also a real possibility of this going sideways for one of them (see: Thibodeau, Tom). Somehow, the big man rotation in Detroit is even messier than what's happening with the Knicks (Stewart, Bagley, Bogdanovic, Duren, Livers, Noel…) No thanks! Bamba is looking at a similar squeeze now that Paolo has laid claim to the power forward role, to say nothing of the potential return of Jonathan Isaac (lol) and Chuma Okeke continuing to hang around. Okongwu seems poised to take Capela's job, but Clint is being paid $18M this season and it would be a big swing to move CC out of town given Atlanta's playoff ambitions. I'd take Capela first and hope that the future doesn't arrive until next year. 
Maxi, Drums, Boucher, and Bobby will start the season on the pine, and Adams and Plumlee are known commodities with conspicuous limitations. Of all the options here, Nicolas Claxton definitely has a shot, but uncertainty (and maybe a lot of small ball) is the coin of the realm in Brooklyn.  
Tier 9 – Handcuffs and a Couple of California Dreams 
If Turner gets moved, Isaiah Jackson is a potential league winner. Even if not, there could be enough output to be drafted around or after pick 100, but the looming presence of Goga Bitadze inspires some doubt. Isaiah Roby and Zach Collins could see some burn in San Antonio, too, though it's hard to know to what degree at this point. Depending on PT, any of those three could move up into the Young Guns tier.  
At time of writing, there still isn't much clarity on what Darvin Ham is going to do with Damian Jones or Thomas Bryant. When you add in the potential for another heavy dose of small ball in Lakerland, it's hard to feel like either option should be more than a flier in 12-team leagues. Holmes, Gafford, Jaxson, and one/both of the Spurs would all be super valuable if anything happened to the starter(s) in front of them, but I wouldn't draft any of them for stand-alone value. RoCo is a defensive specialist who will murder your scoring, and he's more of a "center" than a center.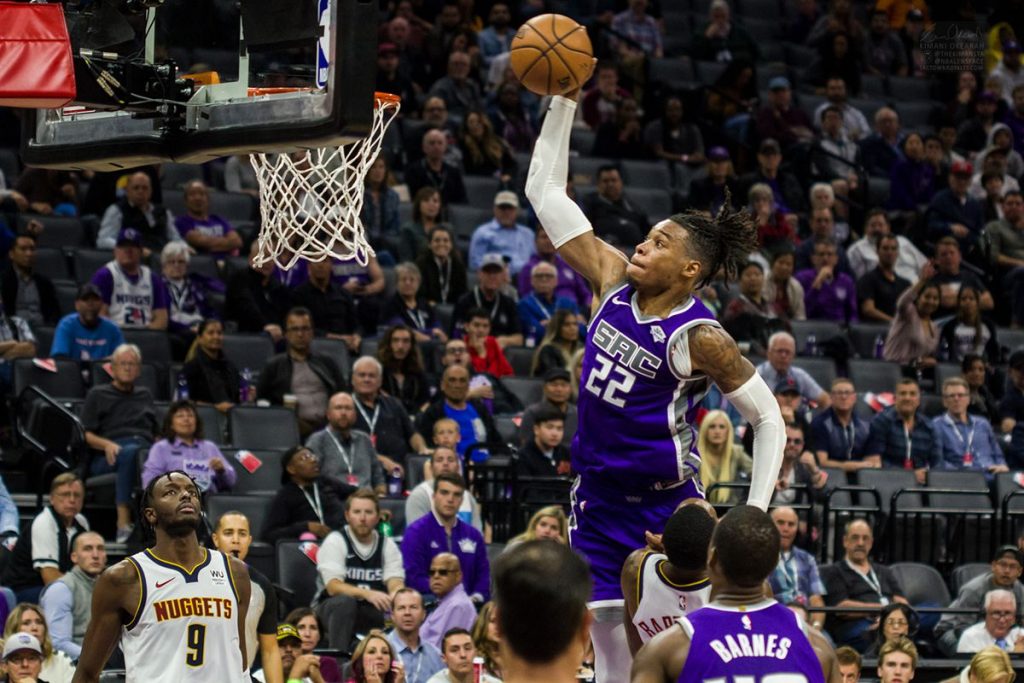 Tier 10 – You Still Work Here?
Bismack Biyombo
Greg Monroe
LaMarcus Aldridge
If you're Moose, LMA, or Mt. Whiteside, the answer is "no."
So, what do we do? 
Like I said at the top, I think punting blocks is definitely worth considering in head-to-head leagues. Doing so would open up very enticing options at the position who didn't make this list (Sabonis, Siakam, Zion), and if you're able to build your free throws mindfully, then you should be able to get back the point you're sacrificing with blocks. 
If punting isn't an option, then I think ponying up for one of the top guys – and I include Gobert here – in the first two rounds is worth considering. Blocks are so scarce, especially now that JJJ and Williams III are going to miss time, and the down-the-road tradeoffs are costly. Regardless of how you approach the first two rounds, taking one of the Racco rules to heart and getting blocks piecemeal rather than in large chunks should put you in a position of strength regardless. This can be accomplished by judiciously selecting from the centers above or snapping up some swats from non-center positions. These are the guys who did that last year: 
Herb Jones
Nic Batum
Centers and blocks are tricky, and my perspective certainly isn't the only one worth considering. This summer Son had an amazing conversation with Ryan Turner, the king of the big man build, that effectively flips everything I've laid out here on its head. Blocked up or fully unblocked, there are many paths to victory. Wishing you all luck on your journeys to inner peace and outer dominance in fantasy hoops.