This summer I was looking over a sheet of future odds in a sportsbook with a wad of dollars that I previously did not have, when I noticed that the Denver Nuggets had the fifth-best odds of winning the west. Future bets are tough, especially in the west (especially in this current version of the west, too), but after considering the return of Jamal Murray, the potential of Michael Porter Jr., and the metronomic brilliance of the reigning, two-time MVP Nikola Jokic, I found myself at the window with a belief that this was an opportunity to turn money won into more money. Persistent injuries since the Aaron Gordon deal have hobbled the mile-high hopes for the Nuggets, but it's not all that difficult to see a world where Denver is an especially tough out in the postseason. Having a two-time MVP puts you at an advantage like that. 
As with many other teams with championship aspirations, there are premium fantasy assets to be secured here (ahem, Jokic, ahem), but there's also a pair of intriguing buy-low options as well. The rest? Not so much. Health, as always, will be a huge factor in whether there's actually any gold in these hills, but should the opportunity present itself, I might be interested in doing a little panning.
Stake your claim and strike it rich. 
Out: Will Barton, Monte Morris, Austin Rivers, DeMarcus Cousins, JaMychal Green
In: Kentavious Caldwell-Pope, Bruce Brown, Deandre Jordan, Ish Smith, Christian Braun, Peyton Watson 
Depth Chart
Guards and Wings
By the time opening night rolls around Jamal Murray will have had more than 18 months to recover from the torn ACL that ended his season in 2021 and stalled Denver's championship ambitions. How the 25-year-old point guard returns to the court will have major ramifications for the Nuggets' fate in a typically loaded Western Conference. Before the injury, Murray was coming into his own in his fifth season in the Association, racking up 21 points per to go along with 4 boards, 4.8 dimes, 2.7 threes, and 1.3 steals on good percentages for a guard (47.7% FG, 86.9% FT). These marks pushed the Blue Arrow into the top-35 in per-game value, and while there will be some rust to knock off, the primary fantasy concern coming into this season is how long it will take the Denver staff to turn him loose without restriction. Offseason reports and plain ole intuition say that it will take some time for Murray to ramp all the way back up to the 32-35 MPG that he's enjoyed since his sophomore season, but how long exactly is anyone's guess. The Nuggets will want to be careful with him for sure, but Bones Hyland is the only other primary ballhandler in the backcourt who coach Mike Malone can turn to, and a full year and a half to recover means that Jamal won't be coming back rushed. A setback now would be devastating – how many MVP seasons from Jokic will be spent in vain? – but I'm a bit more bullish on Murray's comeback than his current ADP (72 according to FantasyPro's consensus, 85 per NFBKC data) would suggest. Drafters at this point prefer Tyler Herro, Jordan Poole, D'Angelo Russell, CJ McCollum, and Josh Giddey to Murray, but I'm not sure I do. He's been a top 80 player for four straight seasons, so a pick at ADP feels like the floor with upside to go. For those building with efficiency in mind, Murray could be a target in the 7th round, especially if you go heavy on bigs first.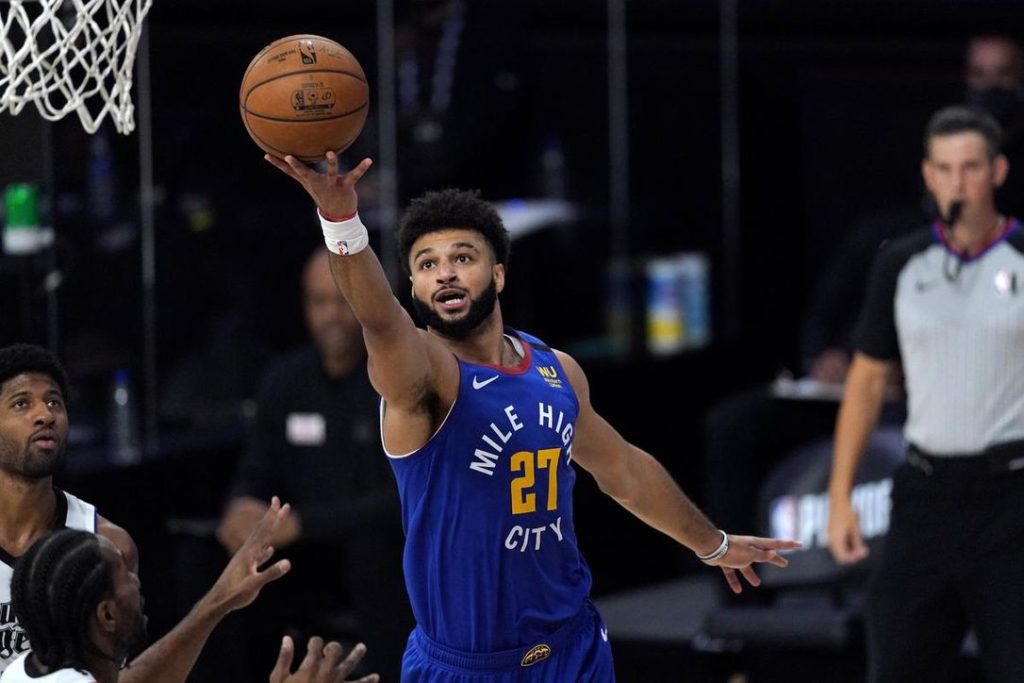 The way you think about Murray and his potential minutes throttle will impact how keen you are on Hyland, who definitely flashed some scoring and style as a 21-year-old rookie last season. Monte Morris and Will Barton's departures definitely opened up a bit of time for Bones, but KCP coming back in that deal keeps this from being a minutes bonanza. Hyland's efficiency was predictably crummy last year (40.3 FG%), but his 1.9 threes helped the cause. I'm on the record as not being a Murray skeptic, but if I were, there might be some interest in Hyland toward the back end of the draft. His early season numbers could look juicy, but I would be prepared to move on quickly, as I'm not sure there are a whole lot of useful stats here other than trips and a smattering of assists. Ish Smith is here in case of emergency, but 34-year-old, third-string point guards don't do much to pump my blood. 
I'm also pretty lukewarm on Kentavious Caldwell-Pope. A key acquisition for Denver this offseason, there's just not enough ceiling for me to be interested, despite the big pile of minutes headed his way. A threes and steals play exclusively, Pope won't be your first drop if you do end up drafting him in standard leagues but he probably should be. Save yourself the headache and take a higher upside flier with your final picks in 12-teamers. What KCP does well can be found on the wire and streamed. 
Bruce Brown holds a bit more intrigue for me, especially after seeing how useful he can be as a cutter with soft touch in the midrange, but it looks like he'll come into the season a bit cramped for minutes. He'll help with defensive stats and FG%, but carving out enough usage on a (presumably) healthy Nuggets roster might be a tall order. I liked him more in Brooklyn where his transition offense had more chances to shine, as Denver was a bottom-third team in pace last season. He'll probably need an injury to get enough time, and the lack of long-range shooting caps my interest in him this year. 
Part of the reason why I'm down on Brown is that the buzz coming out of Denver is that Christian Braun will be in the mix for minutes as a rookie. Bringing good size and a defense-first attitude, I'm being led to believe that the 21st overall pick has a home in the rotation from day one. An injury could shake loose some time for him. Keep him on the wire until such time. 
The word "injury" is a natural segue into discussing Michael Porter Jr., a phenomenal talent who hasn't played a full season since…his senior year of high school? The high water mark for MPJ was, oddly enough, the '20-21 Covid season where he played 31 minutes a night in 61 games despite catching the bug twice. You're excused if that doesn't wow you, but last year dude played 9 games, three years ago he played 55, and he sat the entirety of his rookie season. There's enormous potential here – points, threes, boards, excellent percentages, and a dash of defensive stats – but it's going to take some courage to invest a top 50 pick in him. He hasn't popped yet, but he was being drafted as a top 35 player last year (this lofty ADP was influenced by Murray's absence, but still). It will be a fun ride if you draft him and he can stay on the floor, but waving the white flag and conceding that you'll miss the breakout (should it happen) might actually be the more prudent course of action. Cancar and Reed can be ignored until there's evidence that they shouldn't be.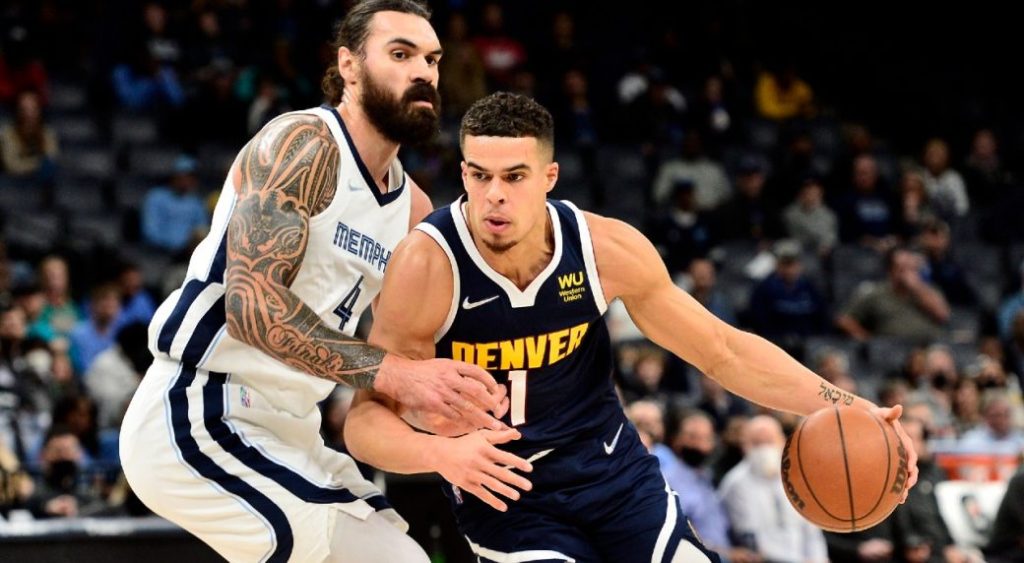 Bigs
The Mile High centers are extremely known quantities. Nikola Jokic is the reigning back-to-back MVP and has been the top fantasy player for two years running. Threes are the only category he doesn't bring positive value in, but he does splash a few from time to time. The balanced excellence is especially valuable in roto leagues, but it definitely plays in H2H leagues as well. You can galaxy-brain your way into someone else at 1.1. It won't be me. On the other end of the spectrum, Deandre Jordan is entirely cooked. Pass.
Aaron Gordon is no one's idea of a great fantasy player. Scanning his Basketball Monster page is like watching flowers wilt. The usage has steadily dropped since the "glory days" in Orlando, and all the other goodies have disappeared along with it. There's a whole lot of floor here, and I appreciate a FG% booster who sees 30-ish minutes a night, but if you're drafting him in a standard 12-teamers, I think you're doing it wrong.
Jeff Green is eventually going to lose his battle with Father Time, but he did have some productive stretches last season when injuries pushed him into a larger role. Sometimes there are threes, sometimes there are some swats, and there's always pretty good shooting from the field. Meh. Aaron Gordon-lite? 
Unlike the rest of this ho-hum group, Zeke Nnaji certainly is on my radar, especially in deep dynasty leagues. There's not a ton of opportunity for him at the moment, but he's canned 61/139 threes over his young career and sports a tidy 50% field goal mark over two seasons. It's not hard to see him moving past some of the old heads in the front court, though there's not a lot of reason to think that he'll see enough time to be roster-worthy during draft season. Instead, carry the name around in the back of your mind.