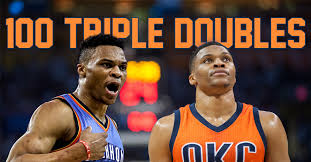 Russell Westbrook gets triple-doubles so often that I think most fans take for granted the greatness that we are witnessing. Like NBA history making greatness. Last night, Russ picked up the 100th triple-double of his career, as he led the Oklahoma City Thunder to a 16-0 run late in the fourth quarter to seal the victory over the lowly Atlanta Hawks in a game they were supposed to win.
Westy scored 32 points, dropped 12 dimes, and pulled down 12 rebounds to become the third-fastest player to reach the 100 trip-dub mark. Only Oscar Robertson (277 games) and Magic Johnson (656 games) got to number 100 quicker than Russ, who accomplished the feat in just his 736th game. These stats tell me two things: 1) Russell Westbrook is really awesome and we are lucky to be able to witness his greatness and 2) The Big O was friggin' unbelievable! 277 games? I mean, what? Nikola Jokic better hurry if he wants to even come close to sniffing that kind of epic-ness.
LeBron James, the so called "King," has played in over 1,000 NBA games and he is not really even that close to 100 triple-doubles (ok, he's pretty close, but still). I am saying (typing) all of this in an effort to put Westbrook's greatness in perspective (because I am sensing that he is not getting the kind of love he deserves, most likely because ya'll jealous of the man's killer threads and overall sense of style). But anyway, yeah he's good. Russell Westbrook also only trails Robertson (181), Johnson (138), and Jason Kidd (107) on the career triple-double list and trails only Kidd on the my head's shaped like a basketball list.
However, since we are a fantasy basketball website I will stop boring you with general NBA history and give you Russ' final line from last night: 0/32/12/12/1/1. I know, zero threes, what a bum.
Here is what else I saw last night:
Want the best tools and projections to help dominate your league? Check out the Stocktonator, the byproduct of Rudy and machine making love. Click HERE for a FREE 3-day trial.
Rudy has been hard at work in the lab. His latest creation? DAILY LINEUPS PAGE. So good. So smooth. So helpful. He decided to go with the Sonny Bono red tint, while I prefer the blue tint. What say you?
Thunder over the Hawks: 119 – 107
Carmelo Anthony: 6/21/4/0/0/3 – Carmelo alternates between THRAGNOF! and 3-and-D on an almost nightly basis. Tonight, he capped off his slash with 3 blocks. Anthony has now blocked a shot in his last three games, but before that he went eight games without swatting anyone's balls (reminds me of when I got married).
He has also hit 11 three pointers in the last the two games, so yeah, he's en fuego, which loosely translates to: in the zone and making a crap load of three point shots, which is a shot that is made when both of the player's feet are behind the curved line that is approximately 23.75 feet away from the basket.
Paul George: 2/12/4/3/1/0 – George's line looks a little light because he did not play at all in the fourth quarter after taking a hard foul that made him fall right on his hip. The good news is that his hip bone did not cut through his skin giving me nightmares for weeks after my "friends" continually texted me pictures of the gruesome injury. The bad news is that he did not come back into a close game and, as of the time I am writing this, there is no update on his hip. All I know at this point is that his hip bone is connected to his leg bone and all his bones are still inside his body, or at least the ones that are supposed to be.
Jerami Grant: 2/20/5/1/2/2 – Grant and Corey Brewer (1/7/2/4/3/2) are making it really hard to figure out which player to recommend as a pick-up. I would still take Brewer first and in DFS lineups, but if George is going to miss time, then Grant makes  a decent injury replacement for desperate George owners and for owners who want a player who can hit threes, rebound, block shots, score points, and get steals (know any owners like that?)
Taurean Waller-Prince: 3/25/8/3/1/2 – Another guy who is en fuego. Prince's last two games have had fantasy owners wondering if his drug dealer finally got restocked after running out mid-season. As I said in yesterday's recap, I was getting questions from owners who were considering dropping Prince. I continually said don't do it, so I hoped they listened. He is coming alive at fantasy playoff time and his strong play should help his roto league owners not finish in dead last.
Dennis Schroder: 1/18/2/8/0/0 – Schroder is back after missing one game with an elbow injury and he was up to his old tricks: points, assists, and terrible shooting. With Kent Bazemore out for the rest of the season, Schroder should do a lot of scoring down the stretch, along with a lot of missing.
John Collins: 0/10/9/2/0/1 – Collins had foul trouble again tonight, but still logged 30 minutes. Just could not get in a rhythm. He is so close to getting double-doubles and a couple blocks, but is still just putting up worse lines than Kyle O'Quinn does in half the time.
Damion Lee: 2/13/4/2/1/0 – Lee is a contender for taking over some of Bazemore's production along with Isaiah Taylor (0/12/3/4/1/0), but neither guy really gets my Dedmon walking.
Spurs over the Magic: 108 – 72
LaMarcus Aldridge: 0/24/7/2/0/0 – Aldridge was back and put up 24 points in just 25 minutes. I am sure he will be back to his new old self by next game.
Pau Gasol: 0/11/5/2/0/2 – Gasol was coming off the bench and the Spurs basically had their whole team available tonight as they crushed the Magic. Perhaps they will hang on and make the playoffs and I will have to eat my words for my bold prediction that they would not. Those words would definitely not be the worst thing I have ever eaten…*shudder* sorry, I was remembering an old Spring Break trip.
Tony Parker: 0/10/1/8/1/0 – If THRAGNOF (threes ain't got no face) is the term we use over here at Razzball for three-point specialists, then ASSAGNOF must be what we would use to describe Tony Parker.
Danny Green: 3/11/3/0/1/2 – Green is a 3-and-D that can also be just a THRAGNOF (when his D disappears) much like Mr. Anthony. In the comments, I want to hear (read) your suggestions for what we would call this type of fantasy player. My suggestions: 3-and-Limp-D, DTHRAGNOF (the D is silent).
Jonathan Simmons: 1/10/1/0/0/0 – Simmons had been playing great, but tonight no Magic players had any magic whatsoever. Wait, I take that back, they all made themselves disappear.
Nikola Vucevic: 0/10/10/1/0/0 – The second best Nikola in the NBA.
Pelicans over the Hornets: 119 – 115
Anthony Davis: 0/31/14/3/2/5 – Yes, it is James Harden's year to win the MVP, but a strong case can be made for The Brow. Boogie goes down, but the Pelicans keep winning. AD goes down, even when Boogie was playing, and the Pelicans did the opposite of winning. Harden goes down and the Rockets keep winning. So tell me, who is more valuable to their team? Yes, you are right, it is LeBron James. Also, Davis could have been the lead of tonight's recap, but he was the lead last night and is the only player to make me even consider using the same player for two recaps in a row. So tell me, who is the most valuable player? Right again, it's LeBron.
Jrue Holiday: 3/25/6/9/0/0 – No defense, no problem. Other than the lack of steals, Jrue gives us everything we want from a fantasy point guard.
Rajon Rondo: 0/12/5/17/5/0 – No threes, no problem. Other than the lack of threes, Rajon gives us everything we want from a fantasy point guard.
E'Twaun Moore: 2/14/6/0/0/0 – Moore is so borderline fantasy relevant in 14 or less fantasy leagues that owners can see part of his foot sticking out of their phones.
Nikola Mirotic: 3/11/9/1/0/1 – The third best Nikola in the NBA.
Dwight Howard: 0/22/11/2/0/3 – No free throw percentage, no problem. Other than the lack of a good free throw percentage, Dwight gives us everything we want from a fantasy center.
Kemba Walker: 3/22/3/7/1/0 – Kemba is shooting the ball well this season and is a Top 30 fantasy player because of it. If only he could get his shooting up to 45%, then he would be Top 20, maybe better. Did anyone else get excited at the trade deadline over the prospect of Kemba getting a chance to play on a good basketball team? Really? Just me? Whatever, you liars.
Nicolas Batum: 1/20/5/8/4/3 – A beautiful rainbow line from the player I predict will be an All-Star within the next two seasons and first round fantasy pick within the next three seasons. Batum and Zach LaVine will be household names soon, mark my words. I'll give you minute to go get a pen and paper so you can mark my words. Stop reading and mark them. Seriously, stop reading and mark my words. I see you Steve. Mark them!
Frank Kaminsky: 2/21/2/0/1/0 – Frank the Tank has been added and dropped so many times in basketball leagues it's like he's dating a Kardashian.
Clippers over the Bulls: 112 – 106
DeAndre Jordan: 0/29/18/5/1/2 – I almost made DeAndre the headliner today because he had a fantastic game and is just a likeable dude. However, the 7-of-12 from the free throw is just too much to stomach. I know he practices so it has to be mental, but come on man, you're a pro!
Lou Williams: 1/26/3/5/0/0 – Sweet Lou got the start and did what elite fantasy players do on bad nights. He still put up a good line even when his shot wasn't falling. Welcome to the elite level Lou. I knew you had it in you (ok, I had no idea or I would have drafted him on every team).
Tobias Harris: 4/18/3/2/1/1 – This dude is as steady as they come. I am going to have Tobias on a bunch of my teams next season.
Kris Dunn: 0/18/1/6/2/0 – That is how you do it point guard. Well, no threes is a bummer, but assists, points, steals, and 6-of-6 from the free throw line, excellent (Mr. Burns voice).
David Nwaba: 1/15/4/1/1/2 – Nice line in 27 minutes. I wish Nwaba could be more consistent, but he is right on the verge of being an every-night fantasy starter.
Zach LaVine: 1/10/6/2/0/0 – Yeah, I know my prediction about LaVine seems nuts, but he is still coming back from a tough knee injury. Give me until the first month of next season before you make me eat my words…*shudder* I can't get that Spring Break memory out of my head…
Bobby Portis: 3/19/9/1/2/0 – No Markksman tonight, but even when he is playing, Portis is still looking good. Makes me wish I hadn't dropped him everywhere a few months ago.
Mavericks over the Knicks: 110 – 97
Harrison Barnes: 1/30/4/4/0/0 – Mark Cuban called Harrison after the game and chewed his ear off for not getting the memo about tanking. It is like I said on the Razzball Podcast: Players don't tank. If they get the minutes they are going to try to win. Oh, and they played the Knicks, who have turned tanking into an art form.
Dennis Smith Jr.: 3/17/3/2/2/1 – Son could not write the recap tonight because he was busy Windexing his framed and glass-covered DSJ poster. Somehow it got a little stained…hmmm….
Dirk Nowitzki: 3/13/6/1/1/0 – Say what you will about Dirk, but the fact that he is still fantasy relevant at 40 is amazing. I turn 40 today and can barely get my underwear in the hamper without pulling a hamstring.
J.J. Barea: 2/12/2/7/0/0 – JJ is staying valuable and is dishing out dimes when dimes are hard to come by. Most leagues are dime-deprived and Barea has a piggy bank full of them.
Tim Hardaway Jr.: 1/19/3/1/0/0 – The most highly paid THRAGNOF in NBA history.
Enes Kanter: 0/3/15/1/0/0 – Back from injury and back to boarding. The points will be back soon unless the Turkish government have them locked in a windowless prison somewhere. Oh, and remember that other player who had a nice game while Kanter was out? Yeah, me either.
Michael Beasley: 0/21/4/1/0/0 – Just when you thought you would never hear from the Beaz again, here comes a garbage time special.
Kyle O'Quinn: 0/8/6/4/2/1 – I mention O'Quinn because he has actually been a nice source of assists lately if you are desperate. He also blocks one to three shots per game most nights as well.
Raptors over the Nets: 116 – 102
Jonas Valanciunas: 0/26/14/1/0/1 – JV has been so hot lately he even attempted a three last night: heat check. The Raptors are for real and they are going to represent the East in the Finals. Remember that marker I waited for you to go get earlier? You know what to do.
DeMar DeRozan: 1/15/7/2/1/0 – Not a great line for Double Ds in 32 minutes, but I always like to see a three pointer in his slash.
Kyle Lowry: 1/11/3/11/1/0 – Earlier this season, I told an owner to not accept an offer of Kyle Lowry for his Lou Williams. Yep, I was right. The Raptors new offense is perfect for winning in today's NBA, but it means less fantasy stats for Lowry. He is still an elite fantasy point guard, just not at Sweet Lou's level this year.
Serge Ibaka: 0/9/9/1/1/1 – I was typing this on my phone and realized that I accidentally called the police. I then had to take a fifteen minute break to hide a few things.
Fred VanVleet: 3/15/1/4/2/0 – VanVleet is so fun to watch. He picks up All-Star point guards full court and makes them look silly. He picked Chris Paul's pocket the other night and made Paul look slow. Freddie VV is more of a real life asset, but is on the verge of being a fantasy starter in most leagues.
Jakob Poeltl: 0/8/6/1/1/3 – If you need boards and blocks, then pick up Kyle O'Quinn. But if you couldn't get your hands on KOQ, then grab some Poel.
Delon Wright: 2/10/3/4/1/0 – Not a huge fantasy line, but nice nonetheless. I mainly included Wright just to show how ridiculously deep the Raptors' bench is for both real life and fantasy purposes. It will be a big advantage in the real NBA Playoffs, but makes it really hard to predict who will go off in the fantasy playoffs. Besides Lowry, Double Ds, Serge, and JV, I would rank the rest of the Raptors: Freddie VV, Smokin' Poel, Delon if loving you is wrong I don't wanna be Wright, C.J. THRAGNOF King Miles (3/12/3/0/0/0), Pascal Siakam (0/5/5/2/0/0), and Stormin' Norman Powell (1/5/2/1/0/0). Half way through that list I forgot why I was even listing off players, so don't feel bad if you couldn't figure it out either.
D'Angelo Russell: 7/32/7/0/1/2 – Russell went buck wild in the first half, leading the Nets to 40 points in the first quarter and 67 total points in the first half. The Nets only scored 35 points in the second half, however, which made the Cavalier's front office breathe a collective sigh of relief. Wait, I lost my train of thought again, there were just too many games last night…oh right, D'Angelo was awesome!
Rondae Hollis-Jefferson: 0/19/7/2/1/1 – The second best line for the Nets.
Caris LeVert: 1/11/7/3/3/0 – The third best line for the Nets, well, ok, probably the second best line. I'm just upset that I had LeVert, then dropped him and now I really could use assists and threes. Keep this in mind when asking me for advice.
Pacers over the 76ers: 101 – 98
Myles Turner: 2/25/6/0/1/0 – Myles is turnering things around…Lol…yes, I just Lol'd myself. And yes, I realize that's like laughterbation.
Thaddeus Young: 0/19/10/2/2/0 – Young started the season playing great. Then just fell off a cliff. He hasn't really recovered, but reminds us now and then that he has skills. What a tease.
Cory Joseph: 1/13/5/5/3/0 – I know the Pacers are for real because even when their player, Victor Oladipo (1/11/4/3/2/1) has an off night, they still end up beating a playoff-caliber team. That separates a playoff team from a lottery team.
Joel Embiid: 0/29/12/4/0/3 – Embiid is so good, but he could probably learn a bit from Ben Simmons and stick to what he is best at: getting to the rim and taking less threes. Still, as an Embiid owner, I am not going to hate on the attempts.
Ben Simmons: 0/10/13/10/0/0 – The most minimal messing around triple-double you will ever see, but it is putting him well on his way to getting to 100 faster than Russ did.
Dario Saric: 2/18/3/3/0/0 – Dario has been playing well, but as you can see from these last couple of lines, the Sixers just had no defense last tonight.
Robert Covington: 2/10/10/2/0/3 – RoCo played a little D, but still no steals.
J.J. Redick: 4/16/2/1/0/0 – No steals…so THRAGNOF. What do you call it when your girl wants it for a second time in one night: Re-dick.
Timberwolves over the Wizards: 116 – 111
Karl-Anthony Towns: 3/37/10/3/1/2 – Jimmy Butler going down might have been exactly what the Timberwolves needed at this point in the season. Now, when Butler comes back, KAT and Andrew Wiggins and Nemanja Bjelica will be playing with confidence and ready for a playoff run. Remember that marker? Yep, grab it again.
Nemanja Bjelica: 3/17/8/7/1/1 – Easing that Butler blow one game at a time. For all The Simpsons fans, don't be a Bart, be a Lisa…
Andrew Wiggins: 0/16/1/1/1/2 – Wiggins had such a chance with Butler going down to really step up and make himself even more money in the future, but instead it is Bjelica earning the big day. But maybe Wiggins is happy with the bag he got and is fine just being third fiddle no matter who steps up into the number two spot.
Markieff Morris: 3/27/4/2/0/0 – Kieffer Morrislund (anyone get this one?) could not carry the Wizards to a win. Just how I started that sentence should tell you they lost.
Bradley Beal: 1/19/4/5/0/0 – Beal has been outstanding in John Wall's absence and I am curious how they play when Wall gets back. Hopefully, Wall has watched how well the team ball has been working and is willing to take a step back like Lowry did in Toronto. Yeah, I doubt it too.
Tomas Satoransky: 1/15/8/7/3/0 – Other than learning how to play team basketball, the next best thing to come out of Wall's injury is finding out how good Satoransky can be. Dang, should have grabbed him. Remember when we were trying to decide between Satoransky and Tim Frazier. Man we're dumb.
Jazz over the Pistons: 110 – 79
Rudy Gobert: 0/22/12/1/0/2 – I know the Pistons are bad, but to get down 64 – 39 at halftime is just demoralizing. Did I mention Gobert did this in just 30 minutes?
Joe Ingles: 3/17/7/7/1/0 – Triple 7s, Jackpot!
Donovan Mitchell: 3/13/9/-3/2/0 – Give him Rookie-of-the-Year. Do it.
Derrick Favors: 1/12/4/2/0/1 – The Jazz are so deep, they remind me of the Raptors. If the Jazz were in the East we would be talking about them as a Finals team. That is the number one reason why the NBA needs to get rid of divisions and just put the Top 16 teams in the playoffs.
Jonas Jerebko: 3/16/8/1/0/1 – Every once in a while, Jonas likes to remind everyone outside of Utah that he exists.
Jae Crowder: 3/14/4/3/2/0 – Solid. I didn't watch the game, but let me guess, the three pointers were from the baseline.
Ricky Rubio: 0/4/3/9/1/0 – Not a good game for Ricky, but they didn't need him. I'm just reminding everyone of how deep this team is.
Royce O'Neale: 0/2/3/2/1/1 – Remember him?
Georges Niang: Forget his line. I just think it's funny how close his name is to Gorgui Dieng.
Andre Drummond: 0/13/11/1/1/0 – Only played 23 minutes in this blowout. Still got a double-double.
Blake Griffin: 1/13/2/2/0/0 – Nobody on the Pistons could make a shot tonight. The Jazz defense is stifling.
Luke Kennard: 1/18/5/2/1/0 – Reggie Bullock was a late scratch with back spasms and we found out how important his energy is to this Pistons team. Kennard, like Jerbko, reminded us all that he existed in the garbage-time special.
Cavaliers over the Suns: 129-107
LeBron James: 1/28/13/11/3/2 – How is this guy not the MVP every single year? Is that just too boring? If only the Cavaliers could play the Suns every night then they might have a chance to go somewhere in the playoffs. But alas, a Lebron team will not be in the finals for the first time in a lot of years. Yup, you guessed it. The Marker.
Kyle Korver: 5/22/4/1/0/0 – The OG THRAGNOF…so the OT?
Jeff Green: 1/11/4/1/3/3 – You know it was against the Suns if Jeff Green made the recap.
Jordan Clarkson: 6/23/0/1/2/0 – 3-and-D for Jordan Don't Call Me Kelly Clarkson.
Josh Jackson: 1/19/3/1/4/1 – I think with Jackson we are seeing what we hope Jonathan Isaac (1/7/5/0/0/1) can be by the end of the year.
T.J. Warren: 0/19/10/0/0/0 – Weird line even for TJ, but owners will take it when you're used to only really getting points.
Devin Booker: 0/17/3/6/1/0 – Owners are loving the uptick in assists this season. The zero threes is a bummer though.
Elfrid Payton: 0/10/4/7/1/0 – LeBron was so dominate for the Cavs that I am giving more time to the losing team's players. Elf getting traded to the Suns was an undervalued move for fantasy purposes.
Dragan Bender: 1/7/5/3/0/1 – Trying to steal his thunder back from Davis Bertans (0/0/3/1/0/1). Not too hard when DB (the Spurs version) gets only 9 minutes.
Lakers over the Nuggets: 112 – 103
Kyle Kuzma: 5/26/13/2/1/0 – Koooooooooooooooz!
Julius Randle: 0/26/13/2/0/0 – Nearly identical line to Kuzma, well you know, minus the 5 threes and the steal and the all-around Kooozness of it. Randle is trying to make it really hard on the Lakers to let him walk.
Brook Lopez: 3/17/3/0/0/1 – BroLo quietly turning it on lately.
Isaiah Thomas: 4/23/4/2/0/0 – Wouldn't it be crazy if the Lakers sign I.T. to a one year deal and they get LeBron next season? Reunited and it feels so good. Oh yeah, Thomas is turning it on!
Lonzo Ball: 1/5/9/8/3/2 – Rainbow line for Ball. Exactly what they need from him when the scorers are scoring. Someone needs to remind the young Lakers that they are supposed to be losing.
Kentavious Caldwell-Pope: 1/10/8/5/2/0 – Does the Pope put up nice lines?
Ivica Zubac: 0/0/0/0/0/0 – Remember when he was a thing?
Wilson Chandler: 4/26/10/4/2/0 – I would like to see what the Nuggets' record is when Chandler is their leading scorer. My best guess: it's not good.
Jamal Murray: 3/18/6/4/2/0 – Murray is still feeling it. Like I said yesterday, if he is hot at playoff time, this team is going to be dangerous.
Nikola Jokic: 2/15/9/5/1/0 – No triple-double? What a Joker.
Gary Harris: 2/14/1/2/3/0 – Sexual Harrisment's floor.
Paul Millsap: 0/5/5/2/1/2 – I didn't know this, but it turns out that your wrist is really important for basketball purposes. Mine is only important for one purpose….
And on that note…goodnight!