In this life, do-overs are rare. The opportunity to go back and change the mistakes of the past is reserved for science fiction plots or melancholy discussions over a pint in dimly-lit watering holes. But over this last week, I was presented with an opportunity to do just that – to go back with the knowledge of hindsight and fix where I failed, to atone, to set things right. I had screwed up once and now I was gifted a second chance. Please, I told myself, don't blow it again. 
Guiseppe Racco – a name that comes up regularly at the top of NFBKC leaderboards and in conversations on the Son pod – invited Son and I to participate in a "mid-season" roto league and I leaped at the opportunity. What he was really doing was giving me a chance to take another run at putting together another RazzJam-esque team. Racco's Midseason Special would be a 12-team slow draft with a 25-man, draft-and-hold roster, and we'd be keeping score rotisserie style across eight categories. The KareemAbdul-JoelBahrs, my middling RazzJam group, are currently loitering around the bottom third in the overall standings, and the weak spots in the blueprints largely came from a lack of big-man stats and underperforming forwards. 
A quick recap of that ill-fated team: I snagged Rudy Gobert in the third round and then waited (and waited and waited) to grab a second big, eventually filling the mandatory second Center slot with JaVale McGee. This has not panned out. Gobert's frigid beginning to his Timberwolves tenure and McGee's relegation to the end of the Mavericks rotation has left me with terrible block, rebounding, and FG% numbers. Compounding my Center challenges is my wholly underwhelming collection of Forwards after going guard-heavy – Damian Lillard, Trae Young, and De'Aaron Fox –  in the first four rounds. Franz Wagner has been fine, but Scottie Barnes has struggled, Keldon Johnson's scoring uptick has been accompanied by horrific efficiency and not much else in the way of helpers, and Jalen Smith has been so poor that the starting power forward job has slipped through his fingers. A punchless bench featuring Jalen Suggs, Dean Wade, Patrick Beverley, Otto Porter, Damian Jones, Cam Thomas, and Day'Ron Sharpe ensures no calvary is coming. Last year ended just short of a title (second place out of 96, a mere 6 points behind the victorious Racco), but this year's group would spare me the pain of close but no cigar. 
Drafting by Feel
As mentioned in last week's podcast, this draft is unfolding more or less without tools – no projections or team tracker, no benchmarks to mind – and picking without them has cut both ways. There is freedom in being unencumbered. For better or worse, I have been inclined to simply take the guy I want. It feels good, especially as I can't imagine the algorithms would have approved of Zion at pick 25. But that's not just a decision that I can live with, it's one that I'm excited to have made. Boldly we went forth, shooting from the hip and seeing where the chips will fall. 
At the time of writing, we're halfway through the 16th round and while I know that I have been misled by the machines and their cold, emotionless math in the past, this time around my regrets are all my own. Numbers aren't the only ones susceptible to error, I also have my own foibles. This draft was a do-over of one that I botched earlier, but in some ways, I'd like a do-over of my do-over. Yes, I have regrets. Again. Open the image below in a new tab to zoom in on how things have gone down.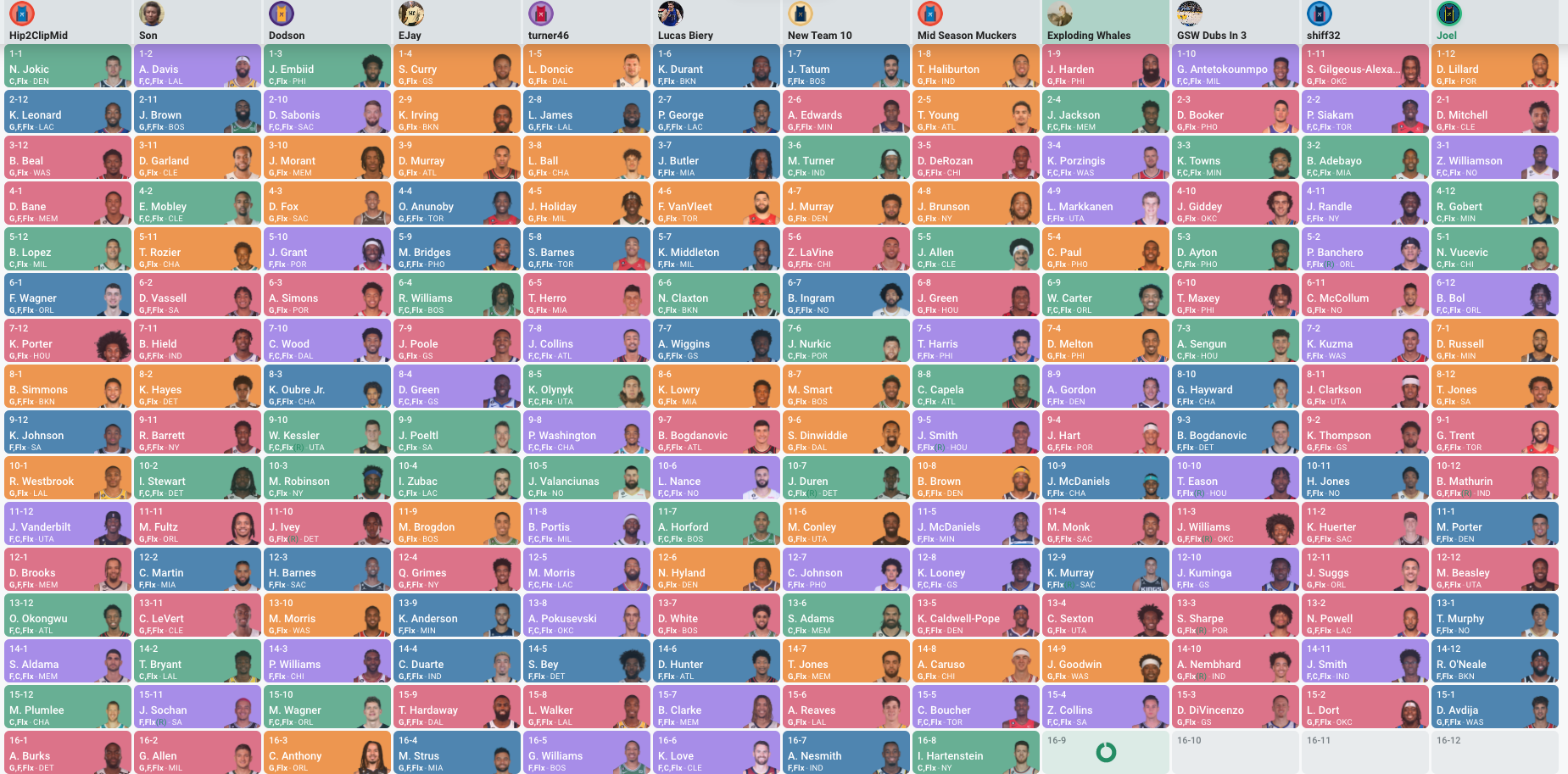 The First Five
Not much changed in round one. SGA bubbled up, passing Trae Young en route to the top ten, but Damian Lillard was still my man at the end of the first round. On a tear over the last two weeks and the 15th-best player on per game basis according to BasketballMonster.com, I was plenty comfortable taking Dame – especially now that we've had a third of a season's worth of evidence that the abdominal injury is well and truly behind him. Young lingered at the turn, but I have plenty of shares already. If there's a reprieve from his poor play over the final two-thirds of the year, I'll catch enough of it to feel like I didn't miss out here. So, what to do at pick thirteen? 
My decision was heavily influenced by the desire to take Zion Williamson at pick 25 (this draft, like the RazzJam, uses a third round-reversal before returning to snaking for the rest of the way) and by the limitations of my first-rounder Lillard. One of Williamson's obvious drawbacks is his poor conversion rate from the free throw line, so buttressing that with high-percentage and high-volume free throwers at the turn would be essential. Devin Booker was a conspicuous candidate here, but I went with Donovan Mitchell instead. Book converts marginally more freebies than Mitchell does (5.5 to 4.7) but I went with the Cleveland guard instead because of his higher steal rate. Donovan's 1.4 rips per game were a more potent counterbalance to Dame's 0.8, and the thought of getting negative value from both defensive categories after three rounds was a non-starter for me. 
Beyond his defensive edge over Book, it should be pointed out that Mitchell is absolutely balling as a Cavalier. He looks energized by the change of scenery and teammates, and playing alongside Darius Garland hasn't suppressed his heavy usage (31.6%) in any significant way. He's not just gunning either. Per DunksandThrees.com, Mitchell has racked up an Estimated Plus Minus of +5.9 – easily the highest of his career – which is the eleventh-best in basketball this year, and most of that value is sourced from his offensive contributions (+5.6). By this metric, the only players who are better offensively than Mitchell are Luka Doncic, Stephen Curry, Nikola Jokic, and Dame. Perhaps there's some regression coming – especially considering Donovan's True Shooting percentage of 65% is outpacing Joel Embiid, Shai Gilgeous-Alexander, and Jayson Tatum – but I wanted to build a scoring base with these early picks, as wartless points are almost impossible to find after the first forty or so picks. 
By the time Son and I wrapped last week's pod, there was speculation that the much-discussed Rudy Gobert would likely fall to me at the end of the fourth, an event that did indeed come to pass. Wary of where the swats and boards would come from, I felt obliged to hitch my wagon to big Frenchman once again. Considering BasketballMonster currently has Rudy as a top-40 contributor, the price was more or less right at pick 48. Factoring in my draft position and anticipating a run on bigs, I figured it was better to be on the front end rather than the tail and snagged Nikola Vucevic at the four/five turn. The other Nikola, Rudy, and Zion would give me a really strong group of rebounders, steady FG% value, and a bit of blocks out of my first fifty picks despite going double guard right out of the chute. After five rounds, I was feeling pretty good. This, of course, is where things started going sideways on me. 
A Fever Sets In
At the end of the sixth round, I took a swing and added Bol Bol, who's a top-70 player on the season but has slipped out of the top 140 over the past two weeks. A bit of a wild ride, Bol's playing time is anything but consistent, and despite the juicy block and rebounding numbers that power his fantasy appeal, he's not actually a very good player at this point. (Unlike Donovan Mitchell's darling status in EPM, Bol grades out as a negative overall – -0.2 – which puts him in Keita Bates-Diop and Aaron Wiggins territory.) After considering safer options like Andrew Wiggins, Kyle Kuzma, John Collins, and Tobias Harris, I eventually succumbed to Bol's siren song of block upside, perhaps to my eventual demise. Still, because Bol qualifies as a forward, I can pair him with Vuc, Rudy, and Zion to give me even more FG% and rebounding to play with. Plus, and this might just be self-soothing, the Magic don't intend to be good this year, and prioritizing the development of their young players at the cost of winning games should be the direction they move in during the rest of the season. There's a bit of risk here that ultimately Bol could backfire, even I can see that, and if this team doesn't pan out I can point back to this section of the draft as one of the main culprits. Bol is a gamble, no doubt. 
After taking four straight bigs and seeing the approaching drop-off in dimes, I bit the bullet and took another struggling Minnesotan, D'Angelo Russell. There was a temptation to put off getting another guard and hoping that Marcus Smart, Kyle Lowry, or Killian Hayes would be available to me 23 picks later, but I didn't want to be stuck in the worst-case scenario of needing Tre Jones and Spencer Dinwiddie at the next turn. DLo's blend of dimes and points – two things I had ignored since the third round – made him irresistible, streaky shooting and maddening turnovers be damned. The steals, a hearty 1.3 per game this year, also nudged me in his direction. 
My suspicion that Jones would fall to me did indeed come true, but the other aforementioned guards came off the board before my pick at the end of the eighth round, validating my DLo line of thinking. Jones' lack of scoring punch sucks, there's no way around it, but 6.7 dimes, 1.4 steals, and an 89.7% free throw rate has kept Tre just inside the top 100 and I struggled to come up with reasons why that couldn't be sustained. Moreover, his assists in particular were valuable, as the pickings had gotten pretty slim. I took him at cost at pick 96 and felt good remembering that the only point guards behind him are rookies or Josh Richardson. 
Taking Gary Trent to start the ninth round, however, is much harder to rationalize. In hindsight, this is a galaxy brain pick. Consider that Keldon Johnson, Bojan Bogdanovic, and RJ Barrett — really, the last gasps of legitimate scoring punch and usage — were still available at the time and then explain to me why I went with Trent's 17 points per and 1.6 steals. I know that it was the defensive number that wormed its way into my thinking and eventually led me astray, but I really wish I'd thought this all the way through. Maybe I was sweating steals because of the Lillard pick, but for some reason, I thought getting a piece of a player who has generally disappointed (one who I've avoided in every other draft) was suddenly more valuable than the 20 points per game that Keldon Johnson is horrifically gunning for every night or Bojan's two good categories. 
The wounds of the Trae Young/Keldon pairing must be especially fresh in my mind because I blanked that I had Zion, Vuc, and Bol there to serve as a counterbalance to Keldon's clanks. To make matters worse, the Raptors are scuffling in real life and Trent seems like the most expendable player that could be dangled in a trade to change Toronto's trajectory. Take Trent out of the most steals-friendly environment in basketball and we'll see how much it impacts one of his three positive categories. It was a bad pick, and worse, it put me on tilt. Reeling, I scrambled through another turn.
Delerium
By the time my turn came back around, I was ready to sim to the end of this draft and start over — the Trent blunder burned that badly. Worried that I had well and truly missed on the last raft of points (RJ, Keldon, and Bojan all went within ten picks of Trent), I took two big cuts at the 10/11 turn, taking rookie Bennedict Mathurin and the presently (and persistently) injured Michael Porter Jr. Mathurin showed out in the early season, bursting onto the scene averaging 19.2 points per games through the end of November. The steady diet of minutes (29 per game) that Benn sees made me feel comfortable about his microwave role in Indiana, and should a Pacer tank job commence, he could be in line for additional time as the season unspools. He's been cold recently — I suspect the book is out on him across the league — and relying on a rookie is almost never prudent, but I didn't see a whole lot of more attractive options available. Dillon Brooks? Keegan Murray? I wasn't sold.  
Still tilted and convinced I was behind in scoring, I let loose with another swing from my heels and took Porter, breaking one of my own rules in the process. Prior to this pick, I had essentially crossed all injured players off my list (except Gary. Will the suffering ever end?). MPJ in particular is far from a portrait of health, but in the 11th round, I felt like the discount had already been baked in. The chances of Porter Jr. falling for another twenty picks seemed slight and if I was indeed behind on points, a healthy MPJ at pick 121 would go a long way in filling the hole. His glasswork would also play. Had I not been tilted, I suspect one of those two picks would have been spent on Bobby Portis, whose high floor and excellent rebounding would have slid right into a forward slot with pretty damn good value. I was only allowed to take two guys though, and now instead of the relative security of the People's Champ, I have Bol Bol, a hurt MPJ, a disappointing Gary Trent, and the rookie Mathurin swirling around Zion in the forward slot. Things are officially a bit flimsy. 
The first step to getting out of a hole is to stop digging, and I'm not exactly sure if Malik Beasley and Trey Murphy qualify as that. Malik is steady when it comes to points and triples, and regardless if he stays in Utah or is sent elsewhere, those values will travel. Murphy also has a bit of a wobbly role in New Orleans but he has been effective enough in the early season to post top 70 overall numbers. I considered Kyle Anderson's floor and another guard like Andrew Nembhard, Tyus Jones, or Jordan Goodwin, and in hindsight, I probably should have. If nothing else though, these picks were valuable because I was off my tilt once they were made. A sense of clarity had returned. Finally, in the 14 and 15th rounds, I did something that made sense and grabbed two high-floor players, including a starter, in Royce O'Neale and Deni Avdija at picks 168-9. The fever at long last broke.
Endgame
With 60% of the roster spoken for, I have eight guard-eligible players, nine forwards, and four centers – with Zion and Bol both holding dual F/C positionality and a number of G/F guys. I'm aiming for at least one more big before things are all said and done, and another bundle of dimes wouldn't hurt either, though finding value in both those areas might prove challenging. Despite building a base that I'm genuinely excited about, I'm frustrated with how I navigated rounds 9-12. The rest of the room is very sharp, so finding late gems will be a tough ask. 
Assuming I'm not gifted another do-over, do me a kindness and sit with me at the bar, will ya? I'll be the one wearing a Gary Trent shersey with tears in my beer, muttering that if I had just one more chance I would finally be able to make everything right.