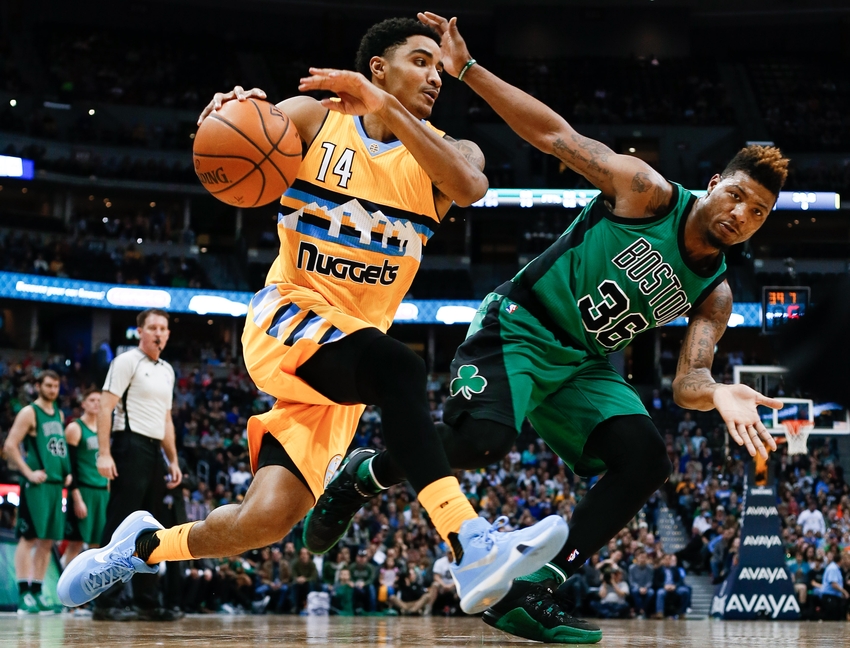 Gary Harris sounds like the name of your mailman. And much like your mailman, he delivers without anyone really noticing. Gary Harris is a top fifty player, but for some reason you never see his name in the fantasy headlines, until now. Gary deserves our love. Gary deserves our respect. Gary deserves a nickname. I want to see your Gary Harris nickname suggestions in the comments. I will throw a few out there and see if any stick (we cannot use The Mailman, obviously): Gary Harris Buehler's Day Off, Gary Harris Wheel, Gary Sexual Harrisment, Gary Harrison (the long lost Harrison triplet), Gary Harristanbul Not Constantinople…
At this point you are probably asking yourself, "Self, has Brent even told us why Gary Harris is the lead of this recap? And I better take a second shower since I had to poop right after my first one."
Yeah, I hate that too! Anyway, here's the slash:  3/36/4/3/2/0 on 14-of-17 shooting and 5-for-5 from the line.
Besides Gary "TBD" Harris, here is what else I saw last night:
Want the best tools and projections to help dominate your league? Check out the Stocktonator, the byproduct of Rudy and machine making love. Click HERE for a FREE 3-day trial.
A bunch of Denver Nuggets went off against the Phoenix Suns, a glorified G-League team, so I will list them here:
Nikola Jokic: 1/14/9/8/2/0. Joker almost messed around…
Wilson Chandler:  3/17/7/4/0/2. The Butler did it! (because I think his name sounds like a butler's name)
Mason Plumlee (yeah, even him):  0/7/8/6/0/5 – 5 blocks! Swatgun, Bang! What's up with that thang!
Trey Lyles: 2/16/11/1/0/0. Dr. Trey
Jamal Murray continues to be extremely frustrating to own and has to be right up there with Marquese Chriss as one of the most annoying fantasy guys. Wilson Chandler should be owned everywhere and Trey Lyles needs to picked up in all but the shallowest of leagues.
Speaking of Marquese Chriss, somebody needs to phone Hell and get the weather report, because dude actually has had two decent games in a row:  3/16/4/1/5/0. Sweet Chrissmas!
Greg Monroe got the start in the funkiest center rotation of all time and of course he had a double-double (will the Suns just buy this guy out already?) (And can we nickname him Monroe-Monroe?) (You know because of the all the double-doubles?) (What is the record for most parentheses in a single recap?) (Somebody check that out and let me know in the comments) (Thanks!):  0/16/10/4/0/0.
T.J. Warren has now had back-to-back games with more than just points and boards (the points were sadly lacking, however):  0/13/5/5/4/1. TJ Max is going to be a top 50 player if he keeps this up.
Devin Booker did not have a great game, but he has reached the level of player that even his bad games are relatively good:  2/17/2/5/0/0. Book it!
Stephen Curry is pretty good at basketball. After a long layoff due to injury he came back and hit 10 3-pointers in his first game back. Then last night against the Mavericks (in a game that was much closer than it should have been), Curry did this: 6/32/5/8/1/0. That's some spicy Curry!
Kevin Durant should be in the MVP conversation (and the Defensive Player of the Year conversation) (Yes, I am going for the record). Now with James Harden getting injured and Lebron James being so good that people tend to forget that he is even eligible for the MVP award, maybe we will start hearing KD's name come up for something other than idiotic social media blunders. 1/25/12/6/0/4. Get this man some prunes, because he is all blocked up!
Klay Thompson, the Quiet Assassin, Silent But Deadly, He Puts the Sh! In Splash Brothers, had yet another amazingly efficient game, shocker. 3/25/5/4/2/1 with only one turnover in 36 minutes.
Draymond Green is up to 10 technical fouls on the season but Steve Kerr does not want him to tone it down because he gets the team fired up. This makes total sense since Steph, KD, and Klay are all pretty quiet on the court. So we may end up seeing Dray get suspended at some point (which would cost him about $250,000 in game salary) (dang these guys are rich). 3/18/11/6/1/1.
ZaZa Pachulia (0/7/2/2/0/0) returned last night. I mention this not because he is even remotely interesting in real life or fantasy, but because many of you are wondering how his return may affect Jordan Bell.
Jordan Bell will still be getting between 20 and 25 minutes per game, which should allow him to maintain his value and remain a hold in most normal sized leagues. That being said, he had a really crappy game last night (0/2/4/1/2/0) and will be tough to trust until later in the season or until the next injury (which probably will not be too far off since the Warriors will rest guys even with minor injuries).
Harrison Barnes has been playing well lately and that continued against his old team. 2/18/5/4/0/0. I am sure the Warriors are regretting their decision to let Barnes go. Much like I am regretting my decision to let my ex-wife go. Since both the Warriors and I hate winning and being happy and having an all-around better existence.
A bunch of Mavericks actually had good games, so I will give a quick rundown:
Wesley Matthews: 7/22/5/4/0/0; 7-for-10 from deep
Dennis Smith Jr.: 2/14/2/8/1/0. It looks like Son's baby boy is all grown up
Dirk Nowitzki: 0/12/8/2/1/0. What's my age again?
Dwight Powell: 2/21/8/2/1/0. Gun-to-my-head, I feel like Powell will overtake Kleber at some point, but I cannot figure out the Mavericks' rotation. If you have a guy you have been itching to drop, Powell has some breakout potential, but this could easily just be a teaser game.
J.J. Barea: 1/13/4/7/0/0. Barea continues to hold value even with a healthy DSJ, but it is only a matter of time before he gets hurt. Which is a shame because he is just so darn cute…aren't you JJ? Aren't you? Yes you are….
Michael Beasley outplayed Kristaps Porzingis yet again in New York's loss to the Wizards. Which means Beasley needs a nickname and Porzingod needs a new one. 1/20/9/3/2/2 in just 25 minutes! I am not sure how long this will keep up, but Beasley needs to be owned and started everywhere. Oh, nickname ideas (let me see yours in the comments): The Beas Knees, Michael Beastley, MVB, Dr. Michael Beasley, MB.
Kristaps Porzingis: 1/16/6/1/0/2. New nicknames: The Just Plain Old Horse, Porzingleberry, Porzingmiss
Kyle O'Quinn: 0/13/10/2/1/1. Maybe the most added and then dropped player in fantasy the last few years.
Bradley Beal: 2/27/4/6/3/0. Bradley McBeal held court
John Wall: 1/25/3/9/1/1. Beal and Wall, the Slash Brothers?
Marcin Gortat: 0/21/8/2/1/1. Gortatertot
Markieff Morris: 1/11/11/1/1/0. Come up with a name for a line like this in the comments. Kieff was Onederful.
Joel Embiid actually played through an injury (and the Sixers let him) and led the Sixers to a win over the Spurs! Yes, the Spurs! Maybe this will teach the Sixers that if they play their good players that they can actually win basketball games (oh, and the other team doesn't play Kawhi Leonard). 0/21/11/4/1/4.
Ben Simmons: 0/26/5/4/3/1. Simmons is back with a good line because he was tired of hearing about Donovan Mitchell or Jayson Tatum possibly winning Rookie of the Year. Simmons was so fired up that he actually attempted a Three!!  THRAGNOF!
J.J. Redick: 3/20/2/4/0/0. The Colorful Phallus was steady again.
Dario Saric: 2/15/7/1/0/0. Saric has been coming into his own lately, which sounds wonderful and painful all at the same time. Scratch that Saric!
LaMarcus Aldridge went off with Leonard getting a rest day (although Leonard's return has not hurt LaMarcus at all):  0/24/14/1/1/0.
Kyle Anderson: 0/14/7/2/1/2. Slow Mo needs another Leonard injury to get his value back.
Clint Capela will be asked to score more with James Harden going down, so if he can stay healthy, Capman will be even more of a draft-day steal.  0/21/8/0/0/2.
Eric Gordon: 3/17/5/6/2/0. The Harden injury may cost Egor his Sixth Man of the Year Award.
Chris Paul:  1/8/7/13/2/0. Paul needs to call State Farm and file a claim for his missing shot.
Gerald Green: 7/27/6/2/0/1. Green's story is amazing. He was sitting around doing nothing and got a call from the Rockets to come play for a contender. He said "Yeah, sure, whatever." Two games later and he is being added in fantasy leagues everywhere. Green may have some short-term value, but we have been teased by Green before.
Aaron Gordon: 2/16/8/0/0/0. A-A-Ron will be back to normal soon as he gets backs in game shape
Mario Hezonja: 2/14/9/2/0/0. As long as Super Mario is getting over 25 minutes per game, he has shown that he should be owned (at least until early February when the Magic start getting players back).
Elfrid Payton: 0/14/4/4/5/0. Payton seems to be the second coming of Tony Parker, without the hot ex-wife.
Spencer Dinwiddie just keeps going and he led the Nets to a huge win over the Timberwolves. It helped that Caris Levert sat out this one, but Dinwiddie is the real deal with the really unfortunate name. 4/26/1/9/1/0.
Jimmy Butler: 0/30/3/4/2/1. Butler has taken control of this team and the early-season scare is long over.
Karl Anthony-Towns: 0/16/10/0/0/0. Big KAT has been in a mini-slump, but it will not last long. Buy-low?
The Miami Heat ran over the Pistons and a bunch of players had big fantasy nights:
Goran Dragic: 3/24/5/13/0/0. The Dragon burned Detroit (and nobody could tell the difference).
Josh Richardson: 5/22/0/5/1/1. Son couldn't write the recap today because he was spending some quality time with his J-Rich poster.
Kelly Olynyk: 3/25/13/3/0/0. Detroit got KO'd.
Hassan Whiteside: 0/10/4/2/1/1. He only got 17 minutes, but he played. If you own Hassan, don't worry. If you don't, then don't worry either.
Avery Bradley: 3/15/4/4/1/0. While other teams manage their players Detroit just throws Bradley back out there for 37 minutes even after missing a couple weeks. I wonder how this will work out.
Tobias Harris: 0/19/6/2/0/0. Your name is Toby!  No! My name is….Tobias!
Boban Marjanovic: 0/15/9/3/0/1. Boban could be a nice DFS punt play with Drummond out, but I wouldn't run out and grab him in season-long leagues.
Here is where it is getting late and there were a ton of games, so I am going to just highlight the great/important fantasy performances of Wednesday night:
DeMar DeRozan: 5/35/3/6/3/0. Wow, five more 3-pointers for DeMar..This could propel him to first round value.
Kyle Lowry: 2/16/5/4/2/0.
Serge Ibaka: 1/16/7/1/0/3.
Delon Wright: 4/25/13/5/4/1. This could be Delon's best game of the season. He should be owned in deeper leagues and shallow leagues need to really keep an eye on him.
Justin Holiday: 6/26/4/4/1/0.
Lauri Markkanen: 2/22/12/1/1/0. Here comes The Markksman.
Nikola Mirotic: 3/20/5/2/0/1. Beats a punch to the face.
LeBron James: 0/19/7/6/1/1. No Isaiah and a "bad" line from LeBron = a blow-out loss to the Celtics.
Jayson Tatum: 1/15/5/2/0/0. Is this guy really a rookie?
Jaylen Brown: 1/14/8/4/2/0.
Al Horford: 1/11/9/3/1/0.
Kyrie Irving: 0/11/9/6/1/0. Almost messed around and the Earth is almost flat.
Terry Rozier: 4/20/4/3/0/1. Another contestant on "Most Added and Then Dropped!"
Lance Stephenson: 1/15/7/5/0/0. Lance is a nice pick-up while Oladipo is out, especially if you are an Oladipo owner.
Domantas Sabonis: 0/24/2/1/1/0.
Myles Turner: 0/9/6/2/0/1. I am not sure what is going on with Myles, but my gut says "Buy-Low"
Giannis Antetokounmpo: 0/31/5/10/5/1/2. Freak
Khris Middleton: 3/27/3/2/1/0.
Malcolm Brogdon: 0/17/2/5/0/0.
Anthony Davis: 1/29/15/4/3/1. If he could just stay healthy…
Jrue Holiday: 2/24/6/5/1/0.
DeMarcus Cousins: 2/19/11/1/2/1.
Donovan Mitchell: 3/24/3/2/1/0. Creeping up on Simmons for Rookie of the Year
Derrick Favors: 0/11/9/2/1/1. No Gobert
Ricky Rubio: 0/11/2/7/4/0.
Joe Johnson: 2/20/7/2/0/0. Just keeps doing it.
Kyle Kuzma: 3/18/3/1/0/2. Koooz!!
Russell Westbrook: 0/20/6/12/1/0. OKC figured out that they just need to Trust Russ
Paul George: 3/24/2/3/3/0.
Carmelo Anthony: 3/21/6/1/1/0.
Steven Adams: 0/12/6/2/1/3.
Terrance Ferguson: 6/24/1/1/3/0. Replaced Roberson in starting five….definitely keep an eye on him. If he can shoot, he will get a ton of open looks.