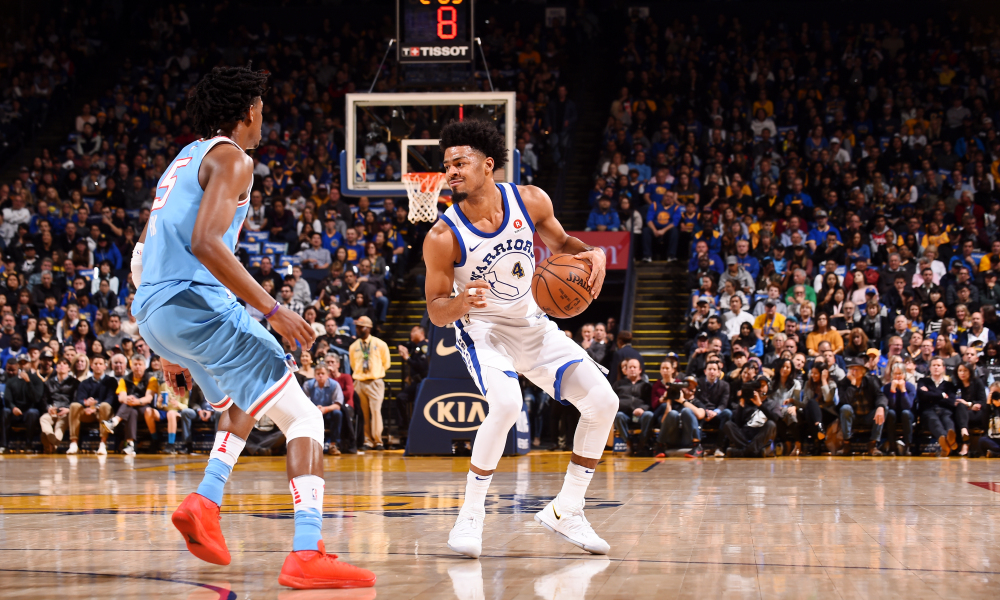 There are two points of a fantasy basketball season where seasons can be won and lost: the first is at the draft and the second is when there are about twenty games left in the season. The draft is obvious. That is when you set the foundation of your team. The second point is a little more subtle.
For those owners in head-to-head leagues, this second point is important because you are setting your team up (hopefully) for the playoffs. You want players who have a lot of games and are on teams who will not be resting them during the critical time. The subtle part is directed more at owners in roto leagues. There are still enough games left to make moves in categories you can climb in or maintain your lead in categories you are ahead in.
The waiver wire is your tool to win the league at this point. Young players are finally putting it together and playing well and injuries are opening up time for bench guys who have played well when given minutes. The Golden State Warriors, and their massive amount of injuries to star players, is a team to focus on in order to find one or two players who can help you with that late season charge.
Quinn Cook is the player I want to focus on in this recap, and if you need threes, points, assists, steals, I will pause for a moment so you can go and pick him up. While we are waiting for those owners to get back can we just talk about how dumb they are for not picking up Cook yet and having him active for this game against the lowly Suns? Wait, wait, quiet, they're coming back…
Welcome back, we were just waiting quietly for you. I hope you were able to add him. Cook is a 2-way player, no, that is not sexual. It means that he is one of two players each team can send back and forth to the G-League during the season. Cook has dominated G-League play for most of the year and now, because of injuries to Stephen Curry, Klay Thompson, and Kevin Durant, Cook is getting 40 minutes per game and putting up more than decent fantasy point guard stats. Last night Quinn Cook went for: 5/28/4/4/2/0 with only 2 turnovers in 40 minutes. This was on 11-17 shooting, including 5-7 from three. Pick him up.
Here is what else I saw on a busy St. Patrick's Day:
Want the best tools and projections to help dominate your league? Check out the Stocktonator, the byproduct of Rudy and machine making love. Click HERE for a FREE 3-day trial.
Rudy has been hard at work in the lab. His latest creation? DAILY LINEUPS PAGE. So good. So smooth. So helpful. He decided to go with the Sonny Bono red tint, while I prefer the blue tint. What say you?
Warriors over the Suns: 124 – 109
Draymond Green: 4/25/11/8/1/1 – Dray Day owners are in for a nice finish to the season, as Green will not only be the defensive anchor and ball distributor that he always is, but will also be asked to score more than usual. He could put up Top 10 fantasy stats the next week or two.
Nick Young: 3/20/7/2/1/0 – Swaggy P is another Warrior who should be owned everywhere and will be asked to take a lot of shots. He is streaky, but if he can keep it going, watch out.
Andre Iguodala: 1/11/5/2/0/0 – When I heard Durant got hurt, Iggy was the first Warrior I picked up, but he has just not been able to take advantage of the opportunity. Quinn Cook is the Warrior to own.
Kevon Looney: 0/13/2/0/0/6 – Call in the SWAT team, Looney is on the loose! Keep an eye on Looney Toon's next game.
Josh Jackson: 2/36/6/4/2/1 – No Devin Booker opened up some extra minutes for JJ and he delivered. After a slow start to the season, Jackson has been coming up big for patient owners.
Troy Daniels: 3/18/2/2/2/0 – Normally a THRAGNOF specialist, Daniels was asked to do a bit more with Booker out, who is day-to-day.
Elfrid Payton: 1/11/0/7/1/0 – Elf has cooled a bit since a hot start with the Suns, but I think he will pick it back up. The minutes and usage are there.
Dragan Bender: 2/6/6/2/0/1 – Got the start tonight and the former number four pick in the draft once against failed to deliver.
Spurs over the Timberwolves: 117 – 101
LaMarcus Aldridge: 0/39/10/2/0/2 – LA seems to be over his injuries and is back to his All-Star form. Enjoy the finish.
Danny Green: 2/12/5/5/0/1 – Nice all-around game for the normal 3-and-D Green. It is too bad every spur but Aldridge is so frustratingly hard to predict.
Pau Gasol: 0/12/7/8/1/1 – Pau boom bang normal.
Rudy Gay: 0/14/4/0/1/4 – Efficient and block heavy. Gay owners will take it.
Patty Mills: 2/12/3/5/0/0 – Like I said, hard to trust any Spur. Great team basketball isn't great for fantasy teams.
Karl-Anthony Towns: 2/23/9/2/0/1 – Even a great game from KAT couldn't stop the all-around effort from the Spurs. This team needs Jimmy Butler back.
Andrew Wiggins: 0/21/5/5/0/0 – A good game for Wiggins, but no threes and defensive stats are a bummer.
Jeff Teague: 1/16/2/8/2/0 – Just not enough from the rest of the Timberwolves outside of their Big 3 to take down the Spurs.
Grizzlies over the Nuggets: 101 – 94
Dillon Brooks: 4/24/5/1/0/1 – I am pretty sure earlier this week I said that Brooks is the best young Grizzly to own. He is mostly a THRAGNOF, but he has been adding enough boards, assists, and defensive stats to make him well worth starting. And he is getting big minutes.
Tyreke Evans: 2/20/3/7/2/1 – Tyreke is back and got 37 minutes. His owners will hope that he stays healthy because the Grizzlies didn't get the memo that they are supposed to be tanking.
Marc Gasol: 2/14/6/5/1/2 – Gasol will be rested a bit for the rest of the season, but he can still put up effective numbers.
Jarell Martin: 1/8/13/3/0/3 – Martin only took 7 shots with Tyreke back, but wow did he dominate in other areas. Martin has been a huge surprise and should be owned.
JaMychal Green: 0/7/11/0/0/1 – Another surprise contributor. Green has been a really effective fantasy player for the last few months when he's healthy.
Nikola Jokic: 1/17/12/2/4/2 – Did not shoot the ball that well and the assists were low, but Jokic is making a case for the number one pick in fantasy drafts next season. The Nuggets really miss Gary Harris.
Jamal Murray: 1/16/3/3/2/0 – Murray and the rest of the Nuggets just could not hit a shot last night.
Paul Millsap: 2/10/3/2/1/0 – Millsap is still rusty, but he is getting close. I predict a few big games coming soon.
Will Barton: 0/8/7/2/2/2 – Will the Thrill had a chance for a big game with Gary Harris but he couldn't make anything. He filled the rest of the stat sheet though, so owners can't be too mad.
Cavaliers over the Bulls: 114 – 109
LeBron James: 2/33/12/12/1/2 – Ok, LeBron probably should have been the lead, but I wanted to give some love to Quinn Cook. But hot damn what a game. This is why you can never count out a LeBron team in the playoffs. He can win games by himself.
Jeff Green: 2/21/4/2/1/1 – Green was the second best player and the Cavs still won. Yes, it was against the Bulls who are suffering a lot of injuries, but it just shows how good LeBron was.
Ante Zizic: 0/14/6/0/0/1 – Another Zizic sighting. With Rodney Hood, Kyle Korver, and Larry Nance Jr. all out of commission, Zizic got the start and looked pretty good. Keep an eye on Nance's injury as Zizic could be a cheap streamer in DFS leagues on Monday.
Denzel Valentine: 8/34/7/6/0/1 – Kris Dunn and Zach LaVine were both out and Denzel was a Man on Fire and got all the Glory as he took Flight and went all Book of Eli on the Cavs. Unfortunately, it wasn't enough to get the win. Wait, the Bulls are tanking, so it was perfect. Not many people were playing Valentine in this one, however. Valentine has a very fantasy-friendly game and is a nice deep league grab and DFS play if LaVine misses more time.
Cameron Payne: 3/13/2/10/0/0 – The Bulls want to see Payne play, so even when Dunn comes back I expect C.Payne to get some run. I grabbed him in a league where I really need assists (along with Quinn Cook).
Bobby Portis: 1/15/15/2/0/0 – Just keeps putting up the stats.
Paul Zipser: 3/11/4/2/0/2 – I am glad Zipser is not my last name because I would be one of those annoying businessmen that says his full name every time I met someone new. Zipser…it just makes me happy. Say it aloud wherever you are and I guarantee you smile. Zipserrrr.
Christian Felicio: 0/10/10/2/1/0 – The Bulls are going to be hard to predict even when Robin Lopez and The Markksman are out. Pick-up at your own risk. PAROR.
David Nwaba: 0/5/4/1/0/0 – I hyped Nwaba, but in hindsight he should have been a PAROR.
Knicks over the Hornets: 124 – 101
Tim Hardaway Jr.: 4/25/3/3/0/0 – THJ finally played well in a win. I was wondering if it was possible. He is still a highly paid THRAGNOF'er, but fantasy owners will take what they can get at this point.
Frank Ntilikina: 2/15/3/3/0/1 – Frank the Tank aka The Frenchise showing his fantasy stud potential in this one in just 20 minutes on the floor. Threes, boards, assists, and a block. He has the potential to be Ben Simmons with an outside shot. Grab him if he's available and hope this is the start of something.
Trey Burke: 2/14/3/5/0/0 – The Knicks' bench carried them in this one, with THJ being the only starter to put up anything recap worthy. Burke put up this nice line in just 19 minutes. However, the presence of The Frenchise and Muddy will make owning any Knicks' point guard a pain in the Enes, but if you want to try then I would rank them: Burke, Frank, Emmanuel Mudiay (0/7/5/3/1/1 in 15 minutes).
Dwight Howard: 0/14/13/0/0/1 – Solid, yet unspectacular game from Howard. He was 2-2 from the line and has had a quietly awesome fantasy season.
Kemba Walker: 2/10/1/2/0/0 – Umm, just ignore this one, he will be better on pretty much every other night.
Malik Monk: 3/12/5/0/1/1 – I put Monk in the recap because he took 12 threes in just 23 minutes. The Knicks blew this one open in the third quarter, outscoring the Hornets 42-17, so a lot of these lines can be ignored, but I would not be surprised to see Monk get a long look over the last bunch of games. That being said, there are better three-point specialists out there to target.
Nets over the Mavericks: 114 – 106
Rondae Hollis-Jefferson: 0/23/5/4/1/0 – Ice Cream Rondae had it going tonight. The only thing keeping him from fantasy stardom is his inconsistent outside shot, but otherwise he is a starter in most leagues. He also got the start next to Joe Harris (1/11/3/1/0/0) and D'Angelo as the Nets moved Spencer Dinwiddie (2/12/5/4/1/1) to the bench. In case you care, I would rank the Nets' guards/swingmen: D'Angelo, Dimwitty, RHJ, Caris LeVert (0/11/4/3/0/0), JoeWhitey, Allen Crabbe (Out sick again).
D'Angelo Russell: 4/22/4/6/0/0 – Russell is getting stronger every game and owners are definitely happy they were patient or were able to buy low.
DeMarre Carroll: 4/19/12/3/1/0 – A lot of minutes (35), really efficient (7-12 from the floor, 1-1 from the line, and 4-8 from three), and just all-around awesome game from Carroll who likes to mix awesome and awful on a regular basis. Now that he has back-to-back to double-doubles after he had back-to-back 9 point, 6 rebound, and nothing else really games, you can either expect a bad game and/or an injury. But hey, you never know, trying to learn from history is not the American way.
Jarrett Allen: 0/7/6/1/1/4 – Allen is healthy, for now, and starting to play better. If you need boards and blocks, he can do those things.
Dennis Smith Jr.: 2/21/2/5/1/2 – DSJ is living up to the hype. He has been killing owner's percentages all season, but continues to get better everywhere else. I feel like he has Russell Westbrook potential and that he will end up being a steal in drafts next season.
Dwight Powell: 2/18/5/2/1/0 – Powell going 2-2 from three and 7-10 from the floor is exactly what you want from your modern NBA power forward. More blocks from the big man would be nice, but he's in for a strong finish and should make a nice value pick next season.
Yogi Ferrell: 2/12/5/12/0/0 – If only Yogi could be more consistent with his assists he would be owned everywhere. Keep in mind that JJ Barea was out in this one with a nagging rib injury, so Ferrell was asked to distribute more than usual off the bench. If Barea is out Tuesday, then Ferrell makes a nice point guard streamer option. Barea will have had 5 days to rest, however, and was listed as a game-time-decision last night, so he's probably pretty close.
Jalen Jones: 2/16/7/1/1/0 – Who? The newest Jalen in the NBA got 29 minutes in place of JJ Barea and looked good. He will fade back into obscurity once Barea is back, but keep in mind that 'Lil JJB has a long history of injuries.
Dirk Nowitzki: 2/13/7/2/1/0 – Dirk and I are both 40. My back is sore from sitting in bed writing this recap and he is playing at the highest level of basketball and still putting up mid to high-tier fantasy stats. Wow.
Rockets over the Pelicans: 107 – 101
James Harden: 4/32/11/8/2/0 – MVP. Give it to him now. I am excited to see how he holds up in the real NBA Playoffs this season.
Chris Paul: 3/21/8/5/3/0 – I find it funny that Paul is the Rockets' insurance policy for The Beard and is also the spokesperson for State Farm. I also find knock-knock jokes funny, so do what you will with that information.
Clint Capela: 0/13/11/0/0/3 – The steal of the draft in all fantasy leagues. You probably own him if you read Razzball.
Trevor Ariza: 4/17/4/2/0/0 – Last night's 4th best Rocket player. It is frustrating that we don't really know who the 4th best player will be next game.
Anthony Davis: 0/26/13/1/0/1 – No threes and only one block? Boo!
Jrue Holiday: 1/19/6/8/3/2 – Look at that beautiful rainbow. I couldn't jraw one better than that.
Ian Clark: 1/17/2/3/0/0 – Hi-C is on everyone's waiver wire yelling, "Look at me! Hey, over here!"
E'Twaun Moore: 0/10/5/4/0/0 – Hi-C and E.T. are right next to each other yelling at everyone to pick them up. I like Moore over Clark, just for consistency.
Darius Miller: 4/13/1/1/0/0 – We have a new member in the THRAGNOF family.
Wizards over the Pacers: 109 – 102
Bradley Beal: 1/19/2/6/2/0 – Bradley continues to carry the Wizards to wins, as the return of John Wall looms large. Bradley McBeal will lose some assist numbers, but otherwise will be fine. The team on the other hand…..
Marcin Gortat: 0/18/8/4/1/1 – A really nice game from Borat, but he is just so inconsistent.
Tomas Satoransky: 1/12/5/8/0/0 – Tomas Sitonmyface has the most to lose when Wall comes back, so it will be interesting to see how he holds up. His emergence is great for the Wizards, as their bench will be the strongest it has been in the John Wall era.
Lance Stephenson: 2/25/5/5/1/0 – Easily Eazy-Stephen's best game of the year. He should be owned in most leagues, but watch out for duds.
Victor Oladipo: 1/18/4/4/3/0 – Another draft steal you should own if you are a Razzball reader.
Al Jefferson: 0/10/9/1/1/2 – As long as Myles Turner and Domantas Sabonis are out, Big Al should be starting in all leagues. Turner could be back next game, however, but he does have a high ankle sprain which he could easily reinjure if he comes back too soon.
Bucks over the Hawks: 122 – 117
Giannis Antetokounmpo: 2/33/12/7/4/2 – Something tells me this will be the last season for a long time when The Greek Freak is not in the NBA MVP discussion.
Khris Middleton: 2/23/7/2/1/0 – Night in and night out, Middleton just keeps on rolling.
John Henson: 0/11/8/2/1/2 – I would own Henson over Jarrett Allen and Bam Adebayo.
Eric Bledsoe: 1/19/3/9/2/1 – Love his consistency.
Jabari Parker: 1/15/3/2/0/0 – Patient owners were hoping for a little more, but Jabari can still put up nice lines in just 20 minutes. He is going to be a monster when given 30+.
Brandon Jennings: 0/2/2/5/0/2 – Remember when he had that triple-double?
Taurean Prince: 4/38/8/1/0/2 – This dude is ON FIRE!
Dennis Schroder: 1/18/3/9/1/0 – The Hawks' starters played great, but the bench lost this game for them.
John Collins: 0/15/12/1/0/0 – I have been telling you all season you should own this guy. I hope you listened. He did roll his ankle in this one, but seems to be ok. Keep an eye on the news.
Dewayne Dedmon: 2/10/8/2/2/2 – 2's are wild for Dedmon Walking. Got 31 minutes with Collins getting hurt. The points will never really be there, but he makes up for that with a couple of threes per night.
Trailblazers over the Pistons: 100 – 87
Damian Lillard: 3/24/7/8/1/3 – The hottest player on the league's hottest team. Nobody is going to want to face this guy in the playoffs.
CJ McCollum: 0/16/6/4/0/2 – Everything you want in a shooting guard.
Jusuf Nurkic: 0/13/8/3/0/0 – Everyone on the Blazers has it going right now.
Al-Farouq Aminu: 2/10/12/2/2/1 – If he can ever stay healthy he would become a household name in fantasy.
Andre Drummond: 0/18/22/0/0/2 – All this and 6-8 from the line. BEAST!!
Blake Griffin: 1/15/6/7/0/0 – These guys just did not have enough to stop the blazing Blazers.
Reggie Bullock: 3/13/3/2/2/0 – 3-and-D THRAGNOF'er. Or as a commenter suggested: 3-and-3.
Luke Kennard: 2/12/3/2/1/0 – Just wanted to point out Lukie's nice game.
Jazz over the Kings: 103 – 97
Donovan Mitchell: 1/28/2/3/2/0 – The hottest player on the league's hottest team…wait, didn't I just use that line? Does anyone want to face the Blazers or the Jazz in the playoffs? I know I wouldn't. Bring on the Nuggets for me.
Rudy Gobert: 0/22/13/0/0/4 – Rudy and Drummond are so classic-center awesome it makes me happy to be alive during this time in the NBA with unicorns and classic bangers.
Joe Ingles: 3/14/7/9/0/0 – Joe is one of the players who just knows the right place to be. I can totally see him having a Steve Kerr moment in the playoffs with a game winner.
Ricky Rubio: 1/14/9/5/2/1 – When Rubio has it going like this the Jazz can beat anyone.
Derrick Favors: 0/10/6/1/2/3 – Remember when there were trade rumors surrounding the Jazz and specifically Favors? I bet they are glad they just decided to go for it!
Buddy Hield: 5/23/6/6/1/0 – How is this guy not starting? He is the one bright spot in a horrible season for the Kings. He is a reason for Kings' fans to be excited and will be another great value in drafts next season (unless he keeps playing like this).
Bogdan Bogdanovic: 2/12/1/2/0/0 – This guy doesn't even know who he is. When BogBog figures it all out he's going to be fantasy gold.
De'Aaron Fox: 0/11/4/2/4/0 – He will kill your percentages, but the assists and steals are money.
Willie Cauley-Stein: 0/9/4/3/2/2 – No Zack Randolph, so WCS got a chance to run. Another guy who feels really close to putting it together. I think the Kings will be in contention for a playoff spot next season. (be sure to remind me next year how stupid I am for saying this)
Skal Labissiere: 1/7/3/2/1/0 – I have been telling you to add this guy, well here is your chance. Go get him before he explodes next game.