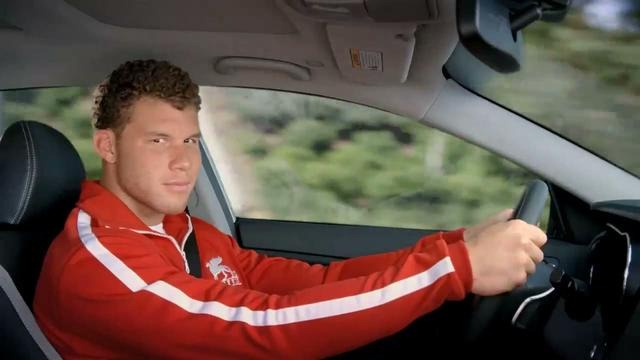 I wish I could just use this entire recap to rant about how Lou Williams deserves to be a NBA All-Star, based on statistics and value to his team. This could be his only chance to play in the game and how cool it would be to have a supremely underrated sixth man honored like that in front of millions of people and basketball legends…But…I am not even making him the lead in this recap because, no matter how great Sweet Lou plays, the Clippers have Blake Griffin and that dude jumped over a Kia. By the way, I am super impressed with the Kia Optima, it is actually pretty tight.
Ok, it's getting late and I have a bunch of slashes to get to, so here is why Blake is the lead: 4/27/12/7/1/0. Almost messed around and hit 10-of-22 from the field, including 4-of-6 from deep. Here is what else I saw:
Want the best tools and projections to help dominate your league? Check out the Stocktonator, the byproduct of Rudy and machine making love. Click HERE for a FREE 3-day trial.
Rudy has been hard at work in the lab. His latest creation? DAILY LINEUPS PAGE. So good. So smooth. So helpful. He decided to go with the Sonny Bono red tint, while I prefer the blue tint. What say you?
Clippers over Pelicans:  112-103
Lou Williams: 2/22/4/6/2/0 – Sweet Lou is ballin' out and outplaying his average draft position by a mile. If another All-Star goes down, he better get the call.
DeAndre Jordan: 0/12/19/0/0/1 – Airball Jordan doesn't mess around with all those ancillary stats. He just gets what he is supposed to get and goes home. Boss.
Tyrone Wallace: 0/12/19/0/0/1 – T-Wall is either just begging to be added or making himself impossible to drop in most fantasy leagues. That also basically sums up my dating strategy. Unfortunately for Tyrone, Danilo Gallinari seems to be on the mend and could return as early as Tuesday. Gallo needs to be owned everywhere, but don't drop T-Wall just yet because Gallo is as fragile as my last girlfriend after her profile picture only got 10 likes and eight of them were from her family.
Milos Teodosic: 2/12/4/6/1/0 – The foot injury is always a concern, but it seems to be behind him and I think he will only get better.
Anthony Davis: 0/25/17/6/2/1 – Davis is going to be an absolute beast in the wake of the DeMarcus Cousins tragedy, since there will be no other big bodies down there to challenge him for rebounds. If you would have told me that Cousins would be the one out for the year with an injury and not Davis, I would have told you that you were a bigger fool than Manti Te'o (see my head-to-head fantasy playoff primer).
Jrue Holiday: 1/20/9/7/1/3 – Jrue is another guy who is going to step up without Boogie. If that means getting blocks and almost double-digit rebounds, then jrive me over to jrop my vote for Jrue to the All-Star game and hopefully this doesn't cause jrama.
Bucks over Bulls:  110-96
Giannis Antetokounmpo: 0/27/9/8/1/1 – So efficient, so versatile, so Greek.
Khris Middleton: 1/20/7/5/1/0 – Coaches are going to be fighting over this Buck's job in the off-season because they are loaded with young talent and seemed somewhat positioned to be the next dynasty – remember I said it here first. Wait, nevermind, they play in Milwaukee. Then again, Cleveland did it, so I guess there's a chance.
Lauri Markkanen: 2/17/10/2/0/0 – The Markksman is back hitting from long range but did not stop boarding. This guy is everything we always hoped Ryan Anderson and Channing Frye could be. I guess third time's the charm for big tall three point shooting white guys out of Arizona. What's that? Channing Frye isn't white? Yeah right, good one, almost made me Google it.
Jerian Grant: 2/15/4/5/0/0 – The General (like General Grant, get it? No? Read a book) has put up some good games lately with Kris Dunn still out with concussion symptoms after face planting against Warriors. Grant is a nice short-term pick-up and a cheap DFS play.
Denzel Valentine: 2/18/5/4/0/0 – My Funny Valentine got 30 minutes tonight. He should be owned in most leagues, it just won't be my team.
Zach LaVine: 0/6/5/5/3/0 – Zach LaTwitter played 26 minutes in this one and, if it wasn't for his horrendous shooting, would have had a Denzel Valentine-like fantasy night.
Rockets over Suns:  113-102
James Harden: 3/27/10/8/2/1 – Harden is putting himself right back in the MVP race even after missing a couple of weeks with an injury. This just seems to be his year because LeBron James is so good that people actually forget that he even plays in the same league as everyone else. I think sportswriters get the ballot for MVP and think, "Wait, I can vote for LeBron? That must be a mistake. Who is second best this season?"
Chris Paul: 0/17/2/5/0/0 – Like Griffin, snubbed from the All-Star game because he missed so much time with an injury, but has the Rockets poised to take a shot at the champs.
Devin Booker: 5/31/3/10/0/0 – Booker's assists numbers have turned him into an elite fantasy player. The Suns no longer need to look for a point guard because they have the next Steph Curry already there.
T.J. Warren: 1/24/5/2/1/1 – Warren would be a top 50 fantasy player if he could put up all-around lines like this one on a regular basis, so maybe try and sell high. Then again, too many full lines turned Rick James from a rock star to a kidnapper, so maybe TJ should stick to points and boards.
Thunder over 76ers:  122-112
Russell Westbrook: 1/37/9/14/2/0 – If you haven't seen it, do yourself a favor and look up the video of the reporters telling Russ that he wasn't picked last for the All-Star game, the list just was in alphabetical order. "See I told you!"
Paul George: 4/31/4/4/4/0 – Hard to argue with PG getting Cousins' spot in the All-Star game, especially after putting up the rare Quad-4 (yeah, I just made that a thing).
Steven Adams: 0/20/13/2/0/0 – 10-of-11 from the floor. I love this guy.
Joel Embiid: 3/27/10/2/0/2 – Please stay healthy for the next 10 years. Please stay healthy for the next 10 years…..
Ben Simmons: 0/22/4/7/1/1 – One of the people calling the game on ESPN tonight said that she thinks Ben Simmons might actually be right-handed and he may make that change in the off-season. Let me pray for just a moment: Please sweet baby Jesus, so small and precious and powerful, please let Ben Simmons come back next season shooting with his other hand and please let him become a threat from outside of eight feet, I am praying to you baby Jesus. Amen.
Raptors over Lakers:  123-111
DeMar DeRozan: 1/19/1/7/0/0 – A 3-pointer (on six attempts!) and seven assists. Is there anything DeMar cannot DeDo?
Kyle Lowry: 1/14/11/3/1/0 – So Lowry gets 14 rebounds and DeRozan gets seven assists. That's like my two year old cooking dinner while I'm pooping my pants.
Jonas Valanciunas: 1/13/10/2/0/0 – The double-double is nice, but the zero blocks is not. That's like coming home to find that my girlfriend cooked dinner but made Tofu burgers. Yes, the analogies are similar. You do this next time. It's as hard as I make it look.
Fred VanVleet: 3/25/2/4/2/0 – This guy wants to be on my team so bad. He wants me to pick him up and insert him right into the hole in my lineup.
Julius Randle: 0/17/10/5/0/0 – I want this guy to go somewhere and get 30 minutes or more per game. I feel like he could be another Andre Drummond.
Kentavious Caldwell-Pope: 3/16/4/2/1/0 – No Lonzo and KCP stepped up, but don't get too excited.
Brandon Ingram: 1/14/6/4/2/1 – I feel like the Lakers have just stopped trying. Well, everyone except for Jordan Clarkson: 0/17/2/2/0/0, dude comes to play every night.
Cavaliers over Pistons:  121-104
LeBron James: 1/25/8/14/1/0 – Just please give LeBron the MVP. He deserves it every year. LeBron is the girl we should have married, but we just had to go and wait for a hotter girl to come along and she never did.
Kevin Love: 4/20/11/1/0/0 – This is a total Kevin Love Line.
Isaiah Thomas: 1/14/2/7/0/0 – It's coming. His shot is dropping and he got 27 minutes. It's coming. The Cavs are gonna roll through the East and we are going to wonder why we ever doubted a team with LeBron James.
Tobias Harris: 4/20/5/2/0/0 – Your Name is Toby! attempted 11 threes. Not sure where I am going with this, but the stat just jumped out at me.
Anthony Tolliver: 5/20/3/5/0/0 – Avery Bradley sat this one out to rest his groin, so his stunt-cock stepped in and put the type of line we drafted Bradley for.
Andre Drummond: 0/17/11/4/1/1 – Couldn't you totally see Julius Randle putting up those numbers if he got 35 minutes like Mr. Drummond? So don't give me the old, "Watcha talkin' 'bout Brent?"
Reggie Bullock: 4/14/5/4/1/0 – He is still on waivers in both of my deeper leagues and, for some reason even after this game, I am still not running to pick him up.
Stanley Johnson: 1/14/4/3/2/1 – I am mentioning a lot of Pistons because somewhere in there is a guy who is going to make a huge difference down the fantasy stretch run. I thought it might be Luke Kennard (0/2/4/2/0/0) but maybe it's Big Johnson or Don't Give Me No Bullock. Or maybe it's Avery Bradley. Ok, now I know why I am not going hard after Bullock, this is a mess.
Spurs over Kings:  113-98
LaMarcus Aldridge: 0/15/7/4/0/2 – Ok, not quite All-Star numbers, but hard to argue with him being there since somehow the Spurs are still an extremely dangerous team without Leonard and no other real fantasy contributors. I wish I could draft Greg Popovich.
Pau Gasol: 0/14/11/3/0/0 – Oh, he is still playing, cool.
Dejounte Murray: 0/14/10/6/0/0 – He was right there on waivers in both my leagues and I went to get him a day too late. This one may hurt. The lack of a 3-point shot scares me away, but it worked for DeRozan for a few years.
Bryn Forbes: 5/23/3/2/0/0 – Tough to pick-up any Spurs because it seems to be a new guy every night. And no, that is not a typo. His name is Bryn, not Bryan. And yes, I have noticed that I am breaking the fourth wall a lot in the recap tonight.
De'Aaron Fox: 6/26/0/3/0/1 – 6-of-6 from three, but only three assists and no steals. He definitely won't shoot like this very often, so the lack of other stats is a concern, but he should actually get steady minutes in a crazy Kings' rotation. I could see Fox finishing strong.
Justin Jackson: 2/14/5/2/0/0 – This is what most people thought the Kings should do all year. Just run the young guys out there and let them get the experience, since you know you are going to suck no matter what. I didn't like Jackson in college, so it's hard to get excited about him in the pros, but hey, I've been wrong before.
I just need to point out that after I wrote that line about the Kings running their young guys out there I noticed that Zach Randolph (1/9/7/6/3/0), George Hill (3/19/1/4/0/0), and the ghost of Vince Carter (5/21/6/1/1/1) all played over 25 minutes. All had pretty decent games, actually, yet they still lost to the Spurs, whose leading scorer was named Bryn.
Oh yeah, let's not forget Kousta Koufos (0/6/12/1/0/0), who got 30 minutes. In addition to putting up with all of this, the fans have to live in Sacramento. The next time I'm feeling bad about my life, I am just going to think about this and snap myself out of it.
See ya next time!