FIVE… DAYS. The NBA "offseason" has kept us almost constantly entertained with a loaded draft, free agency rumors, the best summer league ever, and multiple superstar trades. But, it's time for some real, official action. And by that, I mean actual stats that count in our fantasy leagues, of course. This season, more than any other, I'm just a huge fan of the entire NBA and my fantasy teams. You see, I'm a longtime Bulls fan. And while I'm an optimist that's been quite obsessed with the Sixers rebuild and their amazing potential, the Bulls have messed up their tank job in half a dozen ways prior to even getting it off the ground. So, I'm really itching for some Lonzo outlets, CP3-to-Capela lobs, and an unexpected six-steal game from my most recent free agent acquisition. Let's get going already with this new crop of talent!
Last week, I talked about ways to find advantages by removing certain stats your team doesn't need for various reasons and shuffling up player values so you have a better idea of who's actually the most helpful for your team during drafts. That'll be a theme as the season goes on, because it really leads us to trades that can help us a ton, while helping the other team enough that they pull the trigger. But we've got another weekend of drafting to go, so I've compiled a list of a few more places to take advantage of what I see as market inequities. If you've already drafted, maybe this can spark some trade proposal ideas, too.
New Situations
Obviously, we're interested to see how the new big three in OKC meshes and what that means for their fantasy values. But, instead of analyzing stuff like how Gordon Hayward's numbers change when dropping from the first option on the Jazz to the second option on the Celtics, it's more advantageous to look at who is filling the void that these stars left. For example, do Michael Beasley and Joe Ingles become fantasy starters? Is Patrick Beverley capable of more in L.A.? KCP? There's nothing like taking a shot on a guy with a new opportunity and watching him get, like, 15 more minutes and 8 more shots per game than he's ever gotten before.
Bad Teams
This leads me into another great strategy. Remember when Greivis Vasquez went 14/4/9 for the 27-win Hornets in 2013? Isn't that about what you'd want from Lonzo this year? Look at a team like my Bulls (if the sight of a Jerian Grant/Justin Holiday/Paul Zipser starting trio doesn't sting your eyes too much). They have to score more than 60 points per game, right? Please? Bad teams have roughly the same amount of possessions as good teams. The shots attempted by Jimmy Butler and Dwyane Wade go somewhere. Find them. Really hoping they go to Nikola Mirotic, by the way. And, a lot of those shots will be misses, so find those rebounds! Check out the Hawks sans Paul Millsap and Dwight Howard for another example of fertile fantasy ground.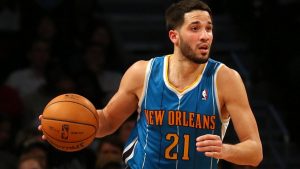 ADP/Ranks
Scroll all the way down in the rankings or average draft position before or during your draft to make sure you're not missing out on a draftable player that got inexplicably buried. There are some crazy names down past 150, 200, and beyond that will surprise you. Josh Richardson. Seriously.
Name Value/Points
If you're playing with casual fans, big name stars and guys that score will likely be overrated. Unfortunately, high-scoring often goes hand-in-hand with robust stats in lots of other categories, so you can't afford to completely ignore these guys. But once the first few rounds are through, let your league-mates go crazy over Andrew Wiggins and his 20 points (and hardly anything else). You! Grab a guy that helps in five categories instead, like Brook Lopez, Al Horford, or Goran Dragic (all going after Wiggins on ESPN). Later, let them have the names they recognize, like Rudy Gay, Derrick Rose, and Zach Randolph, while you take Beverley, Brogdon, and Richardson.
Play the Waiver Wire in the Draft
Pay attention to who's hurt, and grab their fill-in for the month. There are better players available for the whole season when picking in the 150s, but there's a great chance the aforementioned Justin Holiday might get the most shots on the Bulls for a while and be better for that stretch. Jeremy Lamb gets a good chance, too, with Nicolas Batum out.
"Old and Boring" is the new "Young with Upside"
Okay, settle in a bit here, because this could take a while. While there are definitely second, third, and fourth year guys that could breakout, most of the candidates are hyped up so much that your chances of getting value from them are slim. But, I specifically want to address rookies here. I've been drooling over this rookie class more and for longer than I care to admit. It's tantalizing. We could easily see 5-10 of these guys in the top 50 ranks within a couple seasons, but it's quite rare for a rook to meet the lofty expectations we put on them. Now, this year's first year players will surely provide us with more fantasy usefulness than last year's abysmal rookie crop, but let's see how the best rookies fared on the ESPN Player Rater last season (8-cat).
107 Dario Saric
145 Jamal Murray
157 Buddy Hield
159 Marquese Chriss
*168 Joel Embiid
*I've got to mention that Embiid was 20th in per-game results, because that was really something.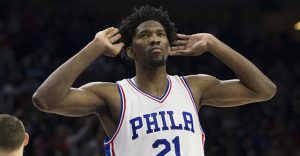 Now, here's where ESPN had the rookies ranked near the start of training camp 2016. And knowing our collective penchant for reaching on these guys, I'm guessing every one of these players was being drafted ahead of these ranks.
73 Ben Simmons
102 Buddy Hield
111 Brandon Ingram
130 Joel Embiid
131 Dario Saric
132 Kris Dunn
157 Jamal Murray
177 Dragan Bender
So, Saric and Murray were really the only drafted rookies (Brogdon was mainly added as a free agent) that might have earned their draft price for the full season. And, each was only truly startable for a short stretch of games (Saric, because Simmons and Embiid were injured). Throw Embiid in there, because he was excellent for his 31 games… unless you played in a weekly league.
As hard as it is, try to resist the hype on the rookies. Most of these kids just aren't ready to roll right away. Ben Simmons is 21 with a year of NBA life and practice under his belt, so he's got a similar head-start to Embiid, at least. But Markelle Fultz, Lonzo Ball, and Dennis Smith Jr. are 19. They do all have good opportunities off the bat at point guard, where rookies have put up decent numbers in the past. But, make sure you consider the risk at their average draft positions.
Per ESPN:
50 Ben Simmons
52 Lonzo Ball
89 Dennis Smith Jr.
109 Kyle Kuzma (Kooooooooz with a huge jump)
112 Jayson Tatum
118 De'Aaron Fox
121 Josh Jackon
123 Milos Teodosic (at least he's 30)
155 Malik Monk
161 Lauri Markkanen
162 Jonathan Isaac
168 Zach Collins
172 Justin Jackson
173 Frank Ntilikina
183 Luke Kennard
184 Bam Adebayo
186 T.J. Leaf
188 Frank Mason III
193 Jordan Bell
Of those, I'll guess that Dennis Smith Jr. is the only player that finishes in the top 100 AND beats his ADP on the Player Rater, though he seems to be going higher and higher. I love Lonzo's game, and there's a chance he's Summer League Lonzo most of the season, but I'm going to have to side with the Basketball Monster projections that have Ricky Rubio at 35 and Lonzo at 74. ESPN ADP for Rubio is 60. And most probably have a rosier outlook on Simmons, but these projections have him at 123 (serious chance his game is not very fantasy friendly, at least not this year). Wouldn't you rather have a guy projected in the top 50, like Serge Ibaka, Robert Covington, or Victor Oladipo (all going after Simmons)? We all love the CHANCE that we pick the guy that beats his draft spot by a ton. But with the rookies, the odds are much more likely that they'll end up worse and unstartable most of the year.
Notice, I say most. This is the place that I think we can get an edge with rookies. Most of them are going to start slowly, buried on the bench. And when they do play, they'll be just trying to figure it out, shooting poorly, getting yanked out of the game for not understanding team defense well enough. THAT'S when you pounce. Buy low on the rookies, or watch for the lesser ones to get dropped, because later in the year, some rookies will go crazy. Ask anyone that had Tyler Ulis, Skal Labissiere, Murray, Chriss, or Hield to close out the season. Or Dario when Embiid went down. Anyway, the point is to be patient and try to pounce when fantasy owners are getting down on their suddenly not-so-shiny new toys.
But back to the old and boring guys. Yes, you need to hit on some guys that outperform their draft slot by a good amount to win. Just don't assume that only includes rookies and other young, hyped-up breakouts. That could easily mean the veterans that get pushed down in the ranks/ADP by these whippersnappers with all that upside. Here are some more names with whom people are bored enough that I think you can get them at a great value: Nikola Vucevic, Trevor Ariza, Danilo Gallinari, Thaddeus Young. Yes, by taking the elder statesmen of the NBA, you could end up with the next 2016-17 Monta Ellis (pre-season rank 76) as he falls off the proverbial cliff, but veterans are generally  much more predictable than the new guys.
"So, what if I'm starting a dynasty league or drafting in, say, a 5-keeper league? I've got to change it up and lean young, right?" If that's the most fun for you, sure. Go for it. But, those formats mean you're likely to get EVEN BETTER deals on veterans. Watch the other owners avoid almost every player over 30 like a point guard avoids Hassan Whiteside in the lane. They're probably half-playing for this year and half-playing for the next five years. Okay, so you'll just play for this year and win, then, if that's alright with them. And, you can pretty much keep that up if you continue to draft/acquire valuable youngsters to ship off for vets that are good now. Sure, it's fun to pick upsidey rookies and watch them turn into Nikola Jokic after a few years (squeezed in all three Nikolas here today! …condolences to Pekovic), but you're probably going to go through dozens of disappointing rookies and waste seasons hoping they work out and also peak at the right time if you focus on super young dudes. That advice goes partially out the window if you have a deep bench, because that really is the best when you have something like a minor league team on your bench that you're cultivating and subsequently shipping off when it's time for reinforcements.
Lastly, if you do have a deep enough bench that you can stash a few players there without needing to play them, go ahead and grab some high upside rookies late in the draft. John Collins and Donovan Mitchell sure look like the kind of guys that could be in store for a top 75 2nd half that can be had very very late.
Good luck in your drafts! Next week, we'll talk about projecting our leagues' results and finding our teams' strengths and weaknesses so we can get trading!
This week's classic fantasy line:
3/28/90, Michael Jordan's career high game: 50 minutes (OT), 69 points (23/37 FGs and 21/23 FTs), 18 rebounds,  6 assists, 2 threes, 4 steals, and 1 block.