There are a lot of differences between Jimmy Butler and myself. I, for example, am not a five time NBA All-Star. I've also never been named the Most Improved Player, won a gold medal, or screamed at Karl-Anthony Towns with such vigor that I had to be sent to Philadelphia. But perhaps the biggest wedge between Jimmy and myself is our feelings toward rear-view mirrors. 
See, I'm a look back kind of guy. There's wisdom (and cars!) back there if you care to investigate. This willingness to wallow, to ruminate, to linger and consider all the roads not traveled means that I signed myself up to do the tedious work of taking long, wistful gazes at how this first ever RazzJam went down and try to glean something useful from it. Son, our fearless leader and fellow RazzJam League 14 draftee, is here to keep an eye on my blind spots. You strike me as a reasonable guy, Son, you're pro-mirror, right?
Son: Anti.
Oh good, another one. Well, since we've got you here and not cutting people off indiscriminately on the 405, you want to help me break this thing down? This was my first ever NFC experience, first ever 25-man roster, first ever draft and hold, first ever slow draft…hey, wait a minute. This was a trap, wasn't it? 
Son: [avoids eye contact, whistles innocently, kicks at a rock that isn't there.]
Uh huh. 
Okay, so before we get to the nitty gritty, here are some broad strokes about the format: 
12-team, 25-man, draft and hold. No trades, no add/drops. Love what you have because that's all there's gonna be. 

Third round reversal, which means instead of snaking back around to drafter 1 at the top of the third round, you instead pick up with drafter 12 and work backwards towards the top spot.

Starting lineup consists of 4 guards, 4 forwards, 2 centers, and 2 flex positions. 

8-cat scoring (no TOs).

This was a slow draft with a 4 hour timer on each pick for the first 17 rounds. Subsequent picks were made with a 2 hour timer and there was an overnight pause. All told, this thing took about a week to get through, which is long enough that the bad beard that I was wearing for pick 1 had turned into a bad mustache by pick 300. 
Son: That's not really a useful time marker. All you're saying is that you shaved at some point, and that you grow bad facial hair. 
Very astute. Let's get into this!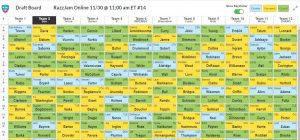 The Early Rounds: Bigs Come off the Board
You were picking at no. 2 and grabbed Anthony Davis, a surprise to exactly zero of your loyal readers. You've been high on him in your rankings, as he's an across the board monster, the blocks are elite, and something about "banner 17, baby!" After sitting for a while, you paired Pascal Siakam with Davis, cementing blocks, buckets and solid percentages, but leaving you light on dimes and triples. Zooming out a bit, there were 12 players with C eligibility taken in the first 36 picks, and all but two teams drafted at least one F/C with their first two selections. What's the advantage of leaving the little guys for later and why didn't you tell me about it until now?
Son: Ha! Well, John "Hannibal" Smith was my mentor, so I always love it when a plan comes together, even if the plan was to have no plan. I kid. In most of my early drafts, especially with starting two centers, I wanted to leave the first couple of rounds with two. The 3/4/5 area is when the guard/assist run usually happens, so I felt comfortable getting my assists there. I was hoping that Jusuf Nurkic or Nicola Vucevic would get to me, but they were taken right ahead of me. My other option was to grab Deandre Ayton, but I wanted Siakam, as I think he's primed for a huge year. Plus, I love Toronto guys because they play a ton of minutes. As you said, I have a nice foundation for defensive stats and percentages, which I think gets underrated in a roto format. I was planning to grab assists soon after and felt like I could get tres later on. 
Hm. I must have missed that memo, as I doubled up on guards while picking out of the 9 spot with Trae Young (9) and Bradley Beal (16). I was hoping that Jayson Tatum, Bam Adebayo, Kawhi Leonard, or Kevin Durant would be available after we turned the corner, but no dice there. Me just missing out on the guy(s) I wanted would become a bit of a theme. I was enthusiastic about Young because of the dimes, triples, points and FT% on a boatload of attempts, but I pulled the trigger on Beal with some reticence. 
If I have regrets (and I do), one the primary ones might be passing on LeBron James at 16. I'm just so worried about the compressed schedule. Last year we were delighted by what Bron could do when given a full offseason, but this year is the inverse. The season was stretched like a funhouse mirror, the time off was cut in half, and the King will be 36 come December. You gotta figure there will be increased rest during this go-around, plus Danny Green was talking about dudes not playing until January. I just wanted a greater assurance that my top 20 pick would, you know, play. If LeBron is healthy all year and doesn't sit out a ton, it seems certain that he'll rate higher than Beal. I guess I'm betting that he's limited, which sucks. What also sucks is day or two after passing on LBJ, news broke that Russell Westbrook would be rolling into Washington with his whopping 32.7 career usage rate and, well, regrets abound. 
Son: Your concerns are well warranted, which is why I bumped down LeBron in my projections as well. When he plays, though, he's a monster, and the West is tough so the Lakers may not have the luxury of getting cute. 
You dodged the guard spot again in round 3 and grabbed Domantas Sabonis instead. Eventually you broke the seal and went with Fred VanVleet and Malcolm Brogdon in 4 and 5, giving you an Indy/Toronto double stack to go with the Brow. As if that wasn't enough, you snapped up this year's darling, Michael Porter Jr.—who I wanted later in the round—as the sixth man. The team assessor loves what you've done here. With half of the weekly roster spots filled, you're more than halfway home on points, dimes, boards and swats, plus the FG% is very tasty. Steals, triples and FT% are the only places where there's some work left to do, but you must have felt good about what you'd accomplished at this point, especially with Porter. I know he's the apple of your eye. 
Son: I'm still in football mode! Give me all the stacks!!! I didn't realize I stacked those two teams until later, but I'm fine with it, especially with the TOR one. I knew I was doubling up on guards here and was counting on one of VanVleet or Kyle Lowry. I just didn't know who the other guard would be. I did go with FVV here due to the steals, forgoing more dimes from Lowry. As for MPJ, I love his upside and, with Jerami Grant leaving for Detroit, he should get all the minutes he can handle. There's 1/1/1 potential. In an earlier draft, he went in the 7th round, missing me by two slots, so I knew that if I wanted him, I'd have to grab him a round earlier. The market has caught on and I doubt he makes it past the 6th round now. 
I'm sick about MPJ. Actually, I'm kind of sick about how all this went for me. I was surprised to see John Collins fall into the 3rd. I knew I was on the lookout for size after going double guard, and I briefly considered Patient Zero (Rudy Gobert) before biting the hook on Collins' percentage boosts. It seems like the rest of the group was concerned about all the mouths to feed in Atlanta, but I thought Collins could help in several categories with minimal downside. Count me among the surprised if he doesn't return third-round value after a healthy season. At the very least I have the Young/Collins stack, right?
Paul George, the mirror-less mavin Jimmy Butler, and Ja Morant all slipped a bit from their ADP, and there was at least one other De'Aaron Fox believer here (33 overall). I'm high on De'Aaron too, as you know from my Kings preview, and it seems like if you're in on the young King that the third round is his price tag. Other surprises for me were the aggressive plays on Kristaps Porzingis at 39 and Jaren Jackson Jr. at 48. Both these dudes come into the season hurt, and the news about KP is especially disquieting. 
Son: Ha! Patient Zero. As for your sickness, the only way to alleviate the pain is to fire up more drafts! I've gone back and forth on Collins. There is some uncertainty but upside as well. I actually took him in another draft in the second round, as I paired him with Karl-Anthony Towns. Every draft is different and its own entity. Jimmy Butler is someone I see falling into the third quite often. He's light in tres, but everything else is super solid. As for KP and JJJ, I think those prices are too aggressive, but to each their own. If they hit, then they are bargains.
Collins and his 1.1 BLK was useful to me in the third, but I was still light there and signed myself up for the Mitchell Robinson experience at pick 45. I suppose the one useful thing about going double guard in the first two rounds when everyone else was grabbing bigs was that it allowed me to zig a bit while everyone else zagged. I think this makes me a #Disruptor, or maybe just a fool, as I now kinda have a lot riding on Robinson blossoming under Thibs at MSG, which hasn't gotten off to a great start. 
In clearest indication that I was in a room full of sharks, Zion Williamson fell and fell. I was ready to go hog wild with him at 52, but was sniped and went with the anti-sexy pick of DeMar DeRozan. Prior to picking DD, I had achieved a nice balance with the roster, and his high floor was attractive to me, though I'm starting to think other Texans like Christian Wood or LaMarcus Aldridge might have been the savvier play. Myles Turner (61) dropped a whole round from his ADP, which gave me a bit of buyer's remorse for jumping on Robinson two rounds prior. John Wall found a home in this tier, as did Draymond Green, who was selected prior to the news of his positive coronavirus test. 
All of that is well and good, but you're going to have to talk to me about Coby White at 55, Son. That pick feels like a declaration of some sort. 
Son: White at 55 is aggressive but every draft is different with different visions and roster construction from each owner. White may be a little light in tres, but he will provide some and is a bucket getter. Points are hard to come by later in the draft. If a player fits your vision, go get him! I actually like what Team 6 did with his squad: Giannis Antetokounmpo and Russ, with Ja and Coby at guard, Andre Drummond and Hassan Whiteside at center, and Davis Bertans/Duncan Robinson for tres. 
Funny you mention tres, as my sixth pick was Buddy Hield. I'm here for the Buddy Buckets Bounce Back. The Kings are flawed under optimal circumstances, and Fox missing all that time last year was the opposite of optimal. Buddy's game really suffered when he was asked to create with the ball in his hands. Efficiency went down, turnovers went up, and he hated being asked to come off the bench. I think a lot of that is corrected with De'Aaron back. Regardless, the triples will be there in spades. 
Son: Hield is going to drain plenty of tres. With Bogdan Bogdanovic gone, the minutes should be secure, but there is risk due to his relationship with Luke. I agree that having Fox should help him.
Overall, the assessor did not love my top six of Young/Beal/Collins/Robinson/DeRozan/Hield. The only categories where I was ahead of the game were points and FG%, while boards and steals were particularly thin at this juncture.
Rounds 7-12: Hope Lives Here
Say what you will about the order of the first 72 picks, but I feel like there wasn't anyone selected there that shouldn't have been. Quibble if you must, but all those dudes have track records and/or positive situations where there's a reasonable expectation that you'll get something from them. This next batch of picks had a manic feel about them, as upside and floor butted up against each other with regularity. The 7th round, for example, featured five floor guys—Marcus Smart, Eric Bledsoe, Brook Lopez, Ricky Rubio, and perhaps the ultimate floor guy, Al Horford (Floorford?)—and six players who are 25 years old or younger. This was also the segment of the draft where the first rookie was taken—LaMelo Ball at pick 91—and five more followed him. 
Rose colored glasses were a vibe. Aron Baynes (Son's pick), Seth Curry, Delon Wright, Kelly Oubre, Jerami Grant, DeMarcus Cousins, and Nerlens Noel (mine) were all selected in these rounds after being moved to more desirable/potentially starting gigs. Andrew Wiggins and Donte DiVincenzo were also taken in this swath of the draft, and they'll both be asked to shoulder much more of the load this season. The rookies also crashed the party, and three (Ball, Obi Toppin and Tyrese Haliburton) of the top six youngsters landed on the same team! Son grabbed the no. 1 overall pick Anthony Edwards at the back end of the 11th and I, then blissfully ignorant of his positive test for coronavirus, came down with James Wiseman in the 8th.
I'll put it to you point-blank: what do you make of rostering three rooks?
Son: I'm not a fan of rostering so many rookies, as most are not good fantasy from a fantasy perspective. Since 2000 (593 players), only nine have finished in the top 50 and 44 in the top 100. With that said, as with most things, it comes down to cost.
People certainly were ready to gamble a bit here, as upsidey players peppered these rounds, including Marvin Bagley, RJ Barrett, Darius Garland, Markelle Fultz, and both Bridges (Mikal and then Miles). Kemba Walker was eventually scooped up here (113 overall) and could be free money or a burned pick depending on how much of the season his balky knee costs him. 
It feels like the league-winners were picked in these rounds. Is there anyone from this group that you're particularly in on? It better not be Donte DiVincenzo, aka The Big Ragu, who I wanted desperately and was taken directly in front of my draft position. 
Son: I like the Big Ragu. I'm hungry now. I'm big on Aron Baynes this year and Darius Bazley is hot fire. 
Having gone guard heavy in the top six, I was looking for a bit of help on the glass and was juggling Brandon Clarke and Thomas Bryant. I looked for a long moment or two at a couple of the Baby Bulls (Lauri Markkanen and Wendell Carter Jr.) but passed even though Billy Donovan, unlike Boylen, is an extremely capable coach. Clarke ended up being my man and Bryant yours, which made me feel better that we were on the same page and then made me feel worse because maybe you got the better player seven picks later. 
I also grabbed the aforementioned Wiseman and Noel, Danilo Gallinari, Caris LeVert, and rounded out my top 12 with Elfrid Payton, my third Knick (*shudders*) and a guy that Son said "kinda sucks" on the podcast. Value pick!
I'll confess that my move on LeVert at 100 was heavily influenced by the news of the Westbrook deal and potential tear-down going on in Houston. If the brass in Space City grants James Harden his wish and ships him off to Brooklyn, Caris would almost certainly be part of the package going out for him. The prospect of LeVert getting turned loose in H-Town makes my knees go weak. 
Son: I like Clarke a lot too. You did good. I forgot exactly what I was thinking that round, but I think I wanted to grab FG% and tres help. Also, getting another center was a plus. 
While others were pie-in-the-sky, you seemed a bit more stayed and blended your upside with guys with longer track records: Evan Fournier, PJ Washington (who I also wanted), and Bogdan Bogdanovic (yet another Hawk I like). The result was a balanced attack according to the team assessor. The steals were still a touch light, but you hit 80+% of all your other targets, while smashing the FG% and only a hair off of FT%. It's a much more potent group than the one I put together, which somehow managed to have a pretty sizable deficit on triples despite Young, Beal and Buddy. 
Son: Minutes are gold. I've gone the lotto ticket route before, but especially in a format like this that has no waiver wire pickups, getting as much playing time as possible is a goal I strive for. As for the Assessor, it's a super simple tool that just gives a general idea of where you are. It's a little flawed for this format because it's based on daily moves, head-to-head format, so keep that in mind. Think of it as a GPS that won't give you the exact street, but shows the city you're in. There are better and more sophisticated tools out there, but I haven't figured out how to get there….yet. 
13-19: Buying Insurance from the Bench Mob
If the previous grouping of rounds was about grabbing the league winners, this second wave in the middle of the draft was about nailing down starters who are the fourth or fifth option, buying insurance on some riskier players, or nailing down category specialists. 
Nerlens Noel fits into that second group for me, as does Marquese Chriss, who is now an even more significant get for me with the news of Wiseman's positive test. Dwight Powell was my hedge against Porzingis staying healthy all year (though Powell himself is coming off a significant injury. Maxi Kleber is probably the preferable route.) Lonnie Walker can spell DeMar in case of emergency. Onyeka Okongwu fell, and I've never seen a Hawk I didn't want to draft (round 13 began with me just missing on Cam Reddish. Sigh.) If things go south with Gallo, Collins or Okongwu, I should have my bases covered.
Examples of the first group also populated my ledger, as I pulled myself out of my grief over Cam to snag Tim Hardaway Jr., who may end up being the 6th man in Dallas but is penciled in as the starter for the time being. Gary Harris will get another crack at the 2 in Denver, and JaMychal Green could join him in the starting group if he can edge out Paul Millsap, a not exactly Herculean task. 
Son snagged three starters in these rounds with Svi Mykhailiuk (who also doubles as a tres specialist), Patrick Beverly, and Daniel Theis. Bismack Biyombo could end up being the starter in Charlotte if the Hornets move off of Cody Zeller. Our man Son also got the other side of the 6th man coin in Dallas with Dorian Finney-Smith. 
Son: Minutes are gold, Jerry. Minutes are gold. I do like how you handcuffed your starters. Very smart strategy in this type of format.
Another confession: I was getting a little punchy by this part of the draft. I remember waking up a bit bleary-eyed and a touch hungover to snag Dwight Powell on Saturday morning. If that doesn't tell you enough about where my head was at, I'll add that the night before I dreamed of Royce O'Neale. Slow drafts are beasts. 
Did I overlook anything? You're the vet here, how do you keep your edge on day 5? 
Son: Ritalin. I kid. You got any? I love drafting, so it's pretty much all I think about. Sorry fam. 
20-25: Endgame Dart Tosses
This piece might end up being longer than the draft itself. I think the bad beard is creeping in again, so let's try to put a bow on this baby. By this point we're looking at players with ADPs north of 250, so you're not getting anyone wart-less. 
There was a healthy dose of project players and tarnished prospects taken in these final rounds. I'm looking at you Frank Ntilikina, Josh Jackson, Harry Giles, Dennis Smith Jr., and Jabari Parker. Having any of these guys pop seems a lot like finding $20 on the street. It happens all the time, but not all the time to you. 
One of my last three picks, Talen-Horton Tucker, is a guy that David Thorpe mentioned on True Hoop as being someone he's heard the Lakers are high one, so that gives you some idea about how much research and insight I was bringing to the late rounds. I was surprised that Kris Dunn fell so far. He's a Hawk now, so of course I grabbed him (my fifth for those of you keeping track at home). But he's also arguably the best defensive player in the Atlanta backcourt and collectively the team plays wretched defense. I think that alone could give him a shot at minutes once he's healthy, and, as I'm coming to understand, minutes are gold. Am I wrong about my assessment of the steals specialist? 
Son: It's tough for me to see how he gets minutes. Trae is getting 35 and Rondo will likely get 13-15. Bogdan and Kevin Huerter will likely combine for 48. Where are the minutes? As for the $20 bill, I like Ntilikina. He seems the most likely to take over a position out of that group.
My Elfrid Payton shares are going to pretend they didn't hear that. You went with a lot of size down the stretch with Goga Bitadze, Mike Muscala, and something called "Aleksej Pokusevski" with the penultimate pick. Was that part of the plan? I picked up Naz Reid because KAT has missed time in recent seasons, but I can't say that I was specifically targeting bigs. 
Son: I probably got too many bigs in hindsight. Some of those guys do have F eligibility as well. I think it was more about minutes and opportunity. I scooped up Goga because I think he's good and could get around 15 mpg, but also for the chance that the Pacers trade Myles. Muscala because he has a chance to get 18-20 mpg. He also has F eligibility. As for The Thing, I've read and heard so many things about Pokusevski that I decided to take a flyer. It's my last pick, so I didn't mind taking a flyer there. 
Whew. We did it! My overall impression of my group was that I was largely successful in not embarrassing myself. Should I finish in the top half of the league I will consider it a pretty significant success for my rookie season. I also have the very modest goal of not finishing last and, barring a viral outbreak in Atlanta, I think I've done well enough to achieve that. 
Covid is the 800-pound gorilla in the room. Since starting the draft it's been confirmed that 48 players, or roughly 10% of the league, is coming into the season with a positive test. We're bubble-less this time around, and if this many dudes are sick already, I think it could be a really rough season. Draft and hold? More like draft and pray.
I'm handing you the mic one more time, Son. If you've got anything else to add, now would be the time to do so. 
Son: I hope I don't embarrass myself either. It should be fun, as there are so many talented players in our league. Covid is going to be huge for sure this year. Whichever team can manage that minefield the best, will have such an advantage. You drafted and prayed? I sprayed and prayed!