Don't take Anthony Davis in the top 5. He'll miss at least 25 games. Avoid Old Man LeBron James, because he rests all the time. Tyreke Evans has only played 65 games in the last two years combined. Not even worth drafting.
A few of the prevailing opinions going into the season that I thought had gotten a bit overblown. The risk of missing games is scary, but it's not often very predictable. And yes, I'm cherry picking examples, but AD has played 54 of the first 60 games and is #4 on the ESPN Player Rater (#3 per game). LeBron hasn't sat one game yet, is among the league leaders in minutes per game again, and is #1 (#5 per game). Tyreke  has played 49 of 59 games, sitting five of those when the team was holding him out before the trade deadline. He's #58 (#44 per game). And sure, that's partly due to Mike Conley missing almost the whole season. Yes, there are examples of injury fears being once again substantiated, like in the case of Danilo Gallinari. It's all guesswork. It's part of the fun, predicting what a season will bring. But, figuring out the puzzle can drive you mad.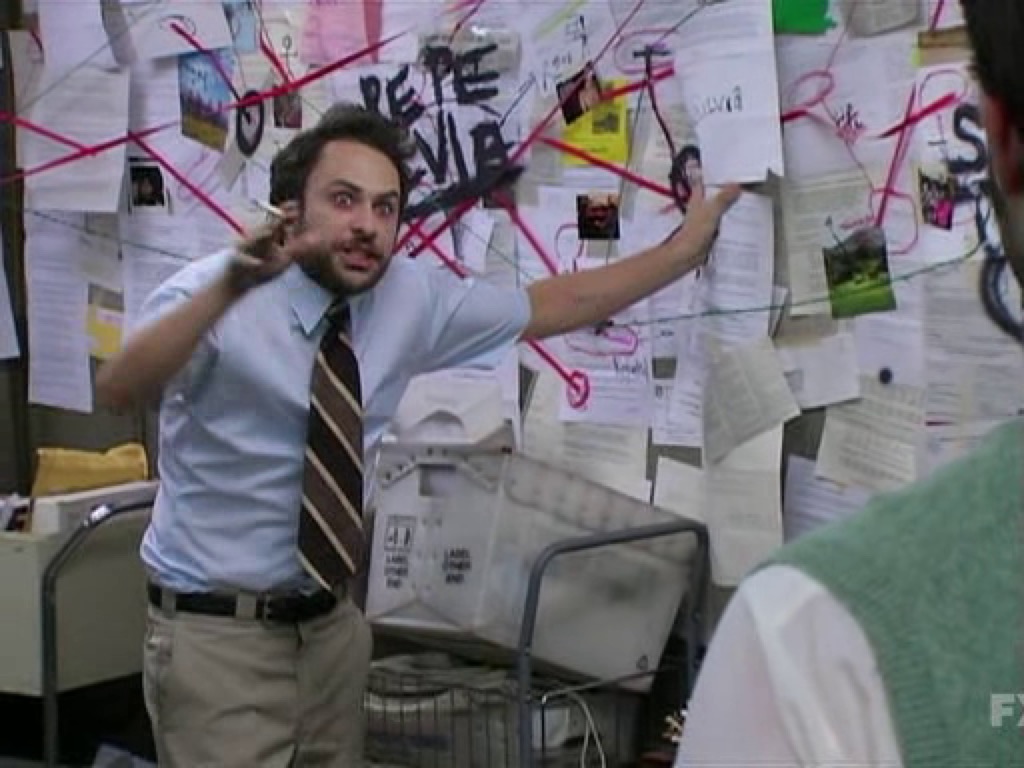 Today, I thought we'd have a little fun revisiting some preseason predictions. Maybe we can learn a bit about what types of projections are more trustworthy than others. Maybe not. I also don't think this would be a great way to figure out who's great at predicting things like sleepers and breakouts, because this is a small sample size. Continue to look at the methodology behind the predictions to see if it's backed up by reason. I just figured that we rarely actually go back to see what was right and what was way off. If it teaches us something for next preseason, great.
Want the best tools and projections to help dominate your league? Check out the Stocktonator, the byproduct of Rudy and machine making love. Click HERE for a FREE 3-day trial.
Rudy has been hard at work in the lab. His latest creation? DAILY LINEUPS PAGE. So good. So smooth. So helpful. He decided to go with the Sonny Bono red tint, while I prefer the blue tint. What say you?
First, here are the Razzball Expert Predictions from the preseason. I almost feel a need to put quotes around Expert when looking this over, but really, it's pretty decent.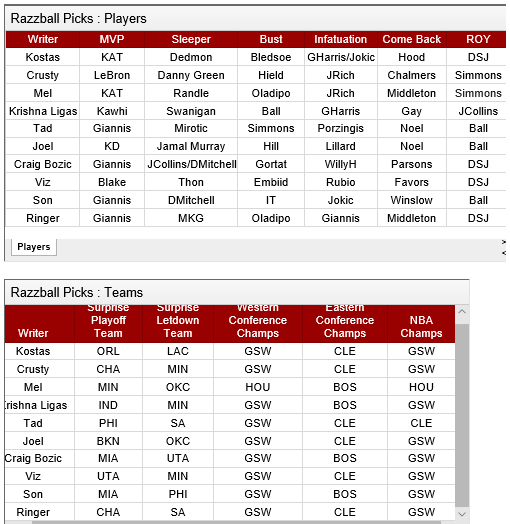 Some good stuff there. I'll just discuss a few of my own picks. Overall, I feel pretty good about them with Giannis Antetokounmpo, Nikola Mirotic, and Kristaps Porzingis living up to my expectations. But… Bust? Ben Simmons. Comeback Player: Nerlens Noel. Yowza. I could really use another miraculous LeBron playoff performance to tip the scales a little more my way.  But, what I think is important is to note that there will always be surprises. All you can do is predict how likely each part of the range of outcomes is. Sometimes the range is small (predictable and low risk). Sometimes the range is huge (a shot in the dark and high risk). I was off on Simmons, sure, but I was right about his threes and free throw percentage issues. I just didn't foresee him being amazing at everything else right away (#34/#38). Remember him for your free throw punt teams next year.
Next, if we look at ESPN's Sleepers/Breakouts/Busts, it's pretty easy to see that the busts were mostly spot on (Lonzo Ball, Jeff Teague, Andrew Wiggins, Dwyane Wade, Brook Lopez), the breakouts we almost all wrong (Julius Randle, Myles Turner, D'Angelo Russell), and the sleepers were a mixed bag (Eric Gordon, Elfrid Payton, Ricky Rubio, D'Angelo Russell, Dennis Smith Jr.). So, are busts easier to pick? Maybe. Depends on how much of a track record we have and how high their perceived value is.
On the opposite end are the guys for which we have very little relevant track record to study. Something to which I pay far too much attention: rookie comparisons. For this, I generally go with nbadraft.net, as I did below, but it's best to use multiple sites to get a broader range of the types of players these guys might become. Mostly, the comps are closer to the player's best case scenario, because that's way more fun. Sometimes it's tough just because a comp might be similar to the rookie on one side of the ball but not the other. It's a little unfair to judge the accuracy of these comparisons this early in a player's career, so I'll include the notable sophomores, too, for at least a little larger picture. Let's see how they're doing (the comparers and the players, I guess). If you like this, spend some searching the worst player comparisons in history. We had such high hopes for Harold Miner.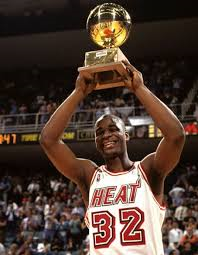 Select 2017 Draft Class
Markelle Fultz -> James Harden/D'Angelo Russell
Lonzo Ball -> Jason Kidd/Ricky Rubio
Jayson Tatum -> Allan Houston/Danny Granger
Josh Jackson -> Kawhi Leonard/Jimmy Butler
De'Aaron Fox -> John Wall/Dennis Schroder
Lauri Markkanen -> Nikola Mirotic/Ryan Anderson
Dennis Smith Jr. -> Baron Davis/Steve Francis
Donovan Mitchell -> Norman Powell
Bam Adebayo -> Markieff Morris/Tristan Thompson
John Collins -> Chris Wilcox/Damian Jones
Jarrett Allen -> Lorenzen Wright
Kyle Kuzma -> Jared Jeffries/Henry Ellenson
Josh Hart -> Keith Bogans
Select 2016 Draft Class
Ben Simmons -> LeBron James/Lamar Odom
Brandon Ingram -> Tayshaun Prince/Kevin Durant
Jaylen Brown -> Jason Richardson/Jimmy Butler
Dragan Bender -> Hedo Turkoglu
Kris Dunn -> Devin Harris/Jordan Clarkson
Buddy Hield -> Brandon Roy/Dell Curry
Jamal Murray -> Ben Gordon
Marquese Chriss -> Tyrus Thomas/Antonio McDyess
Domantas Sabonis -> Luis Scola/Marc Gasol
Taurean Prince -> DeMarre Carroll
Denzel Valentine -> Danny Green/Greivis Vasquez
Skal Labissiere -> Channing Frye
Dejounte Murray -> Shaun Livingston/Jamal Crawford
Malcolm Brogdon -> Keith Bogans/Jayson Granger
I left out many that haven't really gotten off the ground yet. Just keep this in mind when you start getting excited about drafting rookies in a redraft league. Many of these comps feel to me like "here's what the guy could be in his prime if he's significantly closer to his ceiling than his floor". Though, some, of course, have underestimated them by quite a bit. But, for the most part, only a handful of rookies are worth having on your team all season. These last few months, though, can be fun if you pick up a few select lottery picks if they're on a bad team, as many of them are.
Can we glean anything regarding what types of predictions to trust in the future? Clearly, the smaller the range of outcomes, the likelier the guess is to be correct. That's stuff like "Clint Capella is going to get a slight minutes bump to go with his improving game, so he'll probably move into the top 50." Really, it would've been surprising if he wasn't somewhere in the 30 to 60 range.  Now, breakouts and rookie comps are much harder to nail, since that means figuring out who's going to unexpectedly exceed expectations. Almost everyone has a shot at it, but who has a decent shot AND a high enough ceiling to make it worth the shot at he right price? A popular breakout pick was Jamal Murray, who might just put it all together next season after an encouraging but inconsistent season. Some people did correctly guess that Victor Oladipo would take advantage of his new opportunity and be a great value. I like that type of speculation, because it's based on the fact that he's done it before. It's less of a leap of faith. Another example that's even more hit or miss would be projecting a rookie like Donovan Mitchell. There wasn't a great chance that, so soon, he'd be the next… let's say mini-Russell Westbrook. He had a huge range of realistic outcomes.
So, to conclude… I think the best we can do is to take it all in and remember that basketball is the most consistent and predictable of the fantasy sports. We need advantages wherever we can get them in order to win. Try to learn what risks are smart based on market value. As far as the rest of the season, it's about to get wild and tanky (sorry, Commissioner). Be ready to act on the hot free agents that suddenly get a chance as the fantasy playoffs get closer. Talk to you next week, when we'll get back to some numbers!
This week's classic fantasy line:
I'm going with maybe the best season from a guy that was quite predictable throughout his long, amazing career as one of the shortest power forwards in an age when power forwards were huge. I give you Sir Charles Barkley's third (age 23) season in 1986-87:
40.3 mpg/59.4 fg%/ 76.1 ft%/23.0 ppg/0.3 3pg/14.6 rpg/4.9 apg/1.8 spg/1.5 bpg/4.7 tpg