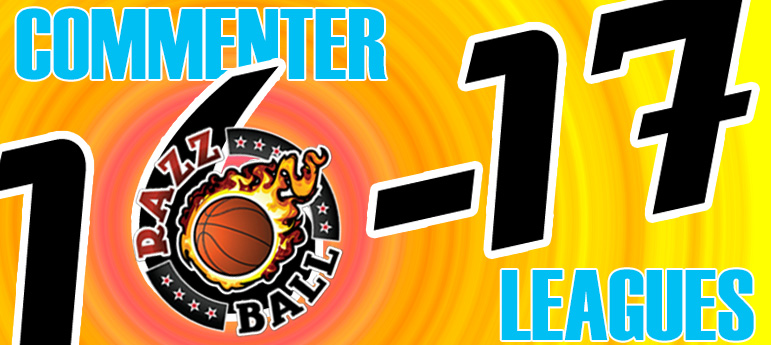 Say whaaaaaa?!  It's draft season?!  Hell yeah, let's start some early-drafting for hoops, who ISN'T bored of fantasy football already?!  I keed, I keed, but fans of the Rams might be ready for a new sport already, amiright?!
If you're jonesing for some early fantasy basketball action in the dopiest of dope fan leagues around, it's time to join us an play in the 2016-17 Razzball Basketball RCL Leagues!  100% free, fun prizes, shame me in a Youtube video, and take a stab at joining the illustrious few who have made it into the RCL Hall of Fame.  Is it narcissistic that I want to make it into my own site's Hall of Fame?!  Man, it would be awesome to have my name on there!
With that fantasy basketball fever enveloping us all, start up your very own new RCL league and set an early draft time (takes 2 minutes tops to launch a league) and challenge the masses for the overall RCL title.  But if you only have 5 seconds, that's fine too!  Tons of leagues are open, so clickity click the link above and join an open league.  Start up as many teams as you'd like to make a run at RCL infamy!
Enough tomfoolery!  Wait, I mean JBfoolery, my name isn't Tom!  It's time to start looking at how RCL drafts are playing out!  We just had our first RCL draft last night in the inaugural RCL of the season. Here's how my team came together:
JB's Random Commenter League Draft Results
 I know what you're thinkin'…  "Am I crazy?!  Or did JB just draft a punt FT team?!"  Yeah baby, let's tank some FT!
As I've mentioned in the comments and ranks, I'm coming around more and more to tanking cats other than TO, but only if your draft necessitates it.  And oh boy, did my draft necessitate it!  I didn't go in planning to FT punt, it's just where the chips fell.  Here's my breakdown of what I was thinking pick-to-pick:
Round 1, Pick 8 – Chris Paul – I was looking at my ranks, and if my top 7 had gone through the same 7 as my ranks, I was seriously considering getting Giannis Antetokounmpo, just to have a Greek team!  Alas, Hassan's Whitesiders couldn't pass up drafting his namesake Hassan Whiteside, so I had a pretty easy decision to start with CP3.  Time to get some bigs!
Round 2, Pick 17 – DeMarcus Cousins – Uggghhhhhh!  If you didn't catch that, I said UGGGGHHHHH!  First time I've drafted Boogie in…  I dunno, at least 3 years.  Never liked his TO drain for a big, his injury proneness…  My hope was that Paul Millsap would somehow fall, but he got scooped up at 13.  So I decided to follow my ranks (I have Cousins at 16) and see what happens.  You already know where this is going, but with a long gap until my 3rd round pick, I wasn't quite sure of my direction…
Round 3, Pick 32 – Andre Drummond – Whoa!  Wasn't expecting this! As the next 15 selections churned through, I was biting my nails as it neared my spot, hoping that one of the big boy FT punt guys would somehow fall to me.  Last year in RCLs, both seemed to go in the early second round!  But pick-by-pick, my optimism grew, all the way to #31 with both and the board, and DeAndre Jordan got snagged.  Not gonna lie, I was kinda mad I couldn't put together the Lob City combo!  But Drummond is of course just as fitting, and his scoring and steals actually ended up being a better fit when it was all said and done.  I'm officially a FT punt!  Feels weird…
Round 4, Pick 41 – Rudy Gobert – Put the icing on the cake, we got a FT punt marriage!  Wanting to shore up any question marks at big man, Gobert just felt like the direction I needed to go.  Funnily enough, Isaiah Thomas was still on the board (he went the very next pick), if you want to read an epic debate on if he fits/doesn't fit on a FT punt.  But with an elite PG to start this build, I didn't see the need to get IT2/3 and wanted to shore up the front line with another top-end swatter, especially since my main punt guy was Drummo (1.4 BLK last year) and not Jordan (2.3).  Looking back, mayyyyybe Goran Dragic would've been a better selection (went 48), but I felt like I needed to solidify the blocks first.
Round 5, Pick 56 – Chandler Parsons – I was jittery like Chris Tucker on speed waiting for Parsons to fall to me here!  This was probably my most rewarding pick of the draft…  I lovvvvve Parsons this season, I own both of the CPs, and Parsons surprisingly fits FT punt like a glove.  He shoots a good % for being able to make 3s, chips in some AST and STL, and surprisingly for how multi-cat he is, can't make his freebies (70.5% in his career).  I just need those knees to hold up!
Round 6, Pick 65 – Dennis Schroder – Where's Paul?!  My German translator?!  I was Sehr Excited like a Schnitzel for this pick!  I knew I needed PG in the worst way, and getting the high-upside German felt like a winner.  His FG% might give me some pain, but that was true of virtually all of the other PG out there.  I considered George Hill (went 74), but I'm behind the 8-ball in AST now, so I'm shooting for the 8 APG upside along with some added scoring and 3s.  Yes, Rajon Rondo was also on the board (went 69 – teehee), and he fits FT punting, but I just don't trust his role on the Bulls enough and I indeed have him ranked well below the Schroder range.
Round 7, Pick 80 – Brandon Knight – Yuck!  After flying high on those last two picks, I got sniped on this one!  Target #1 was D'Angelo Russell for more scoring/3s upside, who went 73.  Then target 2 came right in range!  Stay on target…  Stay on target…  Then even in the draft room, I said "you have one player you can't draft" as Hassan's Whitesider's took down the clock to the final 20 or so seconds.  And of course, they pick Elfrid Payton…  NOOOOOO!!!  SKIIIIIIIIIILES!  I just feel like blaming Skiles for this too…  So I scrambled a little, but I still think at 80, Knight came at a good value.  My needs?  Scoring, AST, 3s.  And there ya go, Knight fits extremely well.  But with these last two picks, I'm starting to really worry about FG%…
Round 8, Pick 89 – Emmanuel Mudiay – …so the obvious fix to FG% is to draft…  Mother F Mudiay?!?!?!  Yeah, yeah, I know my FG% is an issue now.  But knowing how RCLs draft, I knew PG would be dried up, and it virtually was at this point.  I was hoping Jeremy Lin might fall (went 82), but I got stuck with Mudiay.  At least his deficiency in FT% makes sense in this build, and as I mentioned in his rank, he at least shot a little better over the last 22 games (40.8%).  I wanted to be sure and stay very competitive in dimes, so I did what I had to do…
Round 9, Pick 104 – Jusuf Nurkic – The Jamba Jus somehow stayed in business into the triple-digits!  I had Nurk queued up right after going Mudiay, as apparently I'm high on Nuggets…  I posed my quibble with Nurk in that chat room that yet again I'm taking a step back in FG%, but the room agreed his FG% should be better this year – which I argue as well.  It's not like he's a stretch-4 dropping treys out there, he's a post man with a mid-range.  At 104, his upside is phenomenal for my punt FT build.
Round 10, Pick 113 – Clint Capela – Another winner!  Queued up right after nabbing Nurk, I was pumped no one sniped Capela, although I think I might have been the only pure FT punt team…  Bringin' that sexy back!  And by sexy, I mean my FG% is coming back, FINALLY!  On top of just what "we expect" from Capela being the starter, this is a D'Antoni system.  It could get really interesting in the high-pace for added boards and blocks due to all the manufactured added possessions.
Round 11, Pick 128 – Kris Dunn – Shooting for the upside here.  I don't foresee Ricky Rubio getting traded preseason, but maybe Dunn ends up playing 20-25 MPG as a combo guard and has 12-team usability, especially punting FT.  His freebie shooting is a big knock on his game (60% on 15 FT in a small Summer League sample, 69.3% in college), so if something comes out of this early in the season, I'll feel like I hit a home run.  Plus I had a feeling no one was picking my next two guys, so I went for the buzzier pick.
Round 12, Pick 137 – Omri Casspi – Mini-Parsons!  Well, kindasorta…  Casspi is a phenomenal last round or two FT-punt pick.  Like Parsons, he hits 3s and shoots a great %.  Last year, 48.1% from the field, while hitting 1.6 treys.  Year before – 48.9% with 0.5 treys.  Plus he chips in some steals, and has a little upside if Rudy Gay is traded, which looks like it's one of the most likely trades that could happen this preseason.  And somehow with his great FG% and treys – he's a 67.7% FT shooter, going only 64.8% last year…
Round 13, Pick 152 – Matt Barnes – A staple last-round pick for me.  You can read more on my thoughts on Barnes in my Top 150 ranks, although I have some issues with this pick.  1 – FG% again is an issue!  Ugh.  But most importantly is issue B – I OWN THREE SACRAMENTO KINGS?!?!  What have I done with my life!?  Issue C – there is no C (little Razzball Baseball joke there), and 4th problem, I think someone else on the wire is a better fit for my needs.  I'll be making a little swapperoo when waivers clear, but I don't wanna give Barnes away!  We'll see…
Overall, I think I like this team!  As I mentioned ad nauseam, FG% remains a big issue but I think I win it most of the time, and TO are going to be a little bit of an issue as well.  It's tough to have said issues when you're already punting a cat…  But I think my scoring is OK, 3s OK (with some added waiver ThrAGNOF), elite REB/BLK/STL, with pretty competitive dimes.  It may not be my best team, but picking at 8 really throws you for a loop.  I am hoping for either pick 1-5 or pick 12 in my subsequent RCLs.  What do you make of this squad, Razzball Nation?!