Sleepers. Breakouts. Busts. Bargains. Overrated. Underrated. That's about all we think about in the weeks (months, for many of us) leading up to the fantasy NBA season. Even if your methods are sound, you're not going to be right about all of them. Of course, that's mainly due to injuries that directly affected the number of games played or indirectly affected a player's role. But despite that, I thought it would be fun to review the season's biggest overachievers and underachievers. Pat yourself on the back for good ones. Know that we feel your pain caused by the bad ones.
For this exercise, I just compared FantasyPros average draft position to their Player Rater rankings through 4/2 (8-category total stats – not per-game). Winning definitely requires the use of streaky players that were hot for short bursts, but today we're really taking a look at the players that did it (or failed to do it) over the entire season.
A few notes about the numbers:
*The ADPs are reliable up until roughly 125, since that's when we get to some players that were going undrafted on at least one site, and that skews the average draft position. I'll label anyone on their list that's past that point in ADP as "125+" and anyone off their chart as "200+".
*Keep in mind that a player picked at #5 that finishes around #20 could have a bigger drop in value than a player drafted at #50 that finishes at #150.
First, let's check in on the draft-n-stash guys that started the season on the IL. They're difficult to evaluate based on their season-long player rank, so I used Basketball Monster's per-game rank.
(ADP/Per-Game Rank)
69/52 – Lauri Markkanen
87/29 – DeMarcus Cousins
100/DNP – Kristaps Porzingis
125+/409 – Isaiah Thomas
Onto the players you likely cursed at one point or another or maybe at quite a few points. Many are here solely because of injury, which didn't hurt as much since you could likely replace them with something, but plenty took a big step back or did so in concert with missed games. I'll focus mainly on the players drafted highly enough that we were counting on them to provide something more than just an upside lottery ticket.
Significant Underachievers
(ADP/Player Rank)
The guys that were bad despite playing pretty close to a full season:
7/32 – Russell Westbrook (not bad if punting free throws)
12/35 – Ben Simmons (ditto)
21/42 – Donovan Mitchell
32/62 – CJ McCollum
41/117 – Gordon Hayward
62/168 – Andrew Wiggins
109/235 – Tyreke Evans
The rest — guys that missed big chunks of games:
1/11 – Anthony Davis
11/19 – Kawhi Leonard (how many rest days do you need???)
20/43 – Kyle Lowry (missed most of the fantasy playoffs again)
23/60 – Chris Paul
86/158 – Taurean Prince
81/171 – Robert Covington
92/173 – Kris Dunn
68/180 – Jeff Teague
14/192 – John Wall
64/194 – Lonzo Ball
15/195 – Victor Oladipo
73/198 – Gary Harris
60/200 – Brandon Ingram
78/207 – Elfrid Payton (but how about those five straight triple-doubles?)
58/208 – Dennis Smith Jr.
65/259 – Will Barton
48/274 – Goran Dragic
128/284 – Jordan Bell
28/285 – Kevin Love
111/303 – Rondae Hollis-Jefferson
102/404 – Carmelo Anthony
51/407 – Dwight Howard
Now for the fun stuff. Here are the guys that we've been seeing all over winning teams. Now, a player can outperform his draft slot simply by playing a lot of games while the injured players that are better slide behind him. So, I'm looking for pretty big jumps here.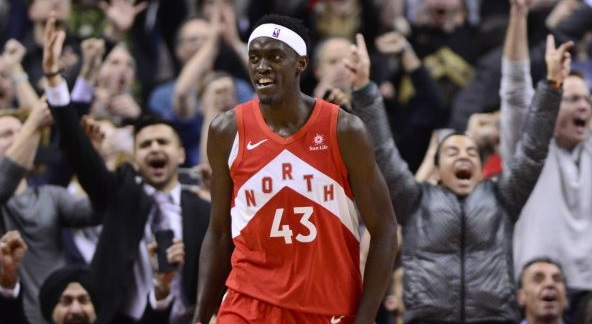 Significant Overachievers
ADP/PR
3/1 – James Harden (because his value was so far ahead of 2nd place)
18/6 – Paul George
27/8 – Bradley Beal
47/10 – Nikola Vucevic
29/15 – LaMarcus Aldridge
31/16 – Rudy Gobert
42/17 – Tobias Harris
95/21 – Brook Lopez
59/22 – Myles Turner
110/23 – Buddy Hield
43/24 – Mike Conley
200+/25 – Pascal Siakam
75/27 – Jusuf Nurkic
72/31 – D'Angelo Russell
118/34 – Danilo Gallinari
84/40 – De'Aaron Fox
77/41 – Trae Young
125+/47 – Montrezl Harrell
125+/51 – JaVale McGee
125+/54 – Bojan Bogdanovic
93/55 – Serge Ibaka
125+/56 – Thaddeus Young
117/61 – Derrick Favors
125+/65 – Jeremy Lamb
125+/66 – Marcus Smart
125+/68 – Malcolm Brogdon
125+/69 – Jerami Grant
125+/71 – Dewayne Dedmon
125+/72 – Domantas Sabonis
125+/76 – Danny Green
125+/81 – Joe Harris
125+/82 – Bam Adebayo
200+/84 – Jeff Green
125+/85 – Shai Gilgeous-Alexander
200+/87 – Tomas Satoransky
125+/88 – Kelly Oubre
200+/91 – Terrence Ross
200+/92 – Mikal Bridges
200+/95 – Mitchell Robinson
200+/101 – Thomas Bryant
200+/104 – Nemanja Bjelica
200+/118 – Monte Morris
Can we learn anything from this information that can help us next season? Injuries are nearly impossible to predict, but you can avoid injured players to begin the season. In some leagues, drafting injured players makes sense if there are DL slots and you have the confidence to work the waiver wire well as you wait for the players to return. While some young players were overachievers, I still recommend avoiding the young guys with the most hype, as they rarely outperform their draft slot. If anything, seeing all the great waiver wire pickups throughout this season reinforces my thoughts about drafting mainly high-floor guys in the first two-thirds of a draft followed by upside guys that I could easily drop for the next hottest things. Also, as I've mentioned a few times, due to the mania around the sexy picks, the old boring guys can easily be the overachievers as this season illustrated nicely.
This will be my last entry for this NBA season. Thanks for reading and for the comments throughout. Enjoy the playoffs and what should be another fun offseason!