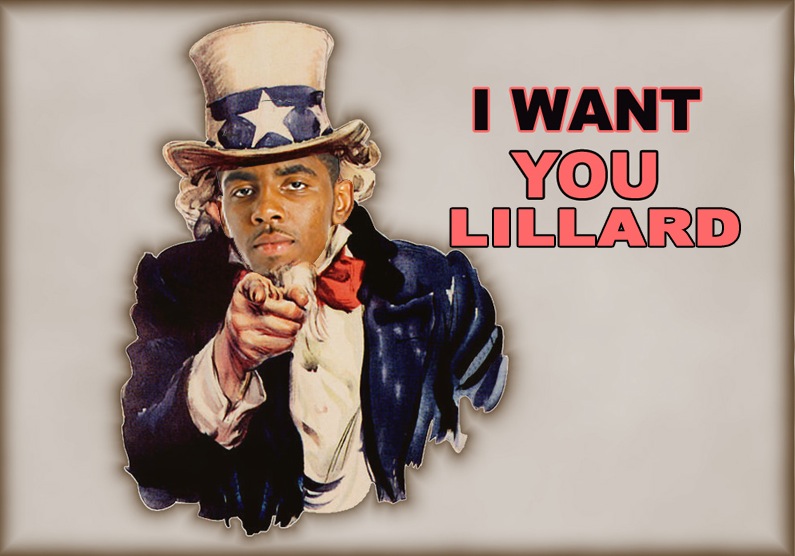 I imagine Kyrie Irving at tip did something similar to that right there!  Off 38 points Tuesday night, Uncle Drew went bonkers against the Blazers for a season-high 55 yesterday, with LeBron James in street clothes.  Klay who?  55/4/5/2/0 on 17-36 FG (11-19 3PTM 10-10 FT).  That's 17 treys and 16-16 FT the past two games, for a ho-hum 93 points.  That's a H2H matchup winner right there!  As I mentioned in early December, I was fully buying in.  Sure there was the horrifc Cavs playoff sched to consider, but that was mad early in the year.  Now it's time to reconsider.  At that point I was saying second round value was legit to pay, but I think you might be able to take a sucker for first round value, especially if they're a points whore.  Most metrics have Kyrie at around 7-8 in overall value, and if you can swing that into something that fits the playoff schedule a little bit better, now is the time when the proverbial iron is hot.  So while Kyrie is calling out Lillard, he's also calling out top-seeded fantasy teams to sell him off like the hot bubble stock he is.  Investing jokes!  We're an ecletic mix of references here at Razzball Nation…  Here's what else went down last night on a busy Wednesday of fantasy basketball action:
LaMarcus Aldridge – A medical marvel!  Proof you don't need thumb tendons…  38/11/2/1/2 hitting 13-23 and 10-10 FT.  Hit a couple treys too!  Nicolas Batum whining about his wrist has a lot less weight these days in that locker room…
D.J. Augustin – Oh lordy, what happened to the Pistons last night?!  Last time the Sixers blew out anyone it was with Iverson!  D.J. with an atrocious 2/1/4/2/0 line with 3 TO.  Can't handle that suffocating Philly D!
Andre Drummond – Aided by foul trouble, pulled a Hollow Man.  Bacon goin' insane!
Michael Carter-Williams – Left his typical MCW calling card!  14/9/10/0/2, actually shot just fine at 5-10 FG, but 3-5 FT and 5 TO.  He's like a ratio super villain!
Nerlens Noel – Captain N going rainbow!  5/4/5/4/2 in 29 solid minutes.  Only the 1 TO, did split his 2 FT, but hey he's playing a solid D-big man game right now.  Sure we'd like a few more boards and I thought he'd have a more polished O game, but as long as the FG and FT stay relatively low volume, the TO stay low (only 10 in the last 11 games), Captain N can be Captain, my Captain!
Lou Williams – That sweet, sweet Lou! Ballin' last night in the camo unis for 27/2/2/3/0 with 4 treys and 9-9 FT.  That sweet, sweet FT volume!
Greivis Vasquez – Ewwwww, really?  18/4/6 last night hitting 7-9 FG and 4-5 from deep.  Meh, it's up and down and a pass for me.  Kinda like breakfast burritos.
DeMarcus Cousins – Ya know, if he plays his full career out, he might lead big men in career TO.  Another 9 last night as the camouflage Toronto D was so tough to see!
Paul Millsap – Wooooo, 17 straight!  Which was pretty close to what Trillsap did at the FT line last night!  15-16 FT, and destroying that multi-cat with his sharp talons.  28/15/1/1/2 on only 9 shots – 5-9 FG and 3-5 3PTM.  Starting to step up to my pre-draft rank!
Al Horford – Also turning it around!  My Hawks whiffs starting to turn into some singles…  Neither home runs though.  20/10/5 on 10-13 FG, and shooting 50%+ from the field in 9 straight as that FG% boosts back up to 55%.  3.2:1.2 AST:TO ratio has been underrated too.
Alan Anderson – Mr. Anderson!  15/2/6/1/0 in 36 decent starting minutes hitting a couple of treys.  He's certainly the best starting SG option the Nets have after failed stints of Bojan Bogdanovic and Sergey Karasev, and AA could be very useful in deepers.
Jarrett Jack – "Wahhhhhh, Slim doesn't love me!"  Huge game from Jack for 14/5/13/2/0, and pairing a couple of treys with those two steals.  So many dimes in that dimebag!
Jusuf Nurkic – Jamba Jus needs to hold onto the ball!  A solid line of 15/9/0/1/2 on 7-9 FG, but 4 TO.  That Brow D is impeccable!
JaVale McGee – Was finally active, and didn't play.  He's likely getting a few minutes tonight, but putting that in the bank would be Shaqtin' a Fool.
Anthony Davis – Ruh roh.  While playing said impeccable D, hurt his groin and left for a bit.  Full kudos to our friends at Rotoworld for making me laugh – "Anthony Davis returned to Wednesday's game in the fourth quarter." Reaction – "Hooray!"  Then came out after the game he's getting an MRI today…   "Booooo!"  Even if it comes up clean, I'd expect another game or two out, giving another series of headaches to Brow owners.
Eric Gordon – Another solid outing for 11/6/6 and 5+ dimes in 7 straight.  Playing like those golden days for the Clippers, although they got a semi-upgrade at PG after the Gordon era…
Rajon Rondo – 0-7 FG 0/5/6/1/1 with 5 TO.  You've been PBevved!
Monta Ellis – While I mentioned yesterday that the Mavs are boring, Ellis is just so consistent as a scorer and solid contributor.  33/4/5/1/0 with a trey.  A few ups and downs and the dimes have regressed this year, but so have the minutes & TO.  Yet in 3 fewer minutes scoring 1.5 more points a game.
Terrence Jones – He's back baby!  10/5/1/0/2 in a whopping 21 minutes given how long he's been out.  Lots of issues here though.  Dwight Howard sat and the Rox only played Joey Dorsey 13 minutes, opening up some run.  Plus Donatas Motiejunas continues his strong play with 16/5/1 and two treys last night.  A little too crowded with too many mouths to feed; is TJones the best of the litter?  Sure, but I don't know if that will translate this year…
Josh Smith – I'm sorry, but the box score must be mistaken… They got Smoove confused with someone else… Did TJones swap jerseys in his game back?!  18/6/2/1/3 for Smith, hitting a miraculous 4-5 3PTM.
Kevin Martin – He's back baby!  29 bench minutes and obliterated the team lead for shots with 18 in a 21/4/1/0/0 line.  Hit a couple treys, and as always, solid at the stripe for 5-6.  Andrew Wiggins looked good in his 40 minutes, so I'm not taking anything away from his smaller line last night with K-Mart back.
Zach LaVine – Woooo, nice stream call here baby!  "OK, JB, enough with the babies!"  7-9 FG (1-1 3PTM 2-2 FT) 17/4/6/3/0 including throwing down an alley from midcourt.  Dunk contest, here we come!  Only blemishes are 4 TO and for some odd reason, Flip sat him down the stretch with the Wolves clinging to a 10 point lead, and LaVine ended up with only 24 minutes.  Split his minutes evenly at point with the newly signed Lorenzo Brown.  Brown was fine for 11/1/3 and two treys, but hey – Flip – you were the one who reached for LaVine in the draft, and in a game he's playing saucy you put him on the shelf?!
Jae Crowder – Remember when that was a thing?  Yeah, me either… I'm mostly just mad I can't use Boston Clam Crowder as a nickname very often!
Marcus Smart – If you've stayed with us all year you know I'm not a huge Smart guy, but he's sooooo much better than Evan Turner.  Ello Poppet for 10/4/6/0/0 and no treys (playing through a bad thumb, but whatever), with Smart going 12/2/6/0/0 with 4 treys.  And Smart isn't even supposed to be a deep shooter!  Still find this ridiculous…
Russell Westbrook – Tried putting the Thunder on his back!  Kevin Durant sat again, I kinda wonder if it was a "we'll take our chances without him against the Knicks" decision, which backfired innumerably!  40/4/4/2/1 on 13-30 FG for Russell, hitting 12-12 FT.  Where's the help?!
Reggie Jackson – Might be a future Knick one day!  And showed potential future fans a flash (alliteration!) with a 13/7/4/4/0 line.  Another goodun sans-KD!
Langston Galloway – Dude is mad impressive.  Another great game for 18/4/4/3/0 on 7-15 FG and 3-7 3PTM.  You know what kind of game this is?  A Victor Oladipo one…  I dunno if that's mad praise for The Harlem Renaissance or me still bashing non-RainbOladipo…
Louis Amundson – The other Sweet Lou!  5/10/3/0/4 on 2-8 FG and 1-2 FT.  Yes, 4 blocks.  I have a feeling this Sweet Lou is going to be bitter pretty quick.
Lance Thomas – Continues to impress, and last night against his old team!  17/5/1/0/0 on 8-13 FG, did have 3 TO in 25 minutes, but that's 16+ points in 3 straight and he offers a handful of boards and dimes.  Worth a look in deeps.
Brian Roberts – Yup.  Terrible.  8/3/6/3/0 on 3-11 shooting with 2 treys I guess is passable, especially with no TO, but it's so blah.  Not for me.  I'd rather B-Rob over…
Lance Stephenson – …though!  0/4/4/1/1 on 0-5 shooting with 4 TO.  Maybe this is where Josh Smith actually went!
Cody Zeller – Whoa, tripdub alert!  9/13/7/0/1, but remember this was against the Spurs who get spanked in the interior…  Ew, that sounded gross.  Al Jefferson returned to the starting line-up and did his spanking as well (17/16/1/1/0), and he better have especially since Matt Bonner started at C and got a whopping 31 minutes.  Sheesh!
Danny Green – Rainbow Danny!  16/5/2/2/3 on 6-11 shooting including 4 treys.  Let's hope you bought the Tarhell Triple low!
Tim Duncan – Rainbow Timmay!  12/14/2/2/3.  Meh, the looming DNPs still scare everyone…
Kawhi Leonard – Rainbow Kaw—  I mean, F you, Pop!  9/5/3/1/0 and only played 23 minutes.  I love the Cojo mojo as much as the next guy, but Cory Joseph, who had a mad empty line anyway, is no reason to sit Kawhi!
Joe Ingles – Mr. Fundamental!  10/5/7/1/0 with a couple of treys, as Ingles continues to out-assist both Jazz PGs…  Is Ingles worth a look for 3s/Ast/Stl on stream days?  Sure.  Is he a guy to own ROS even in 14ers?  Nah.
Trey Burke vs. Dante Exum – Speaking of those starting PG, they're both terrible.  At least this whole situation just gives us clarity that we can feel good about dumping Burke…
Rudy Gobert – Ugh, this is what I was worried about… Only 10 minutes of 7/3/0/0/1 ball.  Racked up 2 fouls early in his bench stint, then never really got reinserted by Snyder.  Hey Snyder, I have something you can insert!
J.J. Redick – Sat with back spasms.  Yeah, they easily spasm out with all that bacne!  Jamal Crawford started at the 2 and was his usual ballin'-ness.
Austin Rivers – Pays to play for daddy!  12/1/1/0/0 on 5-8 FG and 2-4 3PTM.   No other bench Clipper scored.  Rivers got all the backup G minutes with Redick gone and this is a hard ignore.
Kris Humphries – Solid spot start!  Nene sat on his own foot, so Hump for 11/15/1 in a good showing.  Nice to see Humphries still able to get it up… For those boards…
John Wall – Ya know, the end line is fine (11/7/7/1/2), but Wall really struggled in this one coming into it questionable.  Shot only 5-16 and for a guy who averages 4.6 FT a game, didn't get to the line.  A little tentative and jumper-settling.  Settler of Catatonic!  I finally played that Catan nonsense the other week, and if I see another 8 rolled I might kill someone…
Brandan Wright – Had a sore heel, but got some tar on it and was fine.  13/5/0/1/1 last night on 6-7 FG.  He's a rotational guy with the upside of occasional outbursts akin to this.  Like Gerald Green, but a PF/C!
Streamers/Cheap Daily League Picks:
Lou Amundson (0% owned) – F it, why not?!  Well, I would've taken Galloway but I think Galloway is a pickup and hold at this point!  Kinda hard to believe Amundson has a block in all 6 Knicks appearances and 6+ boards in 5 of 6.  Against an old team, given Amundson has bounced around like the village whore, but I could see another goodun.
Aaron Brooks (14% owned) – If at first you don't succeed, try try again…  Brooks was fine last game out on Tuesday night when I recommended him, albeit nothing special and I expect more tonight.  Bulls go at the Lakers, who play a raw rookie PG and Jeremy Lin.  Should be a TO fest and a blowout!  Gimme multi treys, assists, and steals for A-A-Ron.
I hope everyone's squads piled it up on a busy Wednesday night, and we'll catch ya tomorrow!