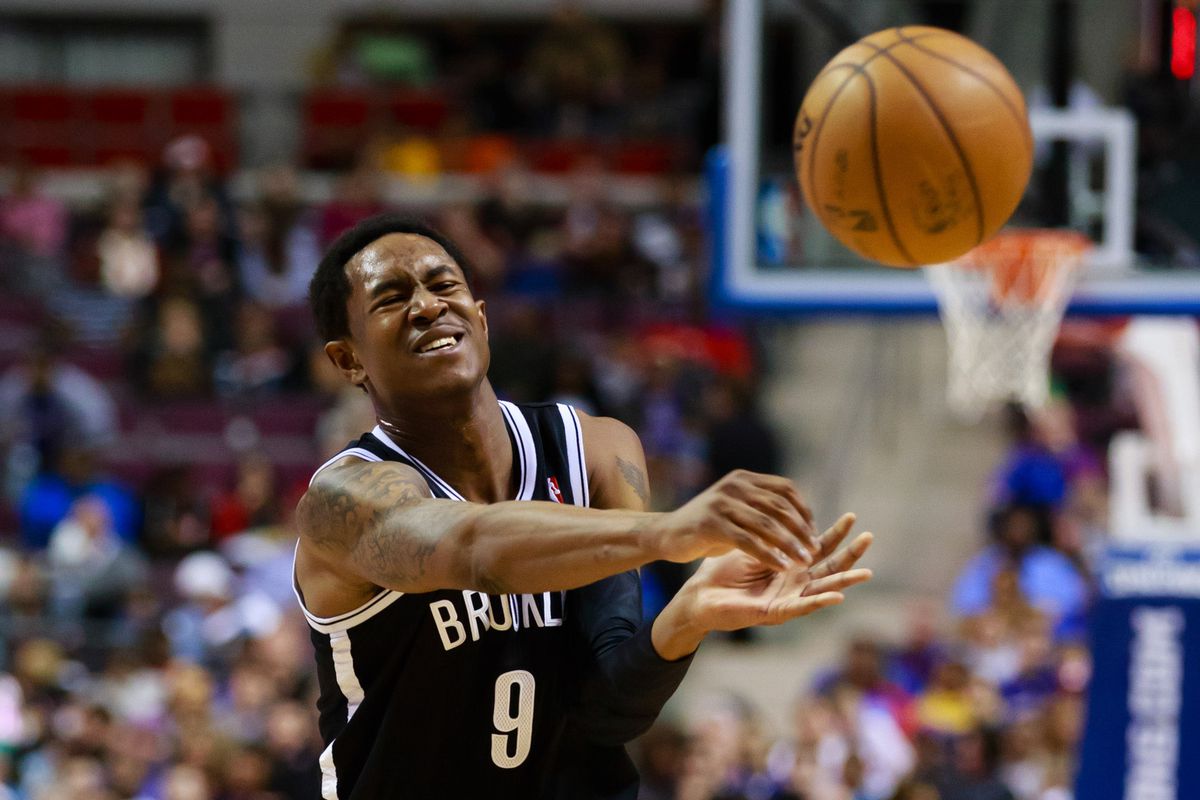 There are always a few players that magically appear at fantasy playoff time and help propel some teams to victory. Championship teams know this and they read sites like Razzball and closely watch the waiver wire so they can be the team that snags the hot rookie who finally put it all together or, in the case of MarShon Brooks, the veteran that nobody even still thought was playing professional basketball in America.
Brooks popped up a few games ago and had a huge night, but he was injured and missed the next game, which is why he is still on waivers in most leagues. Last night he showed that the big game was not a fluke, however, as he finished with a line of: 5/25/4/7/2/0. He hit 9-17 from the floor, including 5-10 from deep. Wow! I thought he would be a nice THRAGNOF at the end of the year, but his all-around line makes him a must-add in every league and a must-start in nearly all formats. So stop reading this and go get him!
Here is what else I saw last night:
Pelicans over the Grizzlies: 123 – 95
E'Twaun Moore: 7/30/1/4/3/1 – Moore is doing everything he can to prove that he is more than just a THRAGNOF hero. This line is proof that somewhere deep down, Moore can be…more.
Anthony Davis: 1/28/12/2/2/3 – It is crazy that the Pelicans are a better team without DeMarcus Cousins, but it is actually true. I am sure they would welcome him back with open arms, but it may be a blessing in disguise that Boogie won't be boogieing much in the near future. Oh yeah, and AD is good.
Nikola Mirotic: 3/25/7/0/0/1 – The Pelicans will be a dangerous team in the playoffs if Mirotic is rolling like this. Have we come up with a name for guys who shoot threes, boards, and block? Comments?
Jrue Holiday: 2/15/3/6/3/1 – Solid
Rajon Rondo: 0/2/7/13/0/0 – This line is such a Rondo.
Jarell Martin: 2/15/5/1/0/0 – When JaMychal Green is out, Martin is a safe bet for solid lines like these.
Ben McLemore: 2/14/4/1/1/0 – THRAGNOF – ish
Raptors over the Celtics: 96 – 78
DeMar DeRozan: 3/16/3/2/1/1 – If the Raptors can be the Celtics with a mediocre line from DeRozan then I would not want to face them in the playoffs.
Serge Ibaka: 1/15/6/2/1/2 – Solid.
Kyle Lowry: 2/13/5/5/1/1 – Lowry is just doing exactly what the team needs. Not his best statistical year, but easily his best year as a pro.
Fred VanVleet: 3/15/3/4/0/0 – This was the third or fourth best line on the team and the Raptors still won easily. Are they this good or are the Celtics this bad? They need Kyrie back.
Al Horford: 1/16/4/0/1/1 – Horford has really dropped the ball when the Celtics needed him to step up. Frustrating for fantasy owners too.
Greg Monroe: 0/17/8/3/0/0 – A Monroe special.
Marcus Morris: 1/21/5/0/1/0 – Yeah, this was the second best fantasy line. Here comes the crapola:
Jaylen Brown: 1/9/2/0/1/0 – I am on record as not being on the Brown train (wow, that sounds pretty gross), but it's true. The kid has game, but I think saying he can be the next Leonard is a little nuts.
Jayson Tatum: 0/8/4/3/1/0 – The Celtics need a lot from the J's. In more ways than one.
Heat over the Hawks: 115 – 86
Josh Richardson: 2/19/4/2/3/4 – If J-Rich had played the first half of the season like he has played the second half, then he would be a top 30 player at least. How many guards can block and steal as much as him and also consistently hit 2-3 threes per game? The only thing he could improve on is his assist numbers. If he got that up to 5-6 per game I could see him as a second round draft pick.
Kelly Olynyk: 5/19/8/5/0/0 – With James Johnson out Olynyk was able to shine. Of all the Heat players not named Richardson and Dragic, Olynyk is the best bet for consistent production to finish the year. James Johnson is close, but his scoring is erratic.
Justise Winslow: 1/18/1/5/0/0 – A good game, but remember, James Johnson was out. He is a good play if Johnson is out next game, but chances are he will play.
Hassan Whiteside: 0/4/13/2/0/3 – Whiteside said he wants more minutes and he wants the ball more, but shooting 2-6 isn't exactly "backing it up."
Taurean Prince: 3/20/4/1/1/0 – The lack of boards and other stats sucks, but this line was made more than just solid because of the efficiency: 8-14 from the field, 3-6 from three.
Damion Lee: 1/15/4/1/1/0 – Who?
Tyler Dorsey: 1/15/5/1/2/0 – Not sure why, but seeing a nice line from Tyler Dorsey made me think of a recent picture I saw of Tyler Hansborough. Talk about peaking in college. Yikes.
Isaiah Taylor: 0/2/1/3/0/0 – I am putting this here because 1) He is a hot pick-up but should have a huge "Buyer Beware" sign since he could easily put up games like this in every remaining game and 2) I picked him up four games ago and started him twice. Both times he put up duds. So if you were planning to play Taylor, start him next game because he will be back on my bench. You're welcome.
76ers over the Pistons: 115 – 108
JJ Redick: 5/25/2/6/1/0 – JJ is going to get paid-paid next season. What a great signing for the Sixers. And can I just say how impressed I am with this team after losing their best player in Embiid? Everyone thought they would collapse, but the bench guys have really stepped up as you will see in the following recaps:
Ben Simmons: 0/16/6/7/1/0 – Ok, not a bench guy, but he is just so consistent, not only for a rookie, but for any star NBA player.
Ersan Illyasova: 1/13/11/1/0/0 – 1-6 from three is a little rough, but still, this guy should be started on any team needing boards and threes to finish the season.
Amir Johnson: 1/9/10/3/0/1 – Richaun Holmes (0/11/3/3/3/0) was the hot pick-up, but Johnson has been the better fantasy player with his boards and defense. Got to love those wild 3s from Holmes though.
Marco Belinelli: 4/19/4/2/3/0 – Somehow the 76ers were able to clone JJ Redick and, to disguise their plan, made him Italian. Like in the movies when the twin has a goat-tee or a big mustache.
Robert Covington: 2/12/4/2/3/2 – Rainbow line…it's beautiful!
Anthony Tolliver: 7/25/5/1/0/1 – 7-8 from deep. Nice. Definitely pick him up, but I get the feeling he is going to have a dud and disappoint a ton of owners soon.
Stanley Johnson: 2/19/5/4/3/0 – See Tolliver.
Reggie Bullock: 4/15/3/1/0/0 – Still hitting threes, just nothing else…ummm..oh yeah: THRAGNOF!
Andre Drummond: 0/13/15/1/0/1 – Drummond is so good that this line looks ugly, well, 3-7 from the line, yeah, it's ugly.
Ish Smith: 2/14/3/12/1/2 – Nothing ugly about this line, wow. Not sure he can do it again, but damn.
Magic over the Mavericks: 105 – 100
Aaron Gordon: 2/20/4/1/1/1 – The battle for the worst is just as exciting as the battle for the top. Kind of a mini-playoff race of sadness.
Bismack Biyombo: 0/12/12/5/1/1 – The man my auto-correct hates. Remember, no Vucevic, who they sat because they wanted to lose. When Vucevic is out, start Biyombo or this next guy:
Khem Birch: 0/10/8/5/0/2 – Start either one of these guys if you need boards and blocks and Vuc is out.
Mario Hezonja: 1/12/8/4/2/3 – Rainbow…so beautiful…
Jamel Artis: 1/18/0/0/0/1 – Artis had a career high and the team hates him for it.
Dorian Finney-Smith: 2/14/6/2/0/0 – This game  was avirtual who's-who of NBA basketball. No really, who's who? I have no idea who these guys are.
Johnathan Motley: 0/14/8/1/1/0 – Got to give it up for spelling out John in Johnathan.
Aaron Harrison: 3/13/4/2/1/0 – Wow, the other Harrison brother is in the NBA?
Kyle Collinsworth: 0/13/9/6/1/0 – He took a break from announcing Monday Night Football to play in a basketball game?
Jalen Jones: 2/16/7/0/0/1 – "Names I never thought I'd be typing in a recap" for $100 Alex
J.J. Barea: 0/4/2/4/0/0 – Barea says he is out for the season. He's not hurt, he just doesn't want to play anymore.
Lakers over the Spurs: 122 – 112
Kyle Kuzma: 5/30/5/1/1/0 – KOOOOOOOOOOOOOZZZZ!!!!
Kentavious Caldwell-Pope: 2/21/6/6/0/0 – Caldwell Banker leading the Lakers to a win they don't really want.
Julius Randle: 0/12/4/5/0/0 – This is what most people expected from Randle this year. He disappointed them because he was a beast this season!
Channing Frye: 3/19/4/1/0/1 – Anytime I see Frye had a nice game I always think, "Good for him." Like he's the ball boy who gets to play in the last game of the season and the fans go crazy.
Josh Hart: 0/8/10/2/1/0 – Hart is getting a ton of minutes but his usage sucks. He's worth owning if you need boards, however, because he is bound to have a blow up game here down the stretch.
LaMarcus Aldridge: 0/28/9/4/1/1 – Great game, horrible loss. I don't know why I would be so happy if the Spurs missed the playoffs, but I would be. Does that make me a bad person?
Dejounte Murray: 0/23/10/6/2/1 – Holy cow. Too bad they lost. Murray is going to be interesting next season in drafts. I feel like he is going to be way over-drafted, but like I have to remind myself when I'm high and I look in the mirror:  that's just me.
Patty Mills: 3/15/3/3/0/0 – GG.
Pau Gasol: 1/11/12/3/0/1 – Just add the "L" already! It should be Paul.