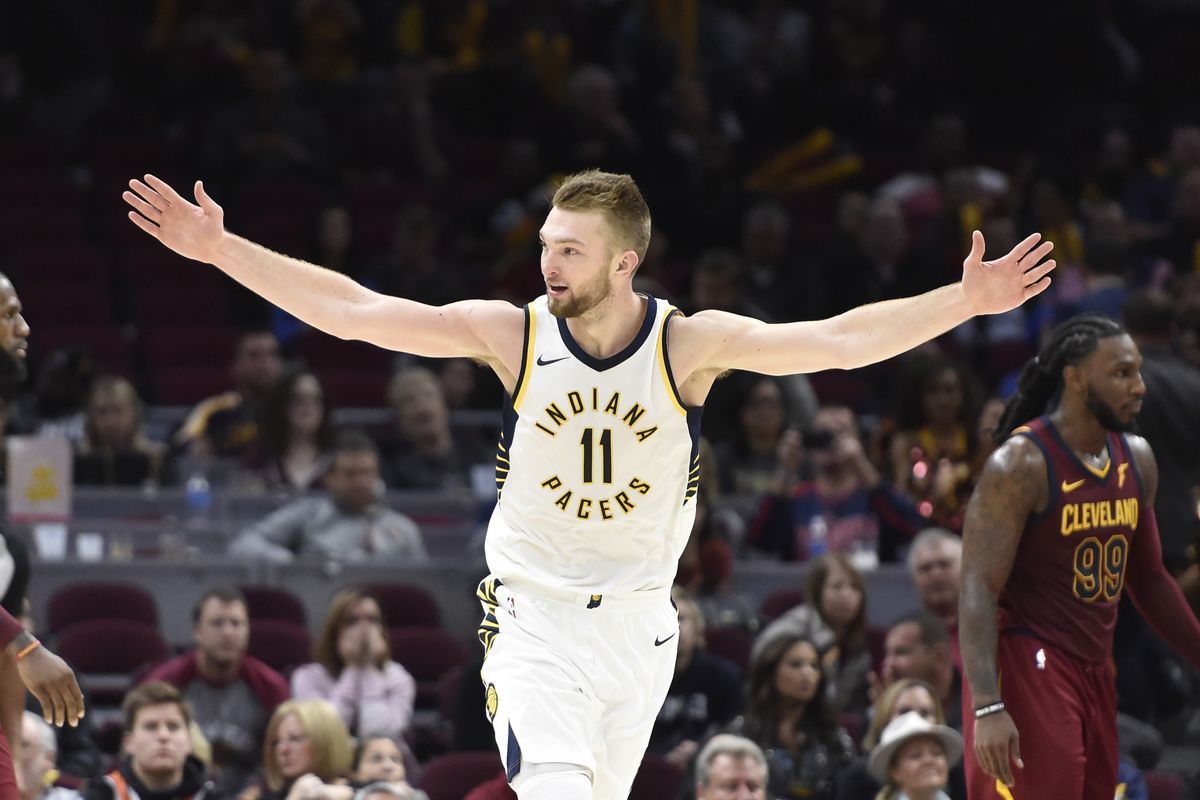 You know a team is peaking at the right time when its role players are shining. The Pacers are getting set for an epic playoff run led by their All-Star Victor Oladipo (3/27/3/5/3/0) and their breakout star Domantas Sabonis (0/30/8/3/3/0). Yes, the 30 points were a career high and, yes, both players were acquired via trade (for Paul George) in the off-season, but that is not even the most amazing thing about the Pacers' season. The crazy thing is that the person who was supposed to be their can't-miss stud has been an all-time dud.
Myles Turner has had an extremely disappointing season in both real-life and fantasy (funny how those are tied together) and last night he may have finally hit rock-bottom: 0/0/1/0/0/0 in just 6 minutes. No, it wasn't injury-related. It was foul-trouble related, which should be strictly a rookie problem for big-men. The Pacers could end up being a very dangerous playoff team if somehow Turner can figure out his issues. My money is on…..drumroll…..no, no he won't. This has been a problem the entire season, so there is no reason to believe he will suddenly be the team star again. I do think he will have some good nights, but overall he will be the same.
The good news is that the Pacers can win without him (maybe that is messing with his head and confidence), so it is not really that big a deal. The bad news is the Pacers cannot win a championship without him. But more good news, nobody expected them to even be in the playoffs, so they are playing with house money.
Anyway, here is what else I saw last night:
Pacers over the Hornets: 123 – 117
Bojan Bogdanovic: 0/13/3/1/0/0 – A THRAGNOF with no threes. THRAG-OFF!
Malik Monk: 3/22/0/5/2/0 – Hopefully you have been reading my recaps and you own Monk for your stretch run. I know I do and I am going to win my league. Oh, you haven't been reading my recaps? Serves you right! Wait, don't go, I'm actually nice and I'm right like 60% of the time, that's pretty good right? Right? Validate me Mom! Sorry, lost my train of thought, oh yeah, Monk is good and should have been playing all season and the Hornets missed a big opportunity. Guess they should have read Razzball and listened to our podcast (which will be returning soon)!
Marvin Williams: 4/16/5/2/1/2 – Nice game from a blah player.
Kemba Walker: 0/12/1/5/0/0 – I would like to see the Hornets' record when Kemba scores less than 20 points. If only there was a way I could look up any piece of information almost instantaneously. Wow, that is a great idea for a Sci-Fi book! Don't steal my idea! Anyway, I'm sure their record isn't good.
Willy Hernangomez: 0/14/8/2/0/0 – A lot like my own in high school, this Willy is hard to predict.
Dwight Howard: 0/10/12/2/1/0 – Like McDonald's, that's a disappointing double-double.
Nicolas Batum: 2/8/2/3/1/1 – I stand by my prediction that Batum will be an All-Star next season and I will be drafting him high next year. Lucky for me I won't have to draft him too high because of this "I've given-up and I'm thinking about the Bahamas finish."
Hawks over the Celtics: 112 – 106
Taurean Prince: 7/33/8/5/1/1 – I wonder if management is happy that Prince looks like a real-deal centerpiece or they are pissed that he is ruining their chances at the number 1 pick? My money is on number 2 because it is easy to find great players, especially with high draft picks. They always pan out. Right, Anthony Bennett, Darko Milicic and Greg Oden?
Damion Lee: 2/14/8/2/1/0 – I mean, how was management to know that Damion Lee and Isaiah Taylor (0/13/2/6/0/0) and DeAndre' Bembry (1/11/3/3/1/1) would turn out to be pretty decent NBA players? Wait, isn't that their job to know that? Wait, isn't the fact that I doubted that management was good at evaluating their own players really revealing of my feelings towards the Atlanta Hawks' front-office? I'll answer my own rhetorical question: yeah, it is.
John Collins: 0/12/5/3/3/1 – So Collins didn't really turn into the monster I was predicting, but in my defense, DeWayne Dedmon (2/10/4/1/0/1) was supposed to get traded at some point opening up big minutes for Collins early in the season. But instead Double-Ds stuck around the whole year and ended up as a very underrated fantasy center while Collins was a decent fantasy player that never left my bench.
Jayson Tatum: 1/19/4/2/4/0 – The rookie is good, but not "carry a team predicted in the pre-season to go to the NBA Finals" good.
Al Horford: 2/16/7/4/1/1 – I have loved owning Horford this year. Point guard stats from my center, boom.
Terry Rozier: 2/10/8/9/0/1 – Ownable
Jaylen Brown: 0/12/3/2/1/1 – I will owe Son a big apology if Jaylen Brown turns into the next Kawhi Leonard. I feel like I am going to be saving my apology for when my kids are grown up and they wonder why they are so messed up.
Greg Monroe: 0/17/2/4/1/0 – Run him out there when Horford sits, which may happen at least 1 more time.
Semi Ojeleye: 3/13/6/1/0/1 – Just like after a long night of drinking, Boston should be excited about this Semi.
76ers over the Mavericks: 109 – 97
JJ Redick: 2/18/2/4/0/0 – Has been great in real life and fantasy. He is going to get so paid this off-season he may have to change his name to JJ Greendick.
Ben Simmons: 0/16/7/9/4/1 – I am so excited to watch this rookie in the playoffs. America is going to get to see what fantasy players have seen all season long. Here's a hint: it won't include 3-pointers.
Robert Covington: 3/15/10/3/2/2 – RoCo is going to be the wild card for the Sixers in the playoffs. If he plays like this, they will go far.
Marco Belinelli: 0/15/4/2/1/1 – Belinelli is Italian for Redick.
Ersan Ilyasova: 1/11/12/3/0/0 – This has been almost his exact line for 6 games in a row.
Harrison Barnes: 2/21/3/2/0/0 – Poor Harrison, well, rich Harrison, so I guess watching the Warriors make yet another playoff run without him won't be so bad.
Dennis Smith Jr.: 1/20/5/11/3/2 – Son, don't worry, Jaylen may not pan out, but DSJ looks like a sure thing.
Dwight Powell: 2/13/10/4/1/1 – Hopefully the Mavericks give Powell big minutes next season. If so, he is going to be a great fantasy pick.
Grizzlies over the Pistons: 130 – 117
Dillon Brooks: 1/22/8/8/2/0 – Whoa! Not a THRAGNOF anymore. How were the Grizzlies' to know that their bench was better than their starters all along?
MarShon Brooks: 4/25/3/4/1/0 – I am starting the nickname for next season when these 2 are starting next to each other: Brooks Brothers. Wow, seems really obvious now that it's out of my head. Oh yeah, thanks for the championship MarShon!!
Kobi Simmons: 4/20/2/7/0/0 – What weird upside down world am I in? Where is 11, I want out!
Marc Gasol: 3/20/9/9/1/1 – So they will have a healthy Conley, a happy Gasol, The Brooks Brothers, can they resign Tyreke and make a championship run? I'm serious. Don't forget about JaMychal Green who was great and Jarell Martin who looks like the real deal.
Anthony Tolliver: 4/19/4/1/2/0 – 3 and D from AT? 11 where are you!!
Luke Kennard: 4/18/3/4/2/0 – He will be on my sleeper list for next season.
Andre Drummond: 0/12/18/3/2/0 – If the free throws continue to come around (0-2 last night) then he may end up on my team as a late first round pick.
Henry Ellenson: 4/17/1/0/0/0 – If he is Swedish, does that mean somewhere in the past one of the dad's names was Ellen?
Raptors over the Magic: 112 – 101
OG Anunoby: 5/21/8/0/0/1 – Another sneak-peak at one of my sleepers for next year. It helped that they played the Magic, the NBA's slumpbuster.
C.J. Miles: 5/22/3/2/0/0 – The Raptors showed off their impressive depth in this one. Oh yeah: THRAGNOF!
Serge Ibaka: 1/13/8/2/0/3 – Decent
Kyle Lowry: 1/11/1/7/2/0 – Disappointing with no DeMar.
Aaron Gordon: 2/16/2/3/3/1 – Draft with confidence next season.
Khem Birch: 0/12/12/1/2/0 – No blocks is really disappointing considering I have been running Birch out there for that reason.
Mario Hezonja: 3/14/3/5/1/0 – Another sleeper.
Nikola Vucevic: 0/10/9/3/2/1 – Still the second-best Nikola in my book.
Jazz over the Lakers: 112 – 97
Donovan Mitchell: 3/28/9/8/1/1 – Rookie – Of – The – Year!
Joe Ingles: 3/22/4/10/1/1 – Was going to be a sleeper, but he is now woke.
Derrick Favors: 0/10/13/2/0/0 – The Lakers played no defense.
Jae Crowder: 4/18/2/3/1/0 – As I was saying….Jae may be a sleeper next year on his new team.
Royce O'Neale: 2/15/5/2/0/0 – The Jazz are deep, so deep they have lots of sleep-ers.
Josh Hart: 2/25/4/1/2/2 – How good was the Lakers' draft last year? Wow!
Julius Randle: 0/17/7/4/0/0 – Can't wait to see where he ends up. Here is a fun thought: the Jazz let Favors walk and sign Randle to play next to Gobert? Boom!
Tyler Ennis: 1/22/6/2/3/0 – Don't make a joke about what his name rhymes with, don't do it…..Penis!
Warriors over the Suns: 117 – 100
Klay Thompson: 6/34/3/1/1/0 – Fun fact, I was actually at this game last night and Klay was on fire in the first quarter! He had 22 of the Warriors' first 28 points with like 4 minutes still to go. He ended the quarter with 22, but I thought I was going to see him challenge his own record of 37 points in a quarter. Can anyone get hotter than Klay? Oh yeah, and the Suns are the league's other slumpbuster (if you don't know what a slumpbuster is, take a moment to consult the Urban Dictionary).
Kevin Durant: 2/17/4/9/1/0 – Yeah, he's good.
Quinn Cook: 2/14/6/3/0/0 – Cook, Monk, and Brooks won me my money league. Thanks dudes!
Draymond Green: 2/14/6/5/2/1 – Dray being Dray.
Danuel House: 2/22/8/3/1/0 – 11 where are you!!!!
Alex Len: 0/16/10/1/0/0 – No blocks, but he did take a three. Thanks Alex.
Tyler Ulis: 1/15/2/10/0/0 – What is it about the end of a meaningless season that makes TU go bonkers? They need to lie to him at the beginning of the year, change all the calendars and get fake standings or something.
Dragan Bender: 2/14/14/2/0/0 – Another sleeper….