My Charlotte Bobcats fandom reached it's peak during the 2006-2007 NBA season. My Bulls had been one of the worst teams in the NBA for nearly a decade and I liked cheering for the recent expansion team. I had NBA League Pass back then, since I was providing live box scores for a website more nights than not. The Bobcats weren't one of the in-demand teams to cover, so I got to do a lot of their games. While the Bulls had just drafted LaMarcus Aldridge at #2 and traded him for #4 Tyrus Thomas and Victor Khryapa (yes, that happened), the Bobcats selected one of my favorite players right between those picks to join forces with other favorites Gerald Wallace and Emeka Okafor. That's right, Adam Morrison was going to light up my tiny 19-inch box TV that sat beside my giant desktop computer as he turned (yes, people thought this) into Larry Bird 2.0! It was going to be fun watching this franchise, in just it's third year, develop into a contender with those pieces.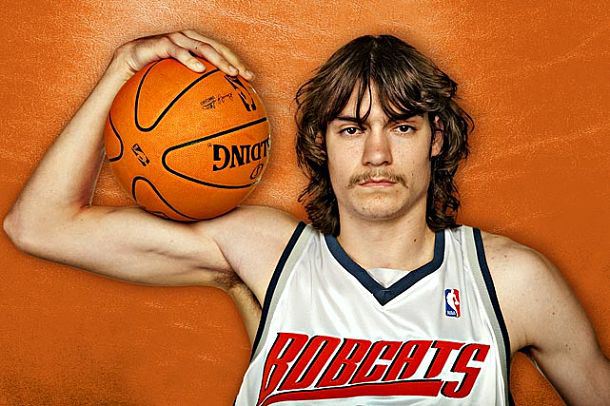 Check it out! That weird, slippery ball they used briefly!
Okay, so the 'Cats never really went anywhere, though Morrison did have some fun 3-point shooting streaks. I still love the snubbed and rightful 2012 Las Vegas NBA Summer League MVP and two-time NBA Champ (true). And, I still wear my Bobcats hat proudly (also true). Why am I going on and on about a player who only played in 161 career games and was out of the NBA four years after he was drafted? Because, he's the theme of today's strategy: The 'Stache! I guess it's The Stash, but at least I got to talk about Adam Morrison and Victor Khryapa.
This is a good time to stock up on and stash the players that might take off toward the end of the season and lead you to a championship. Since, we can't predict injuries very well, we don't know when, exactly, to stash backups-turned-reliable-fantasy-stars-whenever-they-get-starters-minutes like Bismack Biyombo and Ish Smith. But we can, with some reliability, predict who might have a path to extended minutes and volume opened to them by a deadline deal or through extreme tanking in March or April. I'm going to give you a list of players I think might be worth a stash. But, you can also come up with your own based on this criteria, too. Some leagues wrap up by the end of March, and some leagues don't have a big enough bench to stash guys you aren't going to use for another month, so keep your specific league(s) in mind.
First, we have the moved-up trade deadline of February 8. Seems like the rumor mill isn't churning them out as much as in years past, but we're sure to see at least a handful of trades that affect fantasy starters. Here are some of the likelier players to be dealt from what I've gathered, along with their potentially resulting benefactors that might increase in fantasy relevance:
DeAndre Jordan –> Montrezl Harrell had a good run last year with center starts. maybe Willie Reed.
Greg Monroe/Tyson Chandler –> Alex Len should get more consistent minutes.
 Nikola Mirotic –> Lauri Markkanen should get back a little more consistency. Bobby Portis, too, if a PF doesn't come back in the deal.
Derrick Favors –> Ekpe Udoh? Mirotic?
Julius Randle –> More consistent minutes for Kyle Kuzma and Larry Nance Jr.
Dewayne Dedmon –> John Collins, but he's getting more action either way (see below).
Evan Fournier/Elfrid Payton/Mario Hezonja –> Jonathon Simmons, Terrence Ross, and… D.J. Augustin time again? See one more name below, as well.
You get it. Follow the rumors and news and see which understudies are looking at a starting gig or at least some shoes to fill. Also, think about who might be coming back in these deals, as it's sometimes those players that fill the void.
The second type of stashy goodness is a little more predictable. Who are the worst teams with a reason to lose as many games as possible while getting extended looks at their young players? If you owned guys like Skal Labissiere or Georgios Papagiannis last April, you know how big the extra minutes and volume can be, especially if you're the owner of the veterans getting shut down. Tyler Ulis started the final 15 games of the season for the Suns, and it's hard to remember how great he was after seeing the results of his starts this season. He had much more success in those games… well, fantasy-wise at least (they lost the first 12 of those games). 16.1 ppg/3.6 rpg/8.5 apg!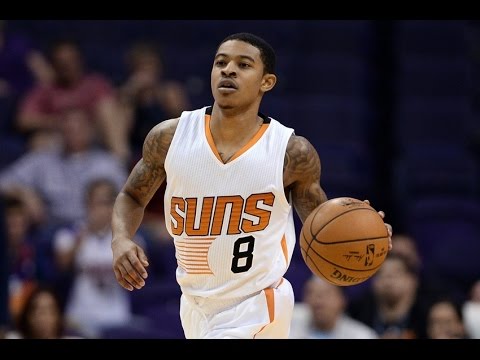 Now, we likely won't see as much DNP-Tanking as we saw down the stretch last year with guys like Luol Deng and Eric Bledsoe, but the following teams should provide what we're looking for once their veterans come up with minor injuries. And the young guys on these teams that should be in line for a decent increase in value at some point are:
Orlando – maybe Jonathan Issac, if he's healthy soon enough.
Atlanta – definitely John Collins. maybe DeAndre Bembry in deep leagues.
Sacramento – De'Aaron Fox and Bogdan Bogdanovic. Maybe Buddy Hield, Skal, and Georgios like last year.
Dallas – Dennis Smith Jr. should get even more action.
Memphis – maybe Deyonta Davis and JaMychal Green if Marc Gasol isn't around due to trade or getting shut down.
Phoenix – Josh Jackson, Marquese Chriss, and Dragan Bender. Maybe Davon Reed in deep leagues.
Other rookies that should see more minutes –  Frank Ntilikina, Jarrett Allen, and hopefully Malik Monk and Zach Collins.
For the rookies poised for larger workloads, you can find their per-36 numbers in my article from two weeks back about predicting the rookies' futures.
On the flip side, you may want to think about dealing away the guys that may be going to contenders and/or the guys they'll be sharing time with. It's no sure thing any of these are happening, so don't go crazy, but if a guy like Dedmon becomes a backup again, wouldn't it be nice to have pulled in a top 100 guy for him? Also, don't hesitate to cut the veterans on the terrible teams that suffer minor injuries and start sitting. That's often the perfect excuse for their team to shut them down and increase the team's number of ping pong balls.
Many of these players and those that didn't make the list but will end up in a great situation will be free agents, so keep up on the news. Nothing like picking up a sure-fire fantasy starter for free because you were the quickest on the draw.
This week's classic fantasy line:
Brooklyn Net, Thomas Robinson, in a 6-game stretch at the end of the 15-16 season: 52.6% FG/15.3 ppg/13.0 rpg