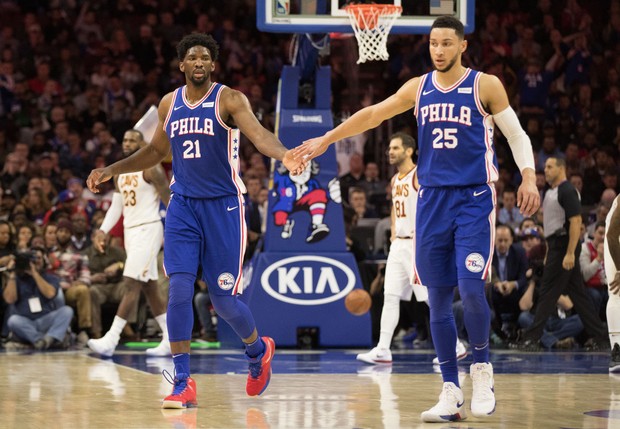 Last night it was obvious that the All-Star break did a lot of bodies good. There were some huge, I mean massive, fantasy lines last night. Some of the juiciest slash we have seen all season.
The Sixers grab the lead because of their two young stars that have #TrustTheProcess perpetually trending on (anti) social media. Joel Embiid returned from his first of many All-Star appearances with a stat line prettier than Fergie's angelic voice. 11-of-17 from the floor, including 3-for-3 from deep and 5-for-8 from the line (the only ugly part), 30 points, 13 boards, 5 assists, 3 steals, and 4 blocks with only 1 turnover in 34 minutes. When talking about future number one overall fantasy picks, I rarely hear Embiid's name mentioned. Now that he is playing in back-to-backs and through minor injuries, I have a feeling that this will change by the end of the season.
His partner in crime, Ben Simmons, would have grabbed the headline if not for Embiid's epic slash. Simmons finished with: 0 (no surprise)/32/7/11/1/1 including the game winning shot. He did hit only 6-of-11 free throws, however, which along with his lack of an outside shot will continue to keep him out of the first round of fantasy drafts and is probably what kept him out of the All-Star game this year (something tells me this will change next season).
Let's take a look at what else I saw last night:
Want the best tools and projections to help dominate your league? Check out the Stocktonator, the byproduct of Rudy and machine making love. Click HERE for a FREE 3-day trial.
Rudy has been hard at work in the lab. His latest creation? DAILY LINEUPS PAGE. So good. So smooth. So helpful. He decided to go with the Sonny Bono red tint, while I prefer the blue tint. What say you?
Sixers over the Bulls: 116 – 115
Dario Saric: 1/13/8/2/0/0 – Embiid and Simmons soaked up all the offense in this game, leaving little for anyone else. This game really magnified how badly the Sixers need a third scoring option. The mystery of Markelle Fultz must be killing the front office. Most people thought they gave up too much when it seemed like they were more than one piece away from being a playoff team. Games like this, however, show that they were not only just one piece away from being a playoff team, but they were one piece away from being an elite team in the East, and anyone with eyes could see that Fultz had the game to be that guy.
*At this time I would like to take a moment to apologize to Dario, who I am sure is reading this and thinking, "Come on Brent, I finally make one of your recaps and you use my whole blurb to pontificate about Markelle 'Crazy Train" Fultz.' To which I would respond, "Dario, bubbie, you guys call Markelle 'Crazy Train?' I would go with something like 'Two Cards Short of a Fultz House' or 'Markelleing Me Smalls Fultz.' Anyway, if you want to get in more blurbs then play better. It's not rocket science." (What he doesn't know is that it is actually much, much harder than rocket science).*
Zach LaVine: 5/23/3/4/0/0 – I predicted a few weeks back on the Razzball Fantasy Basketball Podcast that Zack LaVine would be an All-Star in 2019 and could potentially become a name mentioned in the MVP conversation for years to come. This line tonight isn't going to blow anyone away, and he still needs to get better at stealing and blocking shots, but those two things will be easier for him to get better at than it will for someone like Ben Simmons to develop an outside shot. Just remember, you heard it here first.
David Nwaba: 3/21/9/2/1/1 – Stop reading and go grab Nwaba right now. Seriously, why are you still reading this, go get him. The Bulls are not going to play Robin Lopez which means Nwaba and the next guy I am going to talk about are in line for a huge finish to the season.
Bobby Portis: 6/38/8/2/0/0 – Portis and Nwaba look like the main beneficiaries of the Bulls looking to tank (not exactly a compliment, but fantasy owners do not care about feelings).
Lauri Markkanen: 0/3/8/0/0/1 – The Markksman may be a little tired since he really didn't get a break. He took second place in the Skills Challenge which was impressive and fantasy owners should not worry at all. He is going to get a ton of minutes and he will be fun to own for years to come.
Hornets over the Nets: 111 – 96
Kemba Walker: 4/31/0/7/2/0 – Walker took a lot of heat for being selected to the All-Star team over Ben Simmons and others, but there is no arguing that Walker is having a really great season.
Dwight Howard: 0/15/24/1/0/1 – 24 rebounds is amazing. 3-for-7 from the free throw line is not.
Nicolas Batum: 2/10/5/7/1/1 – Batum is another guy I am really high on for 2019 along with LaVine. Both guys are coming back from injuries and I think they will just get better and better for the rest of the season and will be break out players next season.
Michael Kidd-Gilchrist: 0/13/5/1/0/1 – Millie the Kidd is a solid source of points, boards, blocks, and percentages, but is frustratingly only getting 20-25 minutes a night.
D'Angelo Russell: 2/19/4/5/0/1 – Russell is back in the starting lineup and I think he is line for a huge finish to the season.
Spencer Dinwiddie: 1/12/4/9/0/1 – Dinwiddie will keep getting minutes and will be a nice source of threes and assists. Russell getting back to form will hurt Dimwittie's scoring most nights, however.
Dante Cunningham: 4/22/12/4/0/1 – Where did this come from? Russell and Dinwiddie will be the only consistent options for the Nets, everyone else will be frustratingly hard to predict. I would rather have Rondae Hollis-Jefferson (expected back 2/26), Jarrett Allen (0/9/7/2/1/2 – easily the most double letter combos in the NBA right or is he tied with Russell Westbrook?), DeMarre Carroll (0/6/5/2/0/1), Allen Crabbe (3/11/2/2/2/0), and Joe Harris (3/12/2/2/2/1 – yeah, I noticed all the twos) over Cunningham. The wild card will be Caris LeVert (expected back 2/26) who just cannot get healthy.
Knicks over the Magic: 120 – 113
Trey Burke: 2/26/4/6/1/1 – Burke is going to fly off waiver wires, but I could totally see him back on the wire in less than a week. If you need a point guard, he is worth a flyer, but there are a lot of point guards in New York and they were playing the terrible Orlando Magic.
Tim Hardaway Jr.: 1/23/3/6/1/1 – Speaking of unpredictable…
Enes Kanter: 0/12/12/1/0/1 – Another day another Doug, um, I mean double-double.
Michael Beasley: 1/7/4/3/1/3 – He will be better on most nights and I love his rest of the season outlook.
Kyle O'Quinn: 0/14/8/1/0/3 – KOQ did this in only 18 minutes. Come on New York, let your KOQ loose.
Evan Fournier: 3/25/5/5/1/0 – Fournier looked healthy and I think his pre-All-Star Game slump is behind him.
Nikola Vucevic: 2/19/6/1/2/2 – He will be back to elite form in no time.
D.J. Augustin: 3/13/2/4/0/0 – The hot-hand approach with D.J. and Shelvin Mack (0/8/3/4/1/0) is going to be hard to predict and something to avoid. If you are desperate for point guard stats, then I would go with D.J.
Jonathon Simmons: 0/12/4/5/0/0 – His typical ho-hum line. I am just not a fantasy fan.
Aaron Gordon: 2/9/5/5/0/1 – The rust is real. He will get better, but head-to-head owners should probably worry about a shut-down at some point and may want to try a trade after Gordon has a couple of good games.
Wizards over the Cavaliers: 110 – 103
Bradley Beal: 2/18/2/9/0/2 – Beal is going to keep being awesome with John Wall out.
Tomas Satoransky: 1/17/4/8/2/0 – If Tomas can keep hitting threes and putting up five or more assists, then Czech-Mate.
Otto Porter: 3/15/8/2/2/0 – Porter's name sounds like a character on The Andy Griffith Show and that character would be a really good basketball player.
Kelly Oubre: 3/17/5/2/2/0 – I think Oubre should be owned in most leagues, especially while Wall is on the shelf.
Lebron James: 1/32/9/8/2/0 – Oh no, they lost! The trade is a bust! Lebron is going to L.A.! They won't make the playoffs! It's over!
J.R. Smith: 3/15/1/0/1/1 – Smith looked great prior to the All-Star break and kept it going last night. He needs to be owned.
Tristan Thompson: 0/12/9/2/0/1 – Had to mention him because he was the only other Cavs player to do anything.
Thunder over the Kings: 110 – 107
Russell Westbrook: 1/17/15/11/2/0 – Couldn't hit a shot, but still messed around, and the one three-pointer he made was the game winner. He will kill your field goal percentage, but is fun to own.
Paul George: 3/26/7/8/1/0 – George was great last night and carried the team for 38 minutes.
Carmelo Anthony: 7/23/4/1/0/0 – Carmelo has crossed over into the THRAGNOF! Zone
Steven Adams: 0/18/11/0/2/3 – Adams deserves some kind of award at the end of this season. He just keeps getting better every season and is a big reason why the Thunder will be really scary in the playoffs.
Zach Randolph: 4/29/12/2/0/0 – Randolph has really been impressive this season. It would be so fun to see him playing on a competitive team.
Buddy Hield: 3/19/10/4/1/0 – Hield has a chance to have a strong finish, but still only got 28 minutes.
Warriors over the Clippers: 134 – 127
Stephen Curry: 8/44/6/10/2/0 – A huge game from Curry in this defensive battle (sarcasm, the defense part, not the huge game part, it was a huge game, really huge). 8-of-11 from three, I mean, dang.
Kevin Durant: 2/24/3/8/0/2 – Outshined by Curry in this one, and the rebounds were a bit disappointing, but hard to complain.
Klay Thompson: 2/19/2/1/0/1 – 8-of-14 from the field. Super-efficient, but fantasy owners seeing the score were hoping for more…yeah boyeee!
Draymond Green: 1/14/8/6/2/1 – I didn't check because it's late, but this line looks almost like his season averages.
David West: 0/10/3/2/1/1 – I am putting West in the recap because even though he only played 15 minutes, he really affected this game and has quietly been the Warriors' fifth leading scorer.
Tobias Harris: 2/22/6/5/1/0 – Harris looks great in L.A. No worries for fantasy owners after the trade.
Lou Williams: 2/21/1/12/1/0 – Yes, Sweet Lou should have been an All-Star and so should have Nikola Jokic. It is time to get rid of conferences altogether.
DeAndre Jordan: 0/16/14/3/3/1 – Great slash from DJ and 6-of-6 from the line, wow.
Danilo Gallinari: 1/15/2/3/0/0 – IF Gallo can stay healthy then owners who held onto him will be rewarded. But that IF is bigger than Shaq's toe nail clipper.
Austin Rivers: 2/14/3/5/1/0 – Rivers should finish strong since Avery Bradley is going to sit out a lot and will be a shut-down candidate at some point. I dropped Bradley in my 14-team money league in case you were wondering how I feel.