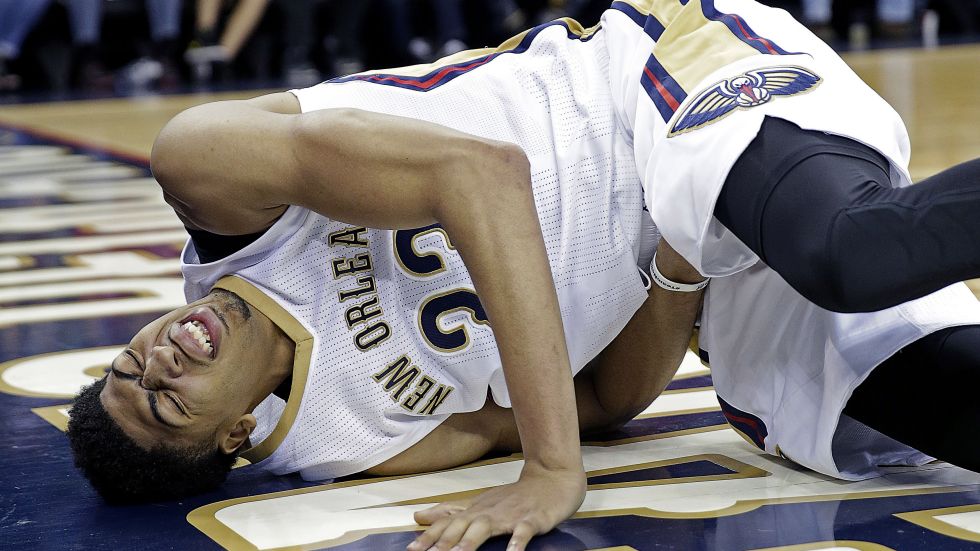 The injuries are starting to pile up and fantasy-relevant players are dropping left and right.
Here are the major injuries lingering around the NBA, some suggestions for which replacements to target, and whether you should Stash, Drop, Add, or use an I.R. spot (if your league allows it):
Anthony Davis – Knee – Day-to-Day – Stash, duh!
Well, that didn't take long. Anyone who drafted A.D. was probably hoping to make it through the first week, and you almost did. According to Master of Whispers Adrian Wojnarowski, A.D.'s knee has no structural damage. Right now he is considered day-to-day. Stay tuned.
Myles Turner – Neck/Head – Questionable for Sunday – Stash, duh!
Turner will miss his fourth game in a row after blowing up in his first and only game of the season. Turner took to the Twitter this week to say that he will be back soon, so I would put him as questionable for this Sunday's game against the Spurs. Domantas Sabonis is the pick-up here and he could maintain value throughout the season. Sabonis has proved to be a double-double machine.
Jimmy Butler – Illness – Day-to-Day – Stash, duh!
Butler will not play Wednesday against the Pistons, his second consecutive missed game. Butler is dealing with an upper respiratory infection and should be considered questionable for Friday's game as well. In related news, Snoop Dogg was spotted partying in Minneapolis a couple nights ago. Jamal Crawford was worth a pick-up before Butler got sick and now you should definitely check if he is still around in your league. Spoiler alert: he's not.
Elfrid Payton – Hamstring – Day-to-Day – Stash, duh!
Seems like Payton is getting closer (which means I have no idea when he will be ready). D.J. Augustin has been pretty good as a fill-in, so pick him up if you need short-term point guard help.
Dwayne Wade – Left Knee Contusion – Day-to-Day – Becoming hard to Stash
Wade is sitting out the second leg of a back-to-back Wednesday, and this could be the case all season. D-Wade's stats are crying out to be dropped in most leagues. There is a chance that he is just getting used to his new team, but there is also a chance that Anna Kournikova may finally respond to my letter inviting her to my Senior Prom. J.R. Smith is someone to watch on three-point needy teams. THRAGNOF!
Dennis Schroder – Ankle – Day-to-Day – Stash, duh!
Despite being expected to play on Thursday, Schroder is not travelling with the team, which will make playing difficult. He should be back for Friday's game against Denver. Malcolm Delaney is someone to keep an eye on.
D'Angelo Russell – Knee – Day-to-Day – Stash, duh!
"Come on ride it, my benchy." That is exactly what D'Angelo will be doing Wednesday night (probably), since he sprained his knee during Tuesday's game against the Magic. Caris LeVert should be owned in all leagues at this point and he should be in starting lineups Wednesday night if Russell does sit. Spencer Dinwiddie and Isaiah Whitehead should be on watch lists, with Dinwiddie being an Add in deeper leagues.
Marcus Smart – Ankle – Day-to-Day – Stash, duh!
Smart missed a second consecutive game on Tuesday and remains day-to-day with a sprained ankle. He should be considered questionable for Thursday. Terry Rozier should be owned in almost all leagues and he should get over 30 minutes again.
Kris Dunn – Finger – Day-to-Day – Add, maybe
Dunn is practicing in full and Coach Hoiberg said that there is a "50-50" chance that Dunn will play on Thursday against the Hawks. Nobody is really sure how the point guard battle will play out, but I believe that Dunn will take over the majority of minutes sooner rather than later, as he is more talented than both Jerian Grant and Kay Felder.
Lucas Noguiera – Ankle – Day-to-Day – Drop
Noguiera ("Bebe") will not play on Wednesday against the Warriors (I'd fake an injury too). Jonas Valanciunas is also out (which I will cover next), so Jakob Poeltl (not a typo, that's a T sandwiched by two L's) should get quite a few minutes and makes for a nice streaming option (I prefer Poeltl to Bebe in most leagues for rest of season). Serge Ibaka is in line for a ton of playing time as well since the Raptors will have to play small-ball against the Dubs (Pascal Siakam should also get some run). (By the way, this post officially contains the most parentheses in Razzball history)
Jonas Valanciunas – Ankle – Day-to-Day – Stash, duh!
JV should not be out too much longer and he is definitely worth stashing. I like Jakob Poeltl as an Add, especially if you need big-man stats.
Nicolas Batum – Elbow – Thanksgiving-ish – Stash, I guess
Still out until Thanksgiving. Jeremy Lamb is worth owning even with MKG back in action.
Derrick Rose – Ankle – Day-to-Day – Stash, I guess
Rose will miss Wednesday's game against the Nets, but he should return later in the week. If you messed up your draft and you are starting Rose, you may want to see if Caris LeVert, J.J. Barea, or Terry Rozier are available in your league.
Isaiah Thomas – Hip – Targeting January – Stash, duh!
Still out.
Seth Curry – Leg – Could be back October 30th – Stash, I guess
Curry is now questionable for October 30th. I would rather own J.J. Barea than Curry at this point. Curry broke out last season, but Barea was injured, so I have no idea if Curry will be a fantasy asset this season.
Chris Paul – Knee – Day-to-Day – Stash, duh!
It is looking like Paul will be out for at least a couple of weeks. The Rockets can win without him, so they will not be rushing him back. Harden will be the Harden of last season and Eric Gordon will be fun to own while Paul is out.
Trevor Ariza – Foot – Day-to-Day – Stash, duh!
Ariza had his foot examined and is now awaiting the results. While this is concerning, I doubt Ariza is as nervous as I was that last time I was "awaiting results." Ariza is now one of those frustrating fantasy players that is not hurt bad enough to drop, so you just have to stick with him and hope your bench players can step up. Luc Mbah a Moute will start with Ariza out, but P.J. Tucker will be the fantasy asset.
Milos Teodosic – Foot – Out Indefinitely – Hope you have an I.R. spot
This is a tough one. Teodosic was a favorite sleeper of mine, but now he has been diagnosed with the dreaded plantar fasciitis. The only thing that heals this injury is rest…prolonged rest….If you do not have an I.R. spot then stashing Teodosic will be difficult. Lou Williams will probably get the biggest bump as far as fantasy goes, but I would look elsewhere for a point guard replacement (Caris LeVert, J.J. Barea, Kris Dunn, Terry Rozier, etc.)
Hassan Whiteside – Knee – Day-to-Day – Stash, duh!
Whiteside will miss a third consecutive game Wednesday. There have been frighteningly few details about this injury, but for now I will list him as day-to-day (just like all of us are…teehee). The Heat do not play again until Saturday, so fingers-crossed he will be back then. Kelly Olynyk has been decent in his extra minutes, so, umm, maybe, uhh check him out.
Jabari Parker – Knee – Targeting February – Stash only if you have an I.R. spot
The last report on Parker is that he is "a little bit ahead of schedule" in his recovery from a torn ACL. Parker has been seen dunking and making basketball moves for the past month and Jason Kidd has said that Parker looks like "he could play tomorrow." Take this all with a grain of salt, however, since there has been no movement on the February return date.
Markelle Fultz – Shoulder – Out 3 Games – Stash, I guess
The Sixers finally did right by their top pick and will rest his embarrassingly injured shoulder (Google: Fultz Free Throws). It is surprising it took so long after seeing how cautious they have been with Joel Embiid and Ben Simmons. Jerryd Bayless will remain fantasy relevant and I would have a hard time even stashing Fultz if I owned him.
Kawhi Leonard – Quad – Out indefinitely – Stash, duh!
No word on when Leonard will be back or even if he is practicing. I feel like it won't be much longer, but I also feel like Adriana Lima would date me if she just got to know me. Danny Green and Dejounte Murray should be owned everywhere.
Rodney Hood – Calf – Day-to-Day – Stash, duh!
Hood is questionable for Wednesday's game against the Suns. He is really close to being back and Donovan Mitchell did nothing with his extra minutes. I still like Hood as break-out candidate this season.