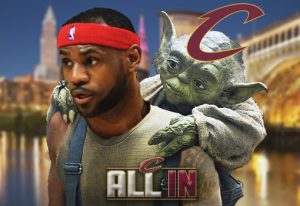 The Chosen One showed up last night in Washington to restore balance to The Force (The NBA). LeBron is still awaiting the return of his Padawan, Isaiah Thomas, and he made the Wizards look like Younglings in that scene where Anakin massacres all the Younglings. Yeah, I watched some Episode III earlier in the week…Anyway, last night I caught a bit of the NBA action and this is what I saw:
Want the best tools and projections to help dominate your league? Check out the Stocktonator, the byproduct of Rudy and machine making love. Click HERE for a FREE 7-day trial.
LeBron James – 57-11-7-3-2-3. LeBron single-handedly winning you your week. LeBron being the best fantasy player of the week? What the H? This is completely out of left-field to mix sports analogies, but it turns out this guy is pretty decent. Stocktonator pretty much always loves him, but check it out for some streaming options; it could really help win you your week.
Jae Crowder – 17 points and a nice line. Looks to be coming around and played 34 minutes, most importantly. Nothing you can do, but hold onto him and hope the best is yet to come.
Bradley Beal – The Beal Deal had 36 points and a highly efficient night.
John Wall – Got 15 assists, and that will help you win your week. Livin' off the Wall!
Kelly Oubre Jr. – 21-6-2-1-0-3. Another solid line for Kelly as he continues to put up numbers sanz-Morris.
Eric Gordon – EG was Extra Greasy tonight with four swipes to go along with 20 points, five assists, and three 3's, and was very efficient on the night minus the four TO's.
Trevor Ariza – After a slow start and missing two games due to a minor injury, Ariza looks to be back on track going 12-7-4-1-1-1 with two 3's on 5-for-11 shooting.
James Harden – Double-doubled with 29 points, 11 dimes, and six 3's. Uncharacteristic 7-of-10 from the stripe, but made up for it by only turning it over twice. Just Harden being Harden. Moving on…
Luc Richard Mbah a Moute – 20 points and one block away from a rainbow line. A very minimal rainbow line, but if you own him you're not complaining. LR MaM staying relevant through week 3! What a season this is going to be!
John Collins – Have yourself a Tom Collins young man! [checks birthday]…Have yourself a Tom Collins in a year from September! 8-12-1-2-4-3 is a line worth celebrating with a stiff Shirley Temple.
Marco Bellinelli – More like Been-a-Smelly amirite? Cooled off a lot in the last two games, and had zero points tonight. Might be time to move on from the Italian Stallion. More like the Italian Scallion, because I'm going to cry when I cut you. This is definitely a Blurb of the Year nominee.
Andre Drummond – 24 and 15, but amazingly, hit 14-of-16 FTs, which I have to assume is his best career game from the line. Andre must have taken the Limitless pill tonight or at least some Adderall. Pistons beat the Bucks and most of the Bucks players had average lines besides Malcolm Brogdon, who had 21 points and 10 assists.
Lauri Markkanen – 13 and 9 with three 3's on 50% shooting. Looking like a solid add if he's still available. (Even if he has a girls name). The Bulls really spread around their minutes, with Nwaba going 35 mins for 16 points, Justin Holiday getting 19 in 29 minutes, and Dunn getting 11 in 24 minutes. All of these guys are spec. adds at this point and it's mostly a crapshoot in Chi-Town.
Evan Fournier – Stayed hot with 21-5-3-1-0-3 on 9-of 17 shooting. Plus/minus of minus 17, but he's good for fantasy so who cares? C'est la Vie.
Bojan Bogdanovic – The Pride of Mostar, Bosnia and Herzegovina! (Really rolls off the tongue). Stayed hot and dropped 21, but the Pacers lost to the Sixers.
Myles Turner – Returned from injury and…came off the bench? Hmm…Ok Pacers bold strategy, let's see how it plays out. Went 11-9-0-1-3-1 with one 3-pointer, but shot 4-for-14. Still good to see him back out there after suffering a concussion a few weeks ago.
Robert Covington – 22-6-2-0-1-2 with five 3's and shot 8-for-13. RoCo is hot like Cocoa right now. Absolutely killing it to start the year, and hopefully he can stay like this consistently. Full disclosure: he's one of my favorite players.
J.J. Redick – Hit eight 3's and scored 31 points and definitely finished some assists for…
Ben Simmons – Trip-dub alert! 14-11-11-2-3-5 for the Man from the Land Down Under! Have yourself a Vegemite sandwich young man!
Tyson Chandler – Pretty standard 15 and 10 line with zero else, but just wanted to shout him out for getting a wide open dunk with one second left in the game when his team was down by 15. Doing it for his fantasy owners! (Me).
Devin Booker – Dropped a very efficient 34 on 10-of-19 FGs and 12-for-12 at the line. Nice to see some improvement from the young 'un and he's rewarding his owners.
Kristaps Porzingis – 37-7-0-1-3-2. Looks like Melo leaving NY was the best thing to ever happen to KP. Who could have seen that coming? "Hopefully, you drafted Porzingis ya dingus!" -Dr. Steve Brule Any "Check it Out!" fans out there?
Tim Hardaway Jr. – The 71 Million Dollar Man had 21 points with three 3's. There was a lot of talk about his contract before the season started, but it's actually more difficult than you'd think to lure free agents to New York.
NEWSFLASH: Anthony Davis and DeMarcus Cousins propel Pels to victory over Mavs! As if it would be anyone else…Okay, Jrue Holiday helped a little too.
DeMarcus Cousins – 20-22-7-1-0-4. Goromatoro, I believe it's called? Miss you JB. AD also had 30.
Dennis Smith Jr. – 16-3-4-0-0-4 with two 3's, and shot 7-for-20 from the field and luckily, didn't shoot any free throws. Patience will be key for his owners…is what I keep telling myself. Mavs are 1-9.
Bryn Forbes – 22-3-2-1-0-0 with three 3's and shot 8-of-11 from the field. Definitely upped his net worth with this one. Yeah I got skills. What are you going to do about it?
Patty Mills – 17 points with four 3's and not too much else. This is your General Mills on a good night. Could have went a lot of ways with that one, but I went with the cereal reference. Maybe I'll do Run of the Mills next time. Cliffhanger!
Rudy Gay – Had 20 off the bench and will at least stay relevant until Kawhi returns, and perhaps after. The wait-and-see approach should be employed here. Spurs got the win tonight, but are still just 5-4 on the year. Kind of surprising even without Kawhi.
Jeremey Lamb – 27-9-6-2-0-0 on 10-of-15 from the field and 3-for-3 from 3-point land. This Lamb loves the field. It's only natural!
Dwayne Bacon -18-7-1-1-0-1. He seems to be getting minutes and might be worth monitoring, but upon further review, probably not.
Rest of the Hornets- Kemba Walker was quiet with only 13, Dwight Howard had 20 and 13, and murdered your FTs as per usual.
Goran Dragic – 23 points and a pretty full stat line. Heat just missed the W in this one, but you can't blame Dragic for this one. The rest of the Heat apparently didn't show up. It tends to get cold in Denver in November so it makes sense.
Paul Millsap – 27-9-5-2-1-4. Hopefully you bought-low! It usually takes guys a few games to find their grooves with a new team. Take that nugget (no pun intended) and do with it what you will.
DeMar DeRozan – 37 points DeRozan Unfrozen! I'm the first one to say that right?
Kyle Lowry – 15-4-10-1-0-4. Nice dimebag for Lowry and he didn't even have to be sketchy about it. Weed is legal in Toronto! Oh, they were in Utah? Keep that on the DL! Okay, you can read into the Canadian by-laws on marijuana if you want, I'm not really sure.
Utah Jazz- Were pretty boring in this one, but Donovan Mitchell had 25-3-0-2-2-0 and you should definitely pick him up immediately and regret not picking him up yesterday if you didn't.
Boston Celtics- Pretty standard lines for most of the Celts as they handled the Thunder 101-94. Jaylen Brown had a 10 and 12 double-double, and Al Horford had a nice 20 point game, and Kyrie Irving had 25, but nothing else too noteworthy on the Boston side.
OKC-My surprise letdown team of the year. How do ya like playing with Melo, Russ? Sorry, jaded New York sports fan here. I'm not saying the guy's a cancer to teams, but he's also proven over the last couple of seasons that he's not necessarily all about winning, despite always saying the right things. If you're a Knicks fan, you know what I'm talking about. 10 points are not gonna cut it against Boston.
And now for the game we all really cared about last night: Nets vs. Lakers!
Rondae Hollis-Jefferson – 21-5-4-2-0-2 and shot 60% from the field and 9-for-11 from the line. Most Improved Player candidate? He's got my nomination so far.
Allen Crabbe – 25 points off the bench with four 3's. This Crabbe was hot! Where's the Old Bay?
Kyle Kuzma – 21-13-1-1-0-1 on 8-of-11 shooting and a perfect 4-for-4 from the line. Kuzma Daddy! Patent Pending.
Brook Lopez – 34-10-2-0-3-3 with six 3's. BroLo went YOLO last night. Millennials, you know what I'm talking about!
Lonzo Ball – Shot 3-for-15 need I say more? Blue Ball! There I said more.
If there's anyone I forgot to mention, please tell me how terrible I am in the comment section. I love the abuse. Also, leave any questions as always.