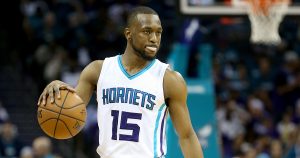 Oh yes. Kemba was top shelf last night. 5-47-6-5-0-0-1. Took a lot of shots, no pun intended. 27 was the final tally, but he was hitting them (17 FGM). Kemba has been just a tiny bit of a letdown to start the year, but this game puts him right back on track. It wasn't enough to beat the powerhouse Chicago Bulls though, as they fell 123-120 and dropped to 5-9 on the season. Man, the East is not good…The Knicks might make the playoffs! There were a lot of games last night, so I'll try to touch on the most important/interesting stat lines. Anywho, here's what went down on Friday in the NBA:
Want the best tools and projections to help dominate your league? Check out the Stocktonator, the byproduct of Rudy and machine making love. Click HERE for a FREE 7-day trial.
Cody Zeller had two blocks and has now recorded a block in nine straight games. Zeller is not stellar, but he can get you blocks… feller? Not awkward.
Justin Holiday – 4-27-3-0-3-1-2 on 10-of-15 FGs. Apparently, the Running of the Bulls took place in Chicago last night. The Bulls actually played well and there were a lot of good lines from them in this game.
Bobby Portis – Only 10 points in 17 minutes. I told a commenter last week that he would probably cool down. This week, I'm saying, told you so! Still a hold, but I have little faith he'll be much more than a top 140 player.
Kris Dunn – 2-22-5-7-3-0-1 on 10-of-16 FGs. Wow. The Bulls are that team that has a lot of low-end fantasy options. You can stream just about any of their players if they are available.
Jimmy Butler – 3-21-8-4-2-0-1 in 37 minutes. The Butler did it! Killed the Mavs, in Dallas, with the basketball. He might finally be starting to come around. The scoring won't be like last year, but if he can get lines like this I think you'd take it at this point. Not worth the second round pick you likely spent on him, though.
Jeff Teague – 3-15-4-10-0-0-3. Decent dime bag line. We'll call it middies. Would have liked some D stats, but can't complain with a double-double with assists. His APG are just about tied to his career-high, and that should stay consistent on a team with so many options.
Dennis Smith Jr. – Ugh… 8-5-4-1-0-3 and 0-for-4 from deep. The volatile rookie had an off night, but did hit 2-of-2 FTs. Pretty much the only positive to take away from this one for Smith, as the Mavs got squashed in the 2nd half by the Wolves. He needs to follow Schroder's Dennis System!
Ish Smith – 1-15-2-2-0-0-1 on 5-of-10 shooting. Nice line in just 20 minutes. He might be one of the few guys that isn't getting minutes, but is still putting up decent lines. Double-digit points in eight of his last nine, is streamable at least. Down since day one Ish! Uso Brothers fans? Anyone else excited for Survivor Series? Ahh, probably the just me.
Luke Kennard – Had 13 points and three 3's. Not really sure who he is, but got 24 minutes and might be worth noticing.
Victor Oladipo – 5-21-15-4-1-1-4. Wow. Victor von Dunkenstein is having his best season by far. Averaging 23 PPG. Major kudos if you drafted him. He's ALIVE!!!! Indy is 8-8 by the way. A lot of people left them for dead once PG left.
Hassan Whiteside – 22-16-1-0-2-2. Nice line for the big man as the Heat upset the Wizards. Pretty standard though TBH.
John Wall – 2-8-8-3-0-0-3 on 3-for-12 shooting. A lot of bricks in this Wall tonight. You think this is gonna be the last Pink Floyd reference? Well, I'm a huge fan. So brush up on your discography!
Derrick Favors – 15-7-1-0-1-3. Another decent line in Gobert's absence. He'll probably continue to be ownable for the next four-to-six weeks. Do yourself a favor and pick him up if he was dropped. I regret that last sentence, but stand by the advice.
Joe Ingles – 5-15-4-4-0-1-3. J. Ingles jangled another nice line, and has been a nice sleeper pick if you had the foresight.
Raul Neto – 3-22-3-1-1-1-1. Rubio was out, but still impressive. The Brazilian waxed the Nets last night, Psyche! Brooklyn still got the Win! Yes I'm a Nets fan. What of it?
Spencer Dinwiddie – Was straight BALLIN' last night! 6-25-5-8-2-0-0. D'Angelo Russell is going to be out for an undisclosed amount of time after undergoing arthroscopic knee surgery on Friday. So you-know-who should be the benefactor. Expect Spencer's Gifts (assists) to keep on giving. All of the Nets should see an uptick until Russell returns. There will be a lot more shot attempts to go around.
Blake Griffin – 2-23-12-5-2-1-1 on 8-of-25 FGs… I am not a huge fan of his fantasy game, and I have to agree with Shaq; He's got to be more of a big man. Play some bully-ball. 2-of-8 from downtown? Just give it up man…I guess enjoy the money, going nowhere with the Clippers. Why am I so harsh on this guy?
DeAndre Jordan – 20-22-1-1-3-4 on 10-of-12 shooting and only 0-of-2 FTs. The OT helped his line, but can't discredit this monster game.
Sindarius Thornwell – 3-13-1-2-0-1-1. Started and got 31 minutes and might be worth monitoring, and might be a Mortal Kombat character.
Wesley Johnson – Also started and went 3-15-7-4-3-4-0. If you played him in Fanduel, congrats. He's been around long enough to know, this is probably nothing to monitor except in deeper leagues.
LeBron James – He's good. 4-39-14-6-1-0-6. He's who Blake wishes he could be.
Dwyane Wade – 23-11-5-1-2-2 in 37 minutes. Again, OT fueled stat line, but he's been better in the last two weeks, and if he was dropped in 12-ers, he wouldn't be the worst add.
Kristaps Porzingis – 2-13-4-0-0-4-3. Didn't have the zing. That line was as bad as his game last night. That's what you get. Sorry, Kristaps. You put up a better effort, I'll do the same. Actually, four blocks is pretty nice, but it wasn't enough to beat the Raptors. No Knick had the knack tonight- Walt "Clyde" Frazier
Kyle Lowry – 5-22-8-10-0-0-2. In actually only his second 20+point game of the season, but second in a row as the Raptors took the Knicks down a peg. Buy-low window closing…
Russell Westbrook – 15-9-9-0-0-2. Near trip-dub, but his numbers are down since last year and had a terrible final shot attempt. PG and Carmelo had about their averages, but it wasn't enough to beat the Spurs' Big Three of LaMarcus Aldridge, Pau Gasol, and Danny Green! Either Pop is a genius or OKC has the worst combination of stars since "New Year's Eve."
Damian Lillard – Scored 29, but none of the other Blazers could get it going. Yes, they lost to the Kings. Yes, they take a long, hard, look at themselves in the mirror. They only put up 82!
Willie Cauley-Stein – 22-10-2-1-1-1. Nice line for WCS. This is what some we expected based on the end of last season.
Anthony Davis – 17-5-2-1-0-0 and left with a concussion after 21 minutes. He seems to be an injury-magnet, but he should be good to go in a few games. As soon as he went out, the game got completely out of hand for the Pelicans.
Interesting to note, Jrue Holiday and Rajon Rondo had almost identical lines as they both started. Also interesting to note, Pels lost by 32…
Jamal Murray – 3-31-2-4-0-0-0 on 13-of-18 shooting. Just missed his career-high, but looks to be trending up.
Gary Harris – 4-22-3-5-0-0-1. Mr. Efficiency returned from missing two games, and continued to build on what should be a career year. One of my favorite fantasy guys, and I love the Nuggs for fantasy purposes, and also for basketball.
Emmanuel Mudiay – 3-19-2-6-1-0-1. He's been on and off, but is probably worth owning in 12ers for points, assists, and 3's.
Greg Monroe – Thank God I added him after his big game last night! 6-1-1-1-0-2 in 16 minutes of "action." Similar to the Monroe Doctrine, I don't know what to make of him. The situation is fluid. Maybe he gets traded or waived, but I'm starting to think he might not be worth the time.
Devin Booker – 6-33-3-4-0-0-4 as the Suns actually bounced back from getting absolutely manhandled by the Rockets on Thursday, and beat the Lakers.
Alex Len – 17-18-2-0-2-1 in 27 minutes. For those of us who stashed him, he might finally be paying off. The Len Master stands to have some long-term value if one or both of Monroe and Tyson Chandler gets moved.
Tyler Ulis – 2-15-3-7-1-0-3 in 29 minutes. He looks like he's grabbing the starting job from Mike James. Hopefully, you were more patient than me and didn't drop him after three games.
Brook Lopez – 2-19-10-3-0-4-1. The Babbling Brook had one of his nicer lines on the year, but it wasn't enough to get the Lakers a win. His minutes are down from last year and he's shaved off about five points per game, but everything else is pretty much the same. I don't know if that's reassuring or not, but this is free advice so you can take it or leave it… Oh please don't leave!
Lonzo Ball – 6-6-6-5-1-3 with 0-of-2 FT shooting. His defensive stats are all there, but he straight up cannot shoot. Until he improves his percentages, it's Blue Ball(s)! He did shave his head for the game. Not gonna go there…
Kyle Kuzma – 2-30-10-1-0-0-3. Kuzma Daddy! A new career-high. I wanna be Kyle!