Save your horse, and ride a…  Justin Hamilton?! As we coined on the Podcast, the coach of the Nets has officially changed his name.  It's even on his newly issued Birth Certificate!  It's no longer Kenny Atkinson.  While Brooks wears his giant cowboy hat, Kenny literally wears his ass on his head.  He is forever more: Kenny Asshat.  I'd love to make that my Halloween costume!
After that shockingly low-run debut, Brook Lopez persevered in game two with a 25/5/1/1/0 line in only 26 minutes on Friday night.  Maybe the most surprising aspect of that game was the Nets actually won an NBA game!  Then on Saturday afternoon, we get word Brolo is going to get a healthy DNP-rest.  Mother F Asshat!  Because of course after 2+ healthy seasons including playing 33+ MPG last year, Brook is an injury risk.  This is a ticking time bomb in Brooklyn…  Asshat wants to chuck as many 3s as possible; through Saturday night's game, Brooklyn's 37.3 3PA were second in the NBA, only to the Mavericks who had an OT game then played Houston.  42% of their shots are treys, which leads the league thus far (small sample of course).  Even in that "good" game from Brolo Friday night, he shot 0-4 from deep, giving him 6 3PTA this season.  His career high 3PTA?!  14 last year for 0.2 a game.  3.0 thus far in 16-17.  A big part of his value has been game-to-game reliability and FG%, and now we're not going to get either.  Asshat really wants to pound Brook's square peg in a round hole, and we all know Asshat has a big round hole!  What a mess this team is.  It's almost as bad as NBA's App and trying to stream games last night!  Hopefully you don't have too many shares of Brolo, and if you do, you're really forced to hold as best you can.  No one is giving you anything for him…  But at least it opens some opportunities, with Hamilton now a streamer even in 12ers, and you know the rest of your Nets are all going to have ThrAGNOF streamability.  Asshat playing his team like Duke.  Shooting nothing but 3s…  So annoying!   No UNC bias there…  I don't think Asshat got the memo that the NBA perimeter is further out…  Smh.  Here's what else went down over the weekend in Fantasy Basketball action:
Kris Dunn – Speaking of Brooks & Dunn, the other big name from the weekend is the value of Kris Dunn with Ricky Rubio hurting his elbow Friday night.  As of this writing, Rubio is likely headed for an MRI.  Thankfully he's not a pitcher!  Maybe an elbow injury will impact his shot though…  Hah!  Nowhere for poor Ricky's shot to go than up!  Dunn only got to 4/1/4 against the Kings in 20 minutes (Ricky played most of the game before exiting), but showed why he's gonna be rough to own if he gets a string of starts – 1-4 FT.  But he fits a FT punt right nice!
DeMar DeRozan – Back-to-back huge games from the empty scorer, but nothing empty about this crunch time dunk!
32/7/2/2/0 Friday night, but the Raptors score still ended up South on the scoreboard to their Cleveland nemeses.  
Elfrid Payton – Not a huge weekend, but he's making some major strides.  15/5/6/1/0 against the Pistons on Friday night, and just looked more aggressive as a scorer than I have ever seen, taking it strong to the rack, floating some runners…  Added a trey in that one too.  Only 10/4/5 against the Cavs, but no TO.  The numbers don't jump off the page, but I'm impressed so far and would try to buy.

Bismack Biyombo – 5 Pts, 2 Blk, 1-4 FT (combined) in his first two games.  "Killing fantasy teams is my Bizness and Bizness is good!"
Kentavious Caldwell-Pope – Even in some drug-fueled lows – like waking up eating a dead pigeon in a dumpster – the addiction can get so sweeeeet again!  After a dreadful start, 21/6/2/2/0 with no TO last night, hitting 2 treys and 5-5 FT.  It'll be hit or miss since he's a shooter, but luckily he ended week 1 on a high note.
Beno Udrih – His bleached rat tail is awful.
John Henson – The weekend's most unlikely buzzer-beating game winner.  Look at this sick iso play! Get out of the way Allen Iverson, we have a new clutch, buzzer-beating scorer on the block!
So many layers to this weirdness!  Henson is pretty much the third string center!  7/12/3/2/2 in 21 minutes Saturday night, giving deep leaguers (cough, REL bias) a nice game.  Still tough to trust though, especially after 12 minutes with 5 fouls and blehhhh last night.

Rashad Vaughn – Showed a spark scoring 22 on Saturday against the Brooklyn Mess, but back down to 5 Pts yesterday.  His stats are going to be a Wild Thing this year!
Matthew Dellavedova – Torched the Mess for 14/3/9/3/0 with only 1 TO Saturday, but 10/2/5 is all you got last night, thankfully with 2 treys though.  He'll give some nice [down]under-the-radar stats as a roster filler.
Jeremy Lin – Well, at least someone is surviving the reign of Asshat's terror.  21/9/9/0/1 on Friday night beating the Pacers, then 12/3/10/3/0 in that loss to the Bucks.  Back-to-back 32+ minutes as well.  The only player Asshat isn't Linsane about is Linsanity!
Sean Kilpatrick – Off to a really great start for being well off most's radars, going 15.3/3.0/1.7/0.7/0.3 in 24 MPG through the first 3 games, including 2.0 treys per.  Of course a lot of this value has come at the expense of Rondae Hollis-Jefferson, with RHJ fans calling Asshat much worse names…  RHJ can go in 12ers.  And I'm actually streaming Kilpatrick a few places tonight, mostly because it's a pretty solid Halloween name.  ThrAGNOF!

Trevor Booker – Steadily getting better through the first 3 games, topped off with a 14/14/1/1/2 line Saturday night with 6-6 FT.  Even though he's clearly their best PF option, he's at 27 MPG.  #Asshat.
Myles Turner – Alright, enough Nets talk!  Let's talk about good teams!  Oh wait…  Hah, well at least Turner had a good game in that Nets loss while the rest of the Pacers were pretty poopy, going 13/11 with 3 blocks.  Then 20/4/2/0/3 Saturday night in only 22 minutes as the Bulls were blowing them out on a back-to-back.  Pretty remarkable he can put up that kind of line in such low run…
Thaddeus Young – Had a good game against Brooklyn (19/8/3/1/1), but has otherwise been pretty bleh.  I would still look to sell high here.
Michael Kidd-Gilchrist – I'm still holding strong with this add, even though he laid a turdburger his last start (7/4/0/1/0).  Had 4 blocks on Friday though, despite not replicating what he did in game one…
Roy Hibbert – Well that didn't last long!  After 32 minutes and 5 blocks in the opener, leaves after 4:29 with his knee flaring up Friday night and he missed Saturday.  Parks & Rec cameos really wore him out!
Jeremy Lamb – Also added to the Hornets injury triage, with a hammy strain Saturday and it didn't look too pleasant.  Should give Marco Belinelli a little extra run these next few games if you wanna get a little ThrAGNOF on.
Russell Westbrook – Did we expect much less?  33/12/16 last night after 51/13/10 in that OT thriller win against the Suns.  The Thundah are 3-0, but with tough wins against Philly and Phoenix.  I hate to see Westbrook get possessed after losing a few games…
Victor Oladipo – 20/1/4/1/0 on 7-20 shooting.  Feeling pretty good about not getting too crazy on this one.
Steven Adams – Had an awful game against that menacing Tyson Chandler defense on Friday (9/10/0/1/0 with 6 TO), but rainbowed it up last night for 13/9/12/2/3.  Ok/good game against Philly, awful against Phoenix, great against Lakers…  Notice a trend with those matchups though?!  I know I'm kinda poking the bear, but I still kinda feel like this might be a sell high, although I know owners who drafted him where he likely went are hitting on the value they expected, so I don't know if he's really a sell high.  In a 12 team league of JB's, he'd be a sell high.
Harrison Barnes – Dropped 31 on the Rockets in a losing effort Friday, but towards the end of the 3rd was back down to only 6 in the rematch last night.  Grandpa JB was getting ready for bed at the time of this blurb.  As was Barnes in this game.  All this talent that just sorta waffles here and there, game to game…
Dirk Nowitzki – Friggin' old people.  Slim is about to convert me to his ageist ways.
D'Angelo Russell – Slim and I had about the worst 30-pt challenge on Friday, with Dirk going DNP and Russell shooting 3-14 and only scoring 9.  Luckily D Barksdale bounced back for 20/5/5/2/0 with 4 treys to keep him a long distance from being dropped on your Wire.
Luol Deng – After a horrific opener, had a nice Friday dubdub, then fell right back into the Sarlac pit for 0/2/3/1/1 yesterday.  That's like a Bogut line!  Yuck.
Joe Johnson – Iso Joe, more like Dieso Joe!  He was always a streamer for me anyway, but at least I got a little value squeezed out of his old man value…  7/1/3/2/0 last night with no TO and a trey isn't the end of the world.
Derrick Favors – Was solid in his debut Friday night for 15/9/1/2/2 in 20 minutes against the Lakers, but only 5/11/0/1/0 yesterday against the superior LA team.  The Jazz as a whole put up only 75 in that one, so it's not like he was the weakest link…
Anthony Davis – Ridiculous.  Although at 13.0 FTA per game now, I'm not loving the pounding he's taking.  45/17/3/2/2 against the Dubs, but then fell back down to Earth against the Spurs, as you would assume (18/5/0/0/3)…
Tim Frazier – Monster against the Dubs as the Pelicans really gave them a strong showing Friday (21/6/10), but then 5/4/7 against the tough Spurs.  "San Antonio isn't even a real city, Niles!"
Lance Stephenson – After getting some buzz going 15/8/6 against the Warriors, fell back to his old ways and went only 1-4 FG 2/0/4/0/0 against the Spurs.  More of this please, Lance!  Puhhh-leaze!
Kevin Durant – Not taking a backseat to anyone!  37/4/4/4/1 in a gritty win against the Suns yesterday, hitting 10-16 FG and 15-16 FT.
Stephen Curry – 28/1/3 is pretty annoying, but another 5 treys shooting over 50% (9-17).  Only 1 TO too.  Hard to believe the Suns actually kept up with the Western All-Stars in this one!
T.J. Warren – Um, whoa.  All the talk was on the PG rotations, how Devin Booker would fare in his encore season…  But this suddenly looks like TJ's team!  26/6/1/1/1 with no TO yesterday, hitting 2 treys, and that was following up on a 30/9/1/3/0 line at OKC on Friday.  Obviously a must own in any format.  This was tough to see coming, as he was only cleared to return to the court in mid-September off foot surgery.  A guy with low D stats and not much of a perimeter game in college, this has really been an unexpected flourishing.  Hopefully you got him where you could!
Joel EMBIIIIIIIID – Only gets 16 minutes, but still amasses a 14/2/1/1/2 line against the Hawks on Saturday.  Just proves that even in under 20 minutes, Embiid can give you a long line of love!
Avery Bradley – Torched the Hornets for 31/11/4/1/0 Saturday, knocking down an absurd 8 treys.  Hit 11-19 FG overall.  And you miss a FT this red hot?!  1-2 FT in that one.  All that and only 1 TO.  Man the Celtics look pretty dangerous.
Al Horford – It's not popping off the page, but his stats are still mad respectable.  12/5.3/4.7/0.3/2.3 through his first 3 games in green, hitting 0.7 treys and shooting 55.6% with only 1.3 TO.  Only the low boards are a tangent from what we'd expect from Big Al.  If anyone was drafting him looking for a Myles Turnerian-esque start, you might be able to buy low.
Marc Gasol – 3-10 from the field when I went to bed last night, shooting 5-15 Saturday as well.  Taken 10 treys already this season, up until the 4th quarter last night.  Yeah, he might be pulling an Ibaka and dropping that FG% to 45ish% with how they're using him on pop out jumpers.  At least he played on the first back-to-back of the season!
Joakim Noah – Maybe they're not the Poppycockers after all!  6/10/7/0/1 for the former Goromotaro, but did sink you with 2-6 FT and 4 TO.  You have to build around those drawbacks if you wanna deploy him every start in a 12er.
Courtney Lee – Also had a nice bounce back from the awful opener, going 16/3/1/1/0 with no TO in 34 minutes in a revenge win against the Grizz, knocking down 2 treys.  ThrAGNOF!
Doug McDermott – Speaking of ThrAGNOF, we can't leave out McBuckets!  But just to be clear, the "Buckets" in "McBuckets" is Yiddish for "ThrAGNOF".  23/4/3/1/1 against the Pacers in that blowout win, hitting 5-6 from deep.  If only you could predict blowouts!  Although the Pacers do play faster…  He could be worth a ThrAGNOF stream against the quicker-paced squads.
Non-Kawhi Spurs – President Snow effect!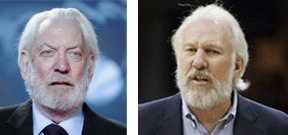 LaMarcus Aldridge gets a DNP rest, because, ya know, standing around and watching Kawhi dominate is exhausting!  At least in that DNP game last night, Pau Gasol showed a pulse, going 20/11/3/0/2 with no TO yesterday.
Hassan Whiteside – Monster 27/15/1/1/4 yesterday, but did have a little bit of a cramping issue at the end.  Should've drank more cranberry juice.  This joke brought to you by Donald Trump after watching The Departed!
The Epic Nikola Jokic vs. Jusuf Nurkic Debate! – Round 2 goes to JB!  My biggest qualm with the Jamba Jus was the pure run, getting only 22:32 in a 2-point OT loss to the Blazers.  Eesh.  12/9/1/0/1 is still mad usable,  but Malone is the mad king here!  Then Jokic gets 34 minutes and goes ham for 23/17/2/4/1.  Hurray for JB!  The big annoyance is Kenneth Faried playing another 30 minutes, and goes rainbow with it!  7/9/2/2/2.  Speaking of rainbow, you know I love those throwbacks, the Nugs looked so sexy Saturday night!
C.J. McCollum – CJFC!  23/10/3/3/3 for a 1.5 rainbow against the rainbow-glad Denverians!  10-25 from the field with 2 treys in 41 saucy, OT-laiden minutes.
Andrew Wiggins – God I hate Andrew Wiggins.  29/1/0/0/1 in 37 minutes.  One mother flippin' rebound.  Doug Collins shout out!  Haven't used that one in a while…
Matt Barnes – After I ragged on his man bun, decided to pick it up!  12/5/9/1/1 in the W against the anemic-Wigginses, with 3 treys.  Of course the dimes are fluky, but treys and D stats I think can happen, but I indeed may have ranked him overzealously a round or two ahead of the streaming class.  That said, as [email protected] let us know in the 7 Ahead, Kings have 5 games this week.  Strong streamer if you have room!  And since I own him in the REL, I need him fired up.  YOUR MAN BUN MAKES YOU LOOK LIKE A DOUCHE, MATTY B!
I hope everyone out there in Razzball Nation had a strong first weekend of the regular season!  We're pumped for our first full week here at the Razzball Basketball Office!