Even Tom Brady would agree it's time to do some hot Yogi!
Since getting to the Mavs on a 10-day deal, all Yogi Ferrell has done is play 37:29 MPG (which would be 3rd highest in the NBA) and lead Dallas to 4-straight wins.  Break up the red hot Cubans!  And the Mavericks were straight dealing in Portland Friday night – especially early – hitting their first 7 shots and building a big lead, which was just enough to hold Portland off.  No one was hotter than Hot Yogi either!  I think we have a new nickname!  Shot an absurd 11-17 FG, including tying a rookie record (!!!!!) 9-11 3PTM, for a 32/2/5 line.
I do have to wonder on that huge last one though, what in the world is Al-Farouq Aminu doing?!  He just stands there deer-in-the-headlights as the dude who hit 8 treys in the game has the ball wide open, and just lets him take the open shot!  God, I hate Aminu, he's always a craw in my fantasy side!  Or something like that…  Anyway, you're of course adding Ferrell where you can if he's somehow survived on your wire over the weekend, but let's not expect the second coming of Steph Curry or anything.  They already have a Curry on this team!  Side note – anyone see Seth Curry's awful muttonchops this game?!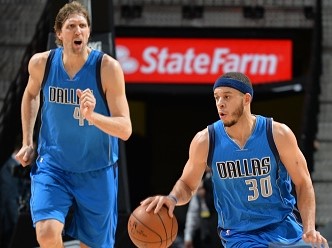 Even Dirk Nowitzki is like, "Ewwwwwww!  You look like the Fall Out Boy singer!"
After the game, news broke that he's going to sign a 2-year before his first 10-day expires (I'm not sure how much is guaranteed, but still is cool to see him get paid!).  Time to crack open the scotch and smoke a fatty!  And by fatty, I mean a Cuban!  Wait, not Marc Cuban, ahhhh!  While it's a fun story for Hot Yogi, in 18 D-League games he averaged only 2.7 treys, and he only hit 8 treys in 10 games for Brooklyn.  Sure, he wasn't getting this kind of run, but he had an opportunity on a worse team and didn't find the trigger like this…  So enjoy this ride while it lasts if you nabbed him, but beware minutes crunches – when you hear Deron Williams' knee crunches – as he limps his way back onto the court.  Until then, Hot Yogi!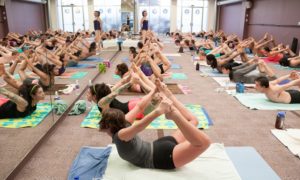 Here's what else went down over the weekend in Fantasy Basketball action:
Fred VanVleet – Say whaaaa?  My weekend daily notes start with a Yogi Ferrell lead, then Fred VanVleet?!  15/3/3 on Friday then actually was OK again yesterday afternoon for 10/3/4.  Apparently Cory Joseph has lost has lost his Cojo mojo, according to Dwane Casey, but I don't think Cojo gets DNPs for much longer like he did this weekend.
Norman Powell – Another pair of starts, going 18/2/1 and 10/6/3 sans-DeMar DeRozan.  I streamed Powell where I could and since DeRozan's kankle was a aggravation, I think I might be able to keep the party going, Powell!
Kyle Lowry – Tripdub alert!  15/11/11 as surprisingly the Mess kept it close yesterday, but they're the Mess…
Zach LaVine – Well, this probably should've been the lead, but with Super Bowl Sunday taking up my usual writing time, things got a little scattered.  Left Friday with a "knee contusion", then after an MRI Saturday, the fantasy world got a nice kick to the nards learning he tore his ACL.  This injury timeline is like saying in Inglorious Basterds that Hitler died from a single gunshot to the chest from a BB gun…  One of the worst parts of this is that LaVine said he was skipping the dunk contest to rest up – who knows if his knee woulda held up to this hit after that break from the wear-and-tear…  Anyway, no rush at all to add Brandon Rush, who is your new prototypical, deep-league ThrAGNOF.  He'll likely be your starter, and in 24 minutes on Saturday, 5/3/0/0/0 with one trey.  Snore.
Evan Fournier – Had a big bounce back Friday against the Craptors for 20/10/4 on Friday, but reverted back to virginity Saturday for only 9/4/3 with 4 TO.  All the Magic were terrible Saturday, no Magic here!  Which is how I treat Harry Potter weekend.  I went to a friends who had that on, and I just constantly went "wtf is this?!?"
C.J. Watson – 18/3/4/2/1 with no TO in that shocking win Friday night against Toronto.  Too bad they were the polar opposite team Saturday and got kerfuffled.
Marcus Morris – It's like the Wolves were missing wing defense or something!  36/6/2/1/0 on 12-19 shooting with 5 treys on Friday night, good for a career-best.  Followed it up with a 19/6/4/1/1 line Saturday.  He's kinda like the KCP of SFs, up and down scoring, but gotta hold for these outbursts!
Jon Leuer – Followed the brother Morri Friday with his own career-high, going 24/4/1.  Then was kinda blah Saturday for 14/7/1 and 4 TO.  Meh, still barely any D stats, not many treys, I'm not being lured in.
Thaddeus Young – Thad impaled his wrist, so he sat Saturday.  Don't fact check that that's how his wrist got hurt…
Lavoy Allen – With no Thad, Lavoy is ya boy!  18/11/3/2/1 on 8-15 shooting in a blowout win.  We've seen wrist things linger soooo many times, that if you wanna make a proactive move in a deeper league, now's the time.  I might even stream him this week, as it's being called a "bad sprain" with a lot of swelling.
Brook Lopez – Scored 23 points on Friday against the Pacers; the rest of the starting 5?  11 points total!  Lordy, what a Mess!
Sean Kilpatrick – Minutes went back up this weekend, with two 18 point games off the pine.  Wayyyy too many TO though, and not enough other stuff, to be a hotly recommended ThrAGNOF…
Larry Nance – Breaking out in the rivalry matchup!  18/11/4/3/0 against the Celtics, for his nicest game since returning from his knee injury.  I might be giving him 12er looks again, but still expect some ups and downs.
Michael Carter-Williams – Speaking of ups and downs, it's just like MCW's career!  After falling out of the rotation, 23/9/6/0/1 on 11-18 shooting as a "SF" against Houston.  That's at least what Yahoo says…  Meh, this feels like a D'Antoni game: he didn't hit a trey, was 1-3 FT…  I'm still passing here.
Paul Zipser – REL bias time!  Also got the Houston boost, but it was more spread out, going 11/3/1/2/2 with a trey in a near rainbow.  We know those Germans are flexible (says my YouPorn history…). He's still more wing-y than that line would indicate, but certainly needs to be in consideration for the deepers.
Ryan Anderson – Labradoodle!  No!  No!  Fifty shades of Ryno!  0-7 shooting from the field and 0-2 FT Friday night, yet they still beat the Bulls.  Also got 5 fouls.  "Is that goal regulation size, or what?!"
Russell Westbrook – Not that saying "he was unbelievable" is a surprise, but was unreal closing out Memphis on Friday in a 38/13/12/3/0 line, with 5 treys and 17-17 FT.  Apparently he switched his shoes before coming out for the 4th, then put up 19 points over the last 8+ minutes including a run of 15 straight I think it was…  Then he decided to not box out last night, going 42/4/8.  Droppable!
Victor Oladipo – Taking all of Westy's boards!  C'mon Dipo, he's chasing tripdubs over 'ere!  24/13/3/2/2 and nice to see him live up to the RainbOladipo nickname of yesteryear.
Joffrey Lauvergne – Big Friday of 16/8/2 in 29 minutes with Domantas Sabonis only going for 11, but then they were split 17/34 in favor of Sabonis yesterday.  Death, taxes, and we won't have fantasy-usable PF on OKC…
Giannis Antetokounmpo – I think I mighta been drunk all weekend (only was for the Super Bowl…), because on Saturday, the Bucks had like 54 points with 10 mins to go in the 2nd quarter…  Got RED HOT against the Suns!  Although the Suns are pretty awfully defensively right now…  30/12/6/0/4 that game as they steamrolled.
John Henson – Speaking of steamrolled, I might legit rent one to run over Jason Kidd for his big man waffling.  Now Henson is back in favor, and had a big weekend – 16/5/0/1/4 then 15/7/1/1/1.  31 then 25 minutes too.  You're KIDDing me!
Miles Plumlee – A big contributor to seeing Henson back in the rotation was the Plumlee trade, as the Bucks sent him to the Hornets for Roy Hibbert and Spencer Hawes, in a shitty big man contract shake-up.  Bucks got the expiring ones, and the Hornets took on the big one for their second unit.  Although we all know Michael Jordan loves his NC-based, college guys!  Maybe Henson is fired up because the Tar Heel finally saw that ugly Dookie get traded…  Anywho, 4/8/0/0/2 for Plum in his Hornets debut in 18 minutes.  Deepest of deep league BlockNOF!
Marvin Williams – Oh, and also Cody Zeller is still hurt, and the Hornets started Frank Kaminsky at the 5…  With Frank the Stank out on the perimeter, it opened up some boards for Starvin' Marvin, who is starvin' for some better fantasy numbers!  16/12/1/3/1 against Utah Saturday (revenge game!), with 3 treys.  He's been a little ThrAGNOFfy, but I'd be sure he's owned in 12ers again.
Gordon Hayward – 33 points in that Jazz win.  He's so dreamy.
Wilson Chandler – After saying he wants to get traded because he hates his role, gets a start Friday for 23/8/3/2/4.  Rainbow it up!  41 minutes, and a shocking 13-17 FT.  Stop fouling Quatto on his neck!  Well, he did get the start because Danilo Gallinari strained his groin and sat over the weekend, but even so, Chandler then started Saturday and only got 26 minutes in the blowout loss to SA…  I dunno where he could go to improve though…
Nikola Jokic – Ups and downs of the young Nugs right now!  First career tripdub Friday for 20/13/11 but then only 15 minutes Saturday in that Spurs romping for 11/1/2 with 5 TO.  Spurs – the young Nugs killers!
Jamal Murray – 18 then 20 points over the weekend, the lone bright spot on Saturday.  He worked really tough in that one too, as he has a sore groin for tonight, but is probable.  With rumors they're shopping Emmanuel Mudiay (and bringing him off the bench now), you need to go balls-deep for Murray in your dynos.  Gonna be their PG of the future, and a good one.
Evan Turner – Had the nice Friday of 24/4/3, but then bleh again yesterday for 8/3/2.  Very "meh" wing for 12ers.
Damian Lillard – Shot 4-20 Friday!  Hey, it's legal in Oregon!
Devin Booker – Two 30 burgers over the weekend, including the game winner Friday night at the horn:
I don't think he called bank!  How weird is the NBA, the Kings lose to the lowly Suns at home, then on the b2b, beat the Warriors…  Any given! …  Any day I guess…
Marquese Chriss – Whoa, flashing that potential again!  After an awful 2-point outing in that Kings win, 27/6/0/0/2 with no TO and 3 treys Saturday.  In only 24 minutes!  Younguns like fill it up quick…
P.J. Tucker – Super thief on Super Bowl weekend!  7 steals in 37 minutes in the blowout loss, which proved to be super moot.
Tim Hardaway Jr. – 33/6/3/0/1 Thursday night, then 21/5/2/2/0 with 3 treys Saturday.  15 dimes last 4 games ain't too shabby, with only 5 TO in that span.  Timmay!
Hassan Whiteside – Goromotaro!  30/20/0/0/3 Saturday against the Sixers, as he's finally back on the upswing for the red hot Heat.  In only 27 minutes too!  If his head is back in the game, the Heat might actually be OK and a playoff team?!?!?!
Tyler Johnson – Also went off against the Sixers, for 16/6/6/1/1.  Good to see that shoulder ain't no thang.
Kevin Love – Good to see Love's back ain't no thang either!  After missing a few, 23/16/1/1/0 with 4 treys Saturday.  Kyrie Irving sat this one, but regardless, nice to see Love is OK.  Especially since I just traded for him in the REL…  All about JB!
Brandon Jennings – 23/5/10/2/0 in 42 minutes in that loss to CLE.  6 treys!  Is he better than Derrick Rose?!??!
Willy Hernangomez – Joakim Noah only got 6 starting mins due to straining his balky hammy.  Actually hurt it quick, then went back in, then jacked it worse…  Writing is on the wall for Willy!  Hornacek said he still might start Kyle O'Quinn, but I still would go Willy>KOQ.
JaMychal Green – He's on fire!  Except, ya know, say that in the 80s disco song voice…  29/6/1/1/1 Saturday, filling it up with Marc Gasol out.  J Mike was off a 0 point, 6 foul game too!  Good to see him take the frustration out on the net, instead of the other team!
DeMarcus Cousins – Probably deserves better than Mr. Irrelevant on this long weekend Daily Notes, but tis what tits!  32/12/9/2/1 in an epic outing, leading the Kings to that OT win against the Dubs.  That said, 13-30 from the field, missed all 5 treys, and had 7 TO.  To think the Kings coulda won big!  Man, even with the big lines, I wanna knock Boogie!  Hah!
I hope everyone had a great Super Bowl, and enjoyed watching one of the best SB's of all time!  But now that football is over, it's time to hunker down for the stretch run of fantasy hoops!  So be sure and drop by with all your comments, and let's get some titles!