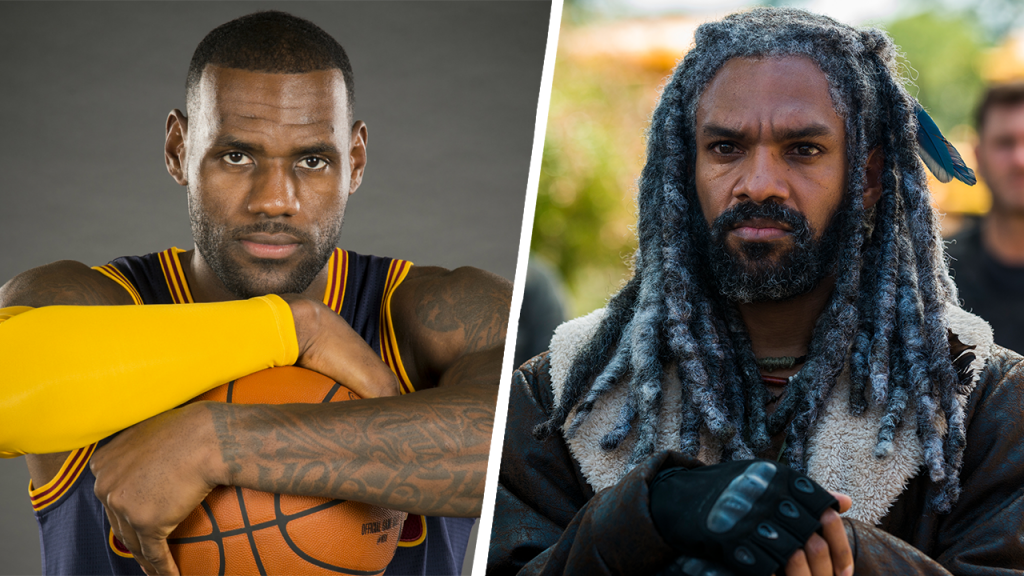 What do Lance Armstrong and the Los Angeles Lakers have in common? They both only have one ball.
Once you finish laughing, check out everything else I saw happen around the NBA yesterday:
Want the best tools and projections to help dominate your league? Check out the Stocktonator, the byproduct of Rudy and machine making love. Click HERE for a FREE 3-day trial.
Lebron James is good at basketball. Yes Brent, we all know that, but how's the slash?  1/25/12/12/2/2
Kevin Love continues to be the best fantasy player nobody is talking about because he plays in Lebron James' shadow. James' shadow looks just like Lebron except that it is bald, because hair plugs do not have a reflection. 4/28/11/3/2/1
Jose Calderon wishes he could play the Lakers every night (just like every team in the league). This one has revenge game written all over it since he has only scored in double digits twice this season. Calderon has scored a cheerleader's digits in every city this season, however, but that only counts in a different kind of fantasy league. 5/17/3/6/2/0
Brandon Ingram had a huge game, only to be overshadowed by Brook Lopez air balling two free throws in a row. Ingram leads a strong young core for the Lakers, which could attract Lebron in the off-season. They tried dressing Lonzo up like a girl, you know, Bugs Bunny-style, in order to attract Lebron, but I think slashes like these will be more effective: 3/26/6/6/1/0
In case you haven't heard, Lonzo Ball grew up idolizing Lebron's game. That is why Lonzo shoots the way he does, so he never had to take his eye off of the TV when Lebron was playing. 3/13/8/11/2/0
Kyle Kuzma continues to impress. Fantasy owners are hoping he can get a little more consistent, but the Kooz can score & board in bunches. 1/20/7/1/0/0
Larry Nance Jr. is another Laker whose inconsistency can be frustrating, especially the lack of blocks lately. I wonder if the coaches told him to stop jumping because the roof repairs were getting too costly. 0/6/12/3/2/0
Josh Hart is battling Jose Calderon for Thursday's Tease-of-the-Day. Filling in for Kentavious Caldwell-Pope, who was a late scratch, Hart put up 1/11/10/2/1/1 in 32 minutes. That is a lot of minutes and could be a signal of more playing time to come. So if you are in a league where Bobby Portis is a hot waiver wire addition, then you may want to keep an eye on Hart.
Yes, the Pistons losing streak is over. Yes, it is a game after Stan Van Gundy called out his starters in the media. Two "yes'" do not make a correlation, however. The Pistons' losing streak ended because they played the Atlanta Hawks, the worst team in the NBA. I mean, Langston Galloway had the second most exciting fantasy line on the team: 5/17/3/3/3/0. So let's not hand Stan Van Gundy the Coach-of-the-Year award just yet. Besides, he would much rather have a cheeseburger.
You may be asking, "If LG had the second most exciting fantasy line on the Pistons, then who had the first most exciting fantasy line?" To which I would respond, "'First most?' That is just terrible grammar. Now you see why I'm the one doing the writing and you're the one doing the reading and eye rolling." I would also say, "Duh, it was Andre 'Automatic from the Line' Drummond." I would additionally reply, "With everything that is going on in the world, your number one question is who had the first most exciting fantasy line on the Pistons? We are going to be best friends because I love where your head is at." 0/12/19/8/2/2 and 4/4 from the free-throw line.
Nobody on the Hawks played over 30 minutes, but Dennis Schroder led the way with a whopping 27. Just like the rest of the team, blonde-spot struggled, but still put together a semi-decent slash: 1/9/3/10/1/0.
Ersan Ilyasova had the second most minutes and continues to tease owners with his fantasy potential (on the court you freaks). 2/23/4/1/0/0
John Collins is back and The Cocktail had 0/15/7/1/1/1 in just 19 minutes. Make sure that Collins is not on the wire in your league. He is going to get a ton of run once he gets back in game shape.
Kristaps Porzingis is showing why Unicorns went extinct (prove to me they never existed) because they just cannot stay healthy. Porzingod left after just 18 minutes with a sore knee (1/13/2/4/1/0) and he is listed as Questionable for Saturday against the Thunder. If Porzingis misses his chance to make Carmelo Anthony look silly, then you know that this injury is serious.
Michael Beasley will be a very popular pick-up if Porzingis is going to miss some time. Beasley's usage rate goes from 20.2 to 28.8 when Porzingis is not on the court. I do not really know what these numbers mean, but 28 is bigger than 20, so that has to be good, right? Beasley finished the game with 0/15/4/1/1/0 in just 20 minutes.
Courtney Lee is probably the least-interesting, largely owned fantasy player of all-time. With Porzingis potentially going the way of the real-life unicorn (prove it) and Tim Hardaway Jr. sitting at home on the couch with Tim Hardaway Sr., Lee is in position to go from least interesting to somewhat interesting fantasy player. 3/27/4/3/2/0
Frank Ntilikina is going to anger at least two fantasy owners per league this season. The first being the owner who drafted and then dropped him. The second being the owner who picked him up and then dropped him. The final owner who picked him up will not be angry, but they will probably be slightly annoyed for most of the season. 1/7/5/8/2/0
Kyle O'Quinn and John Henson may be the most added and dropped centers in fantasy basketball. After this game (0/9/10/2/1/2), O'Quinn will probably be added in a bunch of leagues again, but then dropped after he plays 5 minutes in the next game.
In the Battle of New York, someone has to be the loser, and the Brooklyn Nets are very good at being the loser. Actually, I take that back. The Nets have actually been a pretty kind of Ok team this season. That is why after the success of "D'Angelo Russell Voodoo Doll Night," the Cavaliers will be having "Spencer Dinwiddie Everyone Shout JINX Night." Dinwiddie is shooting up the rankings for Waiver-Wire All-Star with another strong showing, making me wonder if Russell will be back anytime soon, since the Nets really have no reason to rush him. 4/26/7/7/1/1
Rondae Hollis-Jefferson is definitely playing well enough to get a nickname, so let me know which one you like in the comments:  "Ice Cream Rondae," "Help Me Rondae," "It's Christmas Time in Hollis-Jefferson," "I Get Arondae," "You Spin my Head Right Rondae, Right Rondae like a Record Baby, Right Rondae, Rondae." 0/25/7/3/4/2
Caris LeVert does not only have the most feminine first name in the NBA. Ok, second most. Sorry Courtney Lee, but he has been a Top 50 fantasy player for the last few weeks. 3/15/5/5/3/0
I will quickly mention George Hill from the Kings because I think he is worth a pick-up with De'Aaron Fox getting hurt and I am afraid that if I spend too much time talking about the Kings my car will break down, I will be fired from my job, and my girlfriend will leave me for Swaggy P. 4/16/2/3/0/0
Karl Anthony-Towns wants to remind everyone that he is the best hyphenated player in the game. Rondae Hollis-Jefferson, Kentavious Caldwell-Pope, and Michael Kidd-Gilchrist will have to battle it out for second place. Big KAT is starting to show his claws. 2/30/14/5/1/5. Meooow.
Jimmy Butler has been quietly trending back towards his second round value over the last month or so. So no, do not trade Butler for Kyle Kuzma. 0/21/7/9/2/2
The final blowout on blowout Thursday was the Warriors over the Mavericks. The only Maverick I want to mention is J.J. Barea. I have been pushing him as a good fantasy pick-up all season and he is not letting me down. With Dennis Smith Jr. not being rushed back, Mini-Dynamite should continue to put up lines like this: 2/14/2/6/0/0
Ok, I lied. I also want to mention Dwight Powell, but not for his fantasy stats. I just feel like he is the next NBA player who will date a Kardashian.
Jordan Bell is really taking these Draymond Green comparisons seriously. Bell is worth a stash if you have the room, but he will only put up these kind of numbers when players are out. 0/8/6/8/2/0
Omri Casspi is another player who always produces when given the minutes, but it is pretty hard to know when that will be. If any Warrior big man goes down for a long stretch, Casspi and Bell will be the guys to own. 1/17/11/2/0/2
Klay Thompson was on fire last night. He started the second half with three straight 3 pointers that just killed the Mavericks will to win. He ended the game 5/5 from three. Wow. 5/25/5/0/0/0
Kevin Durant and his fantasy owners are probably secretly (or not so secretly in fantasy leagues) hoping that Steph Curry's ankle never heals. Durant has put up MVP numbers while Curry is limping around. 4/36/11/7/0/2