Hello Razzballers!  Welcome to the inaugural edition of the "The Numbers Game".  I know, plain vanilla title but hopefully there will be some interesting golden nuggets of actionable information each week for everyone.  And I promise to not make it sound as boring as Statistics class.
This weekly segment will dig a little deeper into some league, team and players stats WITHOUT (hopefully) having to use the words Standard Deviation, Z-Scores, and all those weird stat symbols.  Who needs those when we can all exchange friendly banter in the comments section, criticize coaches and go through the roller coaster ride we submit ourselves each NBA season in the comments section.
The season is young and therefore take all of these stats with a grain of salt.  Nothing like the lack of sample size to skew numbers as outliers can easily move the numbers.  There is also the subjective aspect of it–whether it be a coaching change (did I hear someone say Asshat?) or a major lineup change or even just a relatively higher number of back to back games so far.
So without further ado, let's get down to the it. This is a grid provided by BBM to its readers.  You might want to open it up in another tab as you might want to look back at it while reading further below.
A few disclaimers:
a) I have an idea as to how they are coming up with this, but not enough to replicate it on my own.  However, some eyeballing of stats provided on other sites does support the numbers that's presented.
b) BBM also mentions it on their site – FT% is ignored because it's not (in theory) dependent on opponent
c) I also use data from NBA.com and Hoopstats.com to get a more granular look at the stats BUT the position eligibility is likely not in lock step with Yahoo's or ESPN's fantasy platforms.
d)[editor's note – this was written yesterday and published today, so Thursday Night games may have skewed a few numbers]
This is really more of an exercise of how to potentially use data for streaming, DFS, weekly pickups for the week ahead until we get a at least another couple of weeks worth of games played.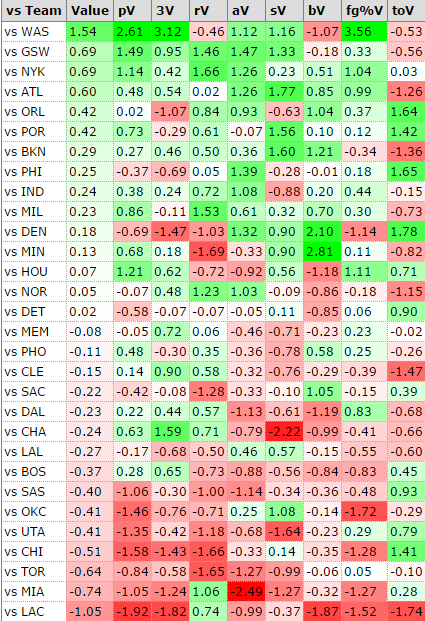 What's it showing us this early in the season?
Overall, the Wizards (with a whopping 3 games so far!) is a good matchup EXCEPT if you're targeting REBs and BLKs. It's also the easiest (dark green) opponent if you need that little umph in scoring and 3s.  Digging a little deeper into it, we can see this from Hoopstats.

They will face ATL tonight and a team that needs help in 3s could look to add a guy like Tim Hardaway Jr. (he went 3 for 5 when the teams matched up last week) or Thabo Sefalosha.  If you have Paul Millsap on your team you're in luck as the Wizards not only rank near the bottom in 3gm/a at 14.7, they also rank at the bottom allowing the opposing frontcourt to shoot a whopping 47.7% from deep.  He already had a 3 for 6 game against the Wizards.

Speaking of outliers, Marc Gasol had a 4 for 6 night from beyond the arc against them as well so this is what I mean by taking it easy with these numbers.  They'll face the Magic next and maybe (hopefully for me in a couple of leagues) Evan Fournier can get it going from deep.  If the Magic's gameplan is to have Serge Ibaka to shoot more from the outside, he could have a pretty big game.
Looking at their schedule, they won't face the Nets until Dec. 5 (Too bad as JB has pointed out how new coach Kenny A. has given everyone from Brook Lopez including Rondae Hollis-Jefferson the green light to shoot from 3s).  Okay enough of picking on the Wizards.
Let's face it, we all knew that GSW would be scoring a bunch of points but I'm sure some are surprised at how their defense has been so far.  I didn't expect it to be anywhere close to when they had Harrison Barnes and Andrew Bogut but I also didn't think it would be this bad early on.
GSW is on a back to back facing the Lakers tonight after that emotional W over OKC, and we could see a DNP or 2. Regardless, if you need REB help going into the end of the week, guys like Tarik Black and Larry Nance Jr. could be decent streamers (assuming Timofey Mozgov is still out) against a team that allows good rebounding stats to its opponents.
Here's a few more notable matchups:
Tonight – CHA @ BKN.  Nets could go bonkers shooting from deep as CHA allows 37% on 29.8 attempts from 3s. Could be RHJ's night but more likely it will be more beneficial for Sean Kilpatrick. We'll see if Brook Lopez carries over his 3 pt numbers from last night.
November 9 – MIN @ ORL.  It's a jam-packed night, but if you are desperate for BLKs, Bismack Biyombo could be a target. I know it's been well documented that Ibaka ain't IBlockA anymore, but on a 2nd half of a back to back, MIN could come in a bit lethargic and we could see above average block numbers from him. It's a busy game night so maybe think twice if you thought of benching him for another big.
That's it for this week. Since this is my first content here at Razzball, let me know what you think below. And if you have any questions, ask away!
Catch y'all next week!