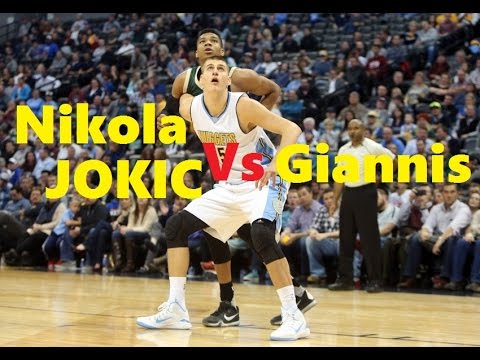 Wow! I mean, what else can you say about this last game before the All-Star break? 90 percent of the league will be jetting off to some tropical island, while the remaining 10 percent get to board their private planes and head to smoggy Los Angeles because they are the best the NBA has to offer, right? Wrong!
Giannis "The Greek Freak" Antetokounmpo will be in Los Angeles, deservedly so, and he finished his last game by messing around for a huge triple double: 1/36/11/13/0/3. Pretty great right, well, yeah, it was pretty great. But the true crime is that the player on the winning team who had an even more impressive triple-double IS NOT EVEN AN ALL-STAR!
Last night Nikola "The Joker" Jokic got the fastest triple-double IN THE HISTORY OF THE NBA! He logged his second consecutive tri-dub in just 14 minutes! No, not a typo, 14 minutes! Jokic finished the game 3-for-3 from deep, 5-for-5 from the line, 11-for-14 from the floor for: 3/30/15/17/1/2! And he is just about 7 feet tall! You better believe I am overdoing it with the exclamation points!
Jokic's light speed tri-dub beat the previous record, which was recorded 63 years ago by Jim Tucker, by two and a half minutes. In 2016, Russell Westbrook got a triple-double in 19 minutes, which seemed insane at the time and most people were surprised to learn that it did not set a record. After that happened, we were reminded of Jim Tucker's 17 minute tri-dub, pretty much everyone just chalked that up to the almost unrecognizable game they played back in the 1950s. When Jokic got his tenth assist to get the tri-dub, there was still 1:54 left in the second quarter!
I think I need to say this again: AND HE ISN'T EVEN AN ALL-STAR! I hope that this travesty leads to another All-Star game change: forget East vs West and just put the best players out there.
Anyway, here is what else I saw last night:
Want the best tools and projections to help dominate your league? Check out the Stocktonator, the byproduct of Rudy and machine making love. Click HERE for a FREE 3-day trial.
Rudy has been hard at work in the lab. His latest creation? DAILY LINEUPS PAGE. So good. So smooth. So helpful. He decided to go with the Sonny Bono red tint, while I prefer the blue tint. What say you?
Gary Harris: 5/28/1/2/1/0 – Harris had been battling a sore foot and had been struggling a bit lately, but last night he stepped it up (no pun intended).
Jamal Murray: 5/26/5/5/3/0 – Another great game completely dwarfed by The Joker and his bag of tricks.
Will Barton: 4/19/7/5/1/0 – The Nuggets could not miss tonight and Will "The Thrill" joined the show.
Wilson Chandler: 3/11/4/2/1/1 – Chandler has stepped up for a few nice games lately. Keep an eye on him as Paul Millsap is not expected back for at least a few more weeks.
Giannis Antetokounmpo: 1/36/11/13/0/3 – I know I mentioned his slash in the introduction, but I kind of left it in the dust once I started raving about Jokic. This guy is good.
Eric Bledsoe: 3/27/3/8/5/0 – There really was a Joker and Thief in the building last night. The Bucks lit it up too, but unfortunately the Nuggets were golden.
Khris Middleton: 1/17/7/0/2/1 – Middleton often gets overlooked because of Giannis, but his fantasy owners have not missed a beat.
Tyler Zeller: 0/14/5/1/0/1 – Zeller with a couple nice games in a row. John Henson's return should crush his value, but he is someone to keep an eye on since Henson is used to getting the shaft.
Jabari Parker: 1/12/5/0/1/0 – Still trying to find his groove after a long lay-off, but I think he is setting up for a big second half.
Taj Gibson: 0/28/7/1/1/2 – Someone needs to torture this guy until he gives up the location of the Fountain of Youth.
Jimmy Butler: 0/24/5/4/1/3 – If it wasn't for the seven missed threes, this line would have been ridiculous.
Jeff Teague: 2/20/3/6/0/1 – If you told me Teague would get a block and no steals, I would have thought you accidentally looked at Josh Richardson's line.
Karl-Anthony Towns: 0/10/19/4/0/2 – I keep staring at this line and feeling like something looks weird about it. Maybe somebody can "point" it out to me in the comments.
Andrew Wiggins – He played.
Julius Randle: 0/23/9/2/2/1 – I keep hoping he gets traded to the Suns so we can call him Orange Julius. Anyway, he's been ballin'.
Kentavious Caldwell-Pope: 3/17/11/6/2/0 – If he started banking everything in, could we call him Caldwell Banker?
Ivica Zubac: 0/19/11/0/0/0 – Umm, points and boards anyone? Not sure what to make of this, but Zubac has fantasy game when he gets minutes and now with Larry Nance Jr. gone perhaps Ivica Trump gets some run.
Isaiah Thomas – He played.
That's it. Two game night. See you after the break!