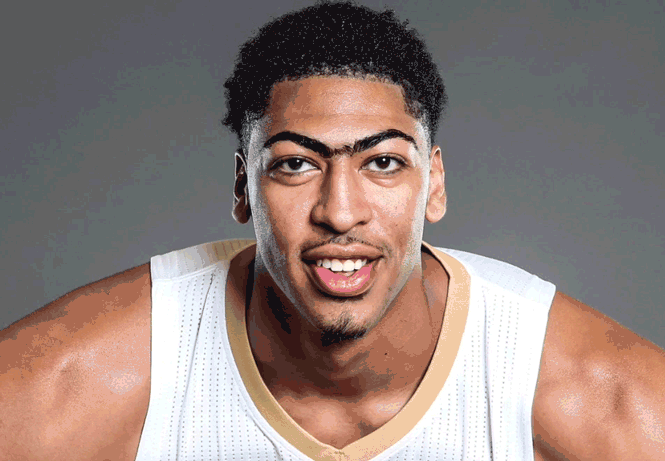 Anthony Davis gave all his fantasy owners, and fans of basketball, a scare at the end of last week when he exited with a hand injury. His owner in one of my leagues immediately messaged, "Well, there goes Davis, probably season-ending." Well, it wasn't season-ending and he made it back just in time to play on his 25th birthday.
Davis and his fantasy owners were celebrating in style as The Brow put up the rarest of triple-doubles: 25 points, 11 rebounds, and 10 blocks! Yes, 25 points on his 25th birthday is pretty friggin' cool, but watching a guy block 10 shots and also hit a three pointer while only turning the ball over 2 times in 40 minutes is just plain amazing. His final line was: 1/25/11/3/3/10. Wow!
Here is what else I saw on a packed Sunday night:
Want the best tools and projections to help dominate your league? Check out the Stocktonator, the byproduct of Rudy and machine making love. Click HERE for a FREE 3-day trial.
Rudy has been hard at work in the lab. His latest creation? DAILY LINEUPS PAGE. So good. So smooth. So helpful. He decided to go with the Sonny Bono red tint, while I prefer the blue tint. What say you?
Jazz over the Pelicans: 116 – 99
Ricky Rubio: 4/30/10/7/0/0 – The Jazz just seem unstoppable right now and Rubio's resurgence is a big part of that. If only he had started the season like this, then they would still not be fighting for a playoff spot in the West.
Donovan Mitchell: 3/27/3/4/1/0 – I feel like this season has to end with at least a tie for Rookie-of-the-Year between Mitchell and Ben Simmons. Donovan is a beast and he is only going to get better. Scary.
Joe Ingles: 3/20/3/5/1/0 – Ingles has been one of the biggest surprises in fantasy this season. He would be a top 30 player if he could just get his scoring average up over 15 per game.
Rudy Gobert: 0/19/16/3/0/2 – Rudy is not letting the classic rim protector center die off.
Jrue Holiday: 3/18/6/10/2/1 – A.D. and Jrue had no help in this game as Nikola Mirotic (0/4/4/2/1/0) disappeared.
Darius Miller: 1/11/3/4/1/1 – Miller showing that he has the goods to be a major fantasy contributor. He is worth a flyer in deeper leagues, but expect inconsistency.
Emeka Okafor: 0/11/6/0/0/1 – If you had told me at the beginning of the year that Emeka Okafor would be more valuable than Jahlil Okafor I would have asked who put acid in your Cheerios.
Raptors over the Knicks: 132 – 106
Jonas Valanciunas: 0/17/9/2/0/0 – No blocks is no good, but a solid line in just 22 minutes. The Raptors have such a deep bench their starters are going to be really fresh at playoff time. Watch out.
Kyle Lowry: 2/16/4/7/2/0 – Lowry and DeMar DeRozan (0/9/4/5/0/0) didn't even have to play 30 minutes in this blow out.
Serge Ibaka: 2/14/7/1/0/1 – In only 24 minutes.
Pascal Siakam: 0/9/7/6/1/1 – Siakam gets to be the featured Raptors bench player because of this fantasy friendly line. He won't score a lot of points, but he is capable of across-the-board contributions in deep leagues.
Tim Hardaway Jr.: 2/25/4/2/0/0 – Great job THJ, your team lost by 26 and you had a -19 plus/minus. Excellent work.
Luke Kornet: 3/18/4/2/0/1 – Kornet got the start with Enes Kanter out and played really well. Kanter won't be out long so Kornet is a flyer in deep leagues only. But keep an eye on him.
Michael Beasley: 0/10/11/1/0/0 – Double/Double and probably still worth owning, but I thought he would have been better with Porzingis out. The Knicks are just really bad.
Bulls over the Hawks: 129 – 122
Bobby Portis: 2/21/10/5/1/0 – The Bulls had contributions from everyone tonight and it is not because they are good, it is because the Hawks are that bad. So take this game and these lines with a tiny grain of salt.
Zach LaVine: 3/21/1/3/0/1 – LaVine with the defensive stat tonight. If those start happening regularly then LaVine is going to rocket to fantasy stardom. But again, the Hawks.
Lauri Markkanen: 1/19/8/0/1/1 – The Markksman has been a little off the markk lately, but has still been one of the best rookies of this year's really great rookie class.
Denzel Valentine: 2/12/6/7/1/0 – Denzel does stuff like this, becomes a hot pick-up then puts up a dud and gets waived all over. So remember, it was AGAINST THE HAWKS. You've been warned.
Taurean Waller-Prince: 7/38/6/7/1/0 – TWP has been one of the most frustrating players in fantasy this season. He has had every opportunity to be a fantasy stud, but he just cannot put it together consistently. Maybe this line is signaling a strong finish or maybe it was just a good game against a bad team.
John Collins: 0/15/7/0/0/1 – This line feels like Collins' floor for the rest of the season. If you waited on him, congrats.
Dewayne Dedmon: 1/10/9/2/1/1 – Dedmon has quietly had a very nice fantasy season that would have been even better if not for injuries. That 1 three he hits each game is nice too.
Nuggets over the Kings: 130 – 104
Nikola Jokic: 4/20/11/10/2/1 – This guy is just amazing. The Joker was 4-4 from three, 8-10 from the floor, and had just 2 turnovers. He is a center, a point guard, a shooting guard, a wing, a Joker, a smoker, a midnight toker. There will be a strong argument for Jokic being the top pick in fantasy drafts next season.
Gary Harris: 2/21/1/2/0/0 – Harris Buehler's Day Off does it again. Solid.
Jamal Murray: 2/20/3/5/0/0 – When Murray has it going the Nuggets are a scary team. The problem is that Murray can be so inconsistent. If he gets it going during the playoffs, they will be a tough out.
Wilson Chandler: 2/16/6/3/0/1 – The Kings are a slumpbuster (some of you will get this reference).
Paul Millsap: 0/6/9/4/0/0 – Shaking off the rust, but getting 23 minutes in an easy win. He will be off his minutes restriction soon.
Trey Lyles: 0/14/8/3/0/0 – Trey Cool did this in just 18 minutes. Millsap's return has hurt him the most but he is still holding fantasy value.
Kosta Koufos: 0/14/10/0/1/0 – Skal Labissiere did not play so Koufos got the start and did what he does: double/double. Skal should be back soon, but DFS players will want to get Koufos in whenever Skal is out. Yes, that was English.
De'Aaron Fox: 0/12/3/9/0/0 – Fox is back which hurts Frank Mason III (0/10/2/2/0/0) but both are worth owning if you need point guard stats.
Buddy Hield: 2/18/5/4/0/1 – Hield has been surprisingly OK this season.
Rockets over the Mavericks: 105 – 82
Chris Paul: 4/24/5/12/0/0 – No James Harden, no problem. Paul is on a mission this season and I have a feeling he is going to get out of the first round of the playoffs this year.
Eric Gordon: 6/26/4/2/1/0 – Yes, the Rockets shoot a lot of threes.
Gerald Green: 3/13/6/1/1/0 – When Harden is out, DFS players should get Green in.
Dwight Powell: 1/20/5/0/1/0 – The three was out of nowhere, but Powell is the main man on the taking Mavericks. If you grabbed him, good work.
Nerlens Noel: 0/10/9/1/1/0 – Noel is getting some run and he is playing pretty well. I hope he gets some money out of this because the dude left a huge bag on the table last off season. A lesson for all the kids out there: sometimes in life you shouldn't bet on yourself.
Pacers over the Celtics: 99 – 97
Victor Oladipo: 2/27/3/4/3/1 – VO is going to be a first round pick next year and deservedly so, the dude is a fantasy stud and the Pacers are for real.
Myles Turner: 3/19/10/0/1/3 – Turner seems to be figuring things out and the threes are really nice. He has been a huge bust this season but a strong finish will help his owners not finish in last.
Bojan Bogdanovic: 4/14/3/3/0/1 – The most consistent Bog of the bunch. He has been fantasy helpful.
Marcus Smart: 6/20/7/8/4/0 – Where did that come from? When Smart is the Celtics' best player, they lose.
Jayson Tatum: 2/19/5/3/1/2 – Tatum has really been disappointing since his strong start, but he is still a top 60 value.
76ers over the Nets: 120 – 97
Joel Embiid: 1/21/8/3/1/1 – Not his strongest game, but it was all the Sixers needed to take down the Nets.
Robert Covington: 3/19/5/4/1/2 – RoCo has been frustrating to own, but lines like this almost make it all worth it.
Dario Saric: 2/18/6/3/1/2 – Every Sixer was on last night.
D'Angelo Russell: 4/26/4/4/0/0 – In for a fun finish.
Spencer Dinwiddie: 0/13/3/6/1/0 – The Sixers all had it going, the Nets did not.
Lakers over the Cavaliers: 127 – 113
Julius Randle: 0/36/14/7/1/2 – Remember when people were asking if they should drop Randle?
Brook Lopez: 2/22/8/4/1/2 – The original three-point big man, no not Manute Bol, Brookie Lo.
Isaiah Thomas: 2/20/5/9/1/0 – Revenge game anyone?
Kyle Kuzma: 2/14/10/2/0/0 – Koooooooooz!
LeBron James: 2/24/10/7/1/1 – Fantasy owners were happy, LeBron was not.
Larry Nance Jr.: 0/16/8/1/0/0 – Mini-revenge game.
Ante Zizic: 0/15/7/0/0/2 – I'm keeping a close eye on those double Z's.
Timberwolves over the Warriors: 109 – 103
Karl-Anthony Towns: 2/31/16/2/1/0 – Huge game, huge win and just another center putting up wing stats.
Andrew Wiggins: 2/23/5/3/0/0 – Now can Wiggins step up against a weaker opponent?
Nemanja Bjelica: 1/10/7/4/3/2 – He is not Jimmy Butler, but hopefully Butler owners grabbed him to ease the blow.
Kevin Durant: 5/39/12/4/0/3 – I almost made KD my headliner and now that I am looking at this line again I am kind of regretting not doing it. Dang!
Klay Thompson: 3/21/4/5/0/1 – No Curry means Klay all day.
Draymond Green: 2/10/8/7/3/1 – Dray being Dray.
Zaza Pachulia: 0/16/11/3/1/2 – When Zaza is doing this, the Warriors lose. I can't explain it, but that's just how it is. By the way, this is the only time he has ever done this so my sample size is pretty small.