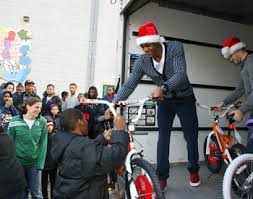 Santa Claus is known by the names of Saint Nicholas or Kris Kringle. Rajon Rondo is known by the names of Johnny, Swag, and The Yoga Instructor (nicknames courtesy of Basketball Reference). Claus' height and weight are classified. Rondo is 6′ 1″ 186 pounds. Claus moves around via reindeer-drawn sled. Rondo uses his own two legs to run around the court. Claus is a global icon. Rondo could be if he hired the right marketing agency. Claus and Rondo are different on so many levels, but both are some of the most generous entities that man has ever known. Claus gives gifts to children that are well-behaved and coal to the bad children. Has anyone ever figured out why Claus is so freaking generous? Like, what's his motivation? We are taught not to accept candy from strangers, especially those that stick their heads out from a windowless van. And for good reason. The candy is the bait to lure us in. And Claus? Anyways, regardless of motivation, Claus is a generous dude. Rondo is also generous. He dishes out dimes that enable his teammates to score buckets easier. In fact, he is so generous that he had dished out 6,216 dimes, good for 31st on the all-time list, before the start of last night's game.
| | | | | | | | | |
| --- | --- | --- | --- | --- | --- | --- | --- | --- |
| PTS | REB | AST | STL | BLK | TOV | 3PT | FG | FT |
|  2 | 7 | 25 | 1 | 0 | 3 | 0/1 | 1/5 | 0 |
Make that 6,241 dimes, good for 30th on the all-time assist list. The 25 assist game was the ninth-best of all time! Scott Skiles, of all people, holds the record with a 30 assist game. Go figure. Rondo is not going to contribute much outside of assists and rebounds, but the dimes will definitely be plentiful. As for Claus vs Rondo, the edge has to go to Claus, as he has no rival and always seems to deliver. Rondo has his off nights.
Here's what else I saw last night:
Please, blog, may I have some more?