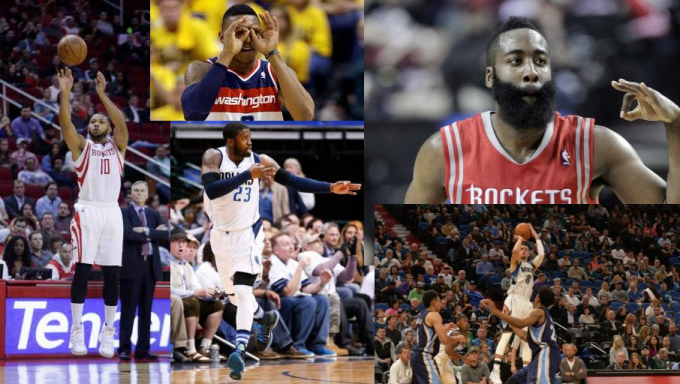 'Tis the season of shooters.  From Eric Gordon, Bradley Beal and James Harden (oh wait, he's supposedly a point guard) I've seen just a crazy amount of players, shooting guards or not, letting it fly.
Let's take a quick look at the chart of opposing SGs vs each NBA team.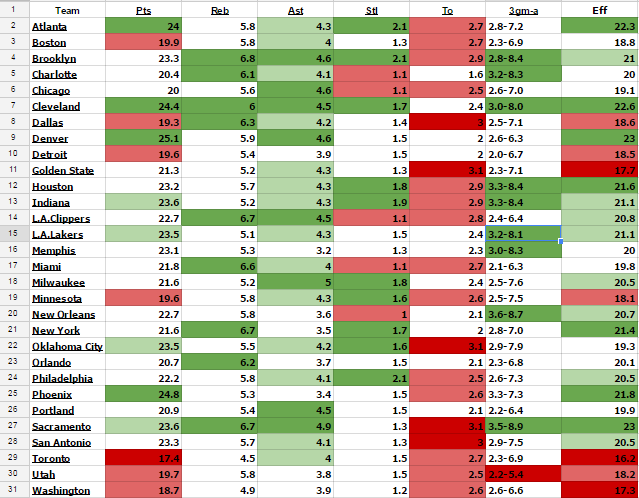 Won't dig deep into details anymore as it's pretty straightforward based on how it has been presented in the past articles when we looked into the center and point guard positions the past couple of weeks.
If I had to boil it down to a couple of points (no pun intended):
a) If you're relying on scoring and 3s from your SG (unless they are the elite ones out there) or looking to stream from that position, try to avoid matchups vs UTA, TOR and GSW.
b) There are several teams that are favorable matchups depending on whether you are looking for scoring, out of position rebounds or 3PTA allowed.  BKN, ATL, DEN*, PHO, HOU and to my surprise CLE are some of the more favorable matchups for SGs.   I guess when you have J.R. Smith as your starting SG and all opposing teams have to do is distract him…
DEN has an asterisk as I'd like to visit this a couple of weeks from now when Gary Harris has played several more games to see if his defense makes a difference.
Ideas for some of the upcoming games:
-There's a heavy dose of games tomorrow so if you had to choose which SGs to slot, consider an alternative SG if you have Kentavious Caldwell-Pope. You never know though as the GSW might end up resting a couple of their starting big 4.
–Rondae Hollis-Jefferson has let a lot of folks down this season so far but against CLE tomorrow, he could have something close to a repeat of last Monday's game with 19/6/3 and triple 1s if this game turns out to be a blow out as well. While we're at this BKN vs CLE matchup, we might as well visit the potential for Iman Shumpert  as the SG replacement for J.R. Smith.  Lastly, Bojan Bogdanovic might not be a bad idea as a streamer for 3s and scoring vs CLE as well.
-PHO vs PHI is another interesting game. I can see Sauce Castillo Nik Stauskus having a decent Thragnof type of game
-Didn't I say Friday is stacked with games?  If somehow Gary Harris is still floating around your league's wire and you're looking for some scoring and some stls, he's not only a good pickup for this game but also have decent ROS value in standard leagues. Remember that asterisk above regarding SGs vs DEN? Well it would be interesting to see if the starting SG for ATL (whoever it is for this game) can have a good efficient scoring night.
If I'm looking for some Thragnof help on Christmas day, Jamal Crawford comes to mind vs the LAL.  Weak against the SG position and blowout potential.
I hope everyone is enjoying the holiday season.  Merry Christmas, Happy Holidays to everyone!