Sooooooo…roughly 20 games in and more data to look at!  Let's get right down into it.  Remember the 1st time I did this about 5 weeks ago?  Now let's take a look at the grid and do a short comparison. Left is the latest, right is what it was when we first started this series.
Dec. 7 Grid                                             Nov. 4 Grid
Summary:
While the Wizards and the Warriors were good matchups early in the season, they aren't as attractive opponents to target as they were much earlier into the season.  UTA has become the worse team to try and target for counting stats.  LAC is still a tough team to face.  BKN, LAL and PHO are the best teams to target.
We're still only 20 games into the season so a little more and there are still several teams that are still going through transformations either because of injuries to their key guys or coaches still trying to find the correct combinations.
Last week, I covered the bench, this week, I'll begin covering each roster position.  I'll start it off with the Center roster position.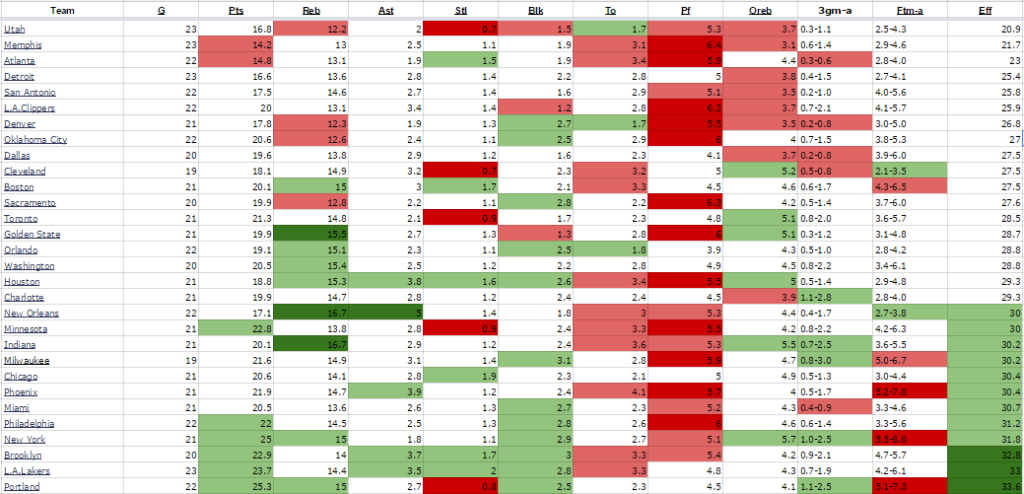 Let's do a little housekeeping.  Data is from hoopstats.com and Eff refers to NBA.com's efficiency formula.  We might as well start with that and go from general to specific.
Best teams, in general, for Centers to face:
POR, LAL, BKN, NYK, PHI
Worst teams, in general, for Centers to face:
UTA, MEM, ATL, DET, SAS, LAC
Let's see, this isn't too difficult to figure out–Rudy Gobert, Memphis bigs, Dwight Howard, Andre Drummond, DeAndre Jordan
So if you are in a position where you have to choose between similar skill set, average minutes expected to be played centers in your roster or looking to grab a center from the wire, you might want to look at those playing against POR, LAL, BKN, NYK or PHI.
Teams to face looking for REBs:
IND, NOR, GSW, WAS, HOU and a few others whose opposing centers grab 15 Rebs or more.
IND faces DAL on Friday and Dwight Powell (if he hasn't been picked up in your league could have a big rebounding game).  WAS plays MIL on Saturday and if you can anticipate what Jason Kidd will decide to do with John Henson's minutes, he could a nice pickup looking for REBs and he's usually good for at least a BLK as well.
Teams to avoid if looking for REBs:
UTA, SAC, OKC, DEN
For all the problems that DEN has, depth at the frontcourt isn't one of them.  While I wouldn't be expecting a below average REB game from Nikola Vucevic, I might not be able to say the same for Bismack Biyombo and Serge Ibaka.
Teams to face/avoid looking for PTs:
Pretty much same teams as for efficiency minus UTA for one of the teams to avoid although still in the lower 1/3rd of the bunch.
Teams to face looking for BLKs:
Same teams listed in efficiency along with MIL.  With no reliable and consistent 3 pt shooter on the Bucks roster, there are a lot of slashers looking to score closer to the rim.  Thus, a lot more blocking opportunities for opposing centers.
Alex Len (vs LAL on Friday) and Kyle O'Quinn (vs LAL on Sunday) could be good sources of BLKs.
Teams to avoid if looking for BLKs:
UTA, GSW, LAC
GSW shoot so many outside shots and have crafty scorer at the rim that it's not a good team to matchup against if you're team is looking for BLKs.
Teams to face looking for STLs:
BKN, LAL, CHI
KOQ is great target vs the LAL not only for BLKs but also for STLs.
Teams to avoid if looking for STLs:
If you're expecting your center or a center to be picked up for STLs, you might want to make sure they are facing POR, CLE and UTA.
I included ASTs, TOs, Personal Fouls (PFs), 3PTA, FTA and ORebs (for those who play in leagues that have this category) as additional categories but should serve more as a filter when deciding between available players in case some other categories are close enough to steal (or defend) away (ASTs, 3Pts).  Some categories like FTA, 3PTA and PFs tend to be more determined by variable factors (referees, opposing centers' propensity to shoot the outside shot vs the team's ability to prevent 3PTA) that using only one of these filtering categories as a category to act on will likely lead to frustration.
Next week, we'll discuss the other end of the rotation, point guards then work our way through the other 3 positions.  Enjoy the rest of your week!