Welcome to the semis!  Hopefully your week 1 matchup of the playoffs didn't go as badly as most of mine…  And with a mix of my awful bracket in the Razzball Bracket Challenge, who's ready for baseball season?!  Haha, I keed, I'm still alive in a few leagues and still have my-Heels-as-champ pick alive and well.
And just like the Hoosiers – one of virtually all the teams in the Sweet Sixteen I got wrong – Victor Oladipo went ham over the weekend, including living up the RainbOladipo nickname for 45/5/3/3/2 against the Cavs Friday night.  Shot an unreal 16-22 FG including banging 6 treys.  With a game like that, I would've expected the Magic to BEAT the Cavs!  But then again, they're coached by Scott Skiles…  SKIIIIIIIILES!  Oladipo kept it up last night for 21/6/3/0/2, giving him 7 straight games with blocks and multi-blocks in the last 4.  Better shot blocker than Serge right now!  In per-game, Oladipo is still only ranked 45th (42nd in total) according to BBMonster, so he's still finishing right at my pre-season rank.  If only this team was coached by someone else, I would be going Eric Bledsoe-nuts for this guy in my 16-17 ranks.  Scott Skiles – ruining basketball one player at a time…  Here's what else went down over the weekend in fantasy hoops action, plus The 7 Ahead for week 20 and the semi-finals of standard league H2H playoffs:
Anthony Davis – Uggghhhhh!  With extra phlegm.  Probably should've been the lead, but I wanted to start with something happy, not a season-ending shutdown for a stud!  I imagine Brow's shutdown to nurse his knee and probably 7 other injuries is going to decimate several playoff teams who will be scrambling for big man help.  Unless the Pels do something dramatic in free agency (and fire their entire medical staff), it's going to be tough ranking Brow top-5 next year…
Carmelo Anthony – Ended up sitting with a migraine last night.  I have a migraine sifting through all these "injuries" from the weekend.  I'm not gonna mention a lot of them, and I'm going to push for having the hoops playoffs week 15-17 from here on out…
Brandon Jennings – Keeps starting for the Magic, and gave you 7 AST in each of Orlando's weekend games.  Elfrid Payton finally got off the Shelfrid last night from his tennis elbow, but was still awful.
Tristan Thompson – After a huge Friday (11/15/1/4/2), got 4 fouls in 18 minutes against the Heat for only 2/2/1/0/0.  TT is as annoying as a tittie twister.
Serge Ibaka – Got a DNP on Friday to "rest", which is absurd since he's been resting even while on the court!  And after recharging his batteries, went nuts for…  8/4/0/0/1.  Eesh!  Ibaka, but wouldn't wanna be-ya!
Nik Stauskas – Better late than never?  23/4/3/3/0 hitting 5 treys against the Thunder, then 12/6/3 with 2 treys last night.  After some pre-season buzz as a sleeper, at least the Sauce Castillo still has some flavor late in the season!
Jerami Grant – So underrated.  All he does is multi-blocks every game, including 11/8/2/0/2 last night.  Would I rather Jerami to Iblocka?  It's a conversation, that's for sure!
Carl Landry – Got hot off the bench for 26/8 in 25 minutes last night, after fading into obscurity the previous 2 when Jerami got back.  Tough to take too much out of it with everyone healthy, but there could be something there if they let the vet start again down the road.
C.J. McCollum – After that dud to kickoff the week, was unbelievable the last 3 games including 52 Pts and 14 Ast in 2 weekend games.  C-J-B!?  You were wrong!
Allen Crabbe – Got hot off the bench for 24 Pts on 6 treys.  He's been pretty quiet lately until last night, but you could always get a hot ThrAGNOF!  CrabbyNOF!
Toney Douglas – What was kinda a desperation stream by me in a few leagues turned out to be a money move!  12/1/6/2/0 Friday, then a cha-ching 15/7/9 line last night.  Extra E Toney making every vowel count in crunch time!
Tim Frazier – Now 3 in a row 12er-usable lines since joining the Pels, going 17/7/2/4/0 last night in only 20 minutes.  I really thought by today I would be able to use the "DOWN GOES FRAZIER!" joke with him falling out of fantasy relevance, but he's staying on his feet!
Patrick Beverley – Whoa, P-Bev with the dimebag!  18/5/10/1/1 in one of the most prototypical PG lines he's ever had Friday night.  But then it disappeared as soon as we thought we had something, going only 4/3/5/0/0 Saturday…
Donatas Motiejunas – Picking up starts at the 4, going 17/9/1/1/2 then 13/6/1/1/0 over the weekend.  I'm still not going crazy hard after D-Mo in 12ers, but any deeper and you might as well nab him unless you're loaded.
Michael Beasley – I'd still probably take D-Mo over Beasley, even after dropping a 30-burger last time out.   But it was as empty a 30 as you could get, going 30/9/0/0/0 with no treys and 5 TO.  It's ThrAGNOF but without the 3s!  ReboundNOF?
Harrison Barnes – Finally showed something going 20/5/2/1/1 on Friday night at the Mavs, but then disappeared back into his disappointing abyss on Saturday.  Given all the Warriors got swept into the black hole there in the Alamo…  No one will ever win there again!
Dirk Nowitzki – Turning back the clock!  The Germinator unloaded his seed all over the Blazers for 40/8/4/2/0 on 16-26 FG (3-5 3PTM 5-5 FT).  'To the windowwwwww, to the wall!"
David Lee – Went 16/16 Friday night, which was surprisingly a career-best in boards…  Learn how to block out, Golden State!  Only 2/8 last night in that OT-thriller against the Blazers.  Lost run to…
Salah Mejri – …the Salah Bar!  Cesaer Salah for 13/14/1/1/6 and a +30 in an OT victory.  33 minutes literally out of nowhere.  And yes, literalists, I used literally correctly there, dude has barely been seeing the court!
Deron Williams – Came in questionable to yesterday's game with a bad calf, but that calf must be a good calf now!  31/3/16(!!!!!)/3/0 hitting 11-18 FG with 4 treys.  Of all the late-season injuries and shutdowns, D-Will is still alive out there and playing ball like this?!
Lou Williams – The Lou was so, so sweet putting up 30 Pts on the Suns Friday night, but unfortunately he's so, so old.  The Lakers are reportedly playing their younguns here on out, despite Byron Scott's best efforts…  I think he was hoping to keep playing the vets so he could sneak in one last NBA game as a player…
Alex Len – The brutal shooting woes continued into the weekend, as Len hit rock bottom in what should've been a cupcake matchup against the Lakers.  Shot 1-9 FG for 2/7/1/0/0 and 3 TO.  Meanwhile…
Tyson Chandler – …grandpa Tyson went 12/17/1/2/2 in that game, and if he says he wants to play, he's gonna play.  As debated in the comments, he's on an expensive deal and he hasn't played too many minutes this season due to injuries/benchings, so they might as well have him gel with Brandon Knight in these meaningless final games…
D.J. Augustin – Led the Nugs in scoring in a W @CHA, so I think it's pretty safe to assume he's gonna continue to be a key factor for them on O here on out…  24/1/3 shooting 8-11 with 3 treys is pretty useful for a forgotten asset while on the Thunder!
Aron Baynes – Put up 17 of his career-high 21 Pts in the 4th quarter against the Nets, leading the Pistons to a win they shouldn't have struggled to get anyway.  Maybe he wore a mask in the 2nd half!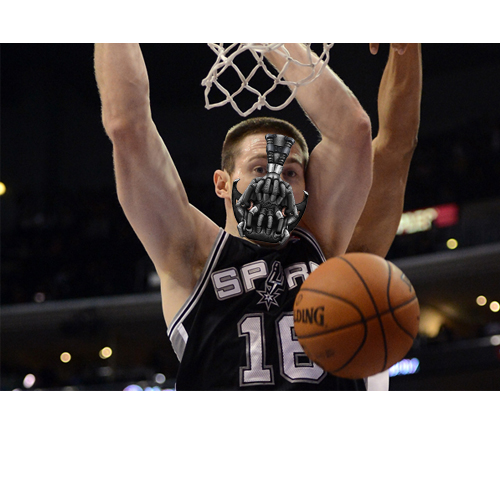 Kentavious Caldwell-Pope – Whoa, show me show me where da dimebags at!  8 dimes from my addiction against the Nets on a 11/4/8 line.  We're used to more scoring, but love seeing him flash some facilitating as well!
Bojan Bogdanovic – Bobo the bear followed up the most prestigious event of his career – the lead on Razzball.com – with a usable-enough 19/5/2 with 3 treys on Saturday night.  If not for BAYYYNNNNEEEEEs! heroics, woulda led BKN to a win as well…  Might be the pickup-of-the-playoffs.
Paul George – Second 45+ Pts scoring game in a loss, the only NBA player to do that thus far this season.  45/7/4/2/0, and while it's easy to slam him for that dubious honor, it was a tough loss to OKC…
Kristaps Porzingis – The Goose is getting the poison back!  I think there needs to be a Latvian knock-off of "Bringin' Sexy Back" called "Bringin' Poison Back"!  But then again, that would get Bret Michaels fans excited…  Anyway, 20/7/2/0/3 at the Wiz, then 13/7/2/0/2 last night.  The Goose stampeding through the rookie wall!
Josh Richardson – The resurrection of J-Rich!  Hopefully he keeps this up, wins some dunk contents, then disappears into oblivion when he hits his mid-30s on the Sixers…  19/2/2/1/1 last time out, and while at any other point in the season he would be a clear must-own, the Heat only have 3 games this week in the semis…
Richard Jefferson – Obviously an easy stream target, going 20/4/1/1/0 at the Heat on Saturday night.  No sarcasm in this blurb!
Taj Gibson – Despite playing with a hamstring tighter than StanVan's rotations (thought I was going wayyyyy worse than that with that joke, didn't ya?!), put up a rainbow 15/10/3/2/2 Saturday against the Jazz.  Played them like a yazz flute!
Rudy Gobert – After bombing out in that Bulls loss against that tenacious Taj-D, thankfully gave his frustrated owners a 12/14/2/2/2 rainbow line yesterday.  Hey, it could be worse Gobert owners, you could be a Brow owner!
Zach Randolph – Tallied his first career tripdub Saturday night, as he's the best PG, SG, SF, PF and C for the Grizz right now.  28/11/10, and while they still might manage his knee, I would be sure he wasn't dropped by a streaming playoff owner this past week…
JaMychal Green – Shifted to a bench role, but it don't matter!  He's super green!  11/7/4/4/1 hitting 4-10 FG and 3-3 FT.  Definitely holding onto him where I can.
Bismack Biyombo – 12/11 with 6 blocks last night, with Jonas Valanciunas still with a hand ouchie.  Anyone that streamed Bis for the 5-game week gave their oppos the Bizness!
Robin Lopez – If there's one team that can make the worst player in the NBA look like a premiere big man, it's the Kings!  23/20/0/1/2 for a Goromotaro.  The Kings should be ashamed of themselves..
The 7 Ahead
5-game week: n/a


4-game weeks: ATL, CHA, CHI, CLE, DEN, DET, GSW, HOU, IND, LAL, MIL, MIN, ORL, PHI, PHO, SAC, SA, WAS



2-game week: n/a

Weekly League Streamers (by Y! ownership percent/games this week):  Bobby Portis (15%/5), P.J. Tucker (36%/5), Shabazz Muhammad (7%/4), Jerami Grant (25%/4)
Stream days: Tuesday, Thursday, Sunday
Overall Thoughts: Unlike week 1 of the playoffs, week 2 has a much more even spread with every team playing 3 or 4 games.  BORING!  I wish we had some more 5 or 2ers…  I guess we'll just have to wait on a few of those for the finals week...
For my weekly league streamers in the semis, Pau Gasol just came out and said he might not be 100% for the rest of the season, so I expect a lot of Bobby Portis this week.  He gets a Kings matchup as well!  Same for Tucker, who is playing better of late.  Usually 36% owned would seem a little too high to pick for a streamer, but a lot of that is dead league data.  I'm a little iffy on Bazz – the run lately hasn't been encouraging – but he's yet another guy with a Kings matchup and they could loosen his leash as we wind down the season.  Finally, I feel pretty dirty with the Jerami call.  He's more a must-own right now, but since he's available in 3/4 of leagues out there, I felt he was still in my range to call out a weekly play.
Monday: Heavy, heavy Monday kicks off the semis in week 21, with 9 games and 18 teams in action.  BOS, MIL, ORL, PHI, and SAC come in on the second night of b2bs, so be sure to check in with your banged up guys on those squads.  CHA & MEM head into Mon/Tues b2bs for another pair of teams to be sure your guys are active.  It might make sense to drop your Grizzlies after Tuesday's game, as they start the week on a b2b then only have 1 more game the rest of the week – @SA.  My eye always goes to the SAC matchup, so Portis me!  Bobby Portis will be a strong stream there.

Tuesday: Only 4 games on Tuesday, but with several streaming opportunities later in the week, I'm not digging into my limited moves per week yet if you play in that format.  HOU, LAL, and MIA head into b2bs, so check in with your vets there, particularly any Laker as Byron Scott has finally conceded he's gonna stop benching his young guys.  If you had unlimited moves, I'd look to those Grizz going @LAL – maybe Ray McCallum off a big-minutes game – or Toney Douglas is Norris Cole is still out.

Wednesday: The semis is a more prototypical NBA week, with 12 games on humpday.  CHI, CLE, LAC, NY, POR and UTA are your back-to-back teams, and with Wednesday so full, you'll definitely want to be sure everyone in your starting roster is active.  If you needed to stream anyone, you gotta like your Wolves hosting the Kings.  He doesn't offer much in terms of multi-cat, but I could see a big Shabazz Muhammad game there, who I decided to make a weekly play.  [email protected] and [email protected] should also be some scrubby, low-defense games to consider for some streaming if you don't happen to have a full roster.

Thursday: 5 games on Thursday on NBA night, with no teams on a b2b.  You'll have to wait for Fri/Sat or Sat/Sun stacks.  CHI plays NY then @NY on Wed/Thur, so this feels like yet another Portis game.  He's gotta be a weekly play for me now, with this second mention!  Going @IND, I could see another decent Toney Douglas game if Cole still has his wonky back.

Friday: The only real abnormality of the week is Friday is a smidge light, with 18 teams in action for 9 games.  I guess that's not really that different…  There's only 2 Sat/Sun stacks, so most playoff owners will want to use at least some of the 9 Fri/Sat stacks amongst ATL, CHA, DET, MIL, MIN, ORL, PHO, SA and TOR.  The Suns are probably the most intriguing for streaming with @SAC then BOS matchups.  P.J. Tucker I already had as a weekly play, but reiterating him for a Fri/Sat stack play.  I also like the key backup Raptors going @HOU/@NO as they might rest some starters there.

Saturday: Right off the normally busy Friday we get an even bigger slate on Saturday night, with 20 teams in action.  If holding out a final move for a Sat/Sun stack, we have IND and PHI on b2bs to close out the weekend.  There's not anyone too streamable on the Pacers right now, if you have G issues maybe you go Rodney Stuckey, but that's it.  However, your Sixers are rife with options.  Jerami Grant and his multi-block upside is only 25% owned, Sauce Castillo is playing better lately as mentioned above, Hollis Thompson is pretty low end but usable, Isaiah Canaan for multi-3s and even T.J. McConnell for a few dimes/steals.  I'll be digging deep into the Sixers well with @POR/@GS matchups.

Sunday: We wrap the semis with 5 games, and DAL, DEN, LAC, LAL & SAC all heading into b2bs stretching into Monday.  So if you're streaming/relying on any vets from those teams, be sure to double-check their availability.  As always, look for the SAC matchup!  They host the Mavs, and if Dallas rests anyone and you know it in time, it could be a great streaming situation.  HOU going @IND should be fun, and [email protected] with the promise of the younguns playing the whole way should give the Wiz some nice stats.

I hope everyone had a great weekend and remains alive in their playoff matchups!  Good luck in the semis, Razzball Nation!