My sleeper pick in this NBA draft class was the no. 11 overall center from Vanderbilt, Will Perdue, but I'm thinking I might want to have stopped one short and taken a second look at Willie Anderson. In his first NBA game, the kid went 30/5/6. I know the Spurs don't have much else going on, but 30/5/6 from a rookie in his first game … against the defending world champion Lakers!?! Pfft. Can't push Willie 'round. Willie won't go. This is me trying to tell everybody.  I'd grab Anderson and hope Willie keeps driving 'em wild with his run-around style.
None of the these other mugs were chosen in 10th in this year's draft class and dropped 30 on the Lakers, but go ahead and read about their fantasy basketball pertinence anyway.
Brian Shaw – Since we're talking about rookie, let's talk about Boston's 6'6″ guard who 7/6/8 in 27 minutes that included the end of a tight overtime game in place of a perfectly healthy Danny Ainge on Friday. Ready? Well, too late. We already discussed it. You were thinking about a Bartles & James. Anyway, he followed up Friday's performance with an 8/1/4 night in 24 minutes. I'd be patient before dropping someone for him.
Charles Oakley – Lead his new (York) teammates in rebounds with 11 on Friday and 12 Saturday and almost hit the game winning shot on Friday. For every win Oakley helps the Knicks get, that's an elbow to the kidney Jordan gives Cartwright.
Patrick Ewing – He's averaging 20 points in his first two games, but only 5.5 rebounds. He's also been in foul trouble in both games and moves on the court with less fluidity than Kirk Gibson rounding the bases in this year's World Series. Take it how you want it.
Scott Brooks – 8/2/7 on Saturday. No one knows why he Philly gave him 23 minutes against Boston and by 'knows," I mean "cares."
Mark Bryant – 3/3/2 in 24 starter's minutes. This is what I said two weeks ago, "Bryant is the only one of Portland's rookie trio worth considering. He has a decent outside shot and is as good a bet as Branch to take the starter's minutes at the three …" He's no longer worth considering, but I was right about the least important half of that statement – which I feel means something.
Karl Malone – Utah (finally) agreed to a 10-year contract worth $18 million for Karles Barkley (he hates when I call him that … they both do, actually). Aren't you miffed you passed him up to pick Tree Rollins now? In other news, Utah signed Bobby Hansen to a five-year deal worth $3 million. In other, other news, Karl met Bobby in the locker room after the contract meetings and slapped him in the face with his groin because that's what millionaires do.
Kelly Tripucka – Shot only 2-of-12 from the floor and ended with a 9/5/1 line, with 4 stl in 38 minutes. Off or on, I'm Gonna Git You Tripucka is going to be on the floor 36 minutes a game or more until someone else on this expansion team proves they deserve to be in the league. Two games in, that person hasn't appeared. Maybe Rambis, maybe Chapman. Probably neither. Don't do anything rash. Just look. Listen. Pay attention.
Rex Chapman – Pretty sweet night on D for Cleveland's Ron Harper who let Tripucka score 16 and Chapman score 14, which Tripucka silently felt were also his points. He's finding a way to get them back. In the meantime, the Charlotte rookie is averaging 13 points in his first two games and I really think with a little time–oh, gawd. I can't even finish with this. I've spent too much time on the Hornets already.
Mitch Richmond – Went 17/8/5 in 36 minutes, despite shooting poorly from the floor (.357), or as the other Warriors called it, "above average."
Roy Tarpley – Played exactly half the game, finished with 2/9/0 and a block. Went 1-for-7 from the floor. Still, that's about four rebounds and a block better than Uwe Blab woulda had did.
Sam Perkins – I want to call him Slim Perkins. This ain't no slim line though: 25/7/3, with a pair of steals and a quartet of blocks as he's started the first two games of the season like gangbusters. Maybe it's still too early, but it's kooky that no one is talking about it. Besides me, but I don't count. And Texans. They're probably talking about it. They don't count either.
Derrick Chievous – 19 points on 8-of-13 shooting in only his second game in the NBA. Call him Otis Thorpe-insurance. Why? I don't know. In case Thorpe doesn't play well for the Rockets, I guess. Oh. Okay. I've already forgotten who we were talking about.
Rik Smits – 10/8/1, with 2 blks in 28 minutes. Those are all career-highs; a short, unimpressive career.
Norm Nixon – Back in Southern California to drop a line of: 11/2/2 in his first game in two seasons. NORM! Sometimes you really want to go / Where everybody knows your naaaa-ame.
Ken Norman – Keeping the Norman's all together, Ken played 43 minutes, scored 22 points, grabbed 15 boards.
Moses Malone – 25/16 in 39 minutes for the 33-year-old. Other than that? nothing. A couple assists, couple steals. This is the line they'll chisel on his headstone, minus the 33 years old part … I HOPE!
Roy Hinson – 8/5, with three blocks. Sleeper pick. Yup, that's about right. That's just about right.
John Paxson – 16/1/4 in 22 minutes off the bench, while starter Sam Vincent went 6/4/7. Was Jordan impressed? No? Well then neither am I.
John Williams – Came off the Bullet bench Saturday to play 36 minutes at three different positions. Led all rebounders in this game with 11 reaches. Led all blockers in this game with two blocks. Was second in John Williams' behind the guy who composed the theme to Jaws and Star Wars.
L I N E    O F    T H E    N I G H T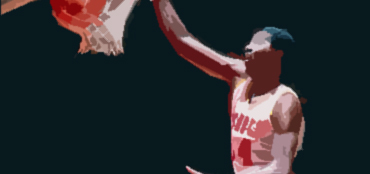 44 mpg/ .500/ .733/ 0 3ptm/ 33 pts/ 15 rbd/ 0 ast/ 5 stl/ 6 blk/ 2 tov
Akeem Olajuwon – For every shot Olajuwon sinks, every block he sends into the third row, every rebound he grabs, somewhere a puppy is born and its family can't help but name it Akeem.