A month or so ago, in this very fantasy corner, a young center of the New York Knicks was featured as a buy candidate. He began the year as the 3rd option behind Enes Kanter and Luke Kornet and had the occasional foul-plagued game but, and I'm quoting myself from the aforementioned article, "As long as he can stay on the court, he is both a great stash for the second half of the season and immediate help for boards and blocks." I hope you took that advice because the second half of the season is upon us and Mitchell Robinson is beasting, averaging 10.3/0/8.2/0.4/0.8/3.3/0.4 on 71%/62.5% shooting. The blocks are outright RIDICULOUS! He even improved his per-36 stats and with DeAndre Jordan's contract expiring this summer, he is already very high on my draft board for next season.
When taking a quick look at last article's suggestions, Dion Waiter's name pops out as the big hit, as he is having a great scoring month both from the paint and from beyond the 3pt line. The duo of Landry Shamet and Allen Crabbe have contributed in points and triples, with the former offering higher rest of season upside. Finally, Tobias Harris is proving me wrong by keeping his usage in Philly and scoring at his usual clip. This is a situation to monitor going forward, and we have to take into account that Joel Embiid was sidelined, but my projections of a top 50 finish look a bit pessimistic now.
Buy
Joakim Noah: Now this is a name I was not expecting to write for fantasy hoops in the year 2019. Joakim Noah is a guy you either hate or love. You love his emotional and intense play and his selfless contribution to a team. You hate his free-throws, screams, and passive-aggressive mockery of opponents, though.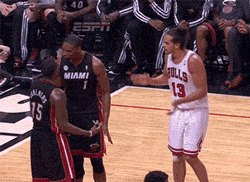 Naaaah, who am I kidding? Everyone loves Noah. What we especially love as fantasy players are his performances since Jaren Jackson Jr, went down with an injury. 15 points, 8.3 rebounds, and 1.8 blocks is producing the feel-good comeback story this year. It's a shame he lost so many productive basketball years in New York but, for now, he is definitely worth an add if you are okay with subpar FT% (31% owned).
Tyus Jones: He is a name that pops up every time Jeff Teague is injured or less than 100%, which is alarmingly common nowadays. Jones is one of the best thieves in the league and can run an offense effectively, so he is worth a look as long as Teague is struggling (12% owned).
Luke Kennard: Reggie Bullock is no longer in Detroit and was replaced in the starting lineup by Wayne Ellington, who is not able to play the same bulk of minutes. That increased Kennard's playing time and he responded with 2.8 triples and 1.3 steals during the last two weeks. The Pistons need all the shooting they can get so he should be able to maintain his value as a spot-up shooter and secondary playmaker for a Detroit team fighting for a playoff spot (8% owned).
Sell
Harrison Barnes: Early signs suggest that his move to Sacramento will be a detrimental one for his fantasy value. The minutes are there (34.9), but the points (10.3) and shooting (32.3%) have not. He is bound to be more accurate but his light contribution in all other categories, excluding rebounds, makes him a sell candidate. You could argue he is a great buy suggestion, as he can be easily had right now, but I'm not a believer (79% owned).
Justise Winslow: The emergence of Dion Waiters and the return of Goran Dragic will reduce Winslow's usage and playmaking duties moving forward. Maybe he is not an immediate drop and you can try to trade him based on his prior production, but I predict a sharp decline of his value in the last months of the season (44% owned).
Rajon Rondo: The LA Lakers are in free fall, losing four out of their last five games to the likes of Memphis, Atlanta, and the AD-less Pelicans and Rajon Rondo is not helping their case. With Lonzo Ball out, he had a great opportunity, but with just 7.5 points, 3.5 turnovers, and 39.7%/42.9% shooting, he is actively hurting your team. There are better assist specialists out there (like Tyus Jones), so a drop is in order (38% owned).
So there you have it folks. As always, I am eager to read your thoughts about other players you think are Buy/Sell worthy in the comments below, as well as all your fantasy related questions! See you next week with new suggestions and a recap of the performances for this week's showcased players.