This year's trade deadline moved talent to the East, which strengthened the talent level of the Conference. The Bucks, Raptors, and 76ers improved their rosters and, with the always strong Boston Celtics, form a formidable group of teams that could produce great playoff battles. It is a welcome change from the Lebron-dominated era and one I'm greatly looking forward to watching. If anyone wants to talk basketball besides fantasy, drop a comment below about which team you think ends up with the Eastern Conference title. Due to the nature of last week's article there is no review of the suggestions, so off we go to the new ones.
Buy
Landry Shamet: Throughout his rookie season, Shamet has shown glimpses of his talent when given minutes with the 76ers, but the recent trade to the LA Clippers has opened a path to more playing time. In his first two games with the Clippers, Shamet is averaging close to 30 minutes and has confirmed his reputation as a knockdown shooter with 3.5 triples on 56% shooting. Doc Rivers compared him to a younger J.J. Redick and boy, that's a great comparison if you want to make a career as a spot-up shooter in the NBA. If he can keep his minutes he is worth an add even in shallow leagues (15% owned).
Allen Crabbe: Crabbe has been around the league long enough that you know what to expect from him. Points, triples, and the occasional steal but when he is hot, like he is right now, he can decide matchups with his 3pt marksmanship alone. Grab him for today's favorable matchup against the Cavaliers and utilize him while his hot streak continues (37% owned).
Dion Waiters: Waiters was an unlikely winner of the trade deadline, as Miami offloaded both Tyler Johnson and Wayne Ellington. This has resulted in him starting and playing 34.3 minutes with 4.6 triples and 15.6 points. His value is much lower in roto due to his percentages and minimal defensive stats but you would be hard pressed to find more points on your wire, so give him a look if your team is lacking in that regard (16% owned). Let's hope he can replicate the great run he had last year, paired with celebrations like this….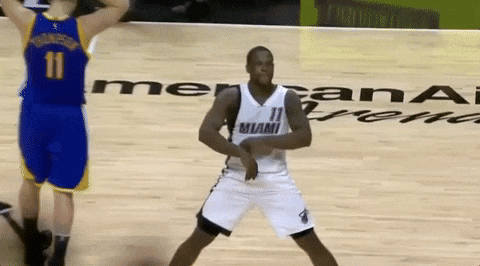 Sell
Tobias Harris: I briefly spoke about him on last week's article and how I expected his value to drop. Looking at the first three games in a 76ers uniform, nothing has changed this belief. His usage has predictably dropped to 19.9 and he's operating without the ball much less. He can still produce at a top 50 level, but if you can swap him for a top 25 player moving forward, I would do that exchange in a heartbeat. Too many mouths to feed in Philadelphia from a fantasy perspective.
Kent Bazemore: A prime candidate to be traded before the deadline, Bazemore wound up staying in Atlanta, mainly due to the $20 million player option for next season on his contract. The Hawks are playing for ping pong balls for the rest of the year and have younger wings in Huerter, Prince, and Bembry that they want to take a longer look at. This has resulted in a playing time decrease for Bazemore and the time to drop him is now, as he is averaging a mere 20 minutes during the last month. Still, he is owned in 44% of Yahoo leagues, so swapping him for a productive free agent makes a lot of sense if he is still on your roster.
So there you have it folks. As always, I am eager to read your thoughts about other players you think are Buy/Sell worthy in the comments below, as well as all your fantasy related questions! See you next week with new suggestions and a recap of the performances for this week's showcased players.