Razzball nation, It's time!!
After going cold turkey for what feels like ages, hoops is back, and what a great feeling it is. The arrival of the basketball season also marked the start of a new era in the Bozic household with the arrival of a new baby girl; and despite being a tall and heavy baby, we decided to hold off on naming the baby Bismack Bozic for gender's sake.
So three days into the new season (and overreaction territory) and we have already seen some significant action. The Lakers started with a bang in the Luke Walton era by beating the Rockets in their opener. Myles Turner took off in an overtime win against the Mavericks to the tune of 30 points, 16 rebounds, 4 blocks and 2 steals. Roy Hibbert still might have something in the tank with the Byron Scott disaster behind him (although exited last night with a sore knee), and oh, surprise surprise Kawhi Leonard is very good.
But you're not here reading this for me to tell you that a first round talent is very good, so let us venture into those 'way too early to overreact' rookie performances from the first few days of the season:
Wade Baldwin IV, Guard, Memphis Grizzlies: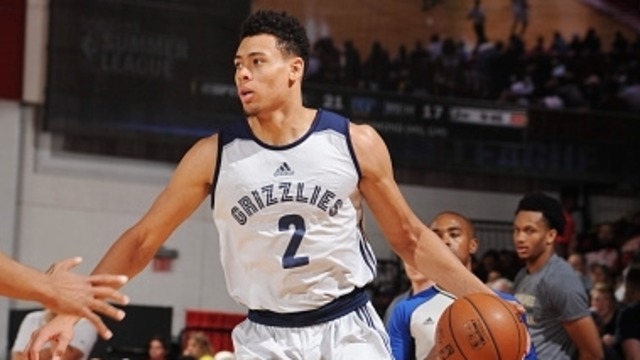 It is starting to feel like a common theme – me singing the praises of Wade Baldwin IV. It is no secret of my love for the combo guard after my aggressive rookie ranking of 8 back in August, and his season debut did nothing to dampen the spirits. The Grizzlies might not have had 'Trick or Treat' Tony Allen available for the game on Wednesday night, but Baldwin sure as hell made sure he wasn't missed. In what turned out to be a comeback win for the Grizzlies (after falling to a 19-1 deficit during the 1st quarter) the first round pick did his best Tony Allen impression putting up 3 blocks and 3 steals as well as chipping in with 6 assists and going 1-2 from downtown.  I have stated all along that I believe the Vanderbilt star and Mike Conley can co-exist, especially in the new uptempo offense, and Wednesday's game went a step further to prove that. Most encouragingly of all though was the 63 minutes combined for both rookie guards (Baldwin and Aaron  Harrison) giving belief that even with the return of Tony Allen, there are minutes to be had (especially given how much Baldwin IV outperformed the starting Harrison). New uptempo offense, fantasy friendly skill set and an impressive debut performance… there is a lot to like about the 20 year old Wade Baldwin IV.
Marquese Chriss/Dragan Bender, Forward, Phoenix Suns:
Wow…what a way for the Croatian sensation to enter the NBA. It may have been garbage time before getting the nod, but what a way to introduce yourself by draining 10 quickfire points in just 12 minutes, 12 minutes that included 2 treys and a steal (on 4-5 shooting). The journey ahead is going to be long, and there is still a lot to learn for the 18 year old power forward who learned his trade as a point guard.  But those of you that invested a draft pick in dynasty leagues must have been pleased by this outburst, which got rewarded by picking up 7 minutes off the bench in a close loss to the Thunder Friday night. Bender clearly is looking ahead of schedule in his projected NBA development, and the Suns seem fully committed to getting their newly drafted players NBA court time.
After an eyebrow-raising pre-season, Marquese Chriss seems to have solidified his place in the Suns rotation, and through two games, has seen 33 minutes of action. Through those 33 minutes the 19-year-old former Huskies forward has accumulated 14 points, 8 rebounds, 2 assists, 2 steals and a block and has dynasty league owners drooling over his long term fantasy friendly game. The downside thus far has been the 5 turnovers and 6 personal fouls committed through that stretch, although a trait very common for young rookies adjusting to the NBA system. A run of strong performances could eventually spell the end for PJ Tucker's time in the desert, and that can only spell good things for the fantasy outlook of the 19 year Chriss's second half of the season and beyond. The Suns went out on a limb drafting long-term upside whom they knew would take time to develop, but so far so good for Marquese Chriss.
Pascal Siakam, Forward,  Toronto Raptors:
The 2-3 month timeline released this week on Jared Sullinger's return must have seemed like a devastating blow to Raptor fans (and of course myself after his selection for 'value pick' in the staff selection), but bought opportunity to one of the new kids on the block, Paskal Siakam. Now the stat lines through his first two games do not ring out as all that impressive (averaging only 4 points per game, 6 rebounds and steal through 18.5 minutes), but the confidence shown in the 22-year-old first round draft pick from Dwayne Casey speaks volumes, especially given the fact that his first two assignments in the starting rotation came against Tobias Harris and LeBron James. The athletic Siakam did a fine job playing off the ball in both games at the defensive end, and performances like this spell wonders for Siakam remaining in the rotation beyond Sullinger's return. There is still work to be done on the offensive end for the former New Mexico state star before fantasy significance is reached, but it is important to remember that in college last season,  Siakam was a double-double machine averaging 20.2 rebounds and 11.6 rebounds on 53.8% shooting. Siakam's dynasty value is definitely rising, but with Kyle Lowry, Demar DeRozan and the fast starting Jonas Valanciunas dominating offensive touches, it will be a while before we see any significant contributions on the offensive end from the talented and versatile forward.
Also:
Kris Dunn had an encouraging performance in his NBA debut after a lackluster preseason, putting up 8 points, 4 rebounds, 1 assist and a steal through 15 minutes. The real takeaway from this performance was improved shooting, hitting 4 of 6 shots. Dunn has considerable talent, and the first twenty games of restricted minutes might afford you opportunity for a buy low opportunity from owners who expected more significant minutes out of the gate.
After logging 24 minutes in the Lakers surprise opening game victory over the Rockets, Brandon Ingram found himself reduced to just 4 minutes Friday night against the Utah Jazz due to an ongoing knee injury. In the game against the Rockets, Ingram contributed 9 points on 4-6 shooting (1-2 from downtown) with 3 rebounds. Another long term project, Ingram will take time to develop, but has the potential to be a significant second half contributor for the Lakers, especially if given the chance to exceed 20 minutes per game.
Buddy Hield has had his struggles in the early season, and if you have read previous articles of mine, you would know that I was not a fan of his entering the season. The lack of variety to his game has left him found wanting through the first two games of the season putting up just 6 points from 3-14 shooting. I am sure there is going to be some shooting hot streaks through the season given the nature of his game, but Hield is a headache I am leaving for other owners to deal with as  just don't have the confidence he has the skill set to effectively adjust to the NBA level.
Be sure to tune in next Saturday for more news and updates on player development from the NBA, D-League and Europe.
You can find me on Twitter  @storytelling41