The basketball season may still be 2 months away, but it is never too early to start the research for your fantasy dynasty rookie rankings. We have already seen a wild off-season, what with the crazy free agency period, a period in which Kevin Durant found a new home; the NBA draft – a draft which was one of the most unpredictable in years; and Olympic basketball, in which we saw a spirited Serbian team pick up a silver medal against the odds.
In this article I will be looking at the long term value of those rookies selected in this year's NBA draft, and how I rank their long-term future in the NBA for all of you in dynasty leagues. This year's draft class is not as top heavy as previous seasons, but still brings a lot of intrigue nonetheless. This article will feature my top 20 picks, be sure to check out next week's edition where I dive into my 21-40 picks.
Remember that these are dynasty league rankings, so are focused on the future from a talent/upside perspective for fantasy, rather than that of immediate impact in the NBA.
2016-17 Dynasty Rookie Rankings:
The Top 10:
| | | | |
| --- | --- | --- | --- |
| Player | Team | Position | Age |
| 1. Ben Simmons | Philadelphia 76ers | SF/PF | 20 |
| 2. Brandon Ingram | LA Lakers | PF | 19 |
| 3. Kris Dunn | Minnesota Timberwolves | PG | 22 |
| 4. Jamal Murray | Denver Nuggets | PG/SG | 19 |
| 5. Dragan Bender | Phoenix Suns | PF | 18 |
| 6. Marquese Chriss | Pheonix Suns | PF | 19 |
| 7. Buddy Hield | New Orleans Pelicans | SG | 22 |
| 8. Wade Baldwin | Memphis Grizzlies | PG | 20 |
| 9. Jaylen Brown | Boston Celtics | SG/SF | 20 |
| 10. Jakob Poeltl | Toronto Raptors | C | 21 |
Player I am highest on: Ben Simmons
It is very difficult to look past Ben Simmons as the clear cut star of the show. The number 1 overall pick in this year's draft brings such a unique talent set for potential fantasy owners and I for one am drooling over what he can bring to the table. A potential match up headache for opponents, the Australian can run the floor, has elite passing skills for a man his size and has outstanding instincts in rebounding the basketball on both ends of the floor. His shooting game is a work in progress, and there have been question marks over his work ethic and maturity, but there is no player more unique than the former LSU star and you can sign me up as an instant believer in his abilities.
The safe pick: Jakob Poeltl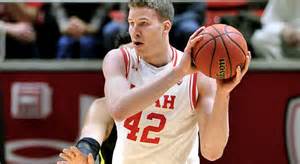 The Austrian native may not benefit with the kind of upside of some others drafted ahead of him, but the 7'1 Utah product is likely to develop a steady career ahead of him with a low floor ceiling. Jakob had a very productive year as a freshman, but made the decision to return to college and delay entry to the NBA by a year, a decision which has worked in his favor. The offensive game is still a work in progress, but with the ability to finish with both hands around the rim and a soft touch to his jump shot, I believe there to be more offensive talent in the Center than some think. With Bismack Biyombo now out of town, look for the hard contact loving big man to see some solid floor time this year and be a steady contributor on the defensive end
The player I am avoiding in drafts: Buddy Hield
Around fantasy circles, Buddy Hield's name can be compared to that of Marmite, you either love him or hate him. For me I will be leaving him on draft boards this year, despite landing in what seemed a favorable spot. In recent years we have seen some tremendous college scorers struggle in the NBA, and the names that come to mind are Nik Stauskas, Ben McLemore and Jimmer Fredette. It is undeniable that Buddy Hield is likely to get more playing time this year than the majority of his rookie counterparts, and that alone is the reason for the top ten ranking. But with the big step up in defense and physicality in the NBA, as well as Buddy going missing in a few big college games last season, Hield will be a name that will not find a place on a roster of mine this season.
The stash: Wade Baldwin
It is no secret that that Baldwin landed in a horrid spot when he was drafted 17th overall by the Grizzlies, and it is unlikely that the former Vanderbilt star will make much impact in his rookie season. The good news though is that Baldwin is a player of terrific size and skill. In his time at Vanderbilt, the 6'4 guard showed considerable aggression in his game when attacking the rim, has a big 6'10 wingspan and is an excellent shooter of the ball (Baldwin made 40.6% of 3 pointers attempted in college). Also factor in that Mike Conley has missed 69 regular season games over the past 5 seasons should give Baldwin ample opportunity to showcase his talents in the upcoming seasons.
2016-17 Dynasty Rookie Rankings:
11-20
| | | | |
| --- | --- | --- | --- |
| Player | Team | Position | Age |
| 11. Thon Maker | Milwaukee Bucks | PF | 19 |
| 12. Timothe Luwawu | Philadelphia 76ers | SG | 21 |
| 13. Ante Zizic* | Boston Celtics | C | 19 |
| 14. Furkan Korkmaz* | Philadelphia 76ers | SG | 19 |
| 15. Taurean Prince | Atlanta Hawks | SF | 22 |
| 16. Ivica Zubac | LA Lakers | C | 19 |
| 17. Guerschon Yabusele* | Boston Celtics | SF/PF | 20 |
| 18. Denzel Valentine | Chicago Bulls | PG/SG | 22 |
| 19. Tyler Ulis | Phoenix Suns | PG | 20 |
| 20. Deyonta Davis | Memphis Grizzlies | PF/C | 19 |
*Denotes playing overseas for 2016-17
The player I am highest on: Guerschon Yabusele
Although playing his basketball overseas for the 2016-17 season, the 'Dancing Bear' brings a rare physique for a man of his size and a toughness you can't teach. With the ability to stretch the floor, the French native has the raw skill set to be able to adapt to the modern NBA with high success, and the Celtics will be hoping that they have hit a long term home run in the 16th overall pick. We have seen similar undersized forwards have great success in the modern NBA, and with increased maturity and more seasoning, the 'Dancing Bear' could be a big name to watch for the future. It's only because Guerschon is playing overseas that I list him so low.
The safe pick: Taurean Prince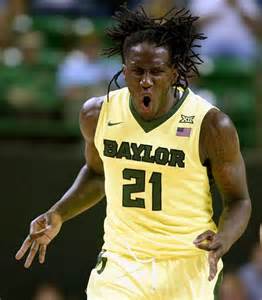 As a Baylor fan, Taurean Prince entered the draft as one of my favorite college players, but even I was surprised to see the Hawks select him 12th overall. Although generally labelled as a 3 & D guy, there is more to the 22 year old's game than that. Not just an outstanding athlete, Taurean also has a very high basketball IQ and is extremely adaptable, the kind of package that NBA coaches love. With Kyle Korver and Thabo Sefolosha becoming free agents at the end of the season the former Baylor star has a chance to carve out a significant role sooner rather than later.
The player I am avoiding in drafts: Ivica Zubac
I don't have much hate towards the Lakers big man, but more an expectancy that I am not willing to reach as high as others to obtain his talents. It is undeniable that the 7'1, 265 lbs big man has some considerable upside on the defensive end, but i have some serious doubts as to whether the offensive game will develop enough to warrant him more than just a 1 category specialist. Ivica Zubac has a history of missing time, most notably in 2014 when he suffered a severe foot injury, and with the physical demands of the NBA and given his size and history injury Zubac will be an avoid for me.
The stash: Deyonta Davis
If you're the guy that likes to take a flier on a second round guy in the hope of finding gold, then Deyonta Davis could well be your guy. A gifted 19 year old standing 6'11, 240 lbs and a 7'3 wing span, he still has room to grow and already has the shot blocking ability to be a standout 1 category specialist when playing time allows. Davis has also shown flashes on the offensive end too, and many scouts believe that he could develop good NBA range in time with some upside on both ends of the court. Time is the key factor here as the former Michigan State star is still very raw.  But with a good core around him to learn from, we could be looking at a future steal in fantasy dynasty drafts and could rise in dynasty rookie rankings once he takes to the court.
Be sure to check out next week's article, where I will be looking at my 21-40 dynasty rookie rankings.
You can find me on Twitter @storytelling41