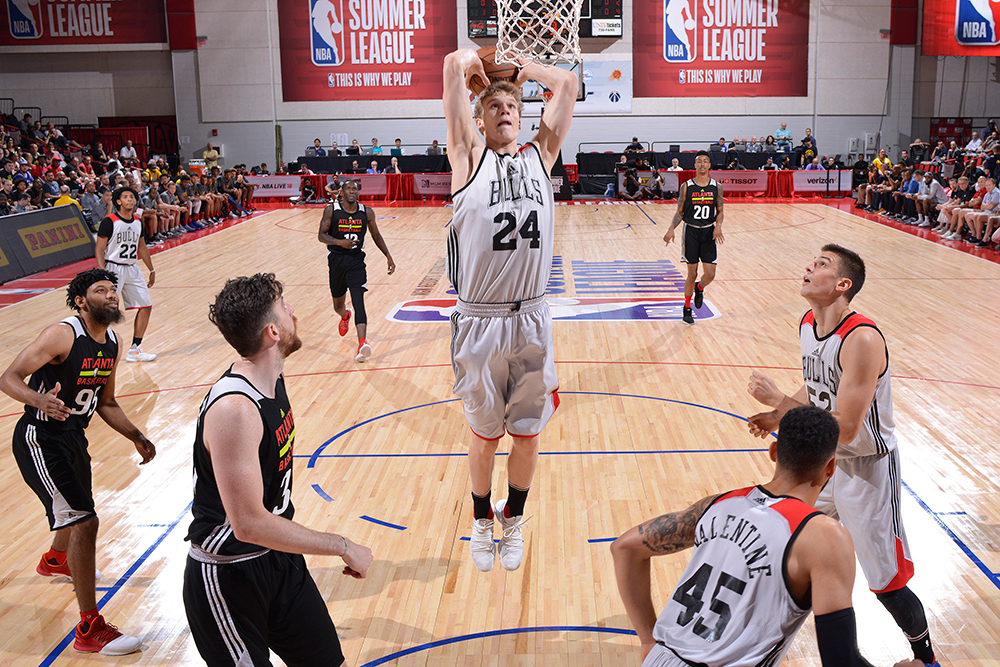 October is here and you know what that means, Dynasty Deep Dive is back to it's weekly Saturday slot. Razzball Hoops has entered a new era, but for those of you DDD faithful, nothing has changed in what will be another year looking at the rookies, next year's draft class, and of course my personal favorite, European basketball.
So what have I got for you this week? In a conversation sparked with a fellow basketball fanatic and birthday boy Jay Collins, I thought we'd keep things familiar and take a closer look at our shiny new toys, now that we know where they will call home.
"Best draft class in a decade." "Multiple future All stars." "Not seen a draft class like this since 1999." We have been promised much from this rookie draft class, especially from myself over the past 18 months. Now, we are finally at the doorstep of yet another season and, once again, face those mixed reports on some of the future stars of the NBA. We must properly value these new students of the NBA so that we don't overpay for them.
This week we will veer off the usual DDD path and delve deep into the murky underground of the unknown to look at how FT% may help, and just as importantly hinder, your roto leagues. Let me put my money where my mouth is and guide you through the Do's and Don'ts.
Be wary of your Free throw Percentage:
Have you ever seen a group of talented rookies that struggled to shoot from the charity stripe? All the fantastic things these rookies can do has been well documented. Ball, Fultz, DSJ, and Fox are do-it-all point guards. Ben Simmons is a point-forward with fantastic court vision and passing ability. Josh Jackson has the potential to be a two-way force due to his defensive prowess. Kyle Kuzma is a sharp-shooting perimeter threat who has picked up steam in fantasy following a strong summer league and preseason campaign. One thing we don't hear much about is how each of these players can really hurt you at the free throw line. Sure, there is always the chance for players to improve in ths department and, given that most were one-and-done guys, I would expect incremental improvement over time. The bottom line is BE SURE TO KNOW WHAT YOU ARE DRAFTING WHEN YOU DRAFT A ROOKIE.
Sure, you might walk away from a draft feeling chuffed with yourself after acquiring Fultz, Smith Jr., and Simmons in the middle rounds, but you are likely headed towards tanking free throw percentage.
Let's take a look at a few rookies who could help:
Since the draft, no rookie has improved their stock more than Donovan Mitchell. What a dream situation he has found himself in. Although likely to see a limited role in the early part of the season, it is becoming more clear that, in order for the Utah Jazz to succeed post-Gordon Hayward, they will need a large contribution from a player that is a genuine perimeter scoring option. It will take some time, but Mitchell has the potential to be an outstanding perimeter defender as well. Unlikely to hurt you anywhere in roto, Mitchell is one of my favorite second-half stash targets in this years draft.
Wow! What an offensive showcase from the third overall pick in summer league. With Jae Crowder now in Cleveland, it is becoming more clear that the Celtics will rely on the Duke product earlier than what most expected. The argument will always be where does he fit into an offense that already boasts Kyrie Irving and Gordon Hayward among others. With the ability to contribute across the board with good percentages and potenial to garner an expanded role as the season progresses, Tatum is a guy I am aggressively drafting in roto leagues.
The hate on Lauri seems to have gone too far. Most of it seems to stem from the situation he finds himself in Chicago. He might not possess the electrifying ceiling we all want to see from a rookie being drafted, but that doesn't prohibit him from having a high floor and a game made to significantly help roto teams. Although you might not see the traditional boards and blocks from a PF (although it was clear that the Bulls looked committed to improving this in summer league with some aggressive board play and use of his length in the paint) what you do get is a player who is likely to have a significant role in the offense from the get-go, great percentages, a regular stream of points, and plenty of threes. That is a lot of roto help for a guy you can get in the final round of your draft (and you heard it here first, but Lauri will board and block better than you think in time).
To label Malik Monk as a 3 & D guy (and many seem to already) seems like an incredible disservice to a player who is capable of playing with the ball in his hands. Although opportunities to handle the ball were limited at Kentucky (he played alongside two outstanding college point guards in De'Aaron Fox and Isaiah Briscoe), he was more than capable of playing with the ball in his hands. With the impending news that Batum is going to miss a significant portion of the season, it is likely that many are rushing out to pick up Jeremy Lamb, but for me it is a chance for Malik Monk to shine.
Ok, so a 75% free throw percentage might not exactly be a strength for John Collins, but he is listed here because it won't hurt when you consider the strengths that the big man does possess. Likely coming off the bench to start the season, it is clear that the big man is making noise among the Hawks faithful and is already showing that he can score and board among NBA bigs. Add to this the natural athleticism that the rookie sports (although he doesn't always know how to properly utilize it), Collins should be a popular early add who I expect to significantly outperform his ADP come seasons end.
I am not trying to dissuade you from drafting the rookies you believe in, especially those with poor free throw percentages. They have an abundance of skill and potential. Just be sure to know what exactly it is you're drafting and the consequences on your Roto outlook for the season.