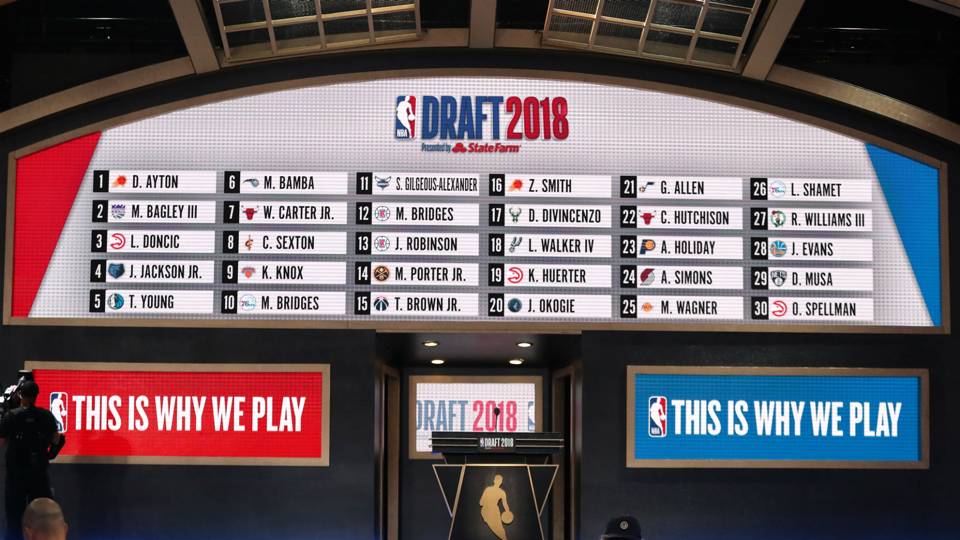 Welcome back Razzball Nation. What a night the draft was. A true testament to Adam Silver and the NBA for putting on a fantastic spectacle which had more twists and turns than a South American mountain road. One clear message that came from current and former players was that work is only the beginning. For this article, I have also taken a twist and turn, as I bring an email dialogue between myself and Steve Connell about the draft. Steve works hard researching high school and college basketball and provides inspiration for many of the Dynasty Deep Dive articles. Two minds are better than one, right?
Steve Connell:
Hey Craig,
What a draft with so many stories to talk about. What's three quick hit takeaways you have for me regarding the draft?
Craig Bozic: What a draft indeed. Loved the aggression from both Atlanta and Dallas. Both teams got their guys and Atlanta having the confidence to look past Luka Doncic and getting the additional pick. The end of the first round and start of the second bought a lot of long term intrigue too. Many players in this range could surprise in the long run and there seemed to be plenty of value here. Last but not least was how fun this Suns team is going to be to watch next year. The draft on face value really seemed to work well for them.
Did anything surprise you from draft night and were you pleased with where your Celtics went at 27?
Connell: Prior to draft I was worried about Robert Williams because I felt his success was very dependent upon landing spot. Well, the Celtics were very happy to land a toy that they don't currently own in their toy box. Many feel the Celtics got lucky that he fell where I feel Williams will be the lucky one at the end of the day. There was talk of them looking to trade up for him. To listen to Stevens talk about how he wants to at times play four shooters with him out there must put opponents on edge.  Come to think of it, is there ANY player that you couldn't say, "Stevens could make "him" work"
Bozic: Couldn't agree more. Robert Williams wasn't inside my pre-draft top 20. My concerns with Robert Williams are the big question marks on his offensive tools and whether they are able to develop at the next level, but the landing spot could not have been better for him and the defensive skill set he can offer the Celtics frontcourt. It seemed that the rich got richer with the Celtics getting Robert Williams at 27 and the Warriors getting Jacob Evans at 28, another player who can make a big impact on the defensive end without having to be relied upon on the offensive end.
What were your two favourite and least favourite picks in the draft? Did anyone move up or down for you from a fantasy perspective because of their landing spot?
Connell: I feel your boy Elie Okobo found a perfect landing spot. I'd love to hear your thoughts on his fit in Phoenix.  A couple of other interesting landing spots for me were Gary Trent Jr in Portland and Mitchell Robinson with the Knicks. Both have untapped talent. Along those same lines Trevon Duval (signed by the Rockets as free agent but wishing he went back to college, a conversation for a different day) going undrafted is shocking. While he might never be an elite scorer, I feel he can do enough things well to be interesting. Don't forget that it wasn't that long ago when he was a Top 10 recruit on everyone's list. Another guy who I will follow closely is Purdue's Vincent Edwards in Utah. He sure is a fun player to watch. As far as players on the other end I worry about the fit for is Moritz Wagner, as we just don't know what that Lakers team will end up looking like and I still like the game of Ivica Zubac. I would love to get your thoughts on what happened with Coach K, Izzo, and Calipari. Those teams were loaded but never fully realized themselves. Is it the one-and-done culture?
Bozic: I think it was a tall order for Kentucky this season, with the raw group that they had and without the real offensive firepower that they had in previous seasons. I know we had many a conversation about the emergence of Shai early on in the season and, as you know, I had him ranked inside my top 15 after the first month as it was clear to see that the talent was there. The inconsistencies and naivety sure did show at times at both ends of the floor, but I put some of that down as a young player on a young team without a real leader, Wenyen Gabriel aside. Duke was much more of an enigma. Such a highly sort after recruitment. Just goes to show that nothing is won on paper. It was clear that there were issues on defense and the poor free throw shooting of the team really caught up with them in key moments. The one-and-done culture is fine with me, as I like seeing the various paths to success each of the Division One colleges take, is it healthy for the NBA? I think it is more healthy this way than going back to high school players being drafted. I think in today's top heavy culture deepening the draft each year with high school players being eligible plays into the hands of the strong getting stronger.
Connell: Where are your reaches and value picks compared to your pre-draft mock?
Bozic: The top end of the draft seemed to take care of itself really well I thought, but boy the Michael Porter Jr sliding saga on draft night sure did bring suspense. Denver getting him at 14 really felt like a no lose situation, given the difference in salary between top 5 and 14. The values of Elie Okobo and Mitchell Robinson were very intriguing. I had both ranked inside my top 15 for fantasy for what they potentially can bring to the table, and their landing spots sure did nothing to suppress that thought for me. Dzanan Musa has a very interesting offensive profile, and his landing spot in Brooklyn sure has me intrigued as well as Omari Spellman in Atlanta, who will provide some outstanding energy on the boards and range in his shooting. Lots of real life basketball picks I liked in the 26-42 range. I thought a lot of teams did well at drafting the right guy for their team. In terms of a reach? It's Jerome Robinson for me. Plenty of helium in the weeks leading up to the draft but I really thought there were much better players on the board left for me. I just see a shoot-first two guard with ok handling and poor defense. Honestly, I struggle to justify that pick over Lonnie Walker, Elie Okobo, Gary Trent Jr and maybe even Shake Milton, who was selected much later than I thought he would be at 54.
Which teams walked away from draft night winning for you and who firmly has your attention in Summer League?
Connell: I love the fit of Wendell Carter with the Bulls. Lauri Markkanen will be buying him dinners often I believe.  Bulls fans deserve another winner as they truly have an amazingly loyal fan base that always pack the UC. I also like the Suns on paper. While their fans may not have earned it, they certainly have a reason to show up now. It might not immediately translate into wins but they are going to be fun to watch no doubt. Another team that I like what they did was Memphis. Getting Jaren Jackson Jr. and your boy Jevon Carter are very nice additions. They have always been a very tough defensive team and this fits their brand nicely. Considering they didn't have a 1st, I like what the Pistons came away with in Khyri Thomas and Bruce Brown. There are so many fun angles to follow as it pertains to this years Summer League, but guys I will be focusing in on are Zhaire Smith, Landry Shamet, and Shake Milton with the Sixers, Kevin Knox and Mitchell Robinson with Knicks, and Clippers with SAG (I'm very excited to see what Doc can do with him now that his son has been traded) and Jerome Robinson. Also it will be interesting to see if Michael Porter Jr. will play this summer or if at all for the upcoming season. Don't forget that we had to wait for Embiid for a few years and that certainly paid dividends. I know you will be covering the Summer League with some of the best coverage in the industry so I'm truly looking forward to that this summer. Do you have your preview set up yet with your "must see tv" players/teams?
Bozic: Summer League is going to be a blast. I really like the way that Adam Silver has progressed the league and made the NBA a truly interesting spectacle across the whole 12 months of the year. I am very interested to see the Hawks this Summer League albeit minus Kevin Huerter, but with them adding the much needed fire power of Trae Young and range of Omari Spellman to add to their Summer League squad which includes Tyler Dorsey, De'Andre Bembry, John Collins and last years stash from my boys at Mega Lekk's Alpha Kaba. Close eyes will also be on Kevin Knox and Lonnie Walker too, as I think both have the opportunity to thrive in more space and I liked the situation that both guys landed in. Naturally Elie Okobo will be highly scrutinised by myself too as I am looking forward to see if his high offensive IQ transitions well against more athletic players. We also get the pleasure of seeing the Kings play the Suns, so seeing Marvin Bagley and De'Andre Ayton go at it toe-to-toe should be fun. The Trailblazers are gonna be a fun watch too, to see what they have in Anfernee Simons and we both seem to agree that Gary Trent Jr has real draft steal potential. What a draft, but boy am I looking forward to Summer League. We found out a lot about certain players from last years draft class in Summer League and I fully expect the same level of excitement and hype this year.
I know you were surprised with Trevon Duval going undrafted, as were many of us. Was there anyone else you were surprised to not see their name called?
Connell: Completely agree about Silver. He might be the only commissioner that doesn't regularly get booed.  Yes, Ayton vs Bagley will be fun to watch. Don't forget that they were teammates for a month back in 2015. This is a fascinating read about their time together.
http://arizonasports.com/story/1569029/short-and-sweet-the-month-deandre-ayton-marvin-bagley-spent-together-at-hillcrest/
Along with Duval, Billy Preston from Kansas (signed by Cleveland) is the other former 5-Star recruit that needs to garner attention due to pure natural talent. We all know that doesn't always fully translate, but the NBA is built on guys that bust their ass so, if he is willing to do the work, the talent is there. Two other guys who were teammates with Ayton and Lauri Markkanen for that matter that I will be watching closely this summer are Rawls Alkins (signed by Cleveland) and Allonzo Trier (signed by the Knicks). Also if anyone watched TCU recently it was hard to take your eyes off of Kenrich Williams (signed by Denver). Another name we can't forget about is Brian Bowen, who withdrew from the Draft and yet is ineligible to return to NCAA. I'll be curious to watch his next move (G league? Europe?) because the kid certainly has talent.
I want to get your thoughts on team strategy or other stories you were following on draft day. For me it's absolutely crazy that the Suns and Kings didn't do a better job of bluffing to potentially maximize the value of their picks. Teams were clearly interested in trading up for Doncic. They should have used that name more in public conversations. Why not at least let someone blow you away with an offer. Any draft strategy thoughts stand out for you?
Bozic: I thought both Atlanta and Dallas did a superb job. Bold call by Atlanta to pass on Luka Doncic but after his workout and interview Trae was their guy and I respect that they still got their guy as well as a very valuable future first rounder. Also respect Dallas for being aggressive on the trade and getting their next superstar to take over the baton from Dirk. I agree that I feel Sacramento missed a trick, with what we saw go down can't help but feel that they missed an opportunity to pick up a much needed future first rounder especially with how aggressive Dallas and Orlando were trying to trade up for Luka Doncic. That Dallas move also seemed to put Orlando on tilt too. You feel they had to take Mo Bamba, but was it really a great fit?
Enjoy what you read? You can find me on Twitter @storytelling41 for more dynasty basketball updates.