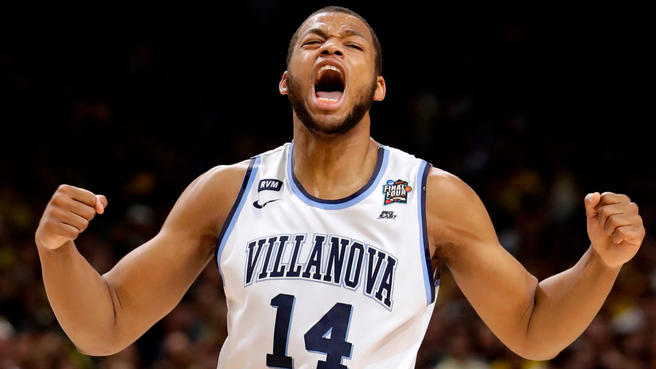 3 is a magic number and so many good things are associated with it: The Three Stooges, The Godfather trilogy, and of course the number of Hanson band members. Mmmbop. Ok, I might have stretched the mark on the last one. So here we are, Part 3 of my NBA Draft prospects. As stated before, this is not my fantasy NBA draft rookie rankings. That is a venture for another date. Instead, this is my ideal landing spots for 30 of the top NBA draft prospects.
So in the theme of not boring you with semantics, let's get to it.
Player
Position
Fit
Why?
Gary Trent Jr
SG
Utah Jazz
Gary Trent is like a microwave, as he can get hot real fast and score in bunches. The Jazz need some additional perimeter offense and already have the personnel to provide elite perimeter defense that should mask Trent Jr's deficiencies in this area.
Omari Spellman
PF/C
Chicago Bulls
Although only 6′ 9″, Omari Spellman is a 260 pound big who is very capable of creating mismatches on bigger defenders because of his quick footwork. A good shooter capable of stretching the floor, he could potentially create space in the paint for the athletic Zach Lavine and Kris Dunn to attack.
Jalen Brunson
PG
Indiana Pacers
Capable of breaking down defenses in the pick and roll and,despite his lack of size, has a bulldog element to his game. Brings a different dimension to Darren Collison and after winning a national championship will help bring a winning mentality to Indiana.
Keita Bates-Diop
SF
Portland Trail Blazers
Combo forward who is capable of spacing the floor for Portland. A very good all around defender who should be able to make an immediate impact on that side of the floor. Not the highest of upsides, but provides versatility that many NBA teams are looking for in this day and age.
Hamidou Diallo
SG
L.A Lakers
Can jump out a gym, but needs to spend more time in it to hone the technical skills. Still quite raw and has a lot to learn, but has plenty of potential given the right coaching. Potentially could provide outstanding athleticism in the back court alongside the less athletic Lonzo Ball.
Gogo Bitadze
C
Philadelphia 76ers
Somewhat of a reach, and far from NBA ready, a potential draft and stash from a team that has shown it isn't frightened to take this route. Think Dario Saric, Furkan Korkmaz, Visilijie Micic and Jonah Bolden. Gogo is a physical presence who has burst onto the scene for my favorite team, KK Mega Bemax (formerly Mega Lekks)

(Read more on Gogo in previous DDD article https://basketball.razzball.com/dynasty-deep-dive-scuba-gear-ready-were-going-deep)

Brandon McCoy
C
Boston Celtics
Something about the 7-foot Brandon McCoy reeks Brad Stevens to me. Hard worker who is always willing to get back and take his defensive assignments with energy. Aggressive rebounder with an offensive game still very much a work in progress. A true student of the game, seems exactly the kind of player the Celtics would look to develop for the future.
Jevon Carter
PG
Golden State Warriors
Those that know me know that I have been a very big fan of Jevon Carter for a very long time. Carter might only be 6′ 2″, but was the heartbeat of the high pressure defense WVU has become famous for. Not the flashiest or most dynamic offensive player, Carter is ready to step in immediately and play quality defensive minutes off the bench behind one of the best offensive units in the game.
Aaron Holiday
PG
Brooklyn Nets
Sticking with the theme of 3's, Aaron Holiday is the younger brother of both Jrue and Justin Holiday. Once Lonzo declared for the NBA draft, the keys to the offense were handed to Aaron and he did not disappoint. The Nets continue to find themselves in a position of trying to find diamonds in the rough in the draft, after the notorious gift to the Celtics. Aaron Holiday might just be the ball handler to assist in D'Angelo Russell's responsibilities moving forward.
Elie Okobo
PG
Atlanta Hawks
Athleticism, length, vision, and an ability to shoot. The French native might lack size, but don't let that fool you, as his body is in good shape and projects to add both size and muscle. Somewhat under rated in my opinion and with his lengthy arms features an ability to disrupt the passing lanes on defense, handle the ball on offense, or be useful as a catch-and-shoot perimeter offensive player. Excellent quickness from the standstill, the potential is there for Okobie to break down defenses in the isolation. This is a name you need to keep a firm eye on if you are looking for a late-round upside pick for your dynasty teams.
You can find me on Twitter @storytelling41 for any NBA draft questions that you may have.