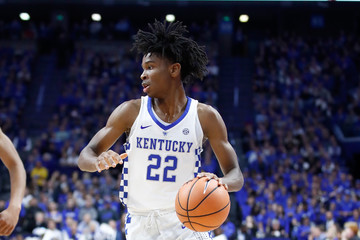 Another day in my recovery from back surgery and another post, this time bringing you more ideal landing spots for another ten prospects destined for the 2018 NBA draft.
The final ten ideal landing spots coming tomorrow before we get into the nitty-gritty of my predraft fantasy rookie rankings.
Let's quit the jibber-jabber and get straight into the action.
| | | | |
| --- | --- | --- | --- |
| Player | Position | Fit | Why? |
| Wendell Carter Jr | PF/C | Charlotte Hornets | A big who has 3 point range, can shoot off the dribble, is strong at rebounding, and possesses good hands. Frank Kaminsky-Willy Hernangomez-Cody Zeller rolled into one but with a much higher ceiling. |
| Kevin Knox | SF | LA Clippers | Athleticism is the callng card here on a team that doesn't have a great deal of athletic ability on the wings. Wish Knox had spent another year at Kentucky, but flashed enough in the second half to warrant a lottery selection. |
| Lonnie Walker | SG | LA Clippers | I was so down on Lonnie coming into the year, and even more so a quarter of the way through the season, but the kid showed up in the second half. He has some serious game and potential. Lou Williams is 31, and Lonnie can be the heir in waiting. |
| Khyri Thomas | PG/SG | Denver | Late blooming combo guard out of Creighton who can immediately fit into backup minutes as a combo guard in Denver. Excellent jump shot which would immediately alleviate some responsibility from Jamaal Murray |
| Shai Gilgeous-Alexander | PG | Washington | I love this kid out of Kentucky and, much like Knox, wish he had stayed another year in college. Shai could have a great opportunity to play behind Wall and be able to translate the uptempo offense from college to the Wizards bench, which is in need of some scoring ability from the guard position. |
| Robert Williams | PF/C | Phoenix | Would provide an outstanding combination of size, defense, and athleticism to the Suns frontcourt and serve as excellent Chriss insurance. The fit just feels too good. |
| Mitchell Robinson | C | Milwaukee | I spoke about JJJ being potentially the best pure shot blocker in the draft. Meet another candidate. After bypassing college, Robinson is somewhat of an enigma, but someone is going to take a chance on the 7′ 1″ center. Milwaukee has been looking for a rim protecting center, so the pick would make sense. |
| Jontay Porter | PF/C | San Antonio | We were robbed of MPJ's freshman season due to injury, but boy did brother Jontay step up. A skilled forward who can shoot from range and mix it up in the post. He has also demonstrated an excellent ability to play defense. Jontay has Greg Popovich written all over him |
| Zhaire Smith | SG | Atlanta | Freakishly athletic, Smith uses his power well on both ends of the floor. Outstanding defender and would give Atlanta a defensive wing force of Taurean Prince and Zhaire Smith, as well as some much needed high energy. |
| Dzanan Musa | SF/PF | Minnesota | Step aside Bjelica, Dzanan Musa should come to town to do what they thought you could. Not athletic, but the perimeter threat from the forward position is just what is needed for the Timberwolves. The kid can score in bunches. His presence on the perimeter should help space the floor for KAT and Jimmy B |
As always you can follow me on Twitter @storytelling41