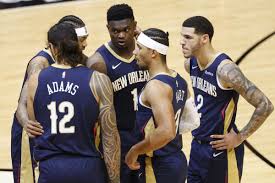 2019-2020 record: 30–42, 13th in Western Conference
Projected 2020-2021 record: 37-35, 9th in Western Conference
Health is wealth this season for the New Orleans Pelicans. Before the NBA Bubble, the Pelicans were in the midst of a breakout season for Brandon Ingram, and we finally got to see Zion Williamson in action. He had some crazy highlights in his first few games, and the team looked to be in a great position to make a run at the 8th seed in the Western Conference. After the return from the break, though, the team looked disengaged, most notably Lonzo Ball, and the team went on to lose six of eight games in the play-in tournament. This offseason, the team fired Alvin Gentry and hired Stan Van Gundy as the new head coach. They also traded their most tenured player in Jrue Holiday in an attempt to build for the future. With this retooled roster though, the Pelicans have a strong shot at a low playoff seed.
Let's take a look at the key roster changes, projected depth chart, and notable fantasy players for this upcoming season:
Key Acquisitions
– (C) Steven Adams
– (PG) Eric Bledsoe
– (C) Willy Hernangomez
– (PG) Kira Lewis Jr.
Key Departures
– (PG) Jrue Holiday
– (C)Derrick Favors
– (PG) Frank Jackson
– (SF) E'Twaun Moore
– (C) Jahlil Okafor
– (SF) Kenrich Williams
Projected Depth Chart
Point Guard – Lonzo Ball, Kira Lewis Jr.
Shooting Guard – Eric Bledsoe, J.J. Redick, Nickeil Alexander-Walker, Sindarius Thornwell
Small Forward – Brandon Ingram, Josh Hart, Wenyen Gabriel
Power Forward – Zion Williamson, Nicolo Melli
Center – Steven Adams, Jaxson Hayes, Willy Hernangomez
Fantasy Watch (12 Team)
Zion Williamson (3rd Round ADP, PF), Brandon Ingram (4th Round ADP, SF/PF), Lonzo Ball (6th Round ADP, PG/SG), Steven Adams (7th Round ADP, C), Eric Bledsoe (7th Round ADP, PG/SG)
Outlook
Guards – The starting point guard position belongs to Lonzo Ball and he should have a longer leash with new coach Stan Van Gundy. With Jrue Holiday out of town and the continued reliance on running in SVG's system, Lonzo should have ample opportunity to generate assists and orchestrate the offense. This offense will adopt an unselfish attitude and the ball will move around, and at times we might see the offense run through Ingram/Zion. If Lonzo can limit his turnovers (a big no-no for SVG) and improve his three-point shooting, he will be fully worth his ADP and provide similar stats to last season. Kira Lewis Jr. is not currently on the radar but he is a quick point guard that will run the second unit offense.
As for shooting guard, Eric Bledsoe is projected to get the nod at starter due to his experience and reputation as a defender (2x consecutive 1st team All-Defense, mind you). His skill set is very similar to Jrue Holiday. Both are not great from beyond the 3pt line, but Bledsoe is very efficient at driving to the rim. I expect him and Lonzo to generate a lot of easy fastbreaks due to the pressure they will put on other guards. J.J. Redick is the first guard off the bench and he's familiar with SVG's offense (he played five seasons under him back in ORL), so he should get solid playing time in the low 20 mpg for spacing and 3's in a hurry. Nickeil Alexander-Walker is still a gem, but he is still a year away from being a valuable contributor.
Forwards – Brandon Ingram just signed a five-year/ $158 million contract this offseason, so the team has put faith in him to continue developing into a star in the NBA. Fresh off of his 1st all-star appearance, Ingram averaged 23.8 PPG, 6.1 REB, 4.2 AST, 1 ST, 0.6 BLK, and 3 TO on 46% FG which showed a major improvement in production. He averaged over two 3s a game and 6 FTA's per game at 85% accuracy, so he can provide a lot of value to your team in points and 3s, but his FT% is worth keeping an eye on because in his previous seasons he never averaged better than 68% from the line. Josh Hart will serve as the backup small forward and should continue his development as a shooter after hitting 121 threes last season. He made it a point to improve his mechanics this past offseason and will play a more involved role in the offense, especially with the team emphasizing development for the future.
At power forward, Zion Williamson is back!!!! Last year's #1 overall draft pick will undoubtedly show everybody the promise and skillset which had him hailed as the future of the NBA. On offense, SVG stated that he plans to stagger Ingram and Zion so they can be the central focus of the offense when they are not together. Zion should put up similar averages of ~60% FG and over 20 ppg with good rebounds. His assist and stock (steals and blocks) numbers should increase as he adjusts to life as an NBA player, and he is a 1st round value in dynasty formats. Nicolo Melli will serve as his backup and I can see them playing together in small-ball lineups due to his spacing and offensive capabilities.
Center – Jaxson Hayes is still a high flying dunk machine, but he is still a few years away from being a starting center, getting the Jarrett Allen treatment. Steven Adams joins this Pelicans team to fill the starting void left by Derrick Favors, and he should provide the same value as usual. He will grab rebounds and form the strongest frontcourt ever with Zion Williamson by setting screens to create motion for the offense. Otherwise, he should average around 10-10 and might see an uptick in assists because SVG likes to run an inside-out offense and has a proven history with centers (prime Dwight Howard/Andre Drummond).
As a team, the Pelicans are at the point where the foundation is set and they will look to start being competitive. The team has its core players set in place and some savvy veterans who will help win some games. All aboard the Zion Williamson hype train!