With the full 2014-15 Fantasy Basketball Rankings now complete, let's take a look at the final 50.  Sean Connery.  Kevin Costner.  Tons of Great Depression-esque costumes.  I'd imagine if you're in a deep league and looking at the field below with your last pick or two, you're feeling something like this: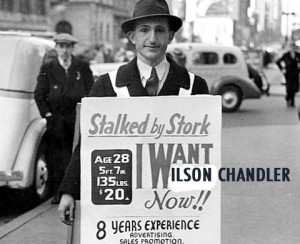 It's pretty hopeless, as in 12-teamers these are all likely guys you're merely starring on your watch list post draft.  There's some questionable talent, some questionable roles, maybe even someone that'll give you The Grapes of Wrath, but some untapped upside!  Here's my top 200 for the 2014-15 Fantasy Basketball Season (based on 9-cat H2H):
151. Wilson Chandler, Denver Nuggets – The baby birthing out of his neck ended up being an ugly one last year, as he finished 107th in per-game value despite a big opportunity.  Even with a 6 minute uptick in usage, boards went down, steals went down, he barely scored more, and shot 5% worse from the field.  About all he did was hit 2 treys a game, and now with Danilo back, the minutes are going to go back down.
152. Dion Waiters, Cleveland Cavaliers – Likely means I'm not getting Waiters in any league.  Lebron effect!  Should be able to have some wide open treys, but his lack of anything else beyond that with a lower-volume offensive output really stifles any value.
153. Jarrett Jack, Brooklyn Nets – "Wahhhhhhh, I'm Jarrett Jack!"  Sounded his patented whiny self talking about his down year in Cleveland.  But all is good in the hood!  Looking at big minutes in Brooklyn filling in the Shaun Livingston void.
154. Mirza Teletovic, Brooklyn Nets – Sleeper alert!  With Paul Pierce gone and Andray Blatche still looking for a home, it's only Air-Ball-o-Vic and KG at the 4.  Even though he bricked those shots, his per-36 last year was 16/6.9/1.5/0.7/0.6 with an unreal 3.5 treys.  ThrAGNOF!  And out of position at that.
155. JaVale McGee, Denver Nuggets – It was so sad to see him get hurt last year… No more Shaqtin a Fool!  His athleticism and upside are theoretically still there, even though he'll have to compete with Heathcare.Mozgov.  Did you know he shot 100% from the FT line last year in 5 games?!  Somehow only had 1.  For 1.
156. Vince Carter, Memphis Grizzlies – Played 80+ games in two straight years, 115 overall value last year, and could easily get to 30 minutes a game if he starts over Tayshaun Prince.  Three year deal Memphis gave him for someone this old shows a commitment.
157. Tim Hardaway Jr., New York Knicks – Huge points and treys even if he's not the starter, but lack of any other category hurt him even in a 30 minute role.
158. Henry Sims, Philadelphia 76ers – I think it's easy to forget what streaming value Sims gave you late last year since he didn't really explode onto the scene, but in the Sixers final 19 games he was 13.1/7.7/2/0.9/0.4 with only 1.4 TO.  After dumping Thad and not getting Bennett as speculated, Sims should start at the 5 next to Captain N.  His upside is a little limited with the low blocks and Joel Embiid likely playing at some point, but a solid big man filler late.
159. Steven Adams, Oklahoma City Thunder – He'll put up a virtual zero in points, but minutes and opportunity are there to rack up the boards, steals and blocks.
160. Doug McDermott, Chicago Bulls – Three straight younger players!?  JB finally has these "sleeper" picks down!  Unsurprisingly played well in summer ball since he was pretty much the grandpa there, and there's some speculation he could start at the 3 day one.  His game is still a little ThrAGNOFfy if he starts, but would be moderately valuable.
161. Nick Young, Los Angeles Lakers – What fun is fantasy without biases!?  I just don't think he's very good… Plus he's a ThrAGNOF anyway and going to lose a lot of shots with Kobe back.
162. Marvin Williams, Charlotte Hornets – For as meh as he was in Utah, still got a 114 in per-game value last year, and should be starting with a good 30 minutes per as the Hornets stretch 4.  Noah Vonleh is having surgery and may miss the beginning of the season (he wasn't a huge threat for minutes in year one anyway), and Cody Zeller is a very limited player.  Marvin is still only 28 and off his best per-36 season.
163. James Johnson, Toronto Raptors – There were a lot of James Johnson back-and-forths in the comments last year, as I suggested his minutes would keep him from being valuable even though his per-36s at one point were historic.  Ended up per-36 with 14.5/6.3/4.2/1.6/2.1, and at one point his per-36s were on pace with a line so good only Hakeem Olajuwon had done it.  Wowzer!  He's listed on several depth charts as a SF reserve, which is really interesting since Terrence Ross is a wild card at best.  It's really unfortunate he's in the long line of professional athletes with off-the-court domestic violence issues, but that aside, has a high ceiling if he gets the minutes.
164. C.J. McCollum, Portland Trailblazers – If he were on virtually any other team, there'd be more buzz on McCollum than Drummond!  He's a special player and looked unsurprisingly awesome in summer ball given his flashes last year, just is behind two stalwarts in Lillard and Matthews.  Still should get a big boost in run as the 6th man G.
165. Alex Len, Phoenix Suns – Total gut call here.  Miles Plumlee really struggled down the stretch, and the Suns have absolutely nothing behind him besides Len.  Injury issues plagued his rookie season, but as a #5 pick they'll give him a chance, especially if Plumlee struggles again.
166. Cory Joseph, San Antonio Spurs – Another lack of depth gut call, the Spurs will have nothing behind grandpa Tony Parker until Patty Mills and his offseason surgically-repaired shoulder is healthy.  Mills could be ready for the start of the season, and maybe I'm biased by this dunk I'll show a million times, but Parker will surely miss a ton of games and Joseph could be the only healthy PG early on.
167. D.J. Augustin, Detroit Pistons – StanVan is not going to tolerate the kind of season Brandon Jennings had last year, and his emphasis on defense and rotations means D.J. should have good run even when both are in good graces.  Shooting 41.1% from deep last year vs. 33.7% from Jennings can only help.
168. Boris Diaw, San Antonio Spurs – Like all the Spurs vets, offers little in terms of upside, but his prowess passing the ball from a big is impressive.  2.8 dimes last year in a really balanced line in 25 minutes per.
169. Gorgui Dieng, Minnesota Timberwolves – I'm so torn because he was so effing good when he a got a shot last year, but he's in an awful situation.  He can only really play C and Nikola Pekovic isn't going anywhere, and even if he could play alongside Pek, the Wolves are logjammed with Big Thad and Anthony Bennett at PF.  I usually don't like ranking guys with so little opportunity in minutes in the top 200, but he's just so good that I have to.  In deep 14 or 16 leagues, you have to draft him so someone won't pick him up if/when Pek gets hurt.
170. Rodney Hood, Utah Jazz – Gordon Hayward is obviously da boss, but Hood can fill in at the 2 or 3, and besides Alec Burks, there's nothing there at SG either.  Besides Hayward and Trey Burke, there's not a soul on the Jazz who can stretch the floor, so Hood could end up being a sneaky ThrAGNOF with upside late in the year.
171. Khris Middleton, Milwaukee Bucks – Nabbing Parker #2 who I love, and expanding Anteok, who I also love, means there's going to be a major minutes crunch in Buck country.  But hey, he played well last year finishing 75th in total value, played 82 games so was durable, and is versatile.  Could backup the 2/3 or be a stretch 4, depending on if O.J. Mayo decides to show up this year, Ersan bounces back, etc.
172. Chris Andersen, Miami Heat – Birdman flocking up to 172!  He was actually a pretty decent value last year at 118 overall, and should get similar if not a few extra minutes this year behind Bosh and McRoberts.
173. Samuel Dalmebert, New York Knicks – There have been less sensations for the Haitian lately, but looking at a decent starting role with some blocks.  I think we see more Jason Smith and Bargnani swinging to the 5 than most.
174. Carlos Boozer, Los Angeles Lakers – To quote the classic cinema masterpiece Dodgeball, "I just threw up in my mouth a little bit."  Even though he's virtually only going to score and board, the volume there is worth a rank somewhere towards the bottom here.
175. Timofey Mozgov, Denver Nuggets – While Tina Fey was pretty good last year, I think Shaqtin a McGee is going to work his way into the majority of the C minutes.  They're really as polar opposite as it gets for 7-foot centers, with Healthcare.Mozgov the boring one.  And don't forget about J.J. Hickson off the ACL tear who could be back pretty early in the year.
176. Tony Snell, Chicago Bulls – This is another rank like Gorgui… I just like his talent so much that I think I have to draft him in really deep leagues just in case.  No way Jimmy Butler is playing 38.5 minutes a game again either.
177. Shaun Livingston, Golden State Warriors – Offseason toe surgery is going to keep him out until right before the season starts, but the Warriors have a gaping hole for backup PG/SG minutes and Livingston was huge last year for Brooklyn.
178. Marcus Smart, Boston Celtics – Rondo is still there, which means Smart is buried in the Stevens mix.  I love Smart as much as the next guy, but fantasy-wise his game is limited by bad 3-point shooting and low assists volume.  Only makes it this high due to the second half upside and possible Rondo trade.
179. Kris Humphries, Washington Wizards – Backup PF/C minutes are there for the taking, with both Nene and Gortat not exactly spring chickens.  Despite the worst posterization of the year, and his off-the-court hilarity, was useful in stretches last year.  "Welcome to my poster!"
180. Randy Foye, Denver Nuggets – Someone is going to see his 56th overall finish last year and jack up their team.  Won't be me!  I don't know how he's going to get minutes behind Lawson and Afflalo, both high-minute players.
181. Ryan Kelly, Los Angeles Lakers – Very uncertain role in a mixed bag of bigs in LA, but he's arguably got the best fantasy-friendly upside behind Jordan Hill.  Per-36 last year of 13/6/2.6/0.9/1.2 with 1.3 treys.  Unique skill amongst the gaggle of bigs with the ability to stretch the floor behind the arc has him an interesting sleeper.
182. Evan Turner, Boston Celtics – I understand the sleeper status based on his first half last year, but is going to be buried in rotations.  Only reason he cracked my top 200 is because Jeff Green is THAT bad.
183. Ray McCallum, Sacramento Kings – Ray Mac's ridiculous April may have won a lot of people their leagues, but he's still the clear-cut backup behind Darren Collison.  He's a little too undersized to play the 2, so Colly would have to be terrible for McCallum work into a big role, but upside is there.
184. Luis Scola, Indiana Pacers – This is more an indictment of Hibbert than an endorsement of Scola.  Even though he's 34, he is playing sharp in FIBA ball and is only one year removed from 12.8/6.6/2.2/0.8/0.4 in 26:38 MPG.  Ian Mahinmi is hurt and might miss the beginning of the season, giving the Pacers a complete black hole of minutes.
185. Kelly Olynyk, Boston Celtics – His per-36s were actually decent at 15.6/9.4/2.8/0.9/0.7 with a trey, but on the flip side that was with 2.7 TOs shooting 46.6%.  I just don't think he's a particularly good NBA starter (analysis of the year right there!) and not looking at a ton of minutes even if he is opening night's starter.
186. Tony Allen, Memphis Grizzlies – One of the definitions of better real-life than fantasy assets, about all he offers you is steals.  But in a very deep league, at least he'll consistently be giving you a few swipes.
187. Jason Smith, New York Knicks – Was looking pretty solid for the Pels pre-injury, and is a good fit for the Knicks offense off the bench behind Dalembert – who isn't exactly a high-usage player.  Not going to shoot a good % for a big since he's a mid-range shooter, but will grab you a couple of boards and maybe get a block per.
188. Rudy Gobert, Utah Jazz – Monsieur Elbow!  An atrocious FT shooter, he's JaVale McGee-lite pretty much.  The blocks upside and the fact only the horrible Enes Kanter is in front of him gives him some late-round appeal in deepers.
189. Iman Shumpert, New York Knicks – Always seems like he's on the trading block, and faces tough competish against J.R. and Timmay J.  A steal and a trey a game upside is about all you get.  Besides an awesome flat top.
190. Mike Dunleavy, Chicago Bulls – We've already covered how much I love Tony Snell to push for minutes, and if McDermott indeed starts, Dunleavy is relegated to a 22-24 MPG role player rather than the 31:30 MPG we saw last year.  Don't pay for last year's stats from an injury-riddled team!
191. Tiago Splitter, San Antonio Spurs – As with all Spurs, very efficient in small doses, and actually had a 0.5+ 5-cat line of 8.2/6.2/1.5/0.5/0.5 last year and 0.8+ 5-cat the year before.  No ceiling, but effective roster-filler in the deep leagues.
192. Hollis Thompson, Philadelphia 76ers – Right now penciled in as the starting 3, and could offer a James Anderson-esque run early in the year.  Hits treys and steals, but it's anyone's guess if someone can emerge as a Sixers wing this year.
193. Mike Scott, Atlanta Hawks – The Hawks like Mr. Emoji Tat giving him a decent contract, and is versatile enough to back up both the 3 and 4.  Can hit treys and board and I think he's a really good player that just needs a consistent role to emerge.  Might take some injuries, but should be useful in deep leagues most of the season.
194. Jeff Adrien, Houston Rockets – Big Jeff saved a lot of fantasy seasons last year as a streamer for the Bucks, and there's not much to shake a stick at behind Trevor Ariza and Terrence Jones.  Post-ASB was 10.5/7.6/1.1/0.6/0.8 in only 24:25 MPG and could get about that same PT in 14-15.
195. O.J. Mayo, Milwaukee Bucks – Yeah, I'm not touching him this year in any leagues.  But if he somehow lasted this long, I would take a flyer.  Only one year removed from 15.3/3.5/4.4/1.1/0.3 in his final year in Dallas, but that was in 35:31 MPG which he'd be lucky to get half of this year.
196. Zack LaVine, Minnesota Timberwolves – This is more for the 2nd half upside, as the raw, young prospect will have an inconsistent role and production early on.  But if the Wolves are awful and start selling at the deadline, LaVine could be really interesting in the 2nd half.
197. Donatas Motiejunas, Houston Rockets – No more Asik means there's no backup centers, and if Dwight gets into foul trouble or Superman's that shoulder, could be interesting.  Per-36s in his first two years have looked good and could be a big that gets you a trey off the pine.
198. Wes Johnson, Los Angeles Lakers – While he was a shocking surprise last year with a 1+ 5-cat line and a trey a game, going to be in a major minutes crunch with all the new purps and golds.  I might be a little too low given his 13-14 performance, but I'd rather gamble on others.
199. Julius Randle, Los Angeles Lakers – I've got purp and gold on the mind!  This almost certainly prices him way out of my range, as minutes, inexperience, and not a very fantasy-friendly game hurt my perception of his rookie year.  Might fall into some points and board, but that's it.
200. James Ennis, Miami Heat – Turned some heads in summer ball, and the Heat lack youth and explosiveness at backup 2/3 minutes.  Big-upside flyer.
And that does it for the ranks!  We'll be doing several tweaks through the pre-season with some new buzzy guys probably sneaking their way in, so be sure to keep checking in and the great comments coming!